Materijali
Pustinjski pesak kao ekološka alternativa betonu
Finite je materijal koji ima mehaničke karakteristike kao i beton, a pritom ima upola manji ugljenični otisak pa bi njegova upotreba značajno uticala na naš ekosistem.
Tim naučnika iz Velike Britanije razvio je biorazgradivi građevinski materijal od pustinjskog peska – resursa koji se do sada bio praktično beskoristan u građevini.
Materijal nazvan Finite, koji je razvijen na Imperial koledžu u Londonu, ima mehaničke karakteristike kao i beton a pritom ima upola manji ugljenični otisak.
U svetu vlada nestašica peska jer se on, osim u građevini, koristi i u industriji stakla i u pravljenju čipova.
Studenti na postdiplomskim studijama Carolyn Tam, Matteo Maccario, Hamza Oza i Saki Maruyami radili su zajedno na materijalu koji bi se pravio od materijala kojeg ima u izobilju u prirodi. Pustinjski pesak se do sada nije koristio u betonskim konstrukcijama zato što je isuviše sitan, to jest, ima veoma malu granulaciju. Zato se u betonskim mešavinama koristi klasičan pesak.
Oskudica peska
Međutim, tu se dolazi do problema jer u svetu vlada oskudica peska jer se on, osim u građevini, koristi i u industriji stakla i u pravljenju čipova. Masovna iskopavanja sa obala reka i sa dna mora, prave veliku štetu životnoj okolini, a negativan uticaj na ljude je logično posledičan. Procena je da se godišnje iskopa 25 milijardi tona peska, dok 50 milijardi tona ostaje zarobljeno iza brana što ostavlja dubok trag na prirodu.
Da stvar bude još gora, dolazi i do ilegalnog iskopavanja peska u zemljama poput Indije gde kriminalne organizacije eksploatišu korita reka i plaže bez ikakvog plana i reda.
Resurs kojeg ima u izobilju
Finite je tu da ponudi rešenje za ovaj problem! Ime nije slučajno izabrano… Pošto u svetu vlada nestašica peska jer ga nema u beskonačnim količinama, ovaj materijal je dobio ime Finite, što znači "konačan".
Finite se pravi od pustinjskog peska, kojeg u prirodi ima u izobilju, kao i od veziva čija receptura je tajna pronalazača. Tu u svakom slučaju nije cement čija proizvodnja čini 5% od globalne emisije CO2 u atmosferu.
"U najgorem scenariju, naš materijal ima upola manji ugljenični otisak nego beton, kaže Maccario za Dezeen.
Sem toga što je nisko ugljenični materijal, Finite se može koristiti više puta za razliku od betona koji uglavnom završi na deponiji.
"Element od Finitea se može reciklirati. Betonski element mora skroz da se smrvi kako bi se koristio kao filer u nekoj sledećoj betonskoj mešavini", objašnjava Maccario.
Kako navode pronalazači, Finite je netoksičan materijal koji se može ostaviti da se prirodno razgradi u prirodi ili se može ponovo iskoristiti na sledećem objektu.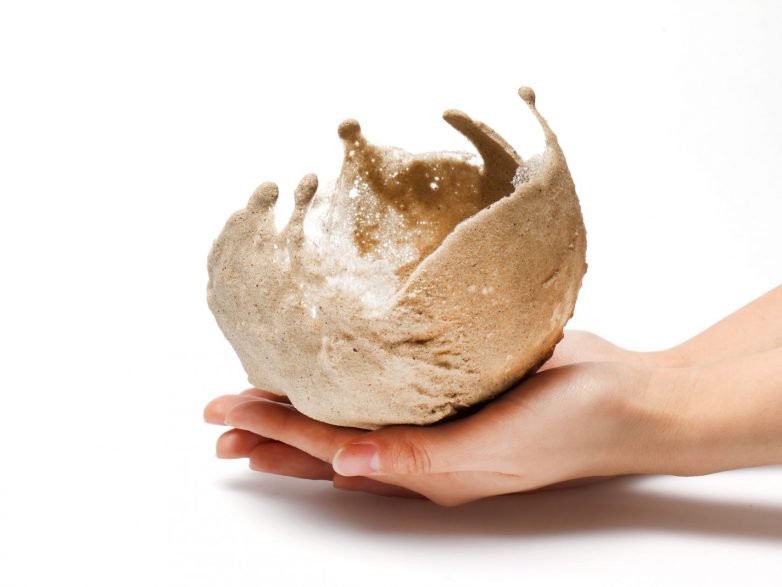 Idealan za privremene objekte
"Od njega se, na primer, mogu praviti paviljoni, koji bi se mogli posle par meseci, kada se događaj završi, bezbedno dekonstruisati," kaže Tam.
Iz tima poručuju da bi se materijal mogao koristiti na Bliskom istoku kao alternativa betonu jer bi se pesak vadio lokalno, umesto da se uvozi što jako puno košta.
Teoretski, Finite bi se mogao koristiti i za stalne strukture kao što su stambeni objekti, ali to se neće desiti pre nego što ovaj građevinski materijal prođe sve testove i regulative.
Foto: Dezeen
Kad ste već ovde…