Finska je poznata po činjenici da njeno stanovništvo izuzetno ceni pisanu reč, a ova zgrada je upravo tako i zamišljena.
Impozantna finska biblioteka Oodi novi je spomenik nordijskom modelu građanskog angažmana u društvu. Većina nas će reći da voli knjige i biblioteke, ali pitanje je da li smo toliko strastveni oko toga kao Finci. U zemlji koja se može pohvaliti jednim od najviših stepena pismenosti u svetu, izgradnja nove centralne biblioteke u Helsinkiji bio je veoma značajan trenutak za naciju.
Objekat od 17.250 kvadratnih metara, čija je izgradnja koštala 98 miliona evra, otvoren je tokom decembra prošle godine, na stogodišnjicu finske nezavisnosti. Biblioteku je dizajnirala finska arhitektonska firma ALA, a primarna karakteristika dizajna je u korišćenju smreke na fasadi po principima nordijskog graditeljstva.
Svaki Finac uzme iz biblioteke više od 15 knjiga godišnje, što je za 10 više nego što uzme prosečni Amerikanac.
Tokom konferencije CityLab DC, koja se održala prošle nedelje u ovom gradu, izvršni direktor za kulturu Tommi Laitio izneo je svoje lično opažanje zbog čega je to ovaj objekat bitan za budućnost Finske.
Laitio svoje izlaganje nije otpočeo prikazima novog prijatnog enterijera, već surovom slikom iz građanskog rata iz 1918. godine u kom je poginulo 36.000 ljudi, od kojih mnogi u logorima.
"Ovaj napredak od jedne od najsiromašnijih zemalja Evrope do jedne od najperspektivnijih nije slučajan. Ovo se temelji na činjenici da nas je tako malo, samo 5,5 miliona i svi moraju iskoristiti svoj pun potencijal." – rekao je Tommi Laitio.
Ovo uverenje pomoglo je da se u modernoj Finskoj toliko ulaže u obrazovanje i pismenost, što je dovelo do činjenice da svaki Finac uzme iz biblioteke više od 15 knjiga godišnje, što je na primer za 10 više nego što uzme prosečni Amerikanac.
Književno nebo
Upravo zbog ovoga biblioteka Oodi nastala je nakon desetogodišnjeg procesa projektovanja i mnogobrojnih javnih konsultacija, kako bi postala svojevrsna zgrada svih građana, prostor za stare i mlade, koji će ovde upoznati svet, grad i jedni druge. Baš zbog ovakve ideje smešten je na istom nivou i naspram zgrade Parlamenta Finske, sa kojim deli javni trg.
Dizajn biblioteke podržava ovu uzvišenu misiju te je prizemlje zapravo produžetak javnog trga i to je prostor za sastanke, neformalna okupljanja, kao i besplatne događaje. Na drugom nivou postoje mnogobrojni fleksibilni prostori, pa se ovda građani mogu koristiti 3D štampačima, električnim alatom, šivaćim mašinama, kao i muzičkim sobama. Gejmeri imaju posebno opremljene VR sobe. Na najvišem nivou nalazi se "književno nebo", prozračan prostor sa preko 10.000 knjiga.
Tokom prvog meseca, biblioteku je posetilo 420.000 ljudi, što je gotovo dve trećine ukupnog stanovništva Helsinkija.
Biblioteku Oodi u proseku dnevno poseti oko 10.000 ljudi, dok je ove godine ukupna posećenost iznosila 3 miliona ljudi što je izuzetno uspešno imajući u vidu da Helsinki ima 650.000 ljudi.
"Tokom prvog meseca biblioteku je posetilo 420.000 građana, što je gotovo dve trećine ukupnog stanovništva. Neki su samo svratili kako bi otišli u toalet, ali i to je u redu jer je biblioteka posvećena otvorenosti i gostoljubivosti bez ikakvog prosuđivanja. To je verovatno najraznovrsnije mesto u našem gradu, na više načina", rekao je Laitio.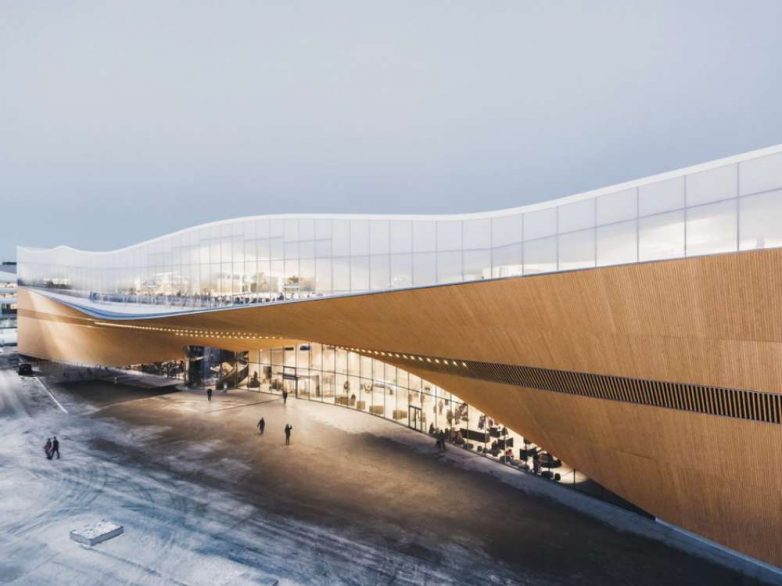 Foto: Grad Helsinki