Odvojio vam se glet? Imate u rupu u zidu? Saznajte kako da sanirate pukotine i dođete do savršenog zida. Nije teško! Samo pratite ove savete majstora.
U starim stanovima pojava pukotina u zidovima je vrlo česta, a usled pojave vlage glet zna da se odvoji od zida što izgleda vrlo ružno i neuredno. Međutim, postupak reparacije nije tako komplikovan.
Na početku je bitno da špaklom skinete sve oštećene delove. Dakle, špaklom prođite po ivicama pukotine ili skidajte nabubreni glet dok ne dođete do zdravih delova zida, odnosno do delova koji se teško skidaju. Na podu će vas sačekati gomilica otpalog gleta koju bi trebalo odmah da usisajte i očistite.
Na pukotinu čistom četkom nanesite podlogu kako bi odstranili prašinu sa zida, ali i kako bi se glet ili filer bolje primili za podlogu.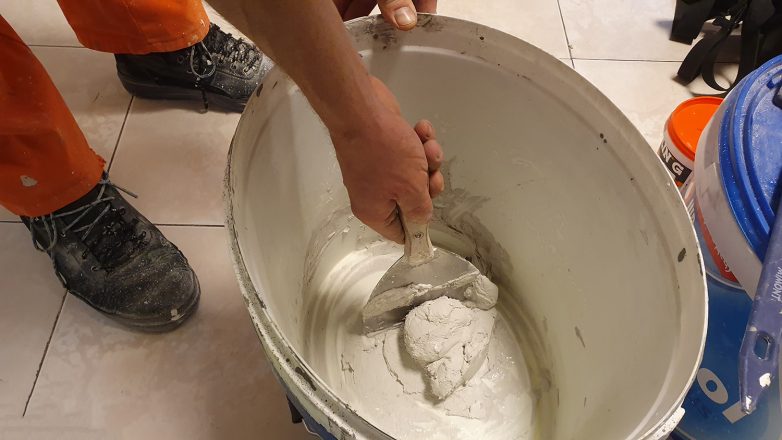 Špaklom skinite stari sloj, a potom filerom izravnajte površinu. Nakon toga sleti gletovanje i krečenje.
Filer kojim ćete izravnati površinu, meša se sa vodom. Lagano usipajte masu u vodu – zasolite, kako majstori kažu. Ako se rupe popunjavaju bez bandaž trake onda masa treba da je gušća, kao testo. Ako se pak postavlja staklasta ili bandaž traka, masa mora biti ređa. Ukoliko je gusta, s dva nanosa pojaviće se stomak na zidu.
U našem slučaju, reč je o pukotinama za koje neće biti potrebna bandaž traka s obzirom na to da se radi o zidanom zidu. Ipak, ako je reč o pukotini na gipsanom zidu ili dubljoj pukotini, neophodno je da se stavi bandaž traka i onda se stavi filer.
Vrlo bitna napomena koju smo dobili od majstora jeste da kanta u kojoj se meša materijal mora biti čista. Ako ostane prljava kanta, onda materijal stari, to jest, ostaci stare sasušene boje i materijala u kontaktu s novom bojom ili gletom reaguju kao katalizatori, odnosno materijal se mnogo brže suši. Takođe, velika je šansa da vam ostaju risevi prilikom nanošenja gleta.
Gletovanje
Špakla i gleterica vam je potrebna kako bi glet ili fugfiler masu naneli na zid. Špaklom nanosite masu na zid i nakon toga gletericom zaravnajte površinu. Potrebno je par sati treba da se osuši u zavisnosti od dubine pukotine kao i temperature prostorije.
Za drugu ruku ćemo umesto filera koristiti gotovu akrilnu glet masu koja dolazi već pripremljena u kantici. Glet se nanosi isto kao i filer, odnosno sa špaklom i gletericom. Za razliku od filera, akrilni glet je bele boje pa je vrlo dobra podloga za farbu bele boje. Detaljan postupak gletovanja možete pogledati ovde.
Priprema za krečenje
Dok čekate da se druga ruka isuši, polepite krep trake i pripremite ceo zid za krečenje. Ako krečite samo taj deo ispucalog zida, postoji mogućnost da se vidi razlika u boji (vremenom stara boja izbledi ili požuti) te zbog toga majstori predlažu krečenje celog zida.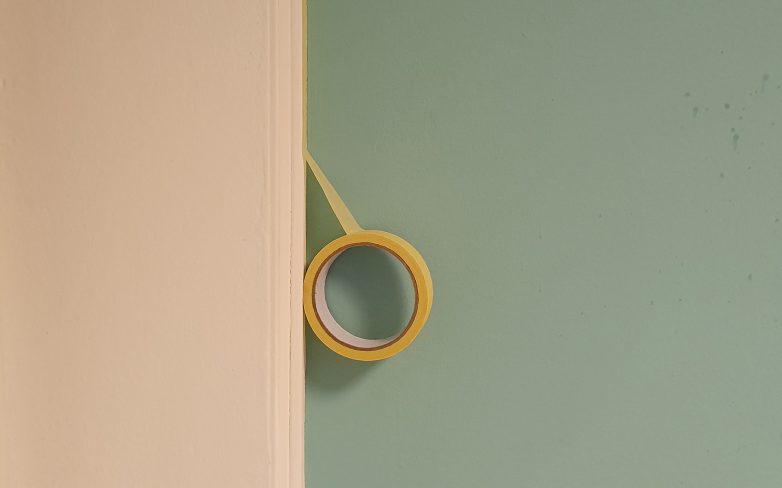 Pre krečenja, a nakon što se glet osušio, šmirgl papirom pređite preko ivica površine koju ste zapunjavali kako se ne bi video prelaz između starog i novog gleta.
Okrečićemo ceo zid, a ne samo deo koji smo popravljali. Krečenje ćemo pokazati na primeru ovog plavog zida kako bi bolje mogli da ilustrujemo postupak. Detaljno o krečenju zidova pročitajte ovde.
Krečenje zida
Mi smo koristili akrilnu, dobro pokrivnu boju koju nije potrebno razrediti. Pošto je podloga već plava a farba kvalitetna, biće nam potreban samo jedan sloj boje. Neke boje se razređuju vodom, to jest, dodaje se oko 5% vode. Za krečenje vam treba četka, mali valjak i veliki valjak.
Nakon što ste ivice zaštitili krep trakom, prvo se četkom nanosi boja na ivice zida, oko prekidača i utičnica. Ovaj sloj se dodatno prelazi malim valjkom kako se ne bi videli potezi četkom. Sredina zida se farba velikim valjkom pokretima gore-dole.
Ne plašite se ako se vide tragovi prilikom krečenja. Kako se boja suši tako se boja ujednačava. Ako je potrebno, nanesite drugi sloj farbe nakon što se prvi osuši.
I to je to. Sada je vaš zid kao nov! Uživajte u vašem sveže okrečenom zidu bez pukotina.
Pogledajte kompletan postupak u sledećem video-prilogu:
Foto i video: gradnja.rs
Kad ste već ovde…