Ovaj članak vam može poslužiti kao primarni vodič u opažanju i istraživanju zgrada u Srbiji, ali i u svetu, jer je ikonografija fasadne simbolike u svim državama jednaka.
Svaki put kada bih pitao nekog prijatelja ili rođaka koji je ovde rođen ili onog koji bi došao u posetu u Beograd, šta ga najviše interesuje da dodatno sazna iz oblasti istorije arhitekture, gotovo u svakom od tih slučajeva odgovor bi bio identičan – da mu objasnim šta znači neki od simbola na nekoj od značajnijih zgrada iz predratnog Beograda.
Da li je do opšte percepcije ljudi izvan struke, o kojoj smo već pisali, a koja se odnosi na prednost koju javnost daje istorističkoj nad modernom arhitekturom ili pak činjenica da isključivo predratna arhitektura obiluje navedenom simbolikom i time direktno ukazuje na prisustvo nekih skrivenih poruka, tek sam zadatak objašnjenja iznova mi je davao inspiraciju da detaljno razjasnim neki fasadni detalj.
Za početak, osoba koja je na ovom polju dala mnogo više doprinosa nego bilo koji kolega istoričar umetnosti, jeste novinar Zoran Lj. Nikolić, čije knjige i vođene ture po Beogradu i ispod Beograda, već godinama edukuju na stotine ili možda hiljade Beograđana i zaljubljenika u istoriju Beograda. Dela ovog novinara, poput "Masonski simboli u Beogradu", "Beograd ispod Beograda" (koautor) ili "BG priče", dodatno su me inspirisale u sastavljanju ovog teksta, ali i za neke druge stručne poduhvate u bližoj ili daljoj budućnosti.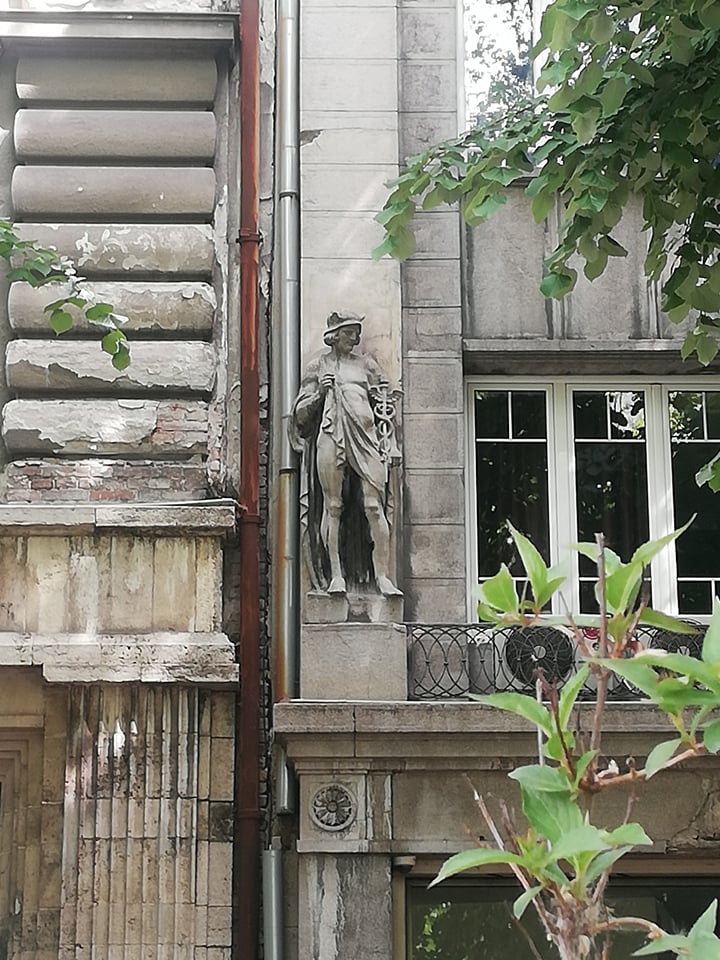 Fasadno platno je ključni vizuelni informator javnosti o kojem tipu objekta je reč. Fasadni simbol šalje posmatraču još precizniju poruku.
Nećemo se detaljnije baviti poreklom same simbolike u umetnosti i arhitekturi, već kroz nekoliko uvodnih rečenica determinisati ovu pojavu. Jedna od zajedničkih osobina svih ovih pojava jeste nepisano pravilo u projektovanju i izgradnji predratnih zgrada, a to je da je fasadno platno svake zgrade ključni vizuelni informator javnosti o kojem tipu objekta je reč, tj. koja je njena funkcija/delatnost.
U svemu tome su ulogu odigrali i arhitektonski stilovi, pa je akademizam, koji se kroz istoriju protegao više od jednog veka, uvek bio rezervisan za građevine državne namene (skupštine, predsedničke/kraljevske palate, ministarstva, okružna načelstva, vojne objekte, škole i sve druge državne službe), secesija za privatne objekte (palate, stambene zgrade, robne kuće, poslovne objekte), ar deko, srpsko-vizantijski i drugi romantičarski stilovi da iskažu nacionalnu konotaciju nekog javnog objekta (ambasade, nacionalni paviljoni, verski objekti, ali i svi drugi javni objekti nastali u prvoj polovini 20. veka) i naravno ekspresionizam i moderna za sva u tom trenutku najmodernija zdanja (porodične kuće, stambene i poslovne zgrade, hotele i robne kuće prve polovine 20. veka).
Ovaj vizuelni informator dodatno je bio upotpunjen i fasadnim simbolima, kako bi poruka koja se šalje posmatraču bila što preciznija i efikasnija. Kako je vreme prolazilo, a društvo se sve više približavalo Drugom svetskom ratu, ovi simboli postaju sve ređi, ponajviše što zgrade počinju da se zidaju u monumentalizmu (zajednički za arhitekturu totalitarnih režima u Evropi), koji je više stavljao akcenat na sveobuhvatnu karakterističnu formu zdanja ili u moderni koja je težila da se oslobodi svakog vida dekoracije na fasadi. Kada se uzmu u obzir svi ovi parametri, dolazimo do jedne šire podele simbola na fasadama gradskih zdanja.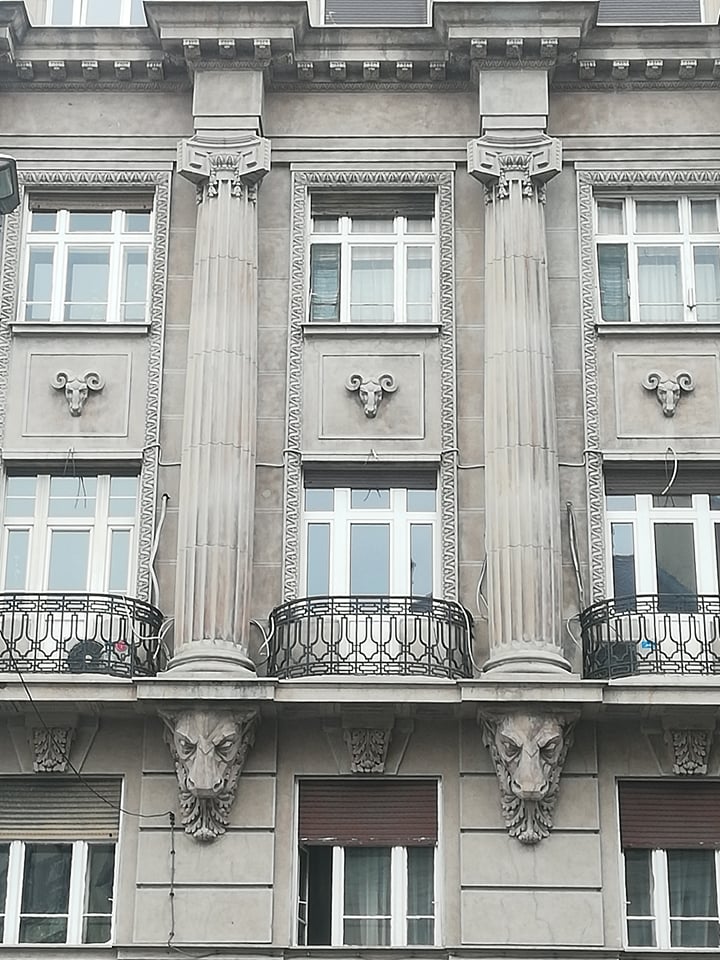 Skupštine, parlamenti, ministarstva
Iako je ovo polje veoma široko, ono nema neke preciznije karakteristike. Simboli koji se javljaju na ovim zdanjima variraju od perioda do perioda i najviše se vezuju za skulpturu ili reljef žene kao simbola nacije (obično sa bakljom ili kojim drugim predmetom u ruci, po uzoru na Kip slobode u Njujorku), rimski uvezani snop pruća sa sekirom, tz. fasces (najviše baštinio fašizam, ali su u SAD-u upotrebi od polovine 19. veka), predstave lava ili orla, kao simbole određene vladarske porodice ili imperijalne moći uopše i naravno državni grbovi, u našem slučaju iz vremena monarhije, koji su posle rata zamenjeni grbovima republike.
Generalštabi, kasarne, vojne akademije
U ovo polje se ubrajaju svi objekti vezani za vojsku kao jedan od ključnih oslonaca svake države. Prepoznaju se po nekoliko simbola koji su jasno istaknuti na pročelju svakog objekta. To su pre svega vojnički oklop i/ili kaciga iz perioda srednjeg veka ili antike, kojima su pridodata različito hladno oružje, poput noževa, mačeva, sekira, helebardi i kopalja. Ponekad su na fasadi prisutne i čitave ratničke figure ili reljefi sa predstavama ratnika. Kako je naša država po pitanju vojnih saveza, nabavke naoružanja i školovanja vojnog kadra isključivo bila vezana za Rusku imperiju, autori posleratnih vojnih zdanja po pravilu su bili ruske emigrantske arhitekte, koji su ovim objektima dali posebnu, imperijalnu monumentalnost.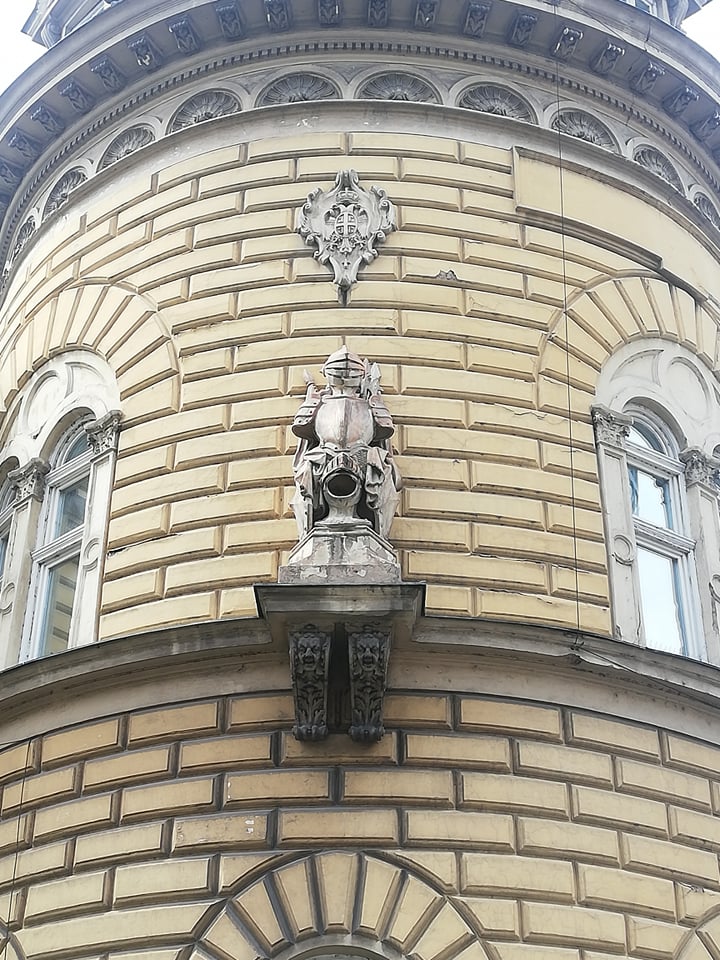 Državne i privatne banke, štedionice i zadruge
Polje bankarske ili trezorne arhitekture oduvek je bilo najzanimljivije jer su u njemu, pored standardnih motiva mogli da se pronađu i mitološki, koji posebno privlače pažnju prolaznika. Najznačajniji simbol u svetu finansija je svakako lik Hermesa ili Merkura. Srećemo ga na zgradama svih finansijskih ustanova, ali i u slučaju nekih privatnih kuća čiji su vlasnici bili bankari ili trgovci.
Pojavljuje se kao cela figura, prepoznatljiva po šlemu sa krilima, kaducejom (palica sa upletenim zmijama) u rukama i krilatim sandalama, ali i kao uprošćeni reljef koji prikazuje samo Hermesovu glavu pod šlemom. Simbol Hermesa je uzet jer se on na osnovu scena iz grčke mitologije, označava kao zaštitnik trgovaca, bankara, ali i prevaranata, što su takođe u neku ruku ova dva navedena zanimanja. Ponegde se u plitkim reljefima prikazuje i zupčanik ili točak sa krilima, kao simbol napretka ili razvoja industrije, koja je bila nerazdvojna grana privrede od bankarstva, tj. čiji razvoj je bio finansiran bankarskim kapitalom.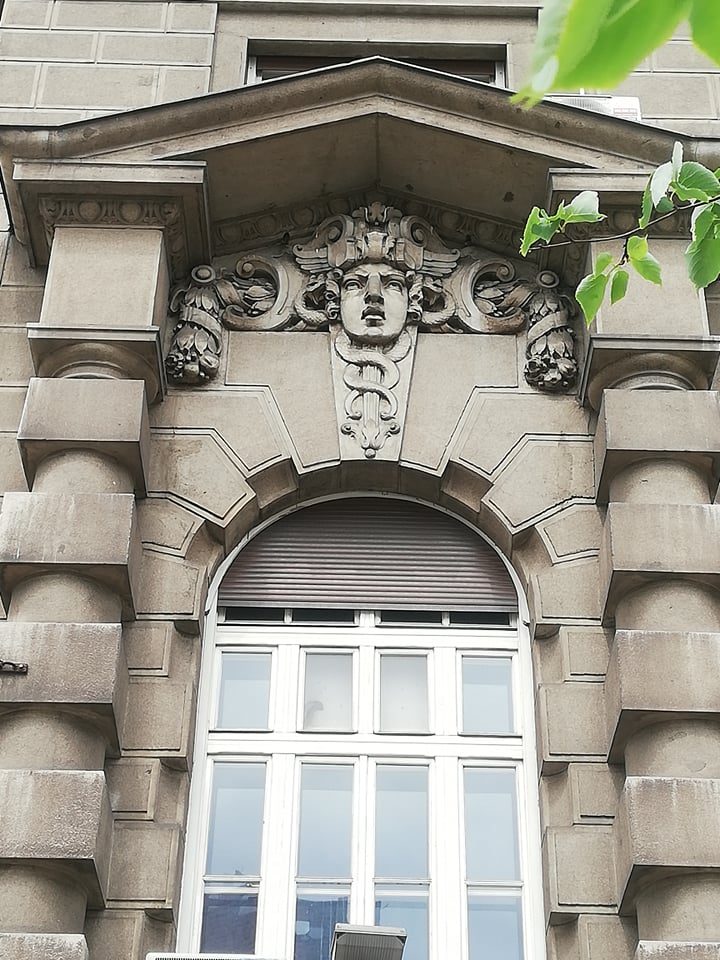 Palate pravde, okružni sudovi
Simboli koji se pojavljuju na ovim zgradama odavno su ustaljeni i prepoznatljivi. U pitanju je personifikacija pravde u liku žene, sa povezom oko očiju, sa mačem i terazijama u rukama. Naravno, vremenom je ova predstava pojednostavljena i svedena na simbole terazija koji se na zgradama pojavljuju u obliku plitkih reljefa. U slučaju Beograda, ispred Palate pravde postavljena je statua cara Dušana, koji u jednoj ruci drži vladarsko žezlo, a u drugoj, oslonjen na levo rame, svoj zakonik, najznačajniji izvor srednjovekovne kodifikacije i pravni osnov nemanjićke države.
Zdravstvene ustanove i apoteke
Pored uobičajenog simbola crvenog krsta, na fasadama bolnica se pojavljuju i likovi Asklepija, lika iz grčke mitologije, dok su apoteke preuzele jedan njegov motiv – zmiju koja se obmotava oko štapa ili stalka apotekarske posude.
Muzičke, dramske i naučne institucije
U nekim slučajevima, ovi različiti simboli se pojavljuju u zajedničkim predstavama, jer su zgrade koje su ih ponele u to vreme zidane sa mešovitom kulturno-umetničkom namenom. Muzičke škole i akademije se prepoznaju po simbolu lire, žičanom instrumentu iz vremena antičke Grčke, dok su pozorišta dekorisana sa simbolom dve maske, srećnog i tužnog izraza lica. Ponekad, kada je reč o nekoj instituciji koja je zidana da bi se u njoj odvijala sva scenska dešavanja (koncerti, predstave, opere itd.) ova dva simbola se pojavljuju u kombinaciji. Sa druge strane, naučne institucije (fakulteti, instituti, škole, arhivi) su po nepisanom pravilu morale biti označene sa motivom knjige, ponekad u kombinaciji sa perom, kao prepoznatljivim simbolima učenja i znanja.
Zanatski domovi i radnje
Zanatski esnafi su među prvima počeli da primenjuju vizuelne simbole na fasadama svojih objekata. Pored prikaza alatki onog zanata koji se nalazio u objektu, poput makaza za berberina/frizera, potkovice za kovača, točka za kolara ili glava domaćih životinja za mesara, počinju da se pojavljuju neki univerzalni simboli, poput čekića i dleta ili majstora i šegrta, koji kroz jednu univerzalnu simboliku ukazivali da je reč o zgradi koja je zidana kao centralni dom koji okuplja zanatlije svih vrsta.
Verske i ezoterijske organizacije
Kako su crkve i džamije vremenom razvile prepoznatljivu arhitekturu, razvoj simbolike u dekoraciji njihovih fasada bio je sveden na minimum, pa se pored krsta i eventualno likova anđela i arhanđela na hrišćanskoj i meseca i zvezde na muslimanskoj bogomolji, retko kada pojavljuju i drugi dekorativno-informativni motivi.
Međutim, kada je reč o sinagogama, njihova arhitektura predstavlja zanimljivu mešavinu zapadnjačke i orijentalne arhitekture, pa prolaznici često nisu sigurni o kakvom objektu i čije konfesije je reč. U tom slučaju, potrebno je na fasadi potražiti simbole Davidove zvezde ili menore (sedmokrako svećnjaka), koji su već par vekova ustaljeni simboli gotovo svake jevrejske zajednice u svetu. Druge manje prisutne konfesije, najčešće frakcije hrišćanstva, nisu razvile neku sebi svojstvenu simboliku, pa ih je po arhitekturi teško međusobno raspoznavati.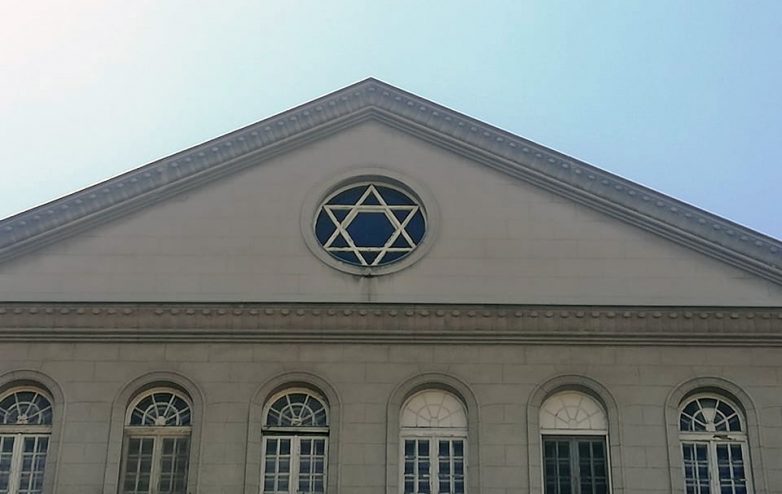 Što se tiče ezoterijskih organizacija, na prvom mestu slobodnozidarskih loža, one su u svetu dekorisane sa dva najpoznatija masonska simbola – ukrštenim šestarom i ugaonikom, a ponekad se u polju ukrštanja pojavljuje i svevideće oko. Tu su i skulpture sfingi, ali se taj motiv u našoj sredini pojavljuje i uz neke druge objekte, pa će biti predmet zasebnog članka. Sedišta naših slobodnozidarskih loža su nekada imala prepoznatljivu dekoraciju, ali centralni hram, sa sveobuhvatnom simbolikom, projektovan od strane arhitekte Nikolaja Krasnova, nikada nije realizovan. Masonska simbolika je time bila prisutna isključivo na zgradama čiju izgradnju su finansirali, a u najvećem broju slučajeva i živeli sami slobodni zidari.  Pored nekih navedenih motiva, pojavljuju se i neki nešto ređi, poput pčele ili pčelinje košnice, koja može biti samostalni motiv na fasadi ili kao delo reljefne ili skulptoralne kompozicije u kojoj ženski lik u ruci nosi košnicu.
Zadužbine
Kada bi neka zgrada bila izgrađena kao zadužbina nekog uticajnijeg trgovca, industrijalca ili političara, obično bi oni praktikovali da svoje likove u vidu reljefa ili poprsja u veličini nešto većoj od prirodne, postave na zdanje koje bi izgradili. Ovakvih slučajeva ima puno po Beogradu, ali i onih gde su likovi izostali i postoje samo natpisi o čijoj zadužbini je reč.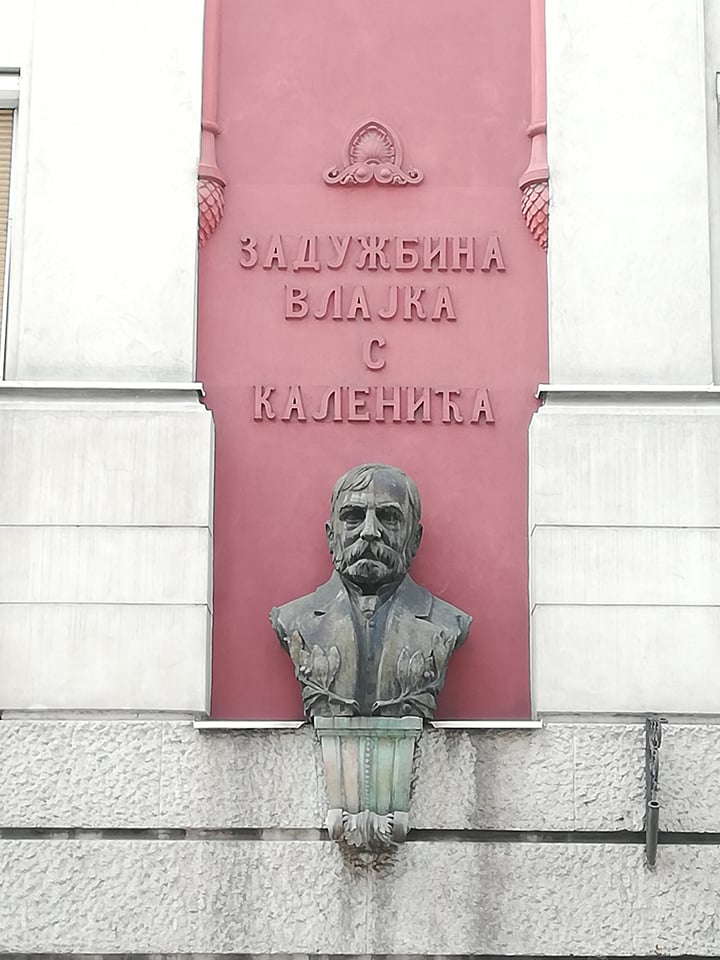 Univerzalni znakovi
Na zgradama se pojavljuju i druga simbolika, ali bi ona mogla biti predmet nekih detaljnijih istraživanja. Za početak, ovaj članak bi nekom čitaocu mogao poslužiti kao primarni vodič u opažanju i istraživanju zgrada u Srbiji, ali i u svetu, jer je ikonografija fasadne simbolike u svim državama jednaka. Ovo je od starta bila još jedna prednost dekorativističke arhitekture, jer bi i stranci koji ne govore jezik države/grada koji bi posetili, mogli znati o kojoj zgradi i njenoj nameni je reč, bez i da uopšte kroče u istu.
Kad ste već ovde..