Promo
Zašto je bitan svež vazduh u prostoru u kom provodimo vreme?
Neki igraju igrice, umesto da se trče napolju. Drugi provode previše vremena u zatvorenom. Treći rade u kancelarijama, pod veštačkim svetlom. Da, sve njih zovemo ''indoor generacija''.
Koliko je zdrav vazduh u prostorijama u kojima provodimo vreme i šta možemo da uradimo povodom toga?
Znajte da boravak u zatvorenom prostoru ima veliki uticaj na naše zdravlje, kako se osećamo, kako spavamo, ponašamo se, ali i da li imamo motivaciju za učenje i posao. Zanimljivo, zar ne?
"Svež vazduh" nije samo fraza. Loš vazduh uzrokuje sve vrste negativnih posledica u prostoru, kao na primer: vlagu u vazduhu, pojavu plesni, visoku koncentraciju ugljen-dioksida i prašinu. Bez obzira koliko vremena provodite unutra, vazduh koji udišete, treba da bude čist i svež sve vreme.
Električno upravljanje krovnim prozorima može unaprediti vaš komfor, čak i kada zaboravite da zatvorite prozor.
Nekada je čak i potkrovlje bilo prašnjavo, mračno i ponekad sablasno mesto, ali danas je totalna suprotnost – potkrovlja su svetli, otvoreni i romantični prostori za život. Da, čak i to možemo da kažemo, potkrovlje je skriveni dragulj kuće!
Međutim, poznata nam je situacija da se baš u potkrovljima, zbog problema sa starim krovnim prozorima, javlja problem sa kondenzacijom.
Ukoliko ste kod kuće i želite da provetrite sobu, to je lako! Pitanje je šta raditi kada duže vreme niste u stanu? U skladu sa potrebama novijih generacija, koje odrastaju uz naprednu tehnologiju, inovacije i tehnološka dostignuća su znatno uticala na promenu životnih navika i prostora u kom živimo.
Da li ste razmišljali da na primer električno upravljanje krovnim prozorima može unaprediti vaš komfor, čak i kada zaboravite da zatvorite prozor? Otkrivamo našu tajnu – VELUX ACTIVE with NETATMO.
VELUX ACTIVE with NETATMO
VELUX ACTIVE with NETATMO omogućava automatsko otvaranje Velux prozora u slučaju zasićenja vazduha vodenom parom u kupatilima, visokom temperaturom i povišenim procentom ugljen-dioksida u dnevnim sobama, kao i mirisima koji se stvaraju prilikom kuvanja. VELUX ACTIVE kao pametan sistem prati nivo vlažnosti vazduha, ugljen-dioksida, optimalnu temperaturu i sam reguliše protok svežeg vazduha. Tako su prostorije uvek ispunjene svežim vazduhom i samim tim zdravije za duži boravak.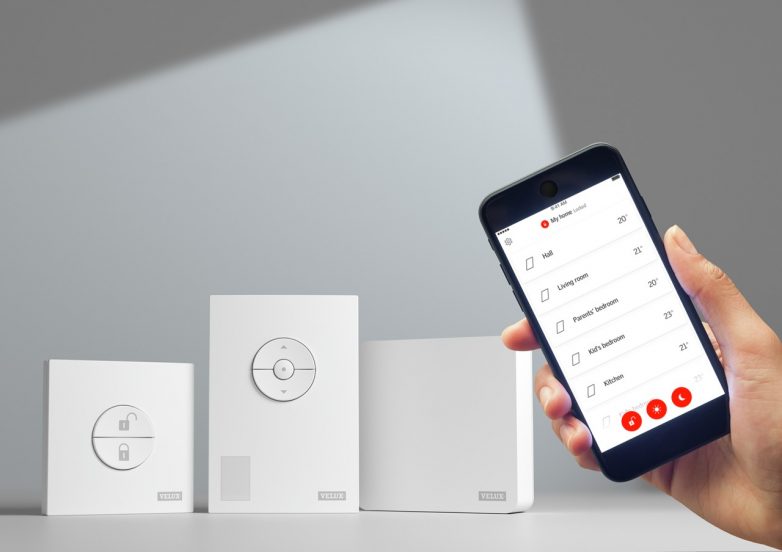 Pametna tehnologija
Koristite i aplikaciju VELUX ACTIVE, da biste upravljali električnim krovnim prozorima, spoljašnjim i unutrašnjim roletnama VELUX INTEGRA sa bilo kog mesta pomoću pametnog telefona.
VELUX ACTIVE vama i vašoj porodici automatski pruža zdraviju unutrašnju klimu. Radi bez instaliranja i konfigurisanja. Reguliše unutrašnju klimu pomoću pametnih senzora, a tačnost se postepeno povećava, jer sistem uči da razume unutrašnju klimu doma.
Kontaktirajte Velux
Ukoliko vam je potrebno više informacija o ovom VELUX proizvodu, kontaktirajte nas ili zakažite besplatne konsultacije.