Ovi primeri škola nisu samo karakteristični po savremenim metodama građenja, već i što je njihovo arhitektonsko oblikovanje potpuno podređeno potrebama učenika i novim pristupima obrazovanja.
Škola koja je nulti potrošač električne energije? Obrazovni centar u kojem je priroda integrisana u učionice? Virtuelna realnost umesto školske table? Svetski primeri škola projektovanih za 21. vek zagazile su krupnim koracima napred u cilju da se učenicima obezbedi sigurno mesto koje će ih pripremiti za život u kojem će poštovati prirodnu okolinu, a u isto vreme da im se da najbolje što današnja tehnologija pruža. Ovih 7 primera škola u svetu mogu poslužiti kao orijentir kako zaista treba graditi nove obrazovne centre i u našoj zemlji.
Skromna škola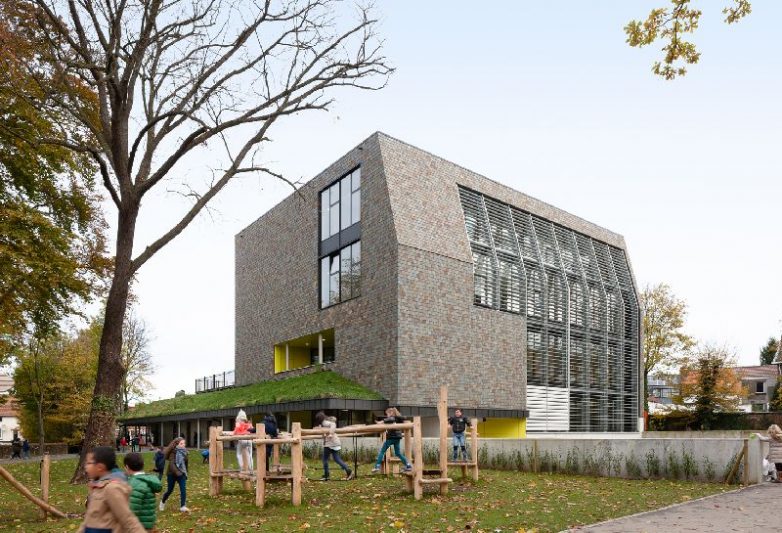 Školu Hoek potpisuje biro ebtca architecten koji ju je projektovao tako da bude što je moguće skromnija jer je građena na postojećem parku. Iz tog razloga, sva drveća na placu su zadržana, dok je deo zauzete zelene površine nadoknađen pravljenjem zelenih krovova. Kreiranjem smaknutih površina omogućeno je kreiranje prostora sa tresetom na podu koji je deo i eksterijera i enterijera. Novoformirani prostor sada se koristi za časove na otvorenom. Škola je sagrađena na najneuglednijem delu parka što je parku dalo novi ugao, odnosno hoek na belgijskom.
Pasivna škola
Srednju škola Ayb u Jermeniji projektovao je Storaket Architectural Studio kao objekat koji maksimalno štedi energiju. Iako se on prostire na 4.200 metara kvadratnih i može da prihvati 240 đaka u isto vreme, ova škola je toliko energetski efikasna da je skoro pasivna. Karakteriše je natur beton kao i žuta boja koja se ne pojavljuje samo na kružnom delu fasade već i u enterijeru.
Sport na krovu
Slobodnog prostora za gradnju je sve manje. Gde onda smestiti sportski teren koji nije nimalo mali? Na krov! Po projektu biroa ARES architecten, u holandskom gradu Zvole podignuta je srednja škola Deltion. Ovaj objekat sa 16 učionica, raznim kabinetima za praktično obrazovanje, uključujući i radionicu za servisiranje kamiona, ima i sportski teren od 25×40 metara koji je smešten na krovu zgrade visoke 12 metara. On je okružen perforiranim zidnim panelima koji služi i kao fizička barijera i kao ograda od vetra.
Modularna gradnja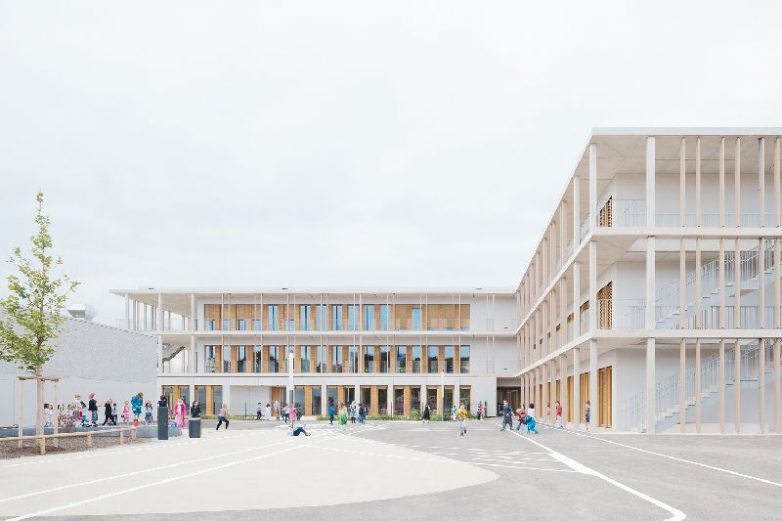 Ova škola u Nemačkoj podignuta je veoma brzo i za veoma malo para! Projekat škole Munich Learning House potpisuje biro Wulf Architekten koji se zajedno sa investitorom opredelio za modularni sistem gradnje. Ovakav način projektovanja i izgradnje uslovio je jednostavnu organizacionu šema sa učionicama naslaganim jednu na drugu koje su međusobno povezane koridorima. Međutim, kako bi se ubila monotonija i repetitivnost, arhitekte su primenile zasvođene tavanice koje su u enterijere unele preko potrebnu dozu dinamike.
Škola u ambaru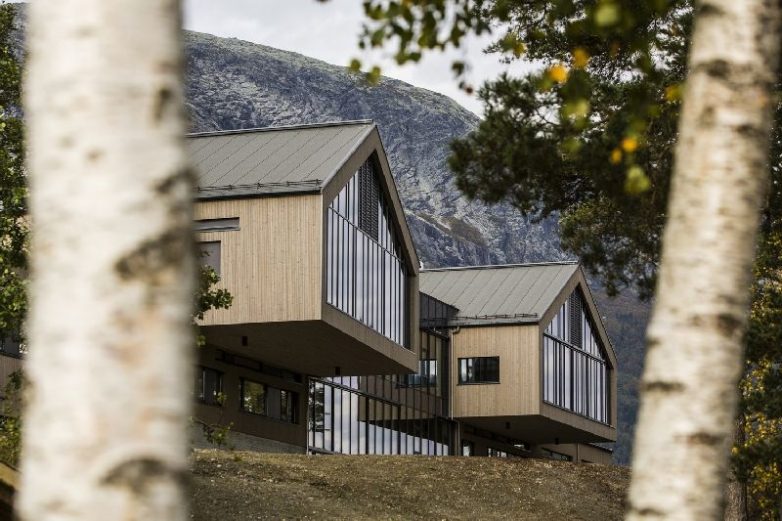 Teorija i praksa su najbolje moguće spojeni u ovoj školi koja se oslanja na prelepo prirodno okruženje. Srednja škola Voss u Norveškoj podignuta je po projektu AART architects iNordic Office of Architecture s idejom da se kod đaka stvori veza s prirodom i arhitektoskim nasleđem. Zbog toga ova energetski efikasna škola izgleda kao tradicionalna farma s ambarima i stajama za stoku. Međutim, to ne znači da ova škola ne ide u korak s vremenom. Zapravo, u ovoj školi se primenjuju najsavremenije metoda učenja i nastavna sredstva iz 21. veka.
Zelena škola bez PVC-a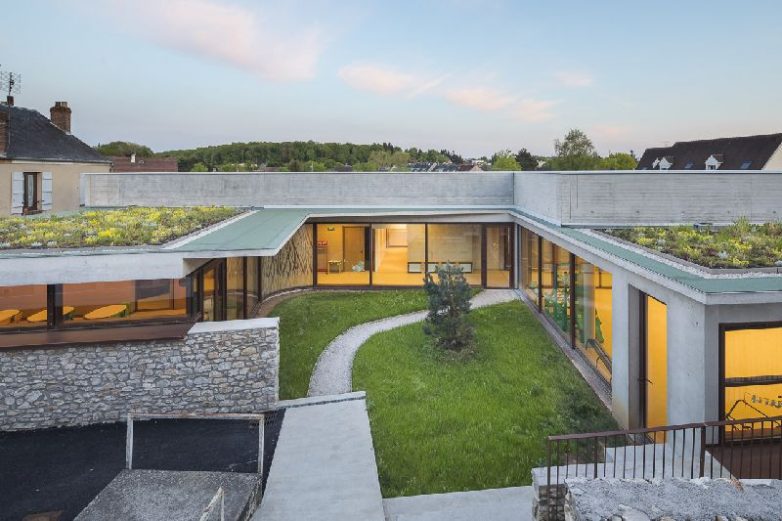 Ovaj nenametljivi objekat nedaleko od Pariza, kojeg potpisuje biro richard+schoeller, maksimalno želi da ispoštuju okolne zidine tvrđave. Stoga je izabrana betonska konstrukcija koja je izvedena tako da nenametljivo formira učionice i zajedničke prostore. Na njenom vrhu zasađena je trava tako da zeleni krov dodatno kamuflira objekat. Kako bi se ispoštovali strogi ekološki zahtevi, ova osnovna škola ima ugljenični otisak manji od 250 eqCO2/m2, a da bi se u učionicama dobio što bolji kvalitet vazduha, u zgradi nema materijala poput PVC-a niti proizvoda iz grupe ftalata.
Učenje u komuni
Škola IJburg u Amsterdamu projektovao je Atelier PRO kao modernu građevinu sa aluminijumskom fasadom u zlatnoj boji koja iako je u harmoniji s okolnim građevinama iako je hitech. Međutim, njeno srce predstavlja centralni koridor s mrežom stepeništa koje je okupano svetlom i vazduhom. Prostrani atrijum, koji povezuje sve učionice, tako je postao mesto u kojem se učenici i nastavnici međusobno sreću, a sve to kako bi se potkrepio moto ove škole koji glasi: "Učite u obrazovnoj komuni".
Kad ste već ovde…