Arhitektura
8 barova koje svaki arhitekta treba da poseti
Od početka veka, moderni barovi više ne služe samo za zabavu i druženje. Danas u popularnim gradskim barovima možete naći veliku inspiraciju za uređenje enterijera. 
Štaviše, večina najpopularnijih barova uopšte nije sređena u luksuznom stilu, već inspiraciju crpe iz barova iz filmova i serija. Mnogi od njih nas podsećaju nas na neka prošla vremena, na stvari i sećanja koja najviše volimo, a neki su prosto šašavi. Dodajte na sve to i činjenicu da se moderni ugostiteljski objekti bukvalnu utrkuju u tome čiji će se ambijent najveći broj puta naći na Instagramu i shvatićete o čemu pričamo.
No, kada govorimo o svetski poznatim barovima s dugom (arhitektonskom i ugostiteljskom) tradicijom, postoje njih osam koje arhitekte koje drže do sebe nikako ne smeju da zaobiđu – barem po mišljenju ArchDaily tima.
Jedan od najpoznatijih barova u Austriji projektovao je čuveni arhitekta Adolf Loos nakon trogodišnjeg boravka u SAD. Ove godine je bar proslavio svoj 110. rođendan, što znači da je njegov enterijer ostao praktično netaknut preko čitavog jednog veka. Ovim projektom, Loos je želeo da Evropljanima predstavi američki koncept koktel-bara za visoko društvo s enterijerom obasutim mesingom, kožom i mermerom, dok su zidovi u potpunosti obloženi ogledalima.
Minhen, svetska prestonica piva, dobila je svoju prvu pivaru 1589. godine. Hofbrauhaus se, sasvim zasluženo, danas smatra jednom od najvećih turističkih atrakcija jer ovde svaki dan u godini možete popiti po čašu nekog čuvenog piva i dobro se najesti. Unutrašnjost pivnice urešena je u klasičnom evropskom stilu koji je Evropljanima dobro poznat ali ostatku populacije predstavlja autentični užitak.
3. Atrium Champagne Bar u Londonu
A sad nešto potpuno drugačije… Čuveni arhitektonski biro Foster + Partners stoji iza ovog fascinantne piramide koja se prostire na devet spratova londonskog ME Hotela. Ovde se radi o luksuzu u najužem smislu te reči. Na krovu ovog bara nalazi se trouglasti svetlarnik koju propušta prirodnu svetlost i time naglašava visinu prostora. Umesto umetničkih dela, na zidovima se smenjuju projekcije meduza koje polako plivaju preko zidova prema plafonu. Studio je takođe dizajnirao kompletan nameštaj, uključujući zakrivljeni kauč dug 30 metara.
4. Yakitori Barby u Tokiju
Svima je poznato da proslavljeni japanski arhitekta Kengo Kuma u svom portfoliju krije krajnje neobične projekte. Kafić uređen po njegovoj zamisli prostire se na peko 300 kvadrata, a enterijer je u potpunosti napravljen od recikliranih materijala – uključujući i mrežne kablove! Malo je reći da negov enterijer deluje potpuno unikatno, budući da se stolice i stolovi u njemu bukvalno stapaju.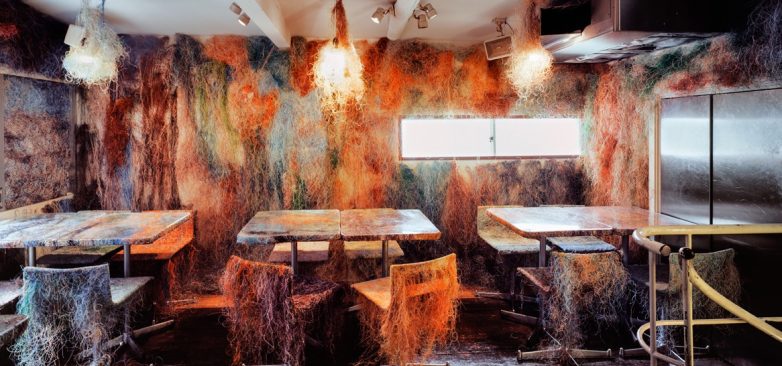 Ukoliko pomislite da ovaj simpatični kafić podseća na elemente iz filmova Wesa Andersona, znajte da to nije nimalo slučajno. U njemu su smešteni neki od rekvizita iz nekih Andersonovih ostvarenja, pa čak i fliper mašina u čast filma The Life Aquatic with Steve Zissou. Bar se nalazi u okviru Fondacije Prada, budući da je slavni režiser tokom svoje karijere napravio nekoliko kratkih filmova za ovu kuću. Bar je, sasvim očekivano, vrlo popularan na Instagramu.
U pitanju je jedan od najpoznatijih noćnih klubova u Pragu koji se prostire na čak pet spratova, a svaki od njih je  u različitom stilu. Sama zgrada zapravo datira iz 14. veka i originalno je služila kao javno kupatilo. Neki od originalnih elemenata su i dalje sačuvani, mada su promenili namenu. Naime, dno nekih velikih kada danas služi kao podijum za igru, a zanimljivo je da su na mnogim mestima originalne pločice na zidovima ostale netaknute.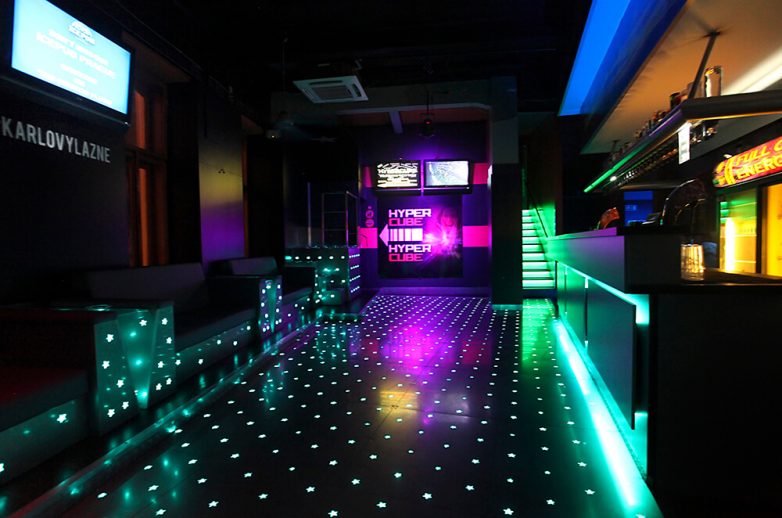 7. The Magazine u Londonu
Jedan od retkih kafića koje je projektovala Zaha Hadid zapravo je dodatak postojećoj Serpentine Slacker Galeriji za koju je ovaj studio radio enterijer. Najzanimljiviji deo projekta predstavlja njegov ulubljeni krov koji stoji na tri skulpturalna stuba, dok su stolovi u restoranskom delu bara poređani oko njih. Ova prostorija okružena je staklenim zidovima sa predivnim pogledom na baštu imanja.
8. The Ozone Bar u Hong Kongu
Bar se nalazi na vrtoglavom 118. spratu ICC tornja, u okviru Ritz-Carlton hotela. U pitanju je bar smešten na najvećoj nadmorskoj visini na svetu i sa njegove terase se pruža fantastičan pogled na ceo Hong Kong i okolinu. Među ostalim elementima enterijera ističu se mermerni bar i geometrijske šare na podu koje se protežu do plafona, kao i trouglasta staklena niša sa pogledom na grad u uglu kafića koja je izuzetno primamljiva za fotografisanje. Ovo je takođe vrlo popularna lokacija za venčanja bogatih.
Kad ste već ovde…