Novi restoran u srcu prestonice, u Karađorđevoj 61, svojim enterijerskim rešenjem spaja tradiciju i savremenu materijalizaciju.
Po projektu Studija Fluid realizovan je projekat enterijera bistroa Mali Pijac koji se nalazi se u prizemlju Vučine kuće površine 250 metara kvadratnih. Ovaj znameniti objekat, koji se ubraja u nepokretna kulturna dobra i spomenike kulture, podignut je 1908. godine, u vreme procvata Savske varoši, prema projektu arhitekte Dimitrija T. Leka, kao reprezentativni dvospratni objekat dvojne namene za trgovca Đorđa Vuča.
U prostorijama prizemne zone nalazili su se dućani, spratovi su bili namenjeni stanovanju, a ta podela na javni i privatni deo zadržana je do danas. Početkom 20. veka formiran je mali pijac na trgu ispred kuće, po čemu je i ceo kraj dobio naziv Mali Pijac.
Prizemlje Vučine kuće vraćeno je u prvobitno stanje i sada odiše veličanstvenošću iz vremena u kom je nastao.
Želja klijenata nije bila samo da se napravi takvo enterijersko rešenje u kojem restoran na neprimetan način prelazi u bistro, već i da se postigne otvorenost prostora ka budućoj bašti, da se omogući udobno sedenje s toplom i prijatnom atmosferom kao i se oseti minimalni nagoveštaj istorijskog i kulturnog značaja kroz etno motive interpretirane u savremenom prostoru i kontekstu.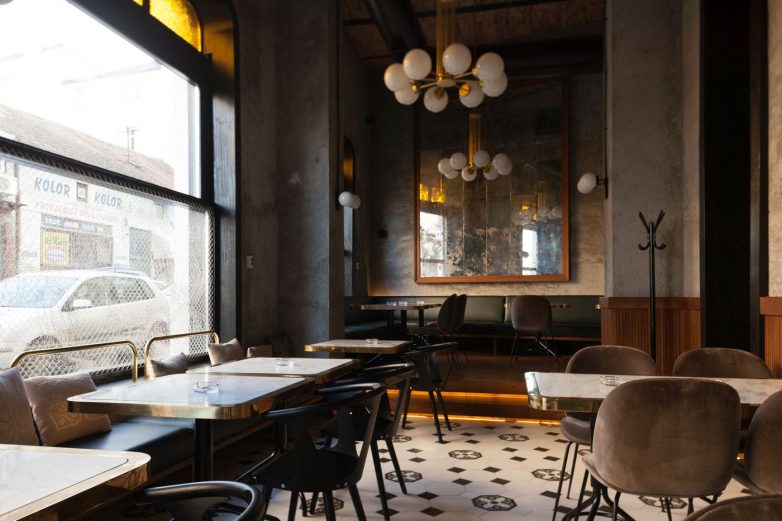 Akcenat na visini prostora
Na samom početku u projektovanju akcenat je stavljen na visinu prostora. Uklanjanjem postojeće galerije u zoni restorana, koja nije ni bila deo prvonastalog projekta kuće, dobijen je prostor sa visokim betonskim zidovima koji se sustiču sa plafonom od lukova rađenih u opeci i čeliku. "Na taj način prostor je vraćen u prvobitno stanje i odiše veličanstvenošću iz vremena u kom je nastao." – kaže za naš portal arhitektica Nevena Pivić iz Studija Fluid.
Razuđena osnova koju nose čelične grede i stubovi od opeke
Osnova je razuđenog oblika s centralnim ulaznim delom od kog se po kosini prostiru dva uzana kraka koja karakteriše velika spratna visina, sa plafonima koje formiraju svodovi od opeke, premošćeni čeličnim gredama i velikim stubovima zidanim od opeke. Deo bliži fasadi, sa velikom spratnom visinom, rezervisan je za goste restorana/bistroa, dok su unutrašnji delovi, podeljeni u dva nivoa, sa manje svetla, namenjeni servisnim prostorijama kao što su toaleti, kuhinja, šank…
Kuhinja je smeštena na dva nivoa, tako što je iznad servisnih prostora formirana galerija koja gleda na restoran. Lukovi unutar prostora su tretirani kao fasada, obloženi su masivnim drvenim pervajzima i u zoni kuhinje zatvoreni staklom. Na taj način kuhinja je vidljiva iz restorana preko prozora koji su smešteni u unutrašnje lukove koji su ujedno i konstrukcija objekta.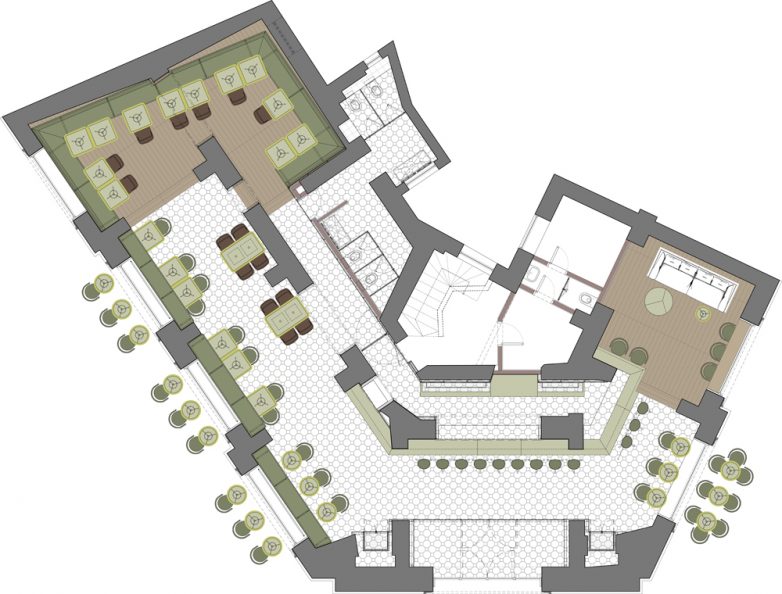 Na  ulasku u prostor, pored visine koja prva privlači paznju, frontalno u odnosu na posetioca, postavljen je masivan drveni šank s nogostubom od mesinga i širokom pločom od mermera. Šank svojom dužinom prati izlomljenost prostora prožimajući oba bočna kraka i daje nagoveštaj posetiocu kako se prostor razvija, a takođe, ceo prostor objedinjuje u jednu celinu.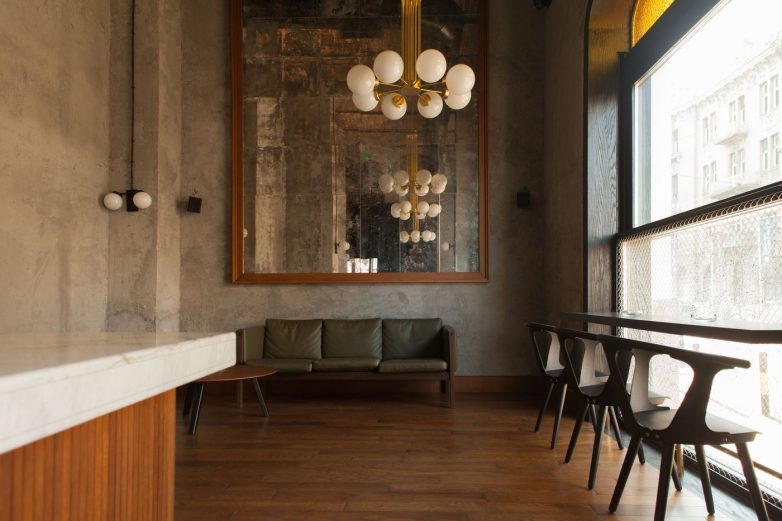 Korišćenjem materijala kao što su drvo, mermer i koža, duh vremena starog jezgra grada prodire i u enterijer.
Tamo gde se šank završava, počinju parapeti koji oko zidova formiraju središnji prsten koji spaja prednju zonu (bistro i restoran) sa zadnjom (servisnom) zonom, kao i bistro sa restoranom. Na kraju dva kraka izdignut je pod na platformu od dva stepenika i tako je omogućena bolja sagledivost prostora kao i različitost sedenja u okviru zona. Dok u centralnoj zoni dominiraju stolovi s neformalnim sedenjem, na platformama je odlučeno da to sedenje bude za nijansu udobnije i luksuznije sa stolovima koje prati klupa u restoranu ili udoban trosed u bistrou.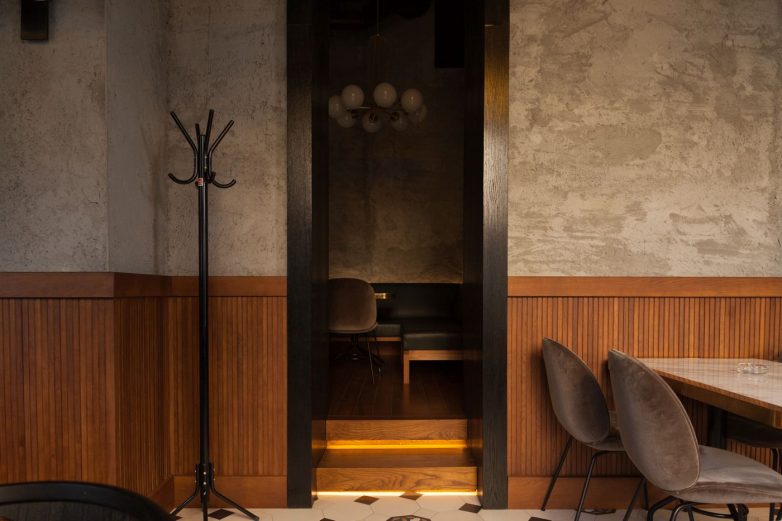 Intervencije u enterijeru su skoncentrisane na donju zonu – do visine šanka, da bi visina i impozantnost postojeće kuće bili još više naglašeni. U naglašenoj vertikalnosti bočnih krakova prostora, s plafona su spušteni ručno rađeni lusteri, koji su se nametnuli kao nezaobilazan motiv, i kao takvi su postali i deo logoa vizuelnog identiteta bistroa.
Kratke zavesice na prozorima interpretiran je na etno način, postavljanjem "žičanog miljea".
Prozori na fasadi su od crnog matiranog drveta i prate postojeće lukove na fasadi. Staklo je podeljeno po horizontali i donji stakleni ram kliza na gore čime se postiže otvorenost ka spoljašnjem prostoru. "Na taj način unutrašnji prostor se preliva u spoljašnji, a mogućnost sedenja u prozoru i sa unutrašnje i sa spoljašnje strane leti objedinjuje ta dva prostora u jedan." – kaže za naš portal arhitektica Nevena Pivić iz Studija Fluid.
Kratke zavesice na prozorima kao nezaobilazni deo enterijera bistroa interpretiran je na etno način, postavljanjem "žičanog miljea" u jednoj zoni prozora čime su još jednom spojeni tradicija i savremena materijalizacija.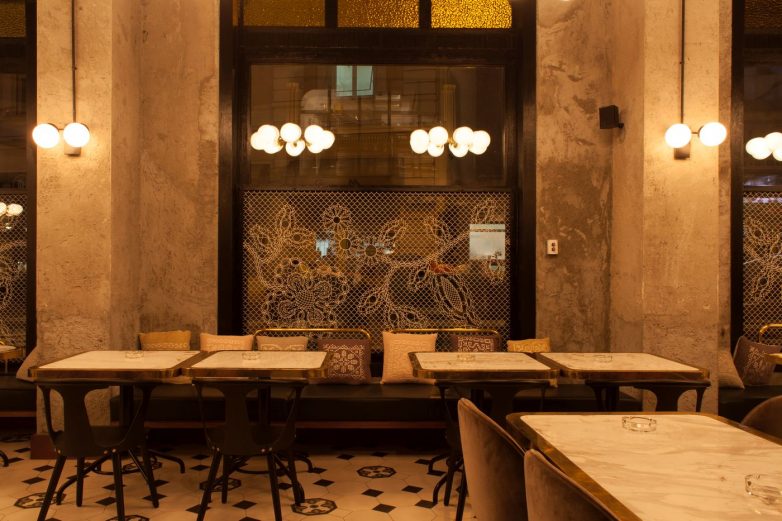 Tokom rada na enterijeru bilo je dosta nepredviđenih radova. Obzirom da je kuća stara, podrumi su bili sa mnogo vlage, zbog čega je dosta vremena oduzelo saniranje podruma da bi restoranski prostor bio prijatan za boravak.
Duh minulih vremena
"Atmosferu bistroa, smo pokušale da oživimo tipičnim bistro stolovima sa mermernom pločom i ramom od mesinga." – navode arhitekte. Lusteri i zidne lampe koje su iz iste linije imaju notu starog bistroa, a interpretirane u savremenom stilu prave atmosferu starinskog, toplog i prijatnog ambijenta a ujedno i pojačavaju mistiku prostora. Takođe, materijali koji su korišćeni u obradi su ti koji povezuju staro sa novim, to jest, korišćeni su i tada podjednako kao i sada. "Na taj način duh vremena starog jezgra grada, prodire i u enterijer." – zaključuje Nevena Pivić.
Faktografija:
Ime: Bistro Mali Pijac, Karađorđeva 61, Savamala, Beograd
Autori: Studio Fluid (Nevena Pivić, Vanja Otašević, Zorana Vasić, Tijana Vitomir)
Površina: 250 m2
Broj sedećih mesta: 80-90
Projekat: 2016.
Otvoren: 25.10.2018.
Fotografije: Jovana Rakezić
Kad ste već ovde…
– Restoran Keep Calm u Batajnici / Remorker Architects
– Enterijer kafea Focus na Vračaru po projektu Unknown Studio
– Restoran ResoLution Signature u Rovinju / 3LHD