Prestonica Brazila, napravljena od nule u samom srcu ove južnoameričke zemlje, proslavila je 21. aprila 2020. godine 60 godina postojanja. Evo kako je ovaj grad doživeo arhitekta Nikola Carević.
Brazilski gradovi su jedan veliki nagomilani haos koga postanete svesni onog trenutka kada počnete da živite u njemu. Sve postane naopako u odnosu na onu staru novosadsku svakodnevicu gde je sve tako predvidljivo i sređeno. Brazilski urbani lavirint je nešto što je u mom mentalnom kontrastu slikalo naš Novi Sad kao mesto velike urbane kulture i urbanog reda.
Urbani kolaps krhkog latinoameričkog sistema je svakodnevno dovodio i najizdržljivije na mentalnu ivicu. Nekako je sve bilo tako nabacano i haotično a onda sam jednog dana, vođen poslom, iz aviona, skeptičan na moderni urbanizam pedesetih, ugledao Braziliju.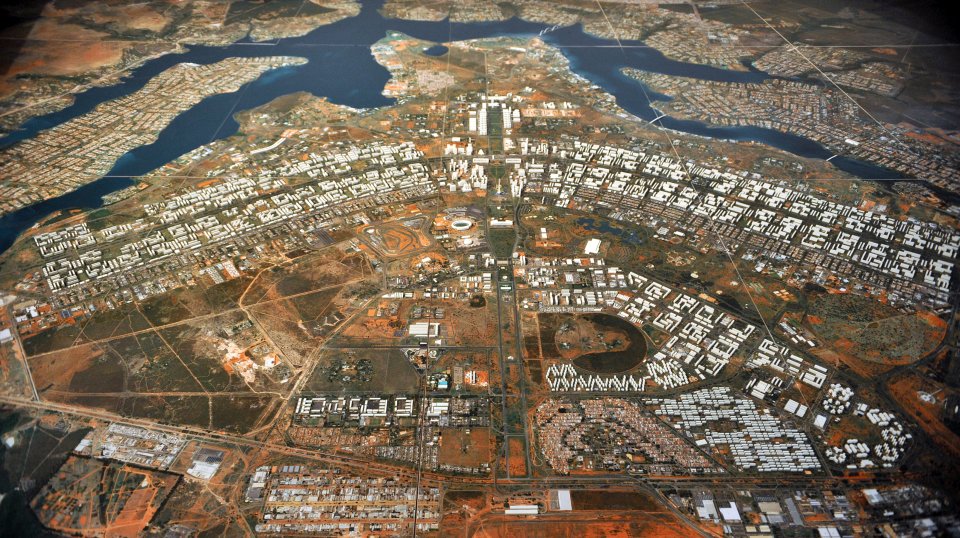 Brazilija iz vazduha liči na avion – modernistički simbol progresa i mašinskog doba iz kojeg je proizišao oblik grada.
Na sunčanom jutarnjem horizontu sam ugledao obrise čuvenog grada. Mogao sam da vidim avenije, da spoznam strukturu grada u jednom jedinom pogledu. Jednostavno sam osetio neverovatnu sreću kada sam posle toliko godina u Brazilu prvi put ugledao i prepoznao jedan urbani red – sistem. Plansku ekspanziju na velikom Plan Altou; ogromnoj centralnoj visoravni na više od 1.000 metara nadmorske visine koja je bila uobličena u grad Braziliju i to sa osnovom u obliku aviona – modernističkog simbola progresa i mašinskog doba iz kojeg je proizišao oblik grada.
Praznine u praznini
Brazilija je jedan usamljeni grad, u moru centralne brazilske savane i kao usamljeni list plovi na monumentalnim i široko zatalasanim visoravnima. Kada joj se približavate, projekat grada je tako koncipiran da se do samog kongresa, to jest, centralnog grada spuštate na blagoj rampi. Kao da ceo grad curi ka gravitacionom centru gde se sve te sile pretaču u dve ogromne Niemeyerove zgrade kongresa koje nas dalje propuštaju ka jezeru a ono dalje, tamo negde ka beskraju.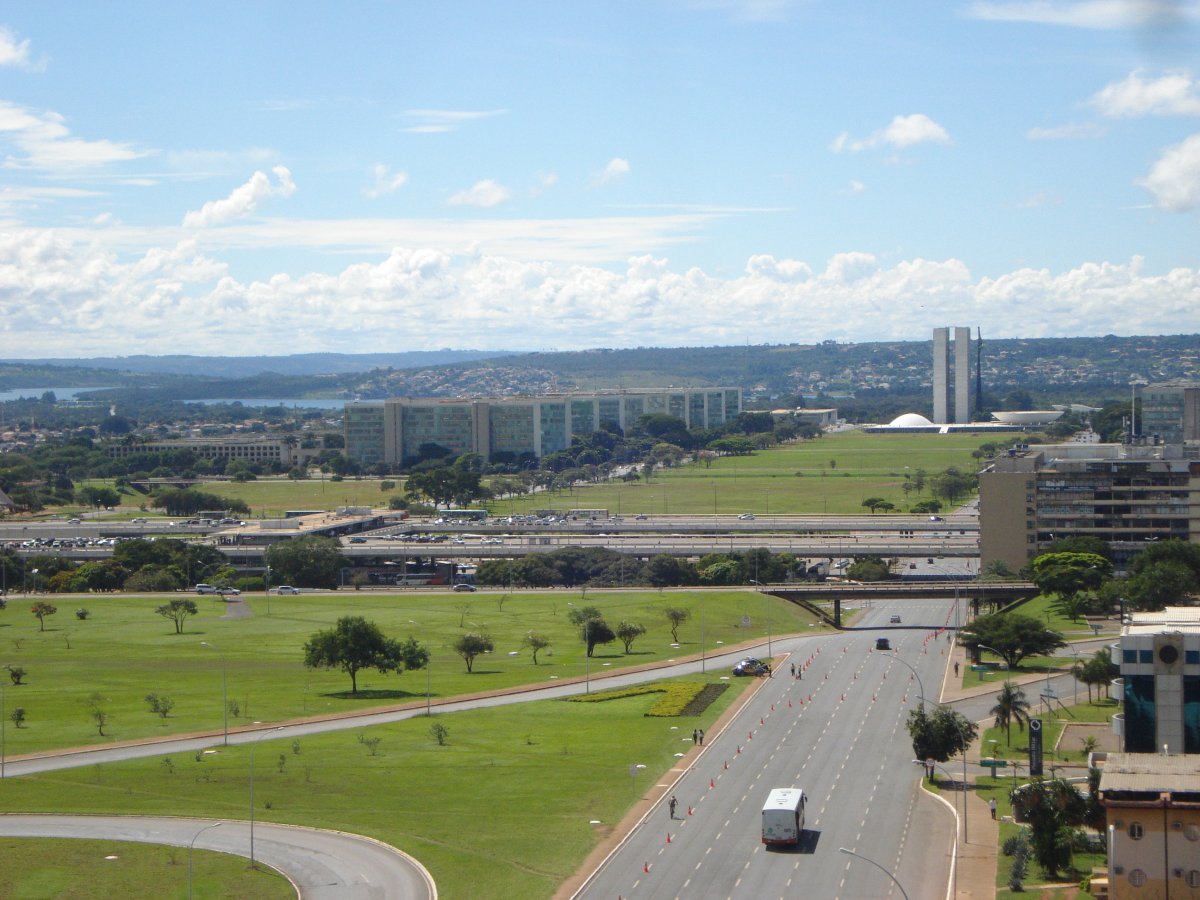 I upravo mi se ta tema beskraja, ta usamljenost grada usred ničega, činio kao koncept same arhitekture koju sam otkrivao na svakom koraku. Oscar Niemeyer i Lucio Costa su veliku prostornu rupu pretvorili u niz sukcesivnih geometrijskih praznina, ogromnih zelenih prostora i avenija između objekata na kojima bi im i sam Le Corbusier pozavideo.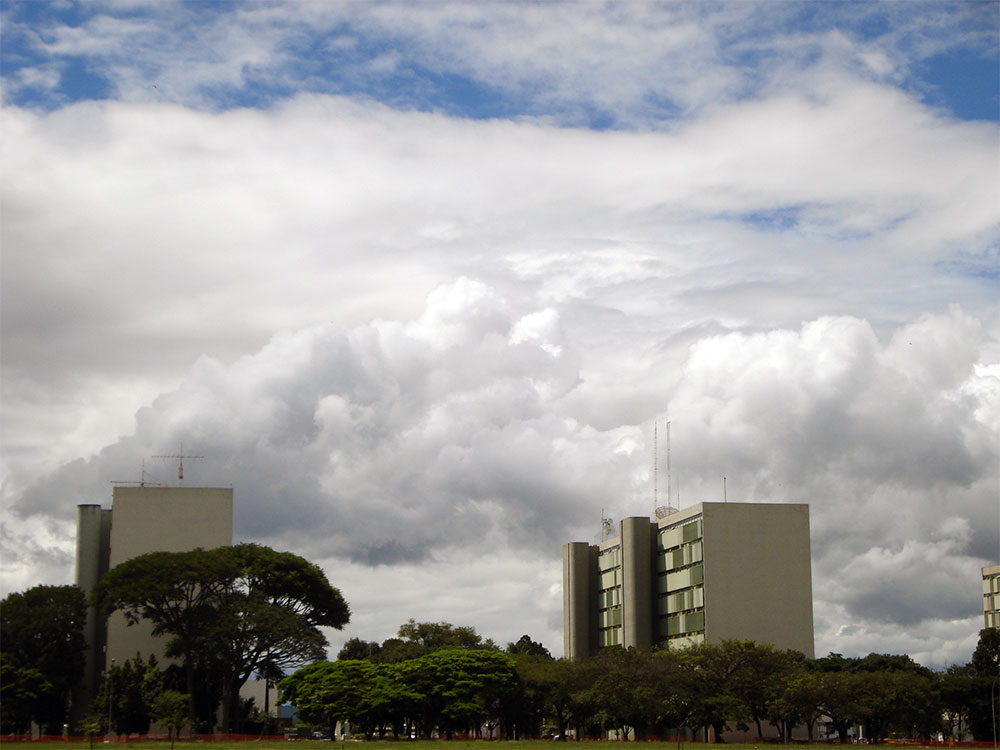 Daleki pejsaž bio je vidljiv iz svakog kutka grada a nebo je bilo dominantni element slobode koji su pratile usamljene arhitektonske apstraktne kutije internacionalnog stila zgrada ministarstva koje su marširale u svojoj paradoksalnoj desničarskoj strogoći.
Ove sukcesivne praznine su se ponavljale i u enterijerima monumentalnih objekata u kojima skoro da nije bilo ni jednog jedinog stuba. Samo nežna lebdeća staklena pokrivka u slučaju Katedrale, lebdeće kupole zgrade Nacionalnog muzeja ili stepenica neverovatne palate Itamaraty koje su povezivale ogromne horizontalne ploče iza kojih je ceo pejsaž ulazio u predvorje. Sve je lebdelo, gravitacija je nestala a mi smo baš kao i Plan piloto takođe lebdeli negde između neba i zemlje, jave i sna…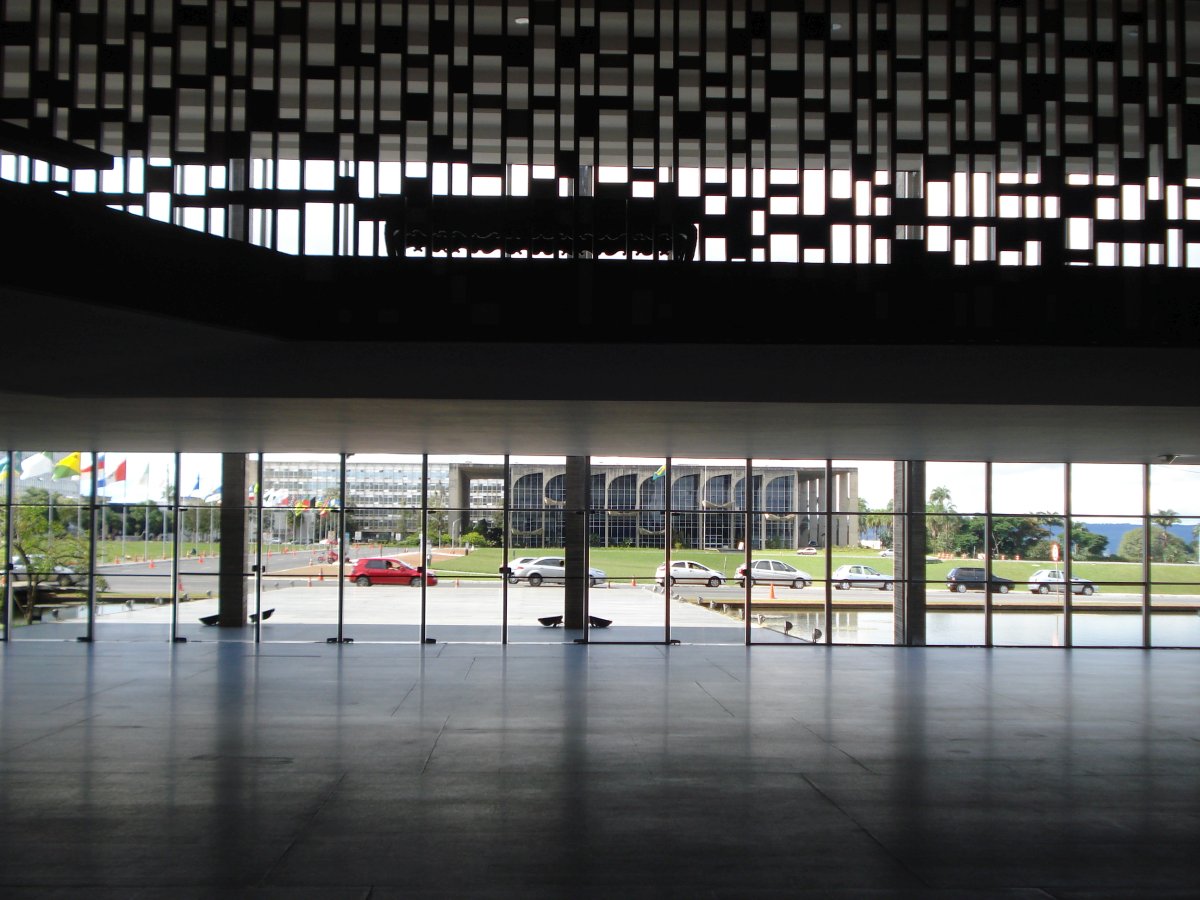 Niemayerova iznenađenja
I baš tu, kada sam pomislio da je strogi ritam ministarstava suviše monoton, suviše predvidljiv, pojavila se, ušuškano i nenametljivo, za mene potpuno nepoznata, palata Itamaraty. Fantastičan i neočekivani moderni betonski peristil doneo je novi ritam i novu savršenu proporciju gradu ali i neki šarmanti interpunkt. Njena materijalizacija i kontradiktornost velikog crnog staklenog unutrašnjeg kubusa donosili su interesantnu tenziju. Mogu sa sigurnošću da kažem da je to jedna od najlepših zgrada koje sam ikada video.
Mogu sa sigurnošću da kažem da je palata Itamaraty jedna od najlepših zgrada koje sam ikada video.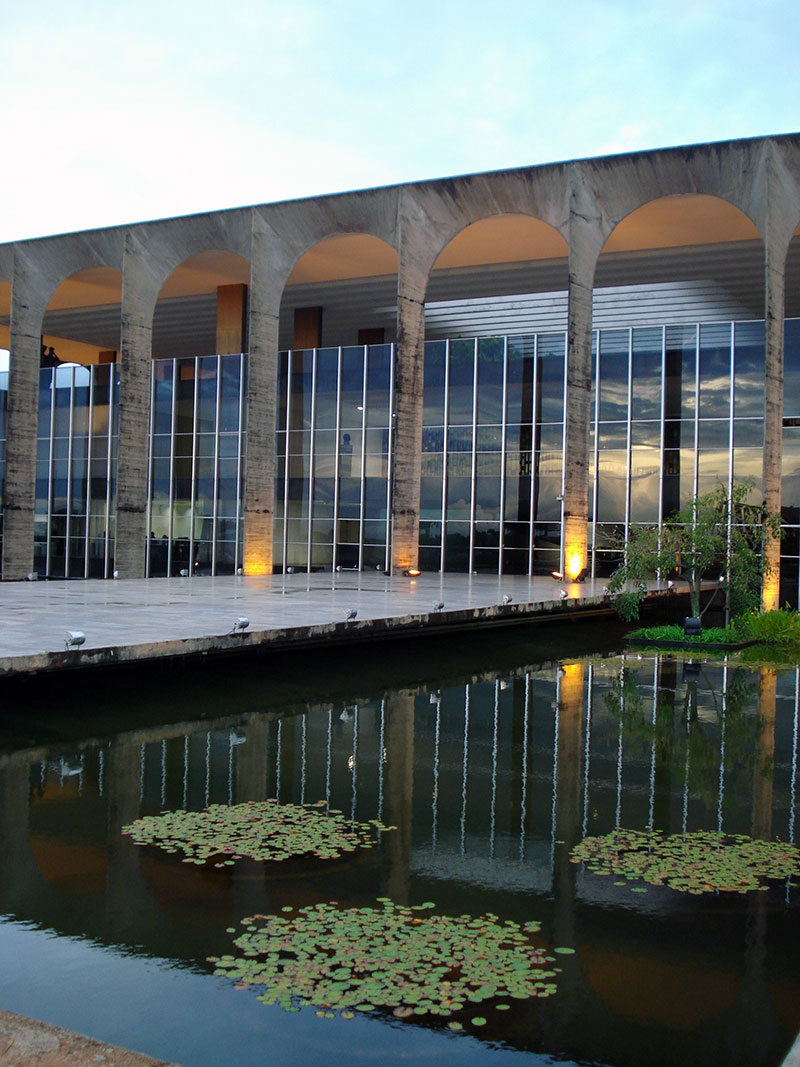 Jedan je Burle Marx
Što sam više posmatrao tu zgradu, to sam više shvatao da svoj monumentalni urbani efekat duguje i pejzažnom uređenu koji je radio veliki Burle Marx. Karioka iz Rio de Žaneira znao je da unese tropske elemente u urbanu scenu i mnogi Niemeyerovi projekti duguju svoju kompletnost i dramatiku Burle Marxu; baš kao i enterijeri Gaudija genijalnom Žužolu. A listovi banana i fikusa koji su izvirali iz malog jezera na pravi su način prenosili tropski kod. Bilo je sjajno sedeti i gledati u taj odraz satima. A tek kada su se upalila svetla…
Harmonija jednog stila
Brazilija je grad koji poseduje urbani red koji je uobličen stilskom ujednačenošću internacionalnog stila. Kubusi su na sve strane, slepi zabati i staklene kockice koje izviruju iz zelenila. Novosadski Limani?
Taj red duguje repetitivnom arhitektonskom stilu koji se odlično uklapa u programsku šemu i koji se jako dobro slaže s vanserijskim zelenilom koje na svoj prirodni način omekšava strogoću i repetitivnost arhitektonskih kubusa i urbanih blokova.
Baš zbog te stilske arhitektonske i urbane harmoničnosti grad ima velikih problema da odgovori na moderno doba pa se često dešava da se zbog visinskog limita iz pedesetih i šezdesetih godina XX veka, zgrade ukopavaju sve dublje i dublje ne bi li se na taj način dobio višak spratova; pa je pojava urbanih rupa više nego učestala pojava koja se pretvorila u karakteristiku.
Zbog visinskog limita zgrade se ukopavaju sve dublje i dublje ne bi li se na taj način dobio sprat više. Zato je uobičajena spratna visina u Braziliji 210cm.
A baš zbog svega toga spratne visine su premale i one se kreću oko brojke od 210 cm. Brazilija je poznata po toj spratnoj stišnjenosti koja proizilazi iz problema kada grad postane muzej sa strogom visinskom regulacijom. A opet, da li bi poslovna i socijalna etika sačuvale grad do naših dana onakvog kakvog ga svi znamo i da li bi se ova originalna harmonija koja postoji danas potpuno izgubila u moru nelegalne i špekulativne gradnje!?
Mega razmera i jedno pitanje
Razmera koju sam osetio u tom gradu je nešto gotovo neobjašnjivo, drugačije u odnosu na celi Brazil. Kao da ste pred morskim horizontom u gradu koji je kontinentalan, a to donosi tenziju i neku drugačiju atmosferu od očekivane.
Falilo mi je malko ljudske razmere i nekog pešačkog elementa u gradu koji je tako širok.
Pa ipak falilo mi je malko ljudske razmere i nekog pešačkog elementa u gradu koji je tako širok i koji, u stvari, ciljano koncepcijski traži tu istu monumentalnost i strogost glavnog grada bez trunke tradicionalnog šarma.
Sve je daleko i sve je odvojeno jedno od drugog, a to ide u prilog mojoj tezi o konceptu grada kao nizu sukcesivnih praznina kontinuiranog pejzaža u kontrastu razbacanih geometrijskih apstraknih arhitektonskih kubusa.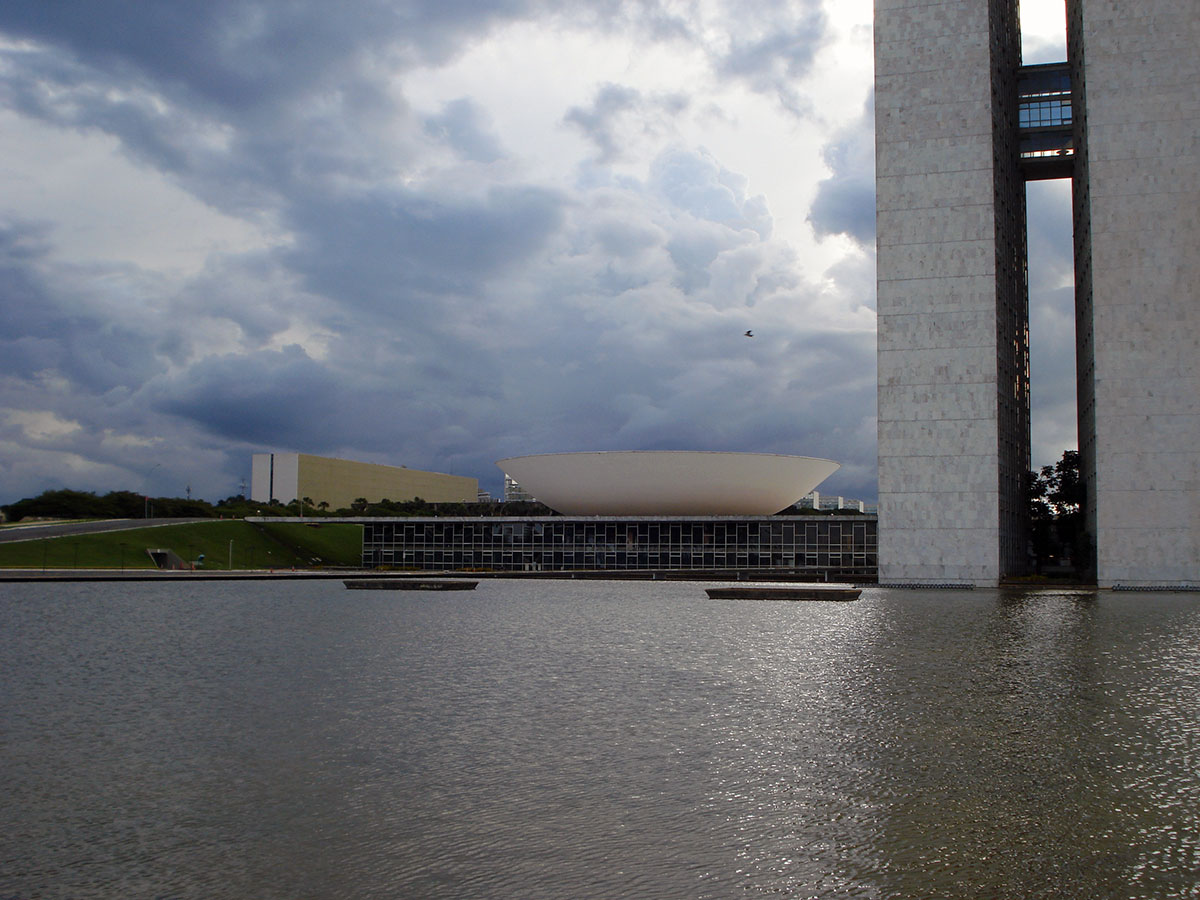 I na kraju ostaje da se zapitam da li je bolje imati grad koji je totalno isplaniran do svakog detalja, grada u kome kao da je vreme stalo, kontrolisanih detalja urbanih i arhitektonskih sekvenci, jednom rečju muzejski dijagram; ili grad koji se generiše na hiljade novih načina u svakom trenutku donoseći nepredvidljivost i brzinu ekspanzije novih arhitektonsko urbanih špekulacija?
Kao i uvek istina je negde na sredini.
tekst: dr. arh. Nikola Carević, profesor na Pontifícia Universidade Católica do Rio Grande do Sul