Mini-kuhinje uglavnom srećemo u poslovnim prostorima mada, kako nam se kvadratura stanova sve više smanjuje, ovakve mini-kuhinje ćemo sve više sretati i u stambenim prostorima. Zato vam predstavljamo ugledne primere ovakvih kuhinja koje možete prekrojiti spram vaših potreba. 
Čajne kuhinje treba da ispune osnovne zahteve zaposlenih, ili stanara, za spremanje namirnica i napitaka u veoma ograničenom prostoru. Postoji nekoliko trikova kojim ćete dobiti funkcionalniju kuhinju, a prvi od njih je da koristite podpultne ugradne frižidere, odnosno, one modele koji staju ispod radne ploče. Front frižidera se izvodi u istom materijalu kao i cela kuhinja, to jest, frižider neće biti vidan što će učiniti kuhinju lepšom.
Ukoliko je električna ploča potrebna, koristite onu s dve ringle koja je širine 30 cm i može da se smesti direktno iznad podgradnog frižidera.
Ako vam je potrebna električna ploča, koristite modele od 30 cm sa dve ringle.
Ako želite mikrotalasnu rernu, savetujemo da je postavite u viseće elemente ili koristite ugradnu mikrotalasnu koju možete postaviti u donje elemente kuhinje. Nemojte je postavljati na radnu ploču jer će pojesti svu radnu površinu!
Što se tiče rasvete, ugradite LED traku ispod visećih elemenata da biste dobili dobro osvetljenje u kuhinji. Sada kada znate osnovne trikove, slede konkretni primeri čajnih kuhinja koje možete koristiti i u vašim prostorima.
Primer 1: čajna kuhinja dužine 1,1 metar
Ova kuhinja je široka svega 110 cm. Ugradni frižider postavljen je s leve, dok je sudopera s desne strane. U ovom slučaju zaposlenima nije bila potrebna električna ploča jer koriste samo kuvalo ali se ona mogla postaviti iznad podpultnog frižidera. Sudopera je kružna i prečnika je 40 cm. Svi viseći elementi su iskorišćeni za odlaganje sem najvišeg dela iznad kojeg je smešten horizontalni bojler.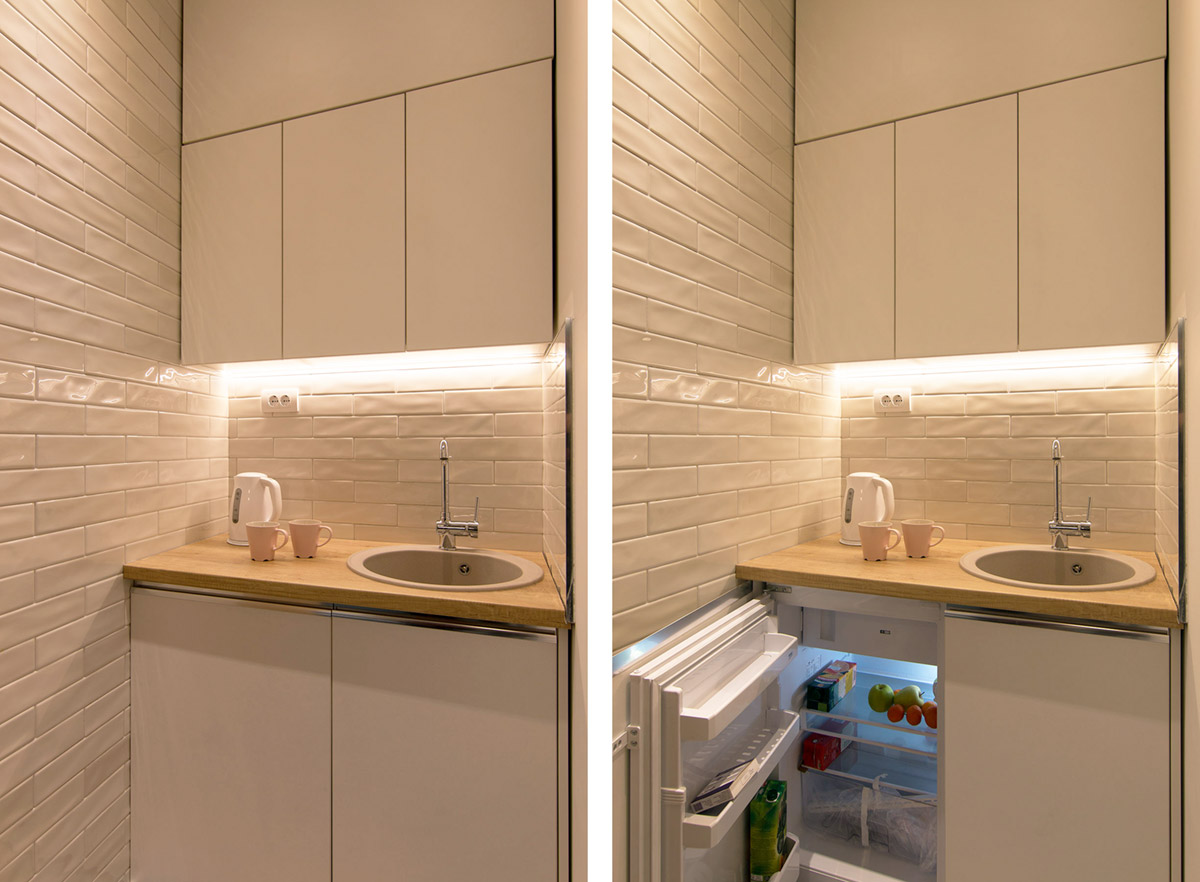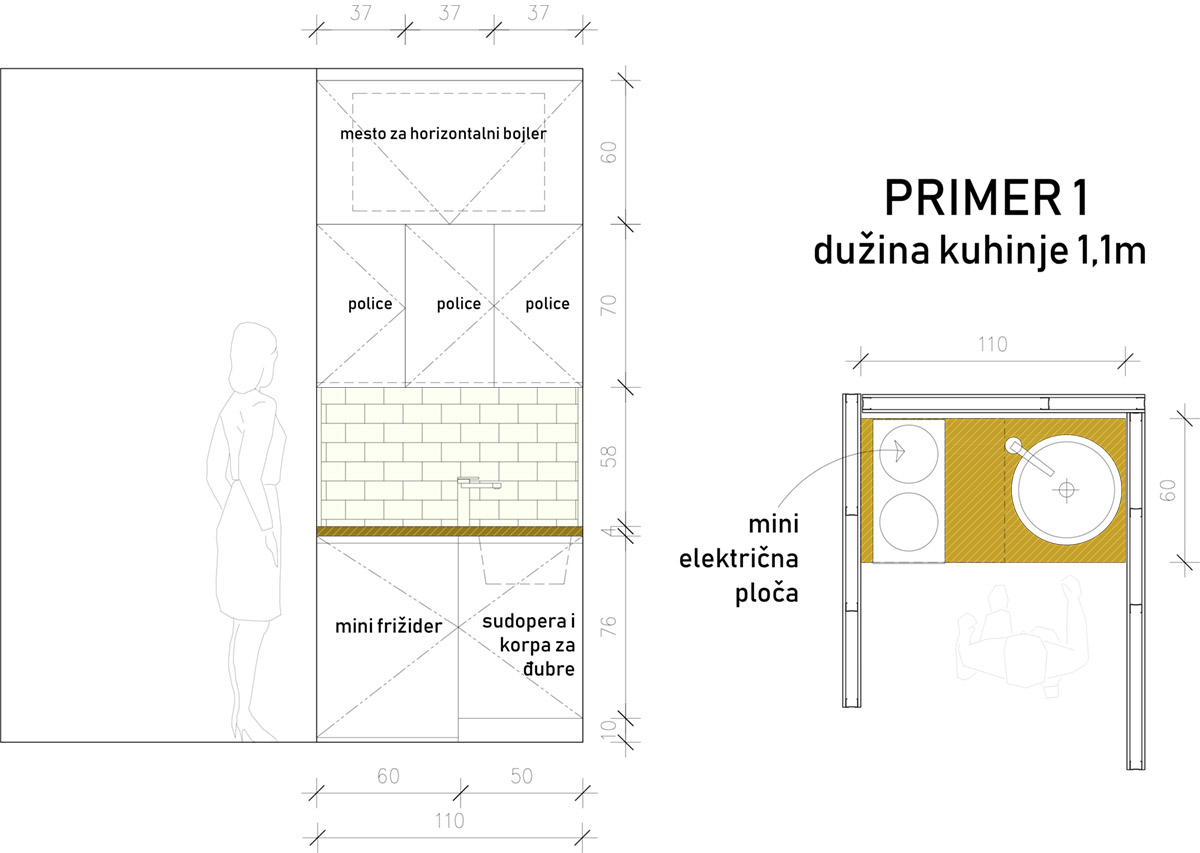 Primer 2: čajna kuhinja dužine 1,5 metara
Ovo je nešto šira kuhinja, i ona je dužine 1,5 metara. Ona takođe ima podpultni frižider, električnu ploču s dve ringle i sudoperu. Ispod sudopere je prostor za kantu za đubre kao i za odlaganje, a desno od nje organizovane su ladice. U viseće elemente postavljena je jedna otvorena polica, a ostatak zatvorenih je sa otvaranjem na makazice, to jest, s podizačima na gore. Na zid je, umesto pločica, postavljeno staklo sa tapetom u pozadini.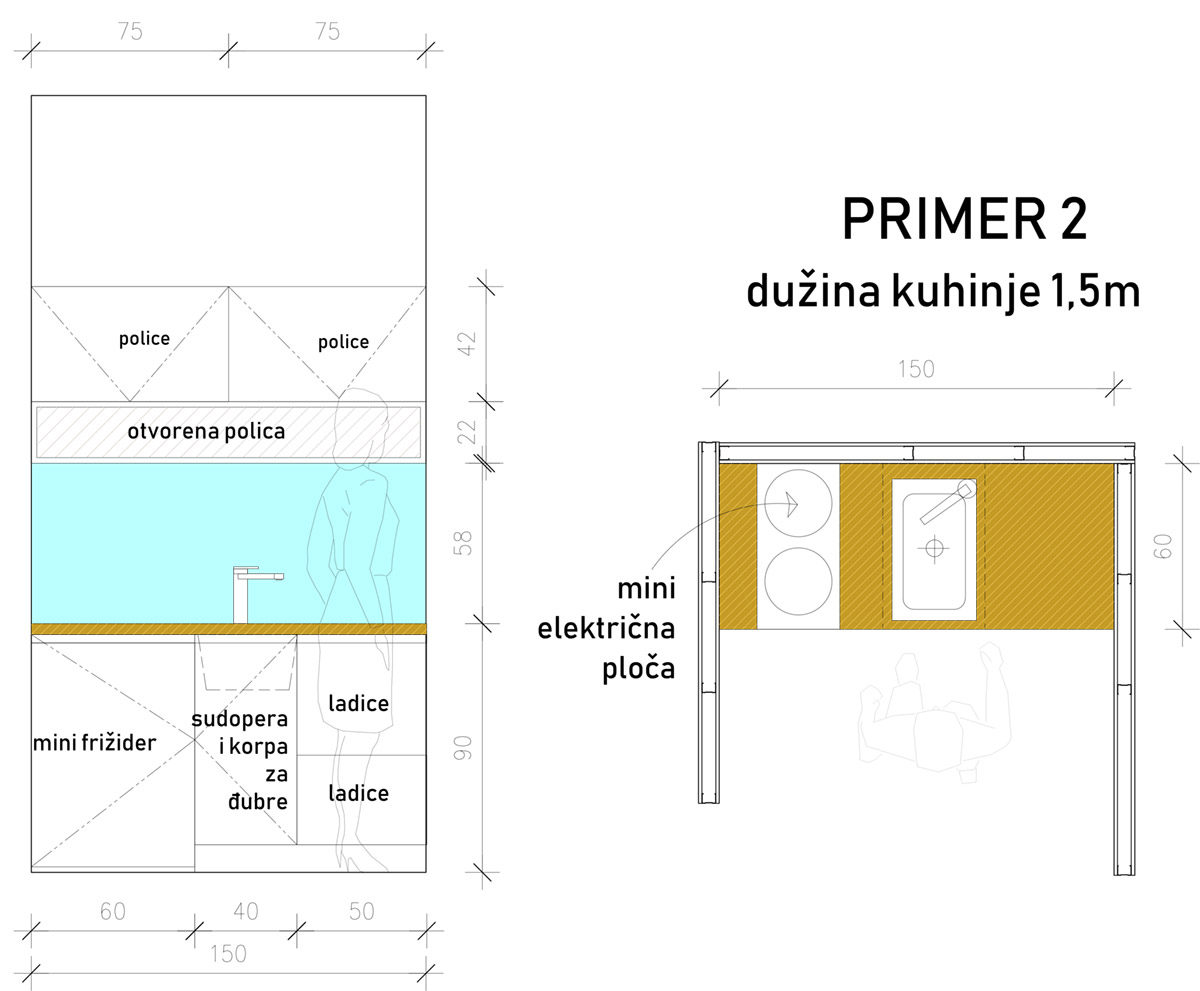 Dakle, nije bitno koliko imate mesta već kako ćete ga iskoristiti! Nadamo se da će vam ovi primeri pomoći da razrešite i vašu mini-kuhinju.
Foto i video: Igor Conić, Marko Poplašen; izvedeni projekat: Studio za unutrašnji dizajn Gradnja.rs – arh. Sonja Brstina
Korisni linkovi: