Uređenje dečije sobe je uvek izazov, a ukoliko se pritom ona nalazi pod kosinom, onda je zadatak još veći. Pogledajte tri primera koji vam mogu dati ideju kako treba urediti ovu najzanimljiviju sobu u kući, a tu su i naši predlozi koje materijale i boje upotrebiti.
Sređujete dečiju sobu a ne znate gde kako naći prostor za odlaganje i gde postaviti krevet ako je soba u potkrovlju? Svidela su nam se rešenja dečijih soba italijanskog proizvođača nameštaja Giessegi koja daju odgovore na neka od ovih pitanja. Sledeća tri primera možete uzeti kao dobre uzore na osnovu kojih možete osmisliti vašu dečiju sobu i napraviti je po meri.
Primer 1: Krevet iznad plakara
Zanimljivo i potpuno nesvakidašnje rešenje jeste da krevet smestite iznad plakara koji je naravno manje visine od standardnog. Na ovaj način dobijate izuzetno dubok orman u širini dušeka, to jest, 90 centimetara. Stepenice ka krevetu možete iskoristiti za smeštanje ladica za igračke.
Ne zaboravite ogradicu na krevetu! Ona može biti interesantne forme i pratiti temu sobe. Savetujemo da stavite laganu ogradu kao na primeru ispod kako biste lakše mogli prići i zameniti posteljinu.
Kada ste rešili odlaganje stvari ispod kreveta, ostaje vam ceo zid za police za knjige, ladice i radni sto.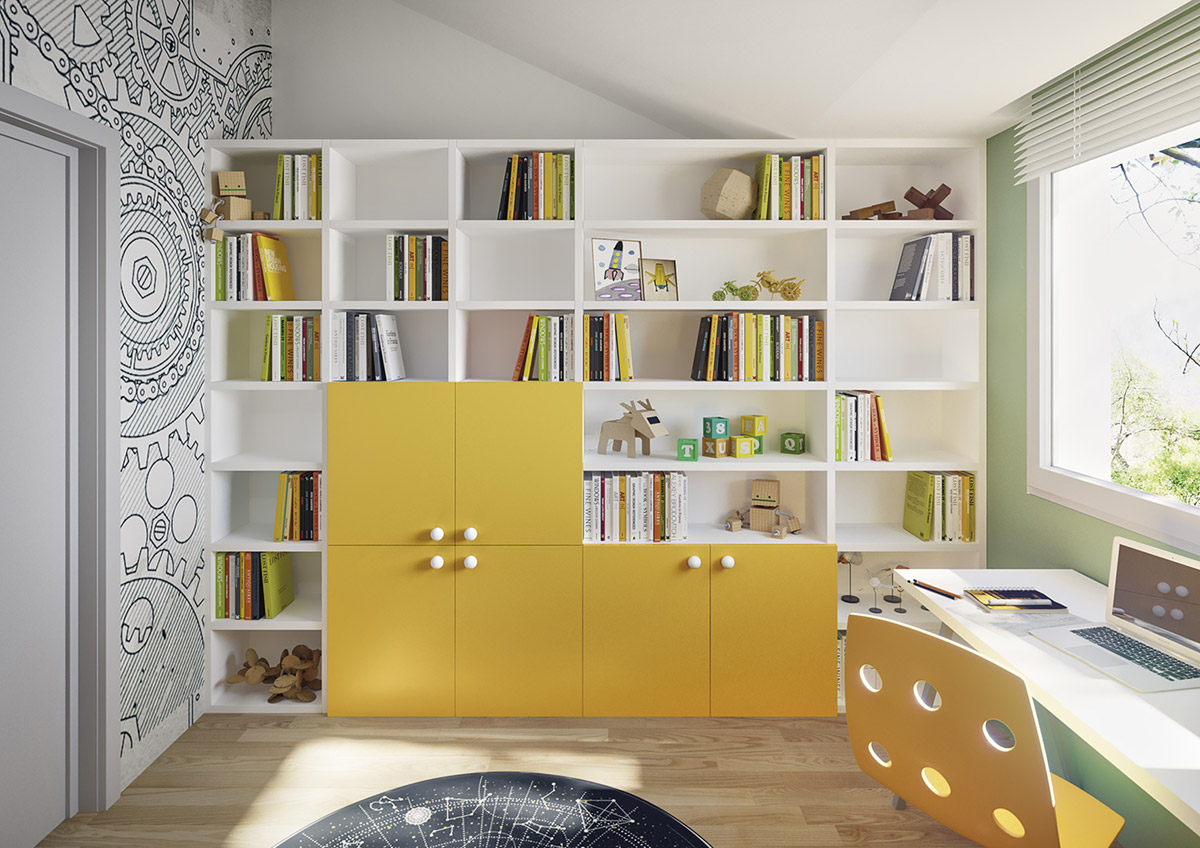 Predlog boja i materijala
Predlažemo da se nameštaj za dečiju sobu pravi od univer ploča. Mi smo odabrali paletu boja koja se nama veoma dopala. Svi korpusi, to jest, zatvoreni elementi nameštaja mogu se napraviti od belog univera – Egger, osnovna Bela, W 908, dok smo za frontove plakara i zatvorene police odabrali žuti univer takođe od Eggera – brilijant žuta U114. Ne zaboravite da na ovakav nameštaj najbolje idu bele ručkice. U salonima za okov se mogu naći ručkice u obliku gumenih loptica. Zidove okrečite u lepe nijanse zelene boje kao što je boja NCS S 3020-G50Y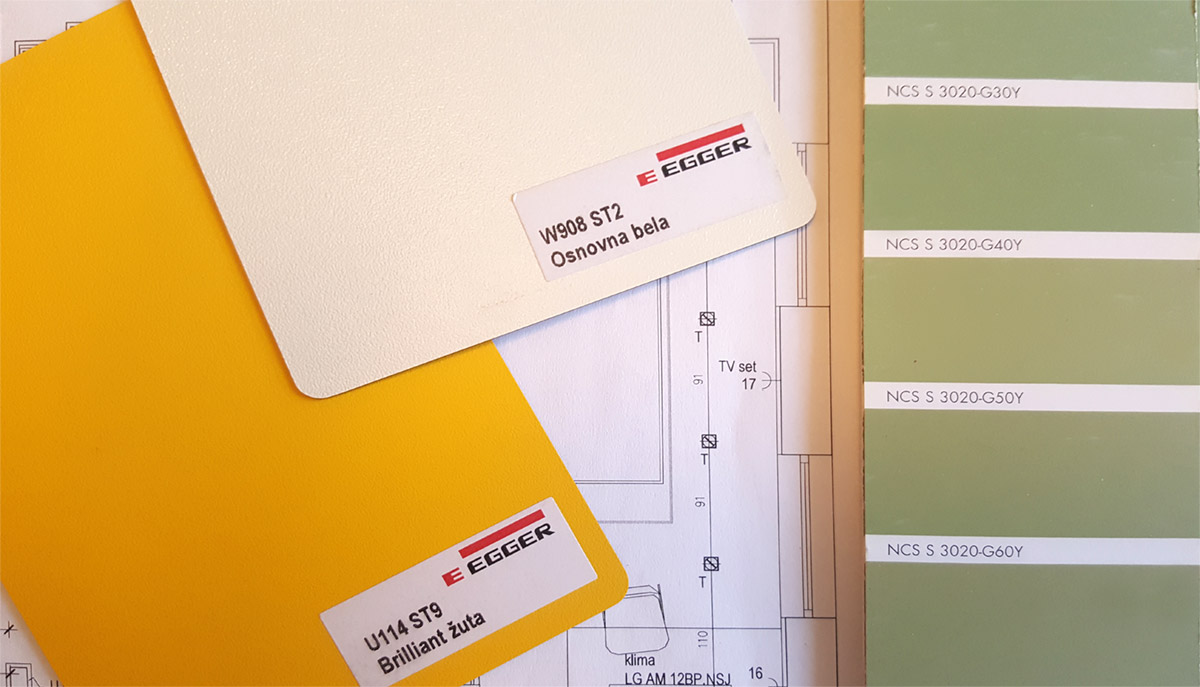 Primer 2: Plakar pune visine
Drugo rešenje, koje je dosta učestalije, jeste da plakar smesti uz najviši deo sobe, a krevet pored.
Ukoliko spratna visina dozvoljava, sjajno rešenje jeste krevet na sprat koji se nadovezuje na orman kao na primeru ispod. Tada je potrebno da spratna visina u najvišem delu bude minimum 250 cm.
I u ovom rešenju stepenice imaju ulogu prostora za odlaganje, a nosač gornjeg kreveta je ujedno i otvorena polica.
Primeri boja i materijala
I ovakvu sobicu možete napraviti po meri! U pitanju je kombinacija tri vrste univera: sve jednobojne i jedne sa teksturom drveta. Na krevet i plakar pored njega možete kombinovati nežno plavi univer proizvođača Egger, Horizont plava, U522 i svetlo sivi, U708. Da bi utoplili ceo ambijent, uzglavlje kreveta možete uraditi u teksturu drveta kao što je Egger, Aland bor polarni, H3433.
Primer 3: Tinejdžerska varijanta
Ovo je jako dobro rešenje za tinejdžere! Plakar je u kombinaciji otvorenih polica i zatvorenih elemenata u dve boje, a na zidovi su okrečeni u ozbiljniji braon ton. Cela soba izgleda interesantno zbog jarko žutog kreveta sa jednostavnom natkasnom u istoj boji i formi kao i plakar.
Primeri boja i materijala
Pored osnovne bele boje, od koje se prave korpusi nameštaja koji nisu vidni, osnovna bela Egger, W908 ST2 se pojavljuje i na frontovima plakara u kombinaciji sa Delft plavom, Egger, U252 ST9.
Zidovi braon u nijansi NCS S 4005-Y20 R će umiriti ovaj jak kontrast na nameštaju.
Nadamo se da smo vam pomogli prilikom odabira rešenja za vaše klince. Ukoliko se budete odlučili da pravite dečiju sobu po meri, sve ove dekore univera možete pronaći u kompaniji Lamex doo.
Foto: Giessegi, Gradnja.rs
Kad ste već ovde…