Drvena hibridna konstrukcija SKAIO od deset spratova uskoro će biti izgrađena u Nemačkoj.
Zgrade se prave od betona i čelika, a kuće i vikendice od drveta. Pogrešno! To pravilo odavno više ne važi jer smo i mi na ovom portalu u poslednjih par godina objavili više projekata višespratnica podignutih na drvenoj konstrukciji. Međutim, lestica se podiže a sa njom i visina koje ove konstrukcije dosežu.
Iz Nemačke nam stiže vest o projektu drvene zgrade kojeg potpisuje biro Kaden + Lager, a nalaziće se u gradiću Hajlbron, blizu Štutgarta. Desetospratnica će biti visoka 34 metra zbog čega je već proglašena najvišom građevinom tog tipa u Nemačkoj.
Prefabrikovano drvo i mala pomoć betona
Drveni delovi su prefabrikovani, a pri izgradnji će se koristiti unakrsno laminirana drvena građa, odnosno CTA paneli koji se prave od impregniranih slojeva čvrste drvene piljevine.
Kvalitet drvene gradnje poveren je kompaniji ZÜBLIN Timber Glulam iz koje kažu da velika prednost drvenih konstrukcija leži u relativno kratkom vremenskom roku potrebnom za izgradnju, jer su drveni elementi uglavnom prefabrikovani i zahtevaju samo montažu na licu mesta.
Zvanično, ova zgrada spada u hibridne konstrukcija jer je jezgro konstrukcije sa stepeništem i liftom napravljeno od betona.
Kako to sve stoji? Zvanično, ova zgrada spada pod tip hibridnih konstrukcija jer je jezgro konstrukcije sa stepeništem i liftom napravljeno od betona.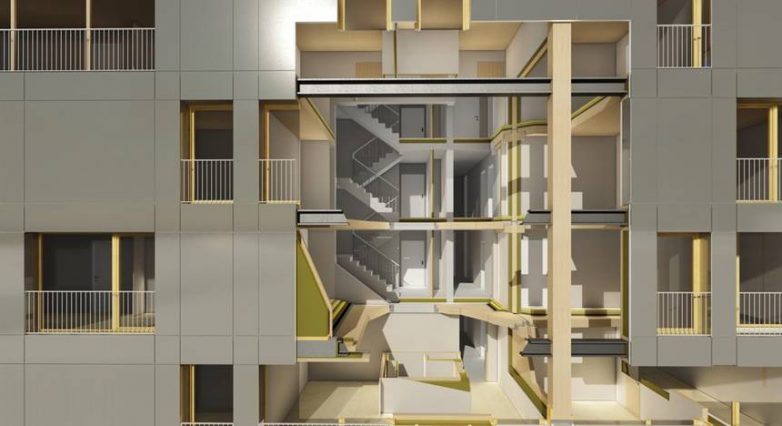 Nemačka smreka za nemački kvalitet
"U stanju smo da izgradimo jedan sprat nedeljno", kaže Markus Brandl, menadžer projekta ZÜBLIN Timber i dodaje: "Osnove ovakvih zgrada su napravljene od lepljene laminirane građe. Za drvene zidove i plafone ZÜBLIN Timber koristi samo smreku koju uglavnom uzimamo iz nemačkih šuma jer nosimo PEFC sertifikat kvaliteta za održivo šumarstvo".
U zdravoj zgradi – zdrav duh
Što se tiče namene ove građevine, predviđeno je da se u prizemlju nađe ugostiteljski objekat, dok će se ostatak zgrade zauzeti 60 stanova.
"SKAIO koncept je namenjen ljudima koji žive ekološki i poštuju ideju zdravog života. Jednostavni arhitektonski stil i upadljivi drveni elementi zgrade u kojoj je ovom građevinskom materijalu dopušteno da živi, predstavljaju odličan rezidencijalni model. Ovde će se živiti u održivom, prirodno povezanom, zdravom životnom okruženju sa visokim standardom života", poručili su iz biroa Kaden + Lager.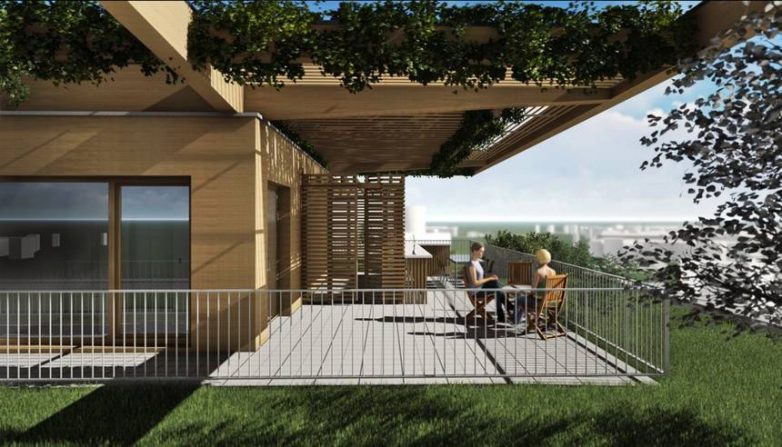 Objekat bi trebao da bude izgrađen do kraja 2019. godine.
Vizualizacije: Kaden + Lager
Kad ste već ovde…