Nove saobraćajnice poboljšaće vezu između severa i juga. Upoznajte Malmo-Palermo Express.
Veza između zapada i istoka je počela da se razvija nakon pada Berlinskog zida. Prvo je uspostavljena železnička trasa između Moskve i Pariza, a Berlin je od 2006. postao centralna tačka evropskih pruga. Međutim, sever i jug oduvek su bili loše povezani. Novi međunarodni projekti bi u skorijoj budućnosti to trebalo da promene.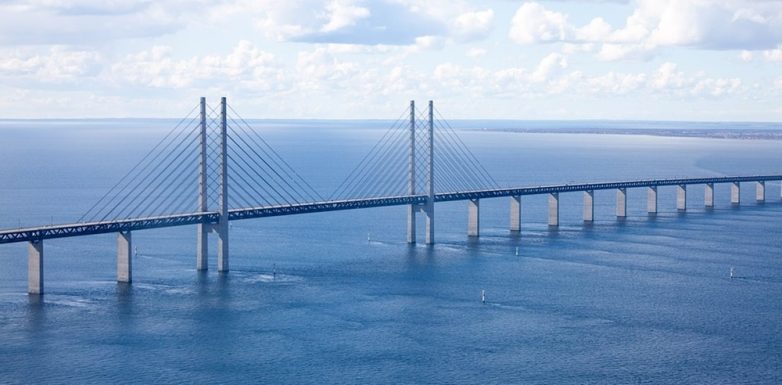 Novi međunarodni projekti bi u skorijoj budućnosti trebalo da bolje povežu sever i jug Evrope.
Kako piše Economist, trenutno je u planu devet koridora od velikog značaja od kojih će se šest prostirati vertikalno. Najveći od njih bi Skandinaviju trebalo da poveže sa Mediteranom, počevši od Švedske i Finske, preko Danske, Nemačke, Austrije, i Italije, pa sve do Malte na samom jugu. Projekat će zajedničkim snagama finansirati EU i zemlje učesnice, a uključuje elektro radove na železnicama, modernizaciju luka i izgradnju dva najveća inženjerska poduhvata na kontinentu.
Projekat Fehmarnbelt
Najveći radovi odigraće se na severnom kraku poveznice između Kopenhagena i Hamburga, i to spajanjem Eresundske veze sa nemačkom lukom. Čuveni Eresundski most-tunel dug 16 kilometara sa četiri drumske trake i dva železnička koloseka još od 2000. povezuje Malmo u Ševdskoj i Kopenhagen u Danskoj. Ova saobraćajnica bi uskoro trebalo da se poveže sa Hamburgom putem tunela Fehmarnbelt.
Drastično kraća putovanja
Tunel će uključivati dve pruge i autoput sa četiri trake, a prostiraće se ispod postojeće trajektne linije Fehmarn Strait. Radovi na najvećem gradilištu na kontinentu u potpunosti će osvežiti ekonomsku sliku regiona i umnogome olakšati transport između ova dva grada.
Projekat Fehmarnbelt odobren je od strane nemačke i danske vlade još 2007. godine, a danska Kancelarija za urbanizam mu je dala zeleno svetlo 2015. Projekat će startovati čim zeleno svetlo daju i Nemci, a to će biti tokom 2020. godine. Jedan od najizazovnijih zadataka biće potiskanje delova postojećih tunela ka morskom dnu. Planira se da radovi budu gotovi do 2028. godine kada će se saobraćajnica pustiti u promet. Očekuje se da će se do 2030. između ova dva grada saobraćati duplo više vozila nego 2011. godine. Ovo ni ne treba da čudi, budući da će drumska vožnja između ovih gradova trajati svega dva sata i 40 minuta (za razliku od 6 sati koliko traje sada).
Od Hambrurga do Austrije putnici će moći lagodno da voze nemačkim autoputevima, sve do uskog grla kod Alpa. No, i ovo će se uskoro rešiti.
Prelazak preko Alpa
Čuveni prolaz Brenner vodi kroz bajkoviti pejzaž ovog planinskog lanca, ali veoma sporo. Usko grlo se prostire od Insbruka u Austriji, pa sve do Forteze u Italiji, i utiče kako na drumski, tako i na železnički saobraćaj.
Ovaj problem će rešiti izgradnja tunela Brenner Base dugog 55 kilometara. Projekat će zajedno finansirati EU, italijanska i austrijska vlada, i kada se otvori 2026. godine biće najduži tunel na svetu. Projekat ovakvog obima drastično će uticati na evropsku trgovinu i očekuje se da će se broj vozova koji dnevno saobraćaju ovom trasom dići sa 240 na 591 (a većina njih će prevoziti namirnice).
Posao u Italiji
Naredna kritička tačka na izgradnji ekspresnog puta od Malma do Palerma nalazi se kod Napulja. Nakon što vozovi i drumska vozila izađu iz uskog grla kod Forteze, omogućena im je brza i lagodna vožnja kroz Italiju sve do juga zemlje gde nailazimo na drastičnu razliku u odnosu na sever. Naime, Italija i Sicilija su izuzetno loše povezane, a ekonomske prilike koje trenutno vladaju na Siciliji nikako ne idu u prilog tome. Kako će se evropski političari uhvatiti u koštac sa ovim zadatkom ostaje još da se vidi. Na taj način, izgradnja linije Malmo-Palermo predstavlja zajednički test na kojem ćemo videti jesu li vlade najrazvojenijih zemalja na starom kontinentu sposobne da promene mapu Evrope na bolje.
Vizualizacije Fehmarnbelt tunela (Famern A/S)
Kad ste već tu…