Volite toplo, moderno ili luksuzno kupatilo? Na ovim primerima pokazaćemo vam kako izgled pločica utiče na konačan izgled kupatila.
Odabrati pločice u moru ponude nije nimalo jednostavan zadatak. Ipak, postoje određene kombinacije koje se često koriste u kupatilima pa smo stoga odlučili da vam pokažemo kakav izgled kupatila dobijate korišćenjem različitih pločica. To ćemo uraditi kroz 3D prikaz jednog uobičajenog kupatila u kojima smo upotrebili tri dobre kombinacije. Ostavite nam komentar koja vam se kombinacija pločica najviše dopada.
1. varijanta –  topao izgled s pločicama s teksturom drveta
Pločice sa teksturom drveta daju kupatilu topao i prirodan izgled, a najbolje ih je kombinovati s jednobojnim pločicama neutralnih tonova jer su drvene teksture obično dosta jake i dominantne. U našem primeru, pod i jedan zid obložili smo pločicama s teksturom drveta, a ostatak je urađen s jednobojnim pločicama.
Preporuka je da se pločice s teksturom drveta postavljanu na zid koji je najmanje opterećen instalacijama kao što je zid tuša ili iznad kade. Pošto se drvo pojavljuje na pločicama, savetujemo da kupatilski nameštaj bude pretežno jednobojan kako bi se dozvolilo drvetu na zidovima da bude u prvom planu.
2. varijanta: Moderan izgled s pločicama s teksturom kamena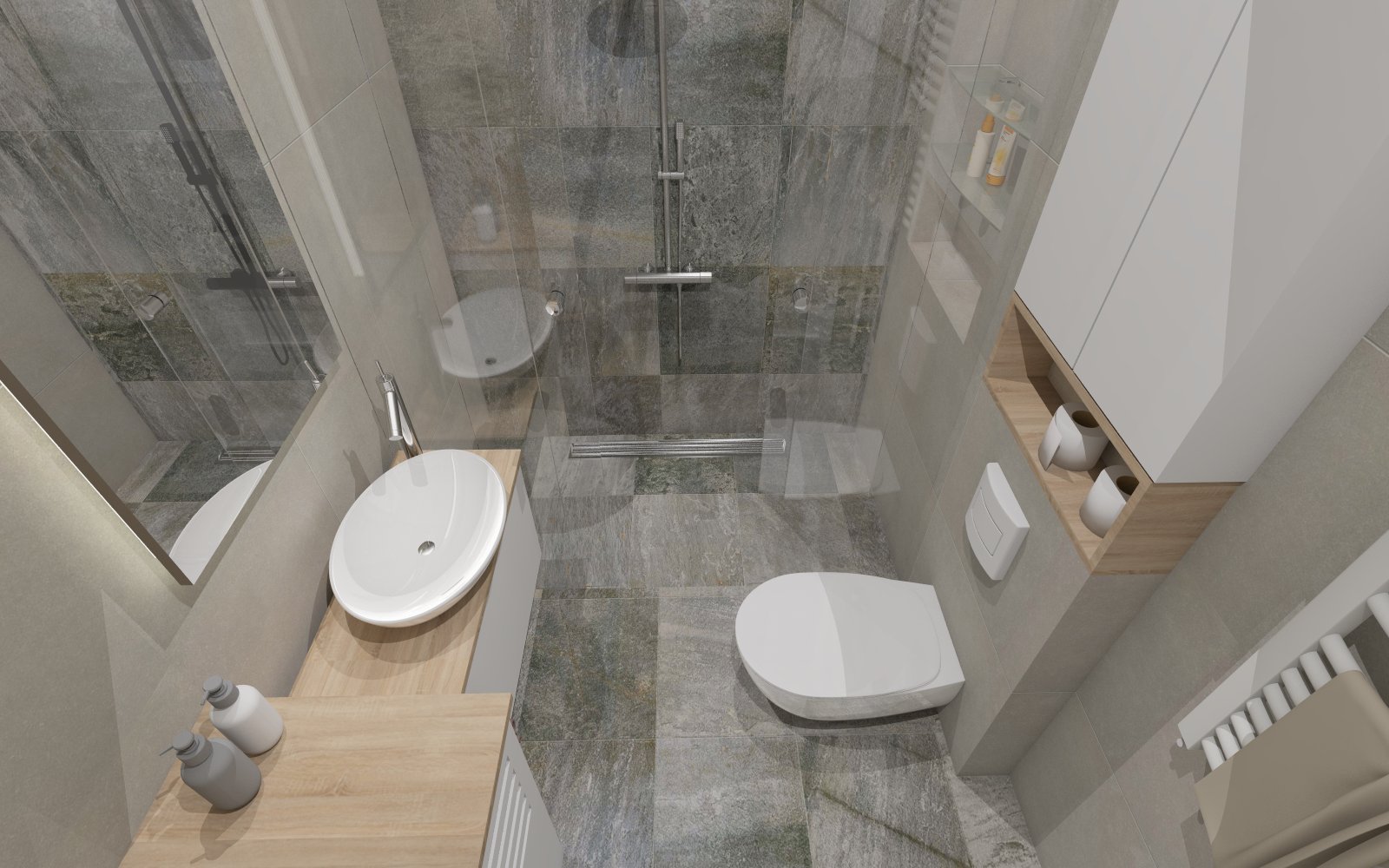 Pločice koje imitiraju kamen su rešenje za moderna kupatila pogotovo ako koristite tamnije tonove. Ove elegantne pločice možete kombinovati s mozaikom ili jednobojnim pločicama.
Ako je kupatilo malo, savetujemo da koristite mozaik koji je napravljen sečenjem osnovnih pločica. Pošto je kamen vizuelno hladan materijal, preporučujemo da koristite nameštaj u drvetu kako bi utoplili ceo prostor.
3. varijanta: Luksuzan izgled s pločicama s izgledom mermera
Pločice sa izgledom mermera čest su izbor kupaca jer one kupatilu daju luksuzan izgled. Uglavnom su to granitne pločice u beloj boji koja imitira Carrara Bianco mermer sa sivkastim ili zlatnim žilama, a najčešće se kombinuju s tamnim mermerom koji izgleda vrlo luksuzno.
Predlažemo korišćenje što većih formata pločica kako bi žilice na mermeru izgledale prirodnije. Kako biste utoplili ovakvo kupatilo, koristite nameštaj koji ima drvene detalje, ploču ili frontove.
Vizuelizacije: Studio za unutrašnji dizajn Gradnja.rs – arhitekta Sonja Brstina
Korisni linkovi: