Paviljon "Oblak pergola", koji topi granice između arhitekture, umetnosti, inženjeringa, robotske izrade i računarskih modela, privukao je veliku pažnju javnosti na nedavno otvorenom 16. Venecijanskom bijenalu arhitekture, pozivajući nas na razmišljanje o gostoprimstvu i klimatskim promenama, istovremeno oblikujući novu paradigmu arhitekture u 21. veku.
Instalacija koja je skrenula pažnju svojom inovativnoću i senzibilitetom je kreacija naših suseda iz Hrvatske, međunarodno priznatih arhitekata Bruna Juričića iz Pule i Alise Andrašek koja vodi poreklo s ovih prostora. Oni su osmislili instalaciju "crtež oblaka" pri čijoj izradi su koristili računarske modele i procese robotizovane produkcije kao sredstva za stvaranje novih struktura pergole, prostornog crteža koji redizajnira granice između prirodnog sveta i ljudske intervencije kroz matematičko prikupljanje podataka o formacijama oblaka, istovremeno integrisajući ekološke podatke za zadatu lokaciju.  Tema "hospitality/gostoljubivost", oko koje se razvija predlog projekta, u uskoj je vezi s temom Bijenala "Freespace", koju su definisale glavni kustosi Farrell i McNamara. Projekat se temelji na kreativnoj sinergiji autora koji propituju savremene metode artikulacije prostora. Spojem arhitekture i vizuelnih umetnosti nastao je novi ambijent koji je manifestacija višestrukih prostornih iskustava. Ova prostorna instalacija istražuje odnos globalnog arhitektonskog iskustva i specifičnog konteksta nacionalne arhitektonske kulture dajući odgovor na temu Bijenala.
Rizik koji se isplatio
Autori nisu želeli da se bave velikim projektima poput hotela i prostornih kompleksa, već su se odlučili da ispričaju naizgled manju priču, priču o pergoli. Želeli su da stave akcent na inovaciju, tehnologiju, tehnološki transfer, nešto novo, pomerajući granice, svesni rizika koji ovakav pristup nosi. Ono što je implicitno u riziku, jeste da može doći greške, ali bez transformacije nema pomeranja granica. U ovom slučaju rizik se isplatio i paviljon je doživeo veliki internacionalni uspeh.
Povezano: 10 paviljona koje ne smete propustiti na Bijenalu 2018.
Alisa Andrašek i Bruno Juričić su pod svojom pergolom, simbolom nove sinergije između akademskog istraživanja, arhitektonske prakse i najsavremenije digitalne inovacije, na ceremoniji otvaranja paviljona, okupili značajna imena arhitekture kao što su: Patrik Schumacher (direktor Zaha Hadid Architects) i Bart Lootsma (dekan Arhitektonskog fakulteta u Insbruku), Vedran Mimica (profesor arhitekture na Ilinoisovom institutu za tehnologiju u Čikagu), Trentemoller (danski multiinstrumentalista) između ostalih.
Ovaj paviljon predstavlja arhitekturu 21. veka, a uglavnom svi ostali paviljoni na ovogodišnjem bijenalu izgledaju kao arhitektura 20. veka

– Patrick Schumacher, Zaha Hadid Architects
"Paviljon Oblak Pergola stoji na čelu računarstva i robotike u arhitekturi izazvajući divljenje tehnološkim inovacijama pritom nudeći elegantno, efemerno i poetično iskustvo. Zar nije pergola, u svojoj funkciji filtriranja sunca, idealno simulacija oblaka u svakom slučaju? "-  rekao je Bart Lootsma.
Patrick Schumacher je izjavio ovom prilikom: "Ovaj paviljon predstavlja arhitekturu 21. veka, a uglavnom svi ostali paviljoni na ovogodišnjem bijenalu izgledaju kao arhitektura 20. veka".
Pergola je prozračna tenda, čiji krov najčešće čini stabljika vinove loze i tako daje prirodni hlad, vrlo česta je u Dalmaciji, prirodnom okruženju Juričića. Kao student Ranka Radovića, ne mogu a da se ne setim i ne pomenem njegovu ljubav prema pergoli, skoro poetskom arhitektonskom elementu, koju je preneo na svoje studente u Novom Sadu.
Oblak od 30 kilometara žice i 300 kilograma plastike
Paviljon čini trodimenzionalna čipka od termoplastike, sastavljena od trideset kilometara isprintane linije – žice. Reč je o svojevrsnom prostornom crtežu, crtežu kao materijalizovanom predmetu – pergoli koja kroz igru svetlosti, fragilnosti, eteričnosti, pre svega, dinamike, priziva formu oblaka. U njenom projektovanju korišćena su "big data" i računarski modeli koji simuliraju stvaranje oblaka, u doslovnom meteorološkom smislu, oblaka kao kompleksnih sistema. Rad je realizovan kroz upotrebu 3D robotske proizvodnje (šesto-osnih robota), pri čemu je važno istaknuti ostvarenje partnerstva sa najvećom, najinovativnijom fabrikom na svetu, Arup iz Londona. Arup, kompanija koja je realizovala projekat, jedina na svetu ima razvijeni softver za računanje konstrukcije takvih avangardnih artefakata. Ova je londonska firma prepoznala je inovativni značaj projekta i ušla u partnerstvo sa autorima. Start-up kompanija u 3D tehnologiji koja je učestvovala u štampanju pergole je 'AI Build' (Artificiel Inteligence Build) i jedna je od svega tri-četiri firme u svetu koje su to mogle realizovati.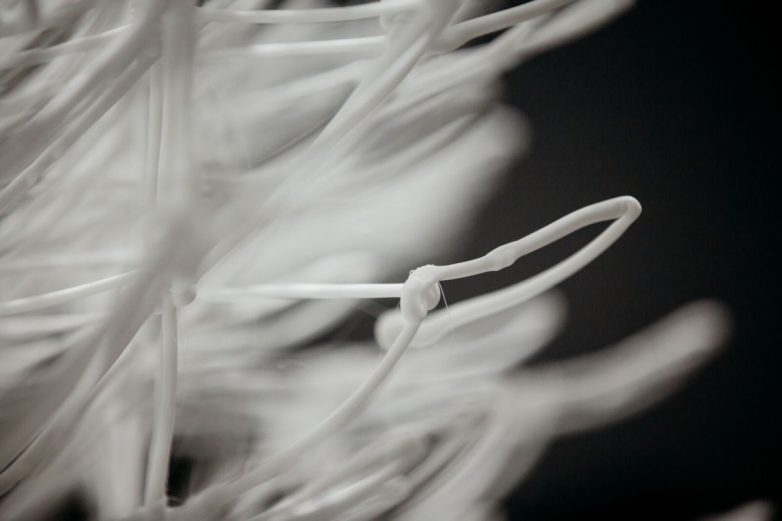 Formirana od 300 kilograma 3D štampane biorazgradive plastike, struktura paviljona slična oblaku sastoji se od voksela orijentisanih duž polja vektora generisanih skupom sila fluida koje su osmislili arhitekiti. Arup je pružio strukturalno vođstvo kroz sve faze dizajna, u definiciji voksela i u analizi kompleksne strukture napravljene od više od 100.000 ekstrudiranih elemenata. Arup je sarađivao sa 3D proizvodnim timom AI-Builda kako bi razvio jednostavnu montažnu sekvencu za složen i osetljiv fragment koji bi trebao obići različite izložbene prostore nakon svog prolaska kroz venecijansko Bijenale 2018. Za osvetljenje paviljona se pobrinuo stručnjak za rasvetu Dean Skiro.
Spoj privatnog i javnog prostora
Strukturisan kroz interakciju različitih intervencija, Oblak Pergola je zajednički projekat oblikovan prema lokaciji, koje budi jedinstveno iskustvo, odslikava mediteranski region u kome je pergola simbol spoja privatnog i javnog prostora, elementarna i vernakularna struktura uvek aktuelnog značaja, budući da je i sklonište od sunca i prostor društvenog okupljanja. Upotreba 3D generativnih tehnika modeliranja poziva posetioce da razmišljaju o budućnosti arhitekture i interakciji između čoveka i mašine, ljudske i veštačke inteligencije, dok još uvek nudi topao i udoban prostor. To više utopijska vizija onoga što može biti sledeće, slobodan prostor tj. FREESPACE gde su posetioci pozvani da sednu i razgovaraju, prevazilazeći tradicionalno aseptičko viđenje budućnosti.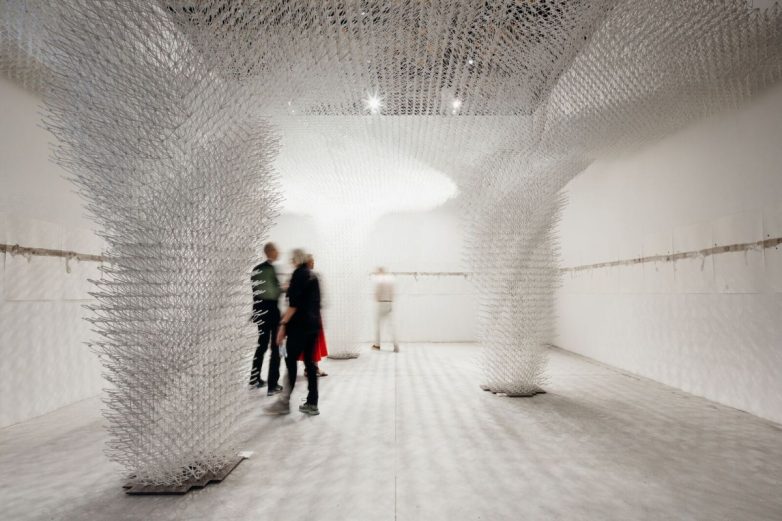 Tehnologija kojom Elon Muska pravi Tesla automobile
Bruno Juričić je temu ovogodišnjeg Bijenala Freespace vidi kao odgovor na pitanje uloge koju slobodan prostor igra u prostoru koji nije javni, ni privatni. Priroda kao politički konstrukt, održivi razvoj ili zelena arhitektura, po autoru paviljona, već su prošlost i pripadaju nekom dobu osamdesetih koja je postala politički instrument. On veruje da je direktore Bijenala više zanimao segment prirodnih procesa, fizike, na koji način se doživljava interakcija čoveka, prirode i arhitekture u prostoru koji nije ni javni ni privatni nego slobodni. Arhitekta je osmislio instalaciju kao odgovor na Freespace kako je artikulisan po pozivu i istovremeno povezan sa tradicijom, jer predstavlja nacionalni paviljon.
Pergola je proizvedena robotima kakve koristi i kompanija Tesla Elona Muska, a napravljena je od termoplastike
"Želeo sam da paviljon pomeri granice estetike, prostornih i tektonskih posledica nastalih paradigmi augmentovane inteligencije na prelazu između arhitekture, umetnosti i inžinjeringa tako što ću predstaviti strukturu pergole u punoj veličini napravljenu pomoću 3D robotske proizvodnje i automatizovanog dizajn protokola. Pergola je zamišljena kao paradigma za arhitekturu kakva treba da postoji u 21. veku ", rekao je Bruno Juričić.
Freespace je za autora idealno mesto za izlaganje projekta pergole. To nije ni javni ni privatni prostor, to je prostor za druženja, gde se ljudi okupljaju ispod elementa koji kreira igru svetla i vetra, to je minorni arhitektonski element koji je prisutan na celom Balkanu. To je priča o arhitekturi kao kulturološkom i tehnološkom artefaktu, pergoli izrečenoj novim jezikom, razrađenoj kroz generativne kompjuterske modele. Proizvedena je robotima kakve koristi i kompanija Tesla Elona Muska, a napravljena je od termoplastike, high performance materijala.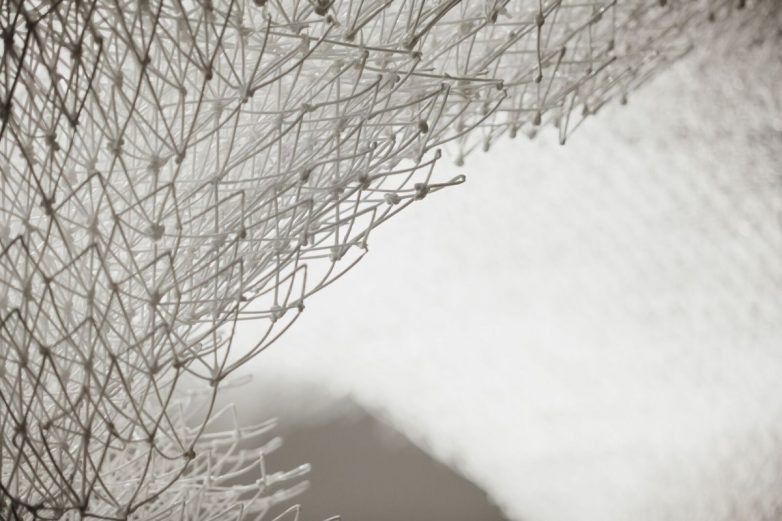 Arhitektura budućnosti
"Oblak Pergola" je projekat koji povezuje arhitekturu i umetnost. Osim arhitekata na projektu su učestvovale umetnice Vlatka Horvat i Maja Kuzmanović, kao i kustos Branka Benčić kao stručna savetnica. Vlatka Horvat radila je instalaciju "Umiriti oči", a Maja Kuzmanović zvučnu instalaciju "Efemeran vrt".
Postavka tumači temu bijenala i ide korak dalje, pretvara složenu strukturu pergole u tkivo za osmotsku razmenu, dizajnira zemlju budućnosti koju spaja sa prošlošću, prirodom i tehnologijom, ljudskom i robotskom perspektivom. Ovaj paviljon je jedna od najvećih i najsloženijih 3D štampanih struktura na svetu, nastao korišćenjem multi-agent algoritama / nelinearne metode dizajna sa ciljem se ponovo pokrene vernakularna arhitektonska tipologija pergole na način koji pokazuje poetske i strukturalne potencijale digitalne tehnologije u arhitekturi budućnosti.
O autorima paviljona:
Bruno Juričić je arhitekta, kustos i preduzetnik. Diplomirao je na IUAV Istituto Universitario di Architettura di Venezia i magistrirao u Urbanističke strategije na Univerzitetu primenjenih umetnosti u Beču, gdje je studirao pod pokroviteljstvom Zahe Hadid, Greg Lynna i Wolf Prixa. Juričić je 2010. godine izabran za doktorsku disertaciju, kao istraživač za seminar Instituta Getty Research Institute za arhitekturu i dizajn u Los Anđelesu i trenutno na doktoratu na Odseku za arhitekturu u UCLA pod okriljem Sylvie Lavin. Bruno je 2014. godine osnovao u Puli Atelje Bruno Juričić, malu, agilnu praksu koja radi u širokom spektru i trenutno širi svoje poslovanje po Kini.
Alisa Andrašek je arhitekta, istraživač i kustos. Ona je osnivač Biothing-a, firme koja deluje na raskrsnici dizajna, materijala i računarstva, partner je Bloom Games-u i suosnivač AI Build kompanije. Andrašek je profesor tehnološke dizajnerske inovacije na RMIT-u u Melburnu, a ranije je bila predavač arhitekture i računarstva na Bartlett School of Architecture gde je vodila postdiplomski kurs koji je dobio Acadia 2017 nagradu za najbolji akademski program. U UCL je osnovala i rukovodila projektantskom laboratorijom Wonderlab. Profesor je na Evropskoj diplomskoj školi, a predavala je u Arhitektonskoj asocijaciji u Londonu, Columbia University GSAPP, Pratt, UPenn, RMIT Melbourne i UTS Sydney.
Fotografije paviljona: Jan Stojković
Kad ste već ovde…