Promo
LG klima uređaji odlično rešenje za grejanje u prelaznom periodu
Zahvaljujući tehnološkim inovacijama i inverterskoj tehnologiji, klima uređaji kompanije LG Electronics (LG) omogućavaju manju potrošnju i velike uštede, što ove uređaje čini odličnim rešenjem za grejanje u prelaznom periodu i tokom zime, kao i u režimu hlađenja u letnjem periodu.
Kompanija LG nudi sveobuhvatna rešenja kada su u pitanju klime superiorne energetske efikasnosti koje svojom elegancijom deluju nadmoćnije od ostalih. Pored prefinjenog dizajna, LG klime nude izvanredna tehnička rešenja, najnaprednije tehnologije i efikasnije grejanje.
Jedna od ključnih karakteristika klima uređaja novije generacije jeste Inverter tehnologija koja omogućava brzo postizanje željene temperature, bez obzira na to da li je u pitanju grejanje ili hlađenje. Ova inovacija omogućava daleko manju potrošnju, a samim tim donosi i velike uštede na kraju meseca, što čini ove uređaje odličnim rešenjem za grejanje u prelaznom periodu i tokom zime kao i u letnjem periodu. Inverter omogućava smanjenje potrošnje energije do čak 70 odsto pri odredjenim uslovima, što klima uređaje sa ovom tehnologijom čini veoma energetski efikasnim. Za razliku od kompresora na standardnim klima uređajima koji se isključuju i uključuju da bi se podesila temperatura, uređaji kompanije LG koji poseduju DUAL Inverter Compressor neprekidno podešavaju brzinu kompresora da bi se održali željeni nivoi temperature. To minimalno variranje štedi energiju i obezbeđuje hlađenje, ali i grejanje bez premca.
Pored prednosti inovativne inverter tehnologije, efikasnost LG klima uređaja se postiže korišćenjem visokoefikasnog ekološkog rashladnog sredstva R32. Pored toga što ima viši indeks hlađenja nego što je to slučaj kod drugih tehnologija freona, tehnologija Freon R32 je i ekonomičnija i bezbednija.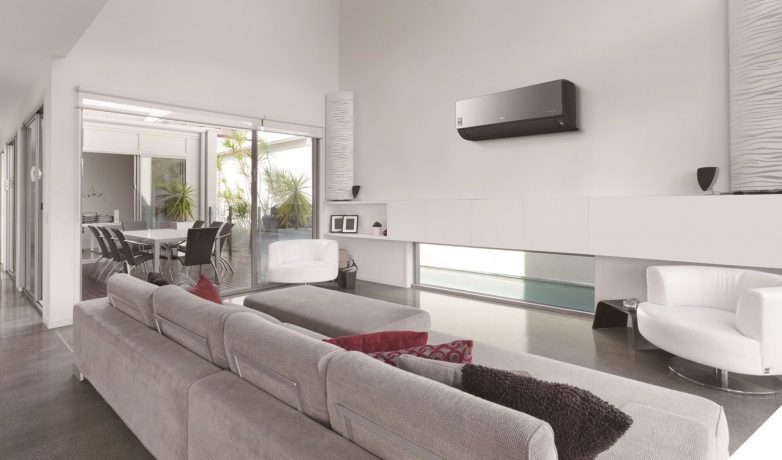 LG klima uređaji projektovani su za vrhunski i stilizovani kvalitet života, a minimalistički i svedeni izgled se lako može uskladiti sa svim vrstama dizajna enterijera. Staklo sa ogledalom na prednjem delu reflektuje okruženje da bi se naglasio enterijer i pružila vanvremenska lepota kroz čvrstinu stakla.
Bitna stavka koju LG klima uređaji poseduju je antibakterijski filter za vazduh koji ima sposobnost skupljanja minijaturnih čestica prašine, polena i grinja, kao i sprečavanja njihovog prodiranja u prostoriju. Roditelji najbolje znaju koliko je to bitno za one najmlađe. Funkcija koja dodatno karakteriše usmerenost kompanije LG ka inkorporiranju najnovijih tehnologija u svoje proizvode jeste protok vazduha, odnosno količina vazduha kojom klima uređaj može da snabdeva prostoriju. Umesto u samo jednom pravcu, razvoj tehnologije omogućio je klima uređajima da vazduh distribuiraju u tri ili četiri različita smera istovremeno, što se na najbolji način ispoljava tokom hladnijih dana.
Još jedna od pogodnosti LG klima uređaja je mogućnost upravljanja sa bilo kog mesta pomoću Wi-Fi konekcije i ekskluzivne LG aplikacije. Zahvaljujući ovoj funkciji, korisnici mogu blagovremeno rashladiti ili zagrejati svoj dom sa bilo kog mesta. Sa najnovijom tehnologijom tihog rada motora i tehnologijom za brigu o zdravlju, revolucionarni LG Inverter klima uređaji stvaraju zdravu i ugodnu atmosferu u vašoj kući ili kancelariji u potpunoj tišini.
Kompanija LG kreirala je mnogobrojne modele klima uređaja koji poseduju navedene funkcije i predstavljaju odličan izbor za prelazni period, kao i za zimu, među kojima prednjače Artcool Stylist, Art cool Mirror i Athena. Artcool Stylist Smart Inverter karakterstičan je po svom minimalističkom stilu, pa je idealan za moderne prostorije, Art cool Mirror odlikuje elegantni reflektujući dizajn, dok Athena Smart Inverter klima uređaj poseduje klasičan izgled, kao i jonizator koji omogućava automatsko čišćenje.
LG klima uređaji sadrže širok opseg funkcija koje omogućavaju da u svakoj prostoriji, u zavisnosti od veličine, prilagodite temperaturu i potrošnju energije, kako biste ostvarili optimalne uslove.
Više informacija: https://www.lg.com/rs/klima-uredaji
Dodatne funkcije:
Korisnici mogu da izaberu smer kretanja krilaca među 6 prethodno podešenih položaja za postizanje tačno željenog smera izduvavanja vazduha.
Filter za dvostruku zaštitu zadržava sloj prašine veličine preko 10㎛ i bakterije.
Režim Udoban san obezbeđuje maksimalnu udobnost sredine za spavanje automatskim podešavanjem 3 različite funkcije (Indirektan protok vazduha/Period isključenja od 7h/Logika laganog vetra i vremena za spavanje) jednostavnim klikom na dugme.
Funkcija sveobuhvatnog automatskog čišćenja sprečava formiranje bakterija i buđi na izmenjivaču toplote i time obezbeđuje prijatnije i udobnije okruženje za korisnika.
Tehnologija Gold Fin™ obezbeđuje površinu otporniju na koroziju i poboljšava trajnost izmenjivača toplote tokom dužeg perioda.
Automatsko pomeranje u 4 smera podešava protok vazduha na osnovu okruženja, čime se omogućava optimalna distribucija toplog vazduha u životnom prostoru i brzo zagrevanje.
Svaki klima uređaj ima ocenu energetske efikasnosti EER koji meri koliko energije je potrebno kako bi klima radila u određenim uslovima. Što je viši EER, to je veća ušteda energije.
Zahvaljujući daljinskoj kontroli, samo jednim pritiskom na taster možete da podesite temperaturu i strujanje vazduha klime u celoj prostoriji.
LG klima-uređaji, zahvaljujući Wi-Fi modulu, omogućavaju da rashladite ili ugrejete dom pre nego što stignete sa posla i da ih isključite kada svi izađu iz kuće.