Lučne konstrukcije su novi trend u izgradnji krovova na stambenim zgradama u našim gradovima, a posebno su karakteristični za Vojvodinu. Pitali smo stručnjake zašto se oni postali popularni, kako se izvode i kakvi prostori se pod njima otvaraju.
Sve veća potreba za novim stanovima i dodatnim kvadratima za život neminovno dovodi do promene vizura naših gradova. Nekada su Novim Sadom dominirali kosi krovovi pokriveni crepovima, a ukoliko se danas malo bolje zagledate videćete da dobar deo novih stambenjaka ima lučni krov pokriven limom, tegolom ili nekim drugim sličnim materijalom. Ovi krovovi su u narodu dobili naziv bačvasti, a nas je interesovalo kako se prave ove bačve na krovovima i kako se uopšte došlo na ideju da se ovakve konstrukcije projektuju.
"Vrlo jednostavno. Lučni krovovima postiže se znatno veći volumen iskorišćenosti potkrovne etaže." – kaže za naš portal građevinski inženjer Miloš Kovačević iz firme Skver Plus doo koja se bavi stanogradnjom i dodaje: "Oni su karakteristični za Novi Sad verovatno iz razloga što su u pojedinim delovima grada, uz prepoznavanje njihovih mogućnosti od strane projektanata i investitora, organi Gradske uprave dozvolili redefinisanje izgleda krovova."
Lučni krovovi prave bitan pomak od klasičnog krovnog prozora ka prozoru na redovnoj etaži
Iako je bilo sporadičnih slučajeva korišćenja lučnih krovova, njihova ekspanzija krenula je 2014. godine kada se javila veća potreba na tržištu luksuznih stanova na poslednjoj etaži – takozvanih penthaus stanova. "Tek sada uz poboljšanje energetske efikasnosti kao i kvaliteta završnih radova, a posebno krovnih konstrukcija i krovnih terasa, stekli su se uslovi da se ljudi odluče za kupovinu luksuznog stana na poslednjoj etaži. Lučni krovovi prave bitan pomak od klasičnog krovnog prozora ka prozoru na redovnoj etaži." – kaže Miloš Kovačević.
Kako se izvode lučni krovovi
Lučni krovovi se uglavnom izvode tako što se prvo radi lučna betonska ploča, zatim se postavljaju drvene rožnjače ili lučne grede (remenate) koje se mogu prefabrikovati. Preko toga ide klasično daščanje sa paroporopusnom-vodonepropusnom folijom i pokrivačem po izboru projektanta. Kao krovni pokrivač se uglavnom koriste tegola, neka vrste kvalitetnijeg pocinkovanog plastificiranog lima ili hidroizolaciona membrana što je najčešći slučaj. "Završni sloj hidroizolacione membrane može biti na bazi PVC-a ili FPO. Najčešća opcija je PVC membrana Sikaplan 15G na koju se daje garancija od deset godina." – kaže Dejan Spasić iz kompanije Sika.
Na stambenom objektu čiji je investitor Dijagonala Invest doo zahtev je bio da se uradi membranski slagani sistem krova koji je "samoperiv", to jest, koji nije zahtevan za održavanje i koji zadržavanje prljavštine na površini membrane svodi na minimum. To je postignuto PVC membranom Sarnafil S327 EL koja ispunjava ove karakteristične zahteve. "Takođe, bio je zahtev da se napravi imitacija falcovanog limenog krova, odnosno, da se zavareni preklopi membrane sakriju zavarivanjem PVC lajsni koje imitiraju falc. Ugrađeni su Sarnafil Decor profile PVC lajsne u zahtevanom ralu." – dodaje Dejan Spasić.
Ovakvi krovovi se najčešće termoizoluju kamenom vunom jer se ona najlakše prilagođava lučnoj konstrukciji.
Svi koji žive u potkrovljima pored prokišnjavanja, boje se i pregrevanja tokom letnjih dana. Međutim, kod lučnih krovova nema ovakve bojazni ukoliko se on izvede prema proračunu građevinske fizike i preporukama o energetskoj efikasnosti zgrada. Lučni krovovi se najčešće termoizoluju kamenom vunom u debljini od 25 cm jer je ona najlakša za ugradnju zbog njenog prilagođavanja lučnoj konstrukciji.
Enterijer pod lučnim krovom
Pored toga što lučni krov daje karakterističan oblik zgrade, on ujedno daje i karakterističan izgled enterijeru. Iz dosadašnje prakse, lučni krovovi rezultuju veoma zanimljivim enterijerima koji su daleko prijatniji od onih s kosim krovovima. Pored toga što su veoma drugačiji od standardnih enterijera, ovakva potkrovlja imaju puno prostora ispod prozora.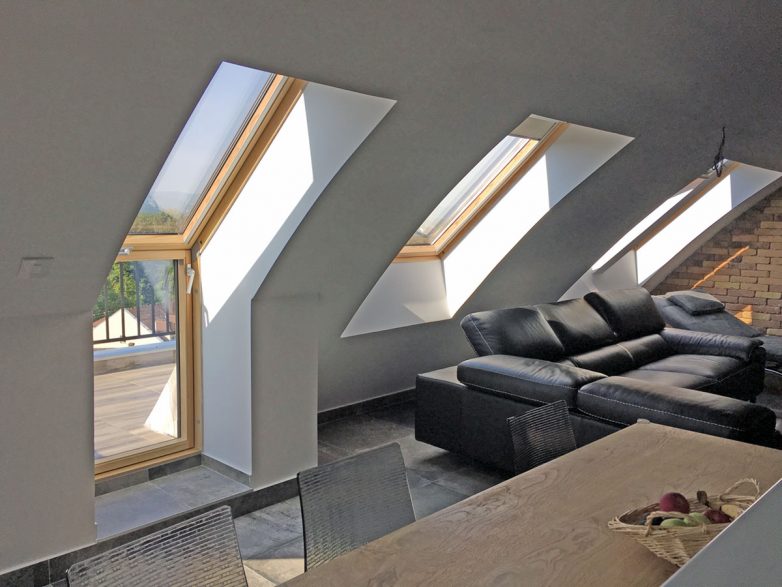 Treba znati da ovalne krovne konstrukcije zahtevaju dodatne radove na pripremi otvora za krovni prozor. "Pravi se drvena potkonstrukcija koja ublažava krivinu lučnog krova. Postoji nekoliko rešenja u zavisnosti od krovnog pokrivača, a sva rešenja su apsolutno sigurna." kaže Srđan Smiljković iz kompanije VELUX, koji dodaje da se na lučnim krovovima mogu koristiti gotovo svi njihovi proizvodi.
Pored toga što su veoma šarmantniji od standardnih potkrovlja, kod lučnih krovova ima puno više prostora ispod prozora.
"Prilikom ugradnje VELUX krovnih prozora potrebno je voditi računa o nagibu prozora. Minimalan nagib za naše prozore je 15 stepeni. Kod ovalne krovne konstrukcije nagib se skoro uvek završava sa 0 stepeni na vrhu konstrukcije. U praksi to znači da krovne prozore moramo udaljiti od vrha krovne konstrukcije." – kaže Srđan i dodaje da kod ugradnje prozora na ovalnu krovnu konstrukciju ima i ograničenja u smislu dužine prozora – kraći prozor je lakše prilagoditi konstrukciji.
Fotografije karakterističnih detalja ugradnje VELUX prozora:
Nove gradske panorame
Ovalne konstrukcije više su karakterističnije za industrijske objekte i prigradske oblasti nego za gradska područja i stambenu gradnju. Uvođenjem lučnih konstrukcija značajno se utiče na promenu vizure gradova pa se zato lučni krovovi moraju primenjivati sa merom i na mestu koji mu priliče.
Lučni krovovi suštinski daju i neku potrebnu dozu raznolikosti. Naravno, sve ovo važi ukoliko projektanti vode računa o kotama postojećih venaca i slemena susednih objekata, odnosno, ako ih projektuju tamo gde ne narušavaju vizure samih ulica.
Kad ste već ovde…