Mnogim ljudima se sviđa ideja da niko ne živi iznad njih, zbog čega su im potkrovlja posebno zanimljiva. Međutim, ima i onih koji misle da su potkrovlja mračna i leti vruća. Razbijamo predrasude uz stručno mišljenje arhitekte iz studija Modelart Arhitekti.
Na našem portalu često pišemo o enterijerskim rešenjima potkrovlja, kao i o brojnim prednostima ovog prostora koji se ogleda u jedinstvenoj atmosferi. Reakcija posetilaca portala je uglavnom pozitivna tvrdeći da prostor pod kosinama zaista ima poseban šarm, međutim, konstatacija se uklavnom zaključuje time da to sve izgleda lepo ali da nikad ne bi živeli u potkrovlju jer su ona mračna, pretopla a pritom postoji bojazan od prokišnjavanja.
Kako bismo pokušali da razbijemo predrasude o potkrovljima u pomoć smo pozvali arhitektu Krsta Radovanovića koji je iskustvo stekao u brojnim projektima adaptacije potkrovlja u našoj zemlji. Za početak interesovalo nas je s kojim problemima se stanari u potkrovlju najčešće sreću?
– Najveći problem sa potkrovljima definitivno je u lošem kvalitetu gradnje. Prevelika toplota leti, odnosno hladnoća zimi direktno su povezani sa neadekvatnom ili loše ugrađenom izolacijom. Samim tim je potrošnja energije za zagrevanje, odnosno hlađenje, uglavnom znatno veća nego na ostalim etažama. Prokišnjavanje, kao još jedan od čestih problema, najčešće je posledica loše ugrađenih krovnih prozora. Zbog svih tih razloga potkrovlje je na lošem glasu i ljudi ga često izbegavaju, kako u stambenim zgradama, tako i u individualnim kućama. Nekako je uobičajeno da su u potkrovlju stambenih objekata najmanje atraktivni stanovi, često nedovoljno osvetljeni i loše izolovani. S druge strane, potkrovlja, odnosno tavani u individualnim kućama potkrovlja uglavnom godinama čekaju na uređenje i pretvaranje u stambeni prostor.
Najveći problem sa potkrovljima definitivno je u lošem kvalitetu gradnje.
Ukoliko se navedeni problemi prevaziđu, šta je to što potkrovlje može da pruži, a što druge etaže ne mogu?
– Najveća prednost potkrovlja je svakako prirodna osvetljenost i ventilacija. Za razliku od stanova na ostalim etažama, potkrovlje ima najveći kontakt sa spoljašnjošću, pa je moguće postavljanje većeg broja otvora i samim tim veća količina sunčeve svetlosti. Krovni prozori propuštaju i do 30% više svetlosti od vertikalnih prozora s istom površinom stakla, pa potkrovlja mogu da budu mnogo bolje osvetljena, a samim tim i atraktivnija od nižih etaža.
Mnogim ljudima se sviđa ideja da nema nikog iznad njih, zbog čega su im potkrovlja posebno zanimljiva. Potkrovlje pruža veći osećaj privatnosti i izolovanosti od okolne buke, ujedno pružajući pogled na okolni pejzaž (gradski ili prirodni), ali i na nebo. Možda je magična privlačnost potkrovlja upravo u kosinama, koje su nekako dinamičnije od uobičajena četiri zida.
Naravno, sve ove prednosti moguće je postići tek ukoliko je potkrovlje kvalitetno projektovano i izvedeno, korišćenjem savremenih materijala, koji mogu da otklone nedostatke dotrajalih krovnih konstrukcija. Zbog toga je od ključne važnosti prilikom projektovanja potkrovlja detaljno analizirati postojeće stanje, da bi se uvideli konstruktivni i funkcionalni problemi.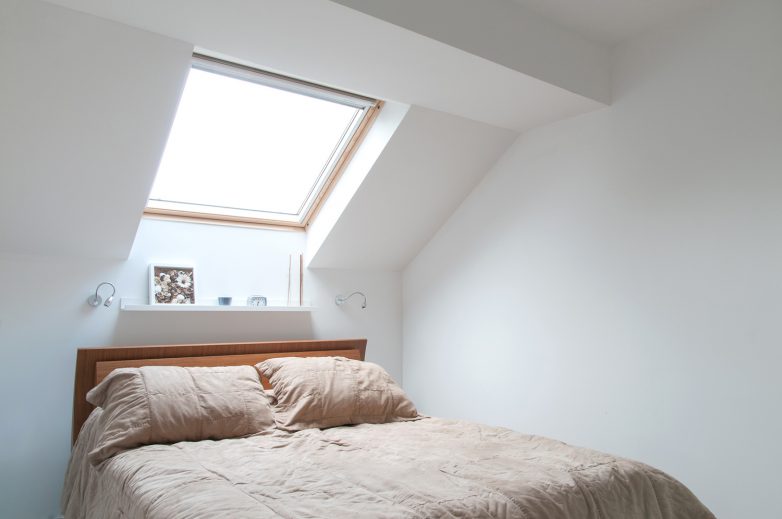 Ukoliko krov nije dovoljno izolovan, preko njega se izgubi i do 30% toplote iz unutrašnjosti.
Kako najbolje rešiti toplotnu izolaciju?
– Uloga toplotne izolacije je da pomogne u postizanju povoljne klime u prostoru i u štednji energije. Ukoliko krov nije dovoljno izolovan, preko njega se izgubi i do 30% toplote iz unutrašnjosti. Zato ulaganje u optimalnu izolaciju krova dugoročno donosi velike uštede.
Mineralna vuna (staklena i kamena) spada u najbolje toplotne izolatore. Iako je ranije staklena vuna bila na listi štetnih materijala, jer je često sadržavala azbest, poslednjih godina je tehnologija proizvodnje staklene vune znatno unapređena i ona sad predstavlja potpuno bezbedan, ekološki prihvatljiv materijal. Ono što mineralnu vunu čini tako efikasnom je to što ujedno predstavlja toplotnu, zvučnu i protivpožarnu izolaciju. Takođe, mineralna vuna je izuzetno paropropusna, što je posebno važno ako imamo na umu da četvoročlana porodica dnevno proizvede i do 8 litara vodene pare! Sva ta vlaga mora izaći iz unutrašnjeg prostora kroz zidove bez rizika od kondenzacije, da bi se sprečila pojava buđi i gljivica. Mineralna vuna, za razliku od većine termoizolacionih materijala, omogućava da zidovi dišu i na taj način poboljšava zdravstvene uslove u potkrovlju. Toplotnu izolaciju je najbolje postavljati sa unutrašnje strane, između i ispod rogova. Optimalna debljina krovne termoizolacije za naše podneblje je od 22 do 28 cm.
Krovni prozori takođe igraju važnu ulogu u toplotnoj izolaciji. Na primer, VELUX nudi energetski efikasne krovne prozore sa trostruktim staklom, koji poboljšavaju toplotnu izolaciju i do 15%. Pored manje toplotne provodljivosti, što je važno i leti i zimi, trostruko staklo povećava i zvučnu izolaciju prostora, ujedno podižući i kvalitet život u potkrovlju.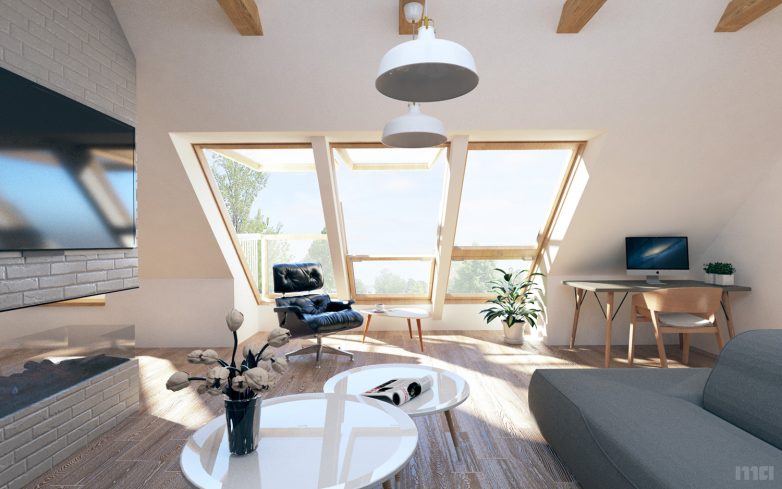 Optimalna površina krovnih prozora se može približno proračunati tako što se površina poda prostorije podeli sa 10.
Kako doći do najveće količine svetlosti u prostoru?
– Krovni prozori propuštaju znatno veću količine svetlosti od fasadnih prozora. Pored toga, njihova prednost je u tome što se uklapaju u postojeću geometriju krova, što je posebno važno u zaštićenim gradskim područjima. Optimalna površina krovnih prozora se može približno proračunati tako što se površina poda prostorije podeli sa 10. Dakle, površina stakla treba da iznosi minimum 10% od površine prostorije. Naravno, u obzir treba uzeti razne uticajne faktore, poput orijentacije objekta, položaja u odnosu na okolne objekte, namenu prostorije, visinu i nagib krova itd. Znatno precizniji proračuni se mogu dobiti primenom odgovarajućeg softvera, poput VELUX Daylight Visualizera, koji daje precizne vrednosti DF-a (Daylight Factor) za pojedinačne prostorije, i na osnovu koga se može doći do potrebnih površina stakla.
Svakako da je bolje staviti previše prozora nego premalo. Ukoliko je prostorija osvetljena više od optimalne vrednosti, može doći do prejakog bljeska i prevelikog zagrevanja, ali ovaj problem se lako rešava postavljanjem odgovarajućih proizvoda za zaštitu od svetlosti i toplote (mrežice, roletne itd.). Sa druge strane, ako je površina stakla mnogo manja od optimalne, nemoguće je dobiti dovoljno prirodne svetlosti,pa je neophodno koristiti veštačko svetlo čak i danju.
Gde god je moguće, krovne prozore treba postaviti na visinu od 90cm, što je standardna visina parapeta. Ovako postavljeni prozori, pored osvetljenja prostora, omogućavaju i pogled na okolinu. Ukoliko visina prostora to dozvoljava, preporučljivo je postaviti i dodatne krovne prozore na većoj visini (bliže slemenu), koji onemogućavaju pogled na okolinu, ali daju ravnomerniju osvetljenost prostora. Grupisanjem prozora mogu se dobiti veće staklene površine, što znatno povećava atraktivnost prostora, a samim tim i vrednost nekretnine.
Kako najbolje iskoristiti kosine u potkrovlju?
– Kosine su ono što potkrovljima daje šarm i privlačnost, a u zavisnosti od njihove visine i nagiba, pružaju razne mogućnosti u uređenju prostora. Kod prostora veće visine, moguće je dobiti dodatnu etažu – galeriju, na koju može da se smesti spavaća soba ili radni kutak. Pri tome drvene grede i kosnici mogu ostati vidljivi, što će potkrovlju dati rustičniji i topliji izgled.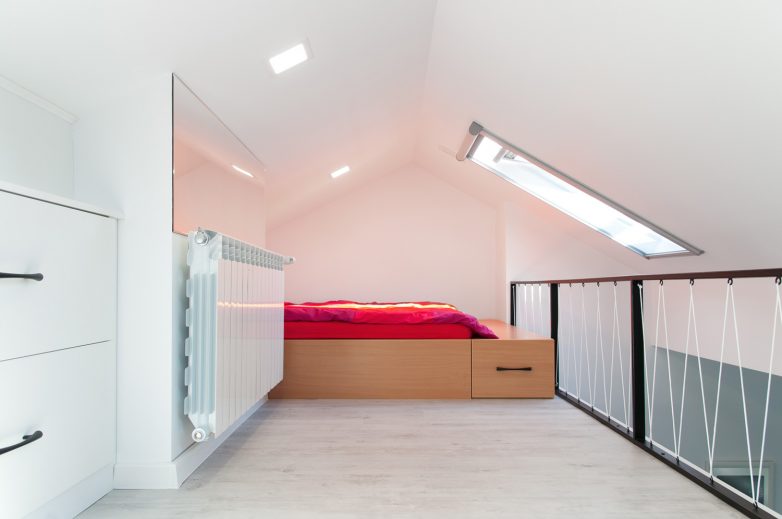 – U potkrovljima uvek ima prostora koji su mrtvi – previse niski ili zabačeni za korišćenje – ali promišljenim dizajnom nameštaja moguće je i ovim prostorima dati funkciju, ujedno rasterećujući ostatak prostora. Na primer, niski prostori ispod kosina mogu se iskoristiti za ormare ili police za odlaganje. Sav nameštaj u potkrovlju mora da se radi po meri, da bi se maksimalno iskoristio prostor. To otvara i razne kreativne mogućnosti da prostor uredite baš onako kako vama odgovara.
Završna obrada treba da bude što svetlija, čime će prostor biti prozračniji i vizuelno prostraniji.
Koja vizuelna rešenja enterijera su najbolja za potkrovlje?
– Ključna reč kod potkrovlja je – svetlost. Zbog toga i završna obrada treba da bude što svetlija, čime će prostor biti prozračniji i vizuelno prostraniji. Najbolje je da većina zidova bude obrađena belom ili nekom drugom što svetlijom nijansom, a da se samo neki zidovi ili površine naglase tamnijim bojama ili teksturama. Ovakvim kontrastima moguće je vizuelno produbiti prostor, što je posebno bitno u malim prostorima.
Nameštaj treba da bude čistih, svedenih linija, da bi vizuelno rasteretio prostor. Ugradni nameštaj treba bojom uklopiti sa zidovima, tako da čine neraskidivu celinu.
Da li smatrate da postoje predrasude o stanovanju u potkrovlju u Srbiji i koji je vaš predlog / savet za njihovo prevazilaženje?
– Predrasude svakako postoje, ali mi se kroz svoj rad trudimo da ih otklonimo. Do sada smo radili na većem broju izvedenih projekata potkrovlja i svi klijenti do sada su zadovoljni svojim novim potkrovljima. To znači da potkrovlja ne treba shvatati kao nužno zlo, nego njihov potencijal maksimalno iskoristiti.
U cilju popularizacije života u potkrovlju, zajedno sa predstavnicima portala "Moje potkrovlje" organizovali smo konkurs pod nazivom Od tavana do mog potkrovlja. Kompanije Knauf, Knauf Insulation, Velux, Roma Company i Wienerberger, koje stoje iza projekta Moje potkrovlje, u tu svrhu poklanjaju robu određene vrednosti, dok mi (studio Modelart Arhitekti) izrađujemo idejni projekat adaptacije tavana u potkrovlje. Najinspirativniji prostor nam je poslala porodica Počuč iz Bačke Palanke, koji tavan svoje porodične kuće planiraju da pretvore u prostor za troje dece. Idejno rešenje je završeno i prelazi se na izvođenje radova, a plan je da u narednih nekoliko meseci potkrovlje bude spremno za useljenje.
Kad ste već ovde…