Razgovarali smo s ovogodišnjom dobitnicom Tabakovićeve nagrade o izložbi o arhitekturi Jugoslavije u Njujorku, projektima koji su obeležili njenu i Darkovu karijeru, ali i o tome kako je jedan novinar zaustavio izgradnju "stanova za buržoaziju".
Penjući se kroz uske stepenice Instituta za arhitekturu na Arhitektonskom fakultetu u Beogradu pred nama se smenjuju plakati s fotografijama Metals banke, maketama Cerak vinograda i osnovama novobeogradskih blokova koje je u decenijama iza nas stvarao bračni par Darko i Milenija Marušić. To je bila svojevrsna uvertira u osvrt na bogat stvaralački rad ovog arhitektonskog dua koji je ostavio neizbrisiv trag ne samo u prestonici već i u Novom Sadu. Taj trag ovenčan je prošle godine dodelom Tabakovićeve nagrade, koja je Darku (1940-2017) nažalost uručena posthumno. Milenija koja nas srdačno dočekuje na vrhu Instituta, njenom prvom i sadašnjem radnom mestu, svedok je burne arhitektonske istorije u Jugoslaviji, o kojoj kaže da je to bilo vreme u kome se za razliku od danas poštovala struka.
– U to vreme, vreme koje obuhvata izložba u Muzeju moderne umetnosti u Njujorku (MoMA), arhitektura je bila segment kulture i umetnosti. Radilo se po propisima, postojali su vrednosni kriterijumi i odnosi koji su se poštovali. Struka je bila pitana za sve i bila je čvrsta na svojim pozicijama. Na nju nije mogla da utiče niti politika niti veliki novac. Danas su i politika i veliki novac na prvom mestu a struka praktično i ne postoji. Strukovne organizacije najvišeg reda, na primer, urbanistički zavodi postali su servisi vlasti. Dok su rađeni projekti za brojne objekte i stambena naselja, pa i za naselje Cerak vinogradi sprega vlasti i struke odvijala se na pravi način. Tadašnji direktori urbanističkog zavoda bile su ličnosti od stručnog i moralnog integriteta i ravnopravni sagovornici predsednika države. Jednostavno, poštovana je reč struke!
Izloženi radovi u Njujorku pokazali su da je jugoslovenska arhitektura tog vremena bila u samom svetskom vrhu.
Nekadašnji kvalitet su očigledno prepoznali i kustosi izložbe o jugoslovenskoj arhitekturi u prestižnom muzeju MoMA pod nazivom "Betonska utopija – arhitektura Jugoslavije 1948-1980". Kako je izgledala vaša  međusobna saradnja?
– Kada smo dobili pismo u januaru 2016. godine s pozivom da učestvujemo na ovoj izložbi bili smo zaista iznenađeni. Iste godine su oba kustosa izložbe Martino Stirli i Vladimir Kulić, obilazeći bivšu zemlju, posetili i naselje Cerak kao i ostale potencijalne objekte za izlaganje, ali sve do kraja nisam znala koji tačno objekti i koji prilozi će biti predstavljeni na izložbi.
Iako sam dugo razmišljala da li da nakon Darkove smrti odem sama u Njujork, odazvala sam se njihovom pozivu na svečano otvaranje izložbe 10. jula 2018. godine. Slovenački dizajner Saša Mehting autor čuvenog crvenog kioska i ja, bili smo na otvaranju izložbe jedini direktni učesnici tog doba herojske izgradnje naše zemlje.
Šta je na izložbi ostavilo najveći utisak na vas?
– Prvi, veliki utisak na mene ostavio je uvod u izložbu – instalacija Mile Turajlić. Na pokretnim panelima su se uz gromku muziku tog vremena prikazivale slike udarničkog rada od 1948. pa nadalje. Videlo se kako se uz kramp, pijuk i pero u ruci gradi Novi Beograd, sa kojim zanosom se radi, kako se crta, kako se razgovara i dogovara pa i sa predsednikom Jugoslavije… Taj pokretni muzičko scenski karusel dao je ton celoj izložbi, a duh tog vremena bio je prisutan kod svakoga – ne samo kod nas iz bivše domovine, već i kod svakog posetioca izložbe.
Činjenica je da su izloženi radovi pokazali da je jugoslovenska arhitektura tog vremena bila u samom svetskom vrhu, a u pojedinim segmentima i iznad njega. Maja Herman Sekulić posle otvaranja izložbe piše: "Ovaj verovatno najznačajniji svetski događaj ovog veka za našu kulturu na teritoriji bivše Jugoslavije, ova izložba njene arhitekture izaziva s pravom divljenje sveta, oduševljenje blaziranog Njujorka, interes mladih studenata arhitekture i umetnosti koji sada hrle u muzej MoMA da je otkriju".
Koji vaši radovi su bili predstavljeni na izložbi?
– Od naših radova na izložbi u MoMA bili su izloženi Cerak vinogradi, kao i segment nerealizovanog Bloka 30. Od ostalih naselja izloženi su i Blokovi 22 i 23 u Novom Beogradu autora A.Stjepanovića sa timom i soliteri u naselju Kneževac-Kijevo autora A.Đokića i M.Čanka. Razmišljalo se, da se odnese na izložbu velika maketa naselja Cerak, ali je to zbog prevelikih troškova transporta bilo neizvodljivo. Na izložbi je bio samo segment originalne makete Skoplja arhitekte Kengo Tangea. Zanimljivo je da su ostale makete na izložbi radili tamošnji studenti arhitekture.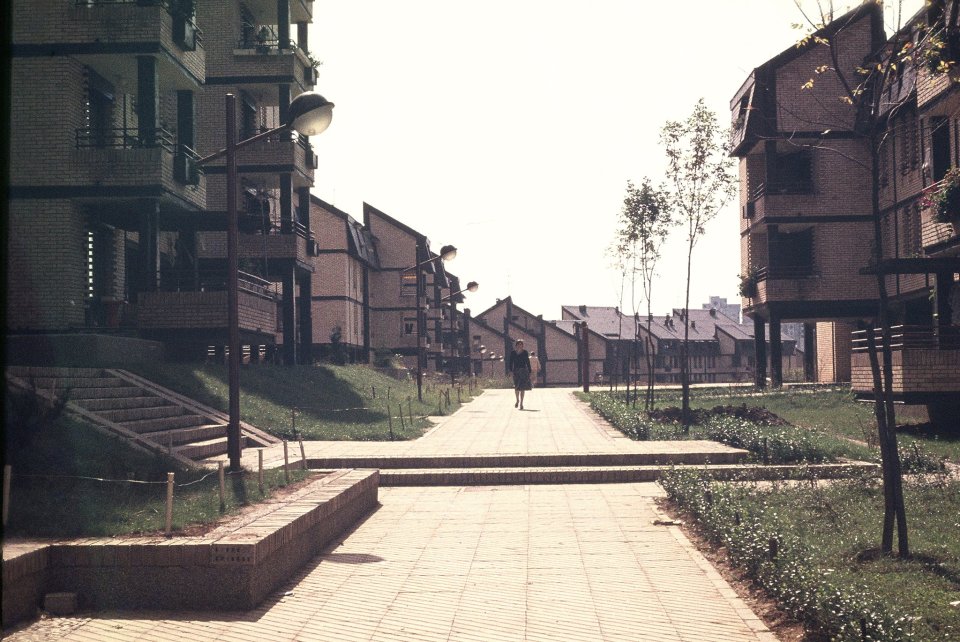 Arhitektura može da modernizuje zemlju kako bi je učinila boljom za svakodnevni život njenih građana.
Jedan od bitnih segmenata izložbe pod sloganom "Modernizacija"  svedoči o tome kako arhitektura može da modernizuje zemlju kako bi je učinila boljom za svakodnevni život njenih građana. Kustos izložbe Martino Stirli kaže da je arhitektura moćna alatka kojom se može pokazati kako se razvija i do kog stepena može da dođe jedno društvo u svom razvitku.
Dokle smo mi to došli? Kako ocenjujete ono što se radi u Beogradu?
– Nije dobro ono što se radi u Beogradu ni po pitanju struke ni po pitanju Beograđana. Beograd je grad koji u pogledu reljefa leži na jednoj širokoj gredi i sve sto se ikada gradilo njena je nadgradnja. Ta pozicija  formirala je vedutu grada prepoznatljivu i na prvim gravirama, sve do ovih dana. Kada danas dolazite sa zapadne strane – ona ne postoji. Na toj gredi, Beograd je imao otvorene prozore na zapad i na istok. Ono što se sada uradilo u njenom podnožju, naseobinom Beograd na vodi, zatvorilo je prozore grada na zapadnu stranu. Građenje tako visokih objekata na najnižim kotama, na samom dnu savskog amfiteatra  ne može da bude na dobro. Svaki predlog koji je do sada rađen za tu lokaciju, vodio je računa o silueti i veduti grada, o javnim površinama koje svima pripadaju, o zelenilu – o tome šta, kako i gde treba graditi.
Radili ste i na Novom Beogradu. Kako ocenjujete njegovo današnje širenje i izgradnju?
– Novi Beograd je bio jedini grad u Evropi građen na principima čiste Moderne. U svetu postoje još samo dva takva primera: Brazilija u Brazilu i Čandigar u Indiji. Po mom mišljenju to što  je planirano i izgrađeno trebalo je da se poštuje u njegovoj daljoj izgradnji. Na postojeću infrastrukturu koja je idealna podloga, sada je bilo lako graditi, ko i šta hoće bez pravih stručnih  kriterijuma. Zavladali su i tržni centri koji se svugde u svetu grade van gradova, a kod nas su zašli u samo urbano tkivo. Žao mi je što Novi Beograd danas nije ono što je trebalo da ostane kao njegova osnovna matrica, kao što je to rađeno i negovano i u Čandigaru i u Braziliji.
Kako se nekada radilo na Novom Beogradu?
Za Novi Beograd je prvo urađen urbanistički plan i na osnovu njega su za svaki deo Novog Beograda raspisivani konkursi. Uvek su bili birani najbolji radovi. Uopšte se nije razmišljalo da bi moglo da bude nekako drugačije, u žirijima su bili pre svega priznati stručnjaci.
Da se zadržimo na stanovanju. Svi, ne samo novobeogradski stanovi prošli su kroz arhitektonske konkurse u kojima se kalila Beogradska škola stanovanja i iznedrio Beogradski stan.
Nije međutim baš uvek sve išlo tako glatko. Jedan vaš projekat je prekinut?
– Jeste, Blok 30 na Novom Beogradu je trebalo da se gradi po posebnom programu. Prof. Uroš Martinović bio je pozvan da uradi stanove za diplomate. On je angažovao Darka i mene kao i Borislava Stojkova da zajedno uradimo naselje koje je bilo u svemu drugačije od ostalih. U to vreme, kada su bili veoma stešnjeni propisi za projektovanje, dobili smo mogućnost da projektujemo stanove od 200 kvadrata i više, što je bilo nezamislivo za taj period. Projekat gradskih vila sa velikom stanovima i dupleksima se naravno pročuo u gradu, da bi jednog momenta Vasa Popović, novinar i književnik napisao u listu "Borba" kako se u Beogradu grade stanovi za buržoaziju i da to ne može da se dozvoli u sistemu gde su "svi jednaki". Projekat je preko noći prekinut i nije nikad realizovan. Naravno, ovaj blok je kasnije podignut po standardnom rešenju. Međutim, ono što je mene potpuno iznenadilo i potreslo  jeste da je na izložbi u MoMA izložen jedan Darkov crtež na peliru našeg rešenja stana, iz maja 1968. godine. Dakle, naš Blok 30 je ipak nastavio da živi…
Projekat Bloka 30 je prekinut preko noći nakon pisanja novinara Borbe kako se u Beogradu grade stanovi za buržoaziju.
Puno ste radili i u Novom Sadu. Zbog toga ste i dobili Tabakovićevu nagradu…
– Veoma me  je obradova nagrada koja nosi ime poznatog arhitekte Đorđa Tabakovića, zatim to je nagrada iz Vojvodine, iz Novog Sada i od DaNS-a. To je nešto što bi i Darku bilo posebno drago jer ne samo da smo nas dvoje bili profesionalno vezani za Novi Sad već smo bili vezani i emotivno. Još u studentskim danima družili smo se sa Novosađanima. I u martu prošle godine na otvaranju naše retrospektivne izložbe u Muzeju savremene umetnosti Vojvodine rekla sam – ko je onda na studijama mogao da sanja da će jedna od tih lepih Novosađanki spasti lepotu jedne kuće peticijom koja je nezabeležena u našoj struci. Peticiju koju je inicirala Sonja Stoja potpisalo je više od 90 poslenika iz kulture i kolega arhitekata s molbom da se spase i očuva objekat Metals banke u Novom Sadu. Sonja je potvrdila Dostojevskog – da samo lepota može spasiti svet.
Novi Sad je bio jedan reper i primer kako se planira i vodi briga o jednom gradu.
Kakav je tada bio Novi Sad?
Novi Sad je bio jedan reper i primer kako se planira i vodi briga o jednom gradu. Odlazili smo u urbanistički zavod koji je vodio Miloš Savić, pre svega da učimo. Radeći konkurse još smo se više vezali za ovaj grad. Dolazili smo u Novi Sad i za vreme bombardovanja kada smo prelazili Pančevački most, koji je bio meta, da bi stigli pred srušeni Petrovaradinski most da s kolegama iz Novog Sada i iz DaNS-a uputimo apel Svetskoj asocijaciji arhitekata da nam ne ruše gradove, kuće i mostove.
Rat je uticao na jednu vašu zgradu u Novom Sadu?
Da, u pitanju je stambena zgrada na Bulevaru Oslobođenja. Nju je zahvatio rat devedesetih godina i stajala je deset godina neizgrađena. A onda je rešeno da se na brzinu završi… Na fasadi su trebale da budu pločice ugrađene u malter, nalik pločama na kući sa zelenim pločicama kod Etnografskog muzeja u Beogradu. Na osnovu tog rešenja naručene su pločice iz fabrike u Prijedoru, međutim na nju je pala bomba. Te pločice nikad nisu stigle u Novi Sad…. Umesto njih direktno su lepljene velike zelenkaste ploče i to na brzinu, po mrazu i snegu što se odrazilo na kvalitet izvođenja.
Cerak vinogradi su vaš verovatno najprepoznatljiviji projekat, a nedavno je proglašen i za kulturno dobro. Hoće li ga to zaštiti od samovolje vlasnika i investitora?
– Nadam se da će to pomoći. Inače, mi smo se kao autori uz podršku Instituta još od 1983. godine borili protiv samovoljnih intervencija, i konačno smo dočekali proglašenje naselja za kulturno dobro. Naselje je i od ranije, od 1992. godine bilo pod paskom Republičkog zavoda za zaštitu spomenika kulture. Imalo je od 2003. godine i urbanističku zaštitu na osnovu čega u njemu nije smelo ništa da se gradi. Naša borba bila je usmerena pre svega protiv intervencija u prostoru, ali i na samim objektima. Uspeli smo da se ne nadzida nijedna kuća, da se ne uđe u prostor, kao i da se u vreme čuvene "kioskizacije" ne podigne nijedan kiosk na prostoru od 92 hektara sa 3.650 stanova.
Sada su nam uvedeni profesionalni upravnici zgrade međutim nama sada ne trebaju upravitelji, nama trebaju popravitelji.
Bilo je lepo i uspešno sarađivati sa brojnim stanarima kao i sa  Mesnom zajednicom dok je postojala kao institucija. Zajedno sa nama mogao je da se spreči svaki "ručni rad" u naselju. Određene samovoljne izmene na objektima  počele su kada je nivo odgovornosti spušten na predsednike kućnih saveta koji su potpisivali šta su hteli. Sada su nam uvedeni profesionalni upravnici zgrade međutim nama sada ne trebaju upravitelji, nama trebaju popravitelji.
Da li je iko tražio saglasnost autora za intervencije na stanovima u Ceraku?
– Naš projektantski tim bio je skoro deset godina na gradilištu naselja gde su rađeni svi projekti i praćeno građenje kroz projektantski nadzor, proveru materijala na tržištu  i učešće u životu naselju. Kontakti sa stanarima bili su svakodnevni. Stanovi su zahvaljujujći i konstruktivnom sistemu "Žeželj" projektovani kao otvorene fleksibilne površine prilagodljive potrebama porodice. U situaciji kada je manji stan dobijala porodica od tri generacije radili smo adaptaciju stana prema tim specifičnim potrebama. Izvođenje je bilo u svemu prema projektu uz naš nadzor i saglasnost. Kao primer naših tadašnjih međusobnih odnosa i saradnje bilo je i njihovo pitanje – koje cveće da se zasadi na terasama? S druge strane oštro smo reagovali na samovoljne izmene, prijavama i obraćanjima svim nadležnim institucijama. Komunikacija sa stanarima i do danas nije prekidana.
Za koga se danas rade stanovi?
– Danas se stanovi ne rade za čoveka, danas se stanovi rade za prodaju – to je realnost našeg stanja u stanogradnji, a 70% ukupne gradnje je stanovanje.
Čekajući "ceračke ptice" ja sam i dalje na braniku naselja.
Borba za Cerak vinograde i dalje traje?
– U razgovorima sa timom iz MoMA rečeno nam je da prilikom obilaska naselja u Jugoslaviji nisu naišli na tako dobro očuvan prostor. Na moju opasku da prostor jeste sačuvan ali da u stanovima na fasadama ima i pojedinačnih samovoljnih intervencija, sledio je odgovor – da je to manje važno i da će se kao kad ptica menja i strese perje koje se mora obnoviti, tako će se obnoviti i popraviti fasade. Čekajući "ceračke ptice" ja sam i dalje na braniku naselja (smeh).
Naš dugogodišnji trud na očuvanju naselja, uloženo vreme i energija bili bi dovoljni da se
isprojektuje još jedno toliko i takvo naselje. Nije mi žao, vratilo nam se dobrim. Uspelo se da se sačuva prostorno ambijentalna harmonija i celovitost naselja rađenog u duhu humanih vrednosti i ideja koje su doneli pokreti Moderne i Postmoderne.
Ne propustite: Izveštaj iz Njujorka
"Izveštaj iz Njujorka" s nedavno završene izložbe posvećene Jugoslovenskoj moderni u MOMA-i, za novosadsku publiku ekskluzivno je pripremila arhitekta Milenija Marušić. Ona će prirediti kratko vođenje kroz ovu izložbu putem fotografija koje je sama sačinila u MOMI. Posebnu pažnju posvetiće autorskom delu "Cerak vinogradi" koje je projektovala zajedno sa svojim suprugom Darkom Marušićem. Predavanja će se održati u četvrtak 28. marta 2019. u kulturnoj stanici Svilara u Novom Sadu.
Kad ste već ovde…