Nova zgrada Gradske biblioteke u Sidneju sadrži inovativne funkcije koje joj omogućavaju maksimalnu održivost i time značajno snižavaju mesečne račune.
Po projektu arhitekte Stewart Hollensteina iz studija Stewart Architecture, sagrađena je biblioteka na močvarnom tlu u industrijskoj četvrti ovog velegrada koja, začudo, nosi ime Green Square ("Zeleni trg").
Zanimljivo je da se arhitekta odlučio da na baš ovoj lokaciji biblioteku dobrim delom ukopa u tlo, dok na površini vire dva staklena kraka koja praktično obaveštavaju komšiluk da se na ovom mestu nalazi objekat vredan pažnje. Međutim, ni ova odluka nije došla slučajno, jer je zahvaljujući ovoj odluci povećana površina javnog trga ispred Biblioteke na čitavih 8.000 kvadrata.
Biblioteka je ukopana u tlo, dok na površini vire dva staklena kraka koja nagoveštavaju da se tu nalazi objekat vredan pažnje.
Pomenuti objekti koji se nalaze iznad površine zemlje u potpunosti su obložena staklom, s tim da je jedan piramidalnog, a drugi kvadratnog oblika. Ukupna površina biblioteke (u šta su uključeni kako nadzemni objekti tako i prostorije pod zemljom) zauzima 3.000 kvadrata.
Ipak, najinteresantniji deo ovoj projekta su ovalni otvori u tlu zahvaljujući kojim sve prostorije pod zemljom imaju prirodan izvor svetlosti. Oni, takođe, omogućavaju prolaznicima da virnu u to šta se dešava u nesvakidašnjim podzemnim čitaonicama, zbog čega projekat najinteresantnije izgleda u suton.
Još jedna velika čitaonica nalazi se u staklenoj piramidi u okviru Biblioteke, gde je smeštena i laboratorija, zatim muzička soba, kamerna scena i sala za održavanje različitih javnih kulturnih događaja. Ostali odeljci Biblioteke i administrativne prostorije mahom se nalaze u "pravougaonoj" zgradi na drugoj strani trga.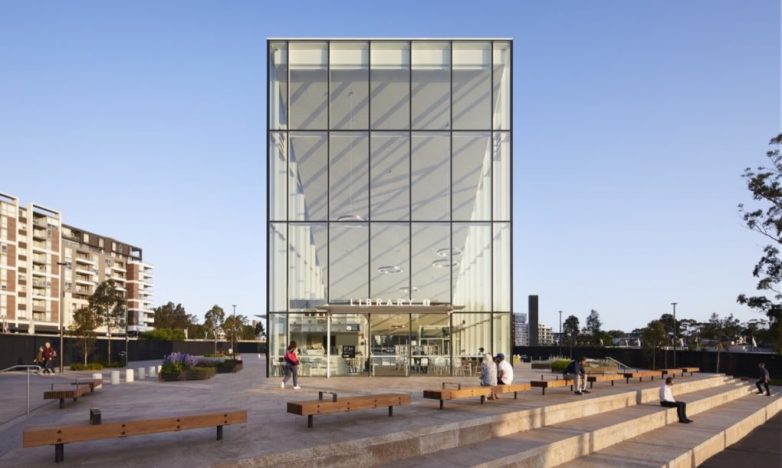 Ventilacija je integrisana u police sa knjigama kako bi bila što manje vidljiva.
Ventilacionu mrežu u ovom objektu razvela je kompanija Arup, i to na vrlo nesvakidašnji način. Naime, u pojedinim delovima zgrade, ventilacija je integrisana u police sa knjigama, a sistem koji su odabrali omogućava bolji kvalitet unutrašnjeg vazduha i veću efikasnost hlađenja, pa samim tim i smanjenu potrošnju energije.
Sakupljanje kišnice
Još jedan održivi aspekt projekta ogleda se i u dizajnu trga, prenosi Inhabitat. Naime, pomenuti ovalni otvori projektovani su tako da prikupljaju kišnicu ne bi li se ona dalje ponovo koristila u samoj zgradi biblioteke.
Fotografije: Tom Roe i Julien Lanoo za studio Stewart Architecture
Kad ste već ovde…