Izdvojeno, Materijali
Domaće istraživanje pokazalo da pepeo biomase može smanjiti upotrebu cementa u betonima do 50%
Grupa istraživača s Fakulteta tehničkih nauka u Novom Sadu pokazala je da pepeo može da zameni veliki deo cementa u betonima čime se ne ostvaruju samo ekonomske uštede već ovakva receptura značajno utiče na ekologiju i zaštitu životne sredine.
Proizvodnja cementa krivac je za 8% globalne emisije ugljen-dioksida u svetu, pa je smanjivanje njegove upotrebe u građevinarstvu imperativ za sve nas. Rešenje za ovaj problem krčka se u Laboratoriji građevinskog fakulteta pri FTN u Novom Sadu gde su profesori smislili kako da nešto što bacamo na deponije upotrebimo umesto cementa. Biopepeo je nusprodukt fabrika koji koriste biomasu za dobijanje energije i tople vode, a njegova mineralna svojstva pokazala su da je njegovo bacanje na deponije prava šteta.
"Analizirali smo probne uzorke biopepela i saznali da on ima hemijski sastav koji donekle odgovara mineralnim vezivima što je dovelo do ideje da bi biopepeo mogao se koristi kao zamena dela cementa u betonima i malterima." – kaže Slobodan Šupić, koji je jedan od članova tima i čija se doktorska disertacija bavi upravo ovom temom. "Analizirali smo pucolanska svojstva različitih biopepela i utvrdili da najbolje rezultate daje pepeo pšenične slame dok se pojedine vrste biopepela trebaju dodatno aktivirati ili mlevenjem ili korišćenjem drugih mineralnih dodataka. Na taj način dobijeni su novi eko-materijali koji su prošli inicijalna istraživanja." – dodaje Šupić za naš portal.
Pepeo koji bacamo na deponije, možemo upotrebiti umesto cementa za pravljenje ekološkog betona.
Vođeni dobrim rezultatima, istraživački rad tima, koji broji 14 članova, dobio je zelenu svetlo na projektu bilateralne saradnje Interreg IPA CBC Hrvatska-Srbija – Agricultural waste, challenges and business opportunities. Tim iz Vojvodine i iz Hrvatske radi na svojim teritorijama istraživanje o raspoloživosti biomase čime će se utvrditi koliko se od toga sagoreva, koje količine biopepela postoje i da li se one mogu iskoristi na neki način kao mineralni dodatak u betonima i malterima ili materijal za stabilizaciju tla.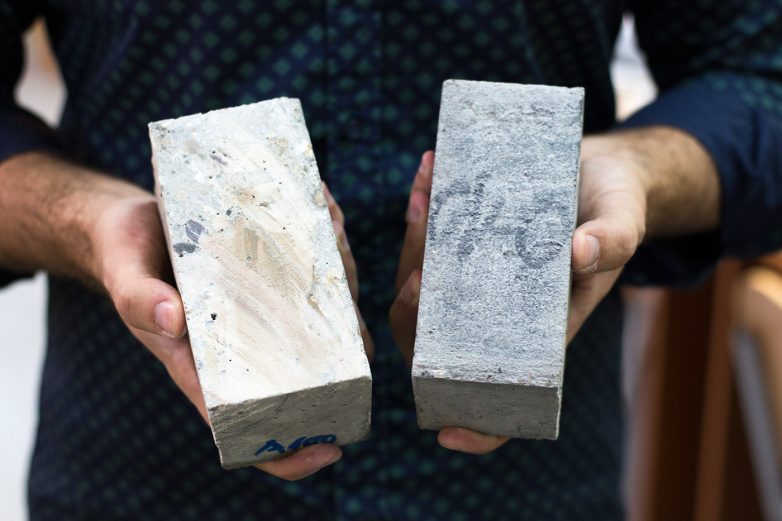 Ekološki aspekt
Prvo su urađene analize na malterima, a potom su početi da se prave betone sa biopepelom od pšenične slame koja ima najbolja svojstva. "Na betonima dobijamo sjajne rezultate!" – kaže Šupić i dodaje da "čak 50 posto cementa zamenjujemo biopepelom što je neverovatna ekonomska ušteda jer je cement najskuplja komponenta u betonu, a biopepeo je besplatan – svi ga bacaju i niko ga ne koristi."
Druga bitna stvar u primeni biopepela jeste ekološki uticaj. Pored toga što bismo upotrebom biomase čuvali prirodne resurse, jer nam ne bi trebalo toliko gline i krečnjaka za proizvodnju cementa, biomasa je i CO2 neutralan izvor, odnosno, njenom upotrebom ne oslobađa dodatna količina ugljen-dioksida. S druge strane poznata je činjenica da se pri proizvodnji cementa generiše 8% globalne emisije CO2.
Takođe, upotreba biopepela bi smanjila otpad na deponijama. Analizom desetak kompanija iz Vojvodine koje koriste biomasu kao energent (Sojaprotein, Hipol, TETO, IPOK, Mitrosrem, Victoriaoil…), sračunato je da one zajedno proizvode oko 4.000 tona biopepela godišnje. Sve ove kompanije plaćaju ogromne takse za odlaganje i skladištenje biopepela. "Pojedine kompanije transportuju pepeo u specijalnim vozilima 200 kilometara do deponije u Lapovu." – kaže Slobodan Šupić. Jasno je koliko je to skupo, nerazumno i neekološki.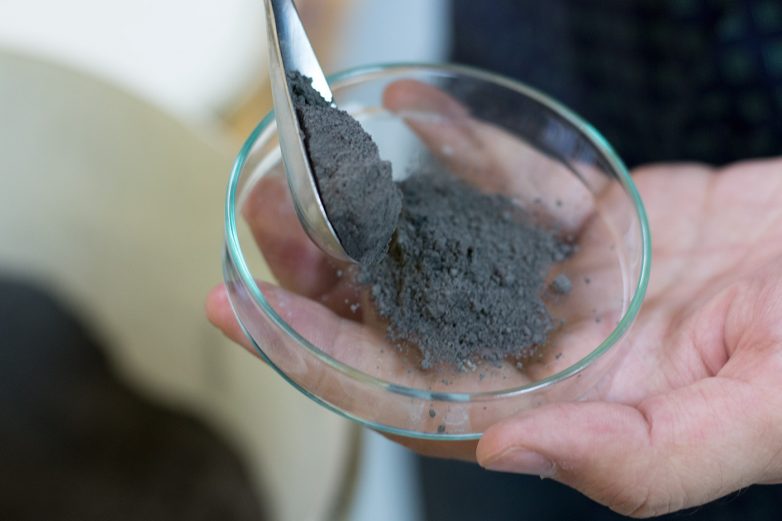 Čvrstoće koje premašuju cementni beton
Na betonima spravljenim s biopepelom ispitivana je čvrstoća, upijanje vode, vodonepropustljivost i skupljanje pri sušenju i prvi rezultati su odlični. Pošto biopepeo ima usporenu hidrataciju, dakle treba mu duže vremena da dobije na čvrstoći, pozitivan efekat njegove upotrebe oseti se pri većoj starosti betona, odnosno, posle 60 ili 90 dana. "Ali posle 28 dana pri zameni 20-30% cementa biopepelom, dobili smo čvrstoće praktično isto kao i kod referentnog cementnog betona." – kaže Šupić i dodaje da "sa 50% biopepela čvrstoća je nešto manja posle 28 dana ali posle 60 ili 90 dana očekujemo da će, zbog kasnije hidratacije, pepeo nadmašiti čvrstoću cementnih betona." Što se tiče upijanja vode, beton s biopepelom je rangu cementnog betona dok je skupljanje svih betona s biopepelom manje nego kod cementnog što je pozitivna karakteristika.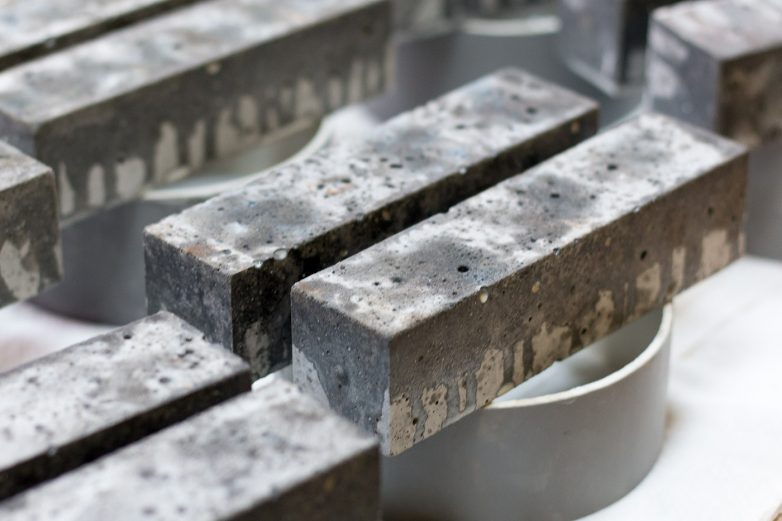 Posle 60 ili 90 dana očekujemo da će, zbog kasnije hidratacije, beton od pepela nadmašiti čvrstoću cementnih betona.
Rezultati ovog istraživanja dobili su i svetsku potvrdu. Naime, kao što smo već objavili, na građevinskoj konferenciji "ICACEE 2018: Architectural, Civil and Environmental Engineering" u Stokholmu, od 162 rada iz celog sveta, naš tim u sastavu Mirjana Malešev, Vlastimir Radonjanin, Mirjana Laban, Miroslava Radeka i Slobodan Šupić, osvojio je prvo mesto.
Akreditovan je i novi nastavni predmet na osnovnim studijama Građevinskog fakulteta u FTN gde će se studenti upoznati sa savremenim ekološkim materijalima, kao i s tim šta mi to imamo od lokalno dostupnih materijala i kako možemo da ih iskoristimo. "Tako i mlađim generacijama podižemo svest o ekologiji u građevinarstvu", dodaje Šupić za naš portal.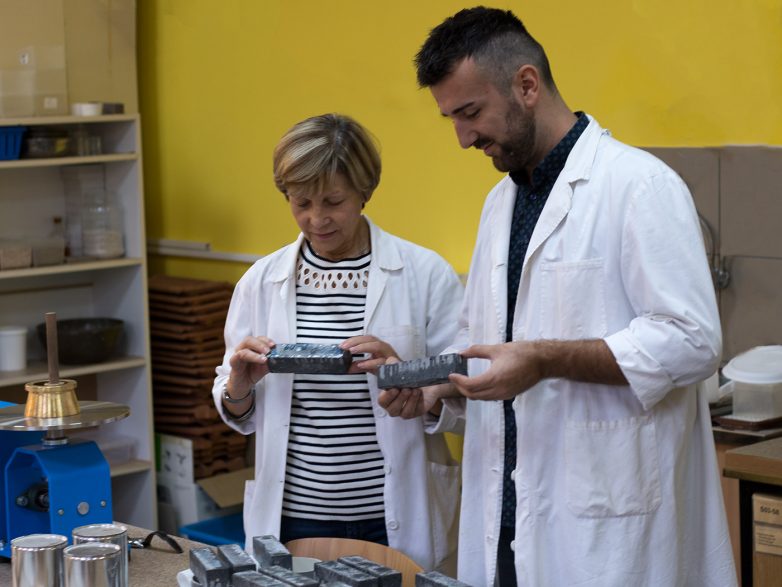 Izazovi
U poslednjih par godina u svetu su pojačana istraživanja upotrebe biopepela u građevinarstvu, a posebno su analizirana svojstva lokalnih kultura kao što je pirinčane ljuske koja je, inače, dala sjajne rezultate. Iako je pšenična slama jedna od najrasprostranjenijih biljnih kultura u svetu, za nju ima najmanje istraživanja pa su zato iskustva s novosadskog FTN veoma bitna ne samo za nas već i za svetske okvire.
Međutim, upotreba biopepela u građevinarstvu nije još zaživela. "Svi imaju probleme da naprave standarde i tehnička rešenja kako da se biopepeo iskoristi u proizvodnji betona što zapravo koči njegovu primenu u građevinarstvu." – kaže Šupić i dodaje: "Mi smo se ovim projektom, koji traje dve i po godine, obavezali da napravimo katalog biopepela i uputstvo korišćenja pepela biomase u malterima i betonima."
Verujemo da će rezultati rada naših stručnjaka dati vetar u krila korišćenju ekoloških materijala u građevinarstvu, a da će država potom pomoći u promociji i podsticanju korišćenja ovakvih rešenja.
Kad ste već ovde…