Tvorac sada planetarno popularne igre u trenutku njenog kreiranja sigurno nije imao predstave u kolikoj meri će ona uticati na profesionalno usmerenje mnogih igrača širom sveta.
Dok je Will Wright dizajnirao video-igru SimCity, smatrao je da će ona biti zanimljiva samo urbanistima i arhitektama. Međutim, prvi deo igre prodat je u više od milion primeraka, a pritom je potpuno promenila tok razvoja gejminga.
Prvi deo SimCitya izašao je pre trideset godina, da bi ga 1993. nasledio SimCity 2000. Zatim, 1999. godine dolazi nam SimCity 3000, četiri godine kasnije izlazi SimCity 4000, da bi 2007. izašla verzija za Nintendo. SimCity: BuildIt lansiran je 2013. godine, dok se godinu dana posle pojavila i aplikacija za mobilne telefone. Dakle, igra za sve sisteme i za sve generacije!
Iz igre smo naučili da jedna promena može uticati na ceo grad… ali i da niko ne voli da živi pored deponije.
Jedan od pasioniranih igrača, Jason Baker, je u trenutku lansiranja ove video-igre studirao političke nauke na UC Davisu, da bi danas u velikoj meri zahvaljujući baš ovoj igri bio potpredsednik za transport i stanovanje u grupaciji Silicijumska dolina.
"Nisam bio jedan od igrača koji su uživali da puštaju Godzilu da razori grad. Uživao sam u tome da se moj grad dobro razvija.", istakao je Baker za LA Times.
Zahvaljujući mnogobrojnim nastavcima igre, milioni igrača su generacijama uživali planirajući ulične mreže, infrastrukturu i objekte. Za mnogobrojne urbaniste, arhitekte, kao i vladine zvaničnike SimCity je predstavljao prvi kurs koji ih je odveo ka poslovima koje danas obavljaju.
"Nekada sam crtala mape grada iz zabave. Tada nisam imala pojma da će to biti moja karijera. Kada sam imala deset godina, bibliotekarka je videla moje crteže i rekla mi da postoji video-igra koja bi mi se mogla dopasti. Ne bih bila ovde gde sam danas da nije bilo SimCityja.", rekla je Nicole Payne, službenica u Nacionalnoj asocijaciji za transport grada Njujorka.
Kroz više od desetak intervjua ljudi koji su od SimCity entuzijasta postali profesionalni planeri došlo se do saznanja o pojedinostima koje su se njima najviše dopale kod ove igre. Istakli su da je sposobnost da se sagleda neraskidiva povezanost transporta, životnog prostora i ekonomije veoma zanimljiva stvar u ovoj igri, kao i činjenice da jedna promena može uticati na ceo grad ali i da niko ne voli da živi pored deponije.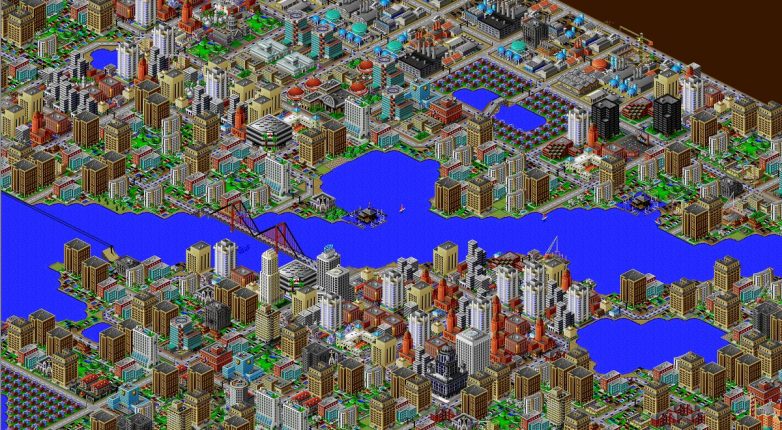 Nije sve tako sjajno
Ipak, kao i druge video-igre zasnovane na stvarnim poslovima, i SimCity je pojednostavio neke od svakodnevnih elemenata urbanog planiranja. Igra nikada nije dozvolila izgradnju prostora za mešovitu upotrebu, ne postoje biciklističke staze i nikada ni u jednom nastavku nije prikazana zapanjujuća kvadratura u gradu koja se utroši na parkinge. Mnogi kritičari igre ukazuju da je Will Wright nametnuo staromodni pristup izgradnje grada, kakav se vezuje za Roberta Mosesa i Čikašku školu.
Nikada ni u jednom nastavku nije prikazana zapanjujuća kvadratura u gradu koja se utroši na parkinge.
Takođe, mnogobrojni igrači širom sveta ukazuju da su prvi delovi igre bili usmereni samo na američki stil gradnje iz 20. veka. Upravo iz tog razloga su u novijim nastavcima dodati tipovi arhitekture i topografije kakvi se mogu videti u gradovima u Evropi i Aziji. U najnovijem delu SimCitya igrači mogu čak graditi i na mapi s fjordovima…
Kako se menjaju uslovi i način života na planeti, menja se i igra. Tako danas možete igrati mapu Zelenog grada u kojoj igrači treba da osmisle urbane vrtove, a cilj je da grad bude što manje zagađen. Solarna energija i uvođenje biciklističkih staza su takođe opcije koje se razmatraju u novim delovima igre.
Naravno, iako su neki postali planeri zahvaljujući ovoj igri, ima i onih kritički nastrojenih koji ukazuju na niz problematičnih pitanja u igri poput načina širenja grada koji se odvija samo horizontalno a ne vertikalno, te se nadaju da će se to razmotriti u budućim nastavcima igre, kao i da treba da budu uključeni problemi na nivou susedstva po pitanju beskućnika i zavisnosti o drogama. Dakle, nije igra.
Arhitektura i IT scena? Da, imaju mnogo toga zajedničkog! Pročitajte šta:
Ima li mesta za arhitekte u domaćoj IT industriji? Ima u pravljenju video-igara!