Intervju, Izdvojeno
Pobednici na regionalnom konkursu za porodične kuće otkrivaju zašto je SVETLO bitno u stanovanju
S Urošem Maksimovićem i Marinom Vasić iz beogradskog Biro.studio razgovaramo zbog čega kod nas i dalje vladaju predrasude o potkrovljima ali i tome kako možemo unaprediti kvalitet stanovanja.
Šta je zapravo kvalitetno stanovanje? Ima li ono samo veze samo s kvadraturom i lokacijom ili neki drugi faktori utiču na to koliko će život u jednom prostoru biti kvalitetan? Da bismo potražili odgovore na ova pitanja, obratili smo se pobednicima na VELUX regionalnom arhitektonskom konkursu "Bringing light to life" 2018. Uroš Maksimović i Marina Vasić iz Biro.studio su za projekat Weekend Chalet ovenčani nagradom u kategoriji "Porodične kuće" za koju kažu da ih naročito raduje, jer ovaj stambeni objekat malih dimenzija oslikava sve principe koje slede u projektovanju stambene arhitekture uopšte.
Koja je bila ideja vodilja pri projektovanju vikendice u Grockoj?
– Polazna tačka je bila definisanje projektnog zadatka u jednom participativnom procesu sa klijentom, interpretacijom njegovih zahteva i očekivanja. Želja klijenta bila je da u neposrednoj blizini Beograda ima utočište i mirno mesto za odmor, povezano sa prirodom, zadržavajući komfor gradskog stana. Ne želeći da ova kuća predstavlja materijalizaciju čovekove potrebe za dominacijom i kontrolom nad okruženjem, bilo nam je važno uspostaviti dijalog između prirode i arhitekture. Odgovor je bio nenametljiv odnos prema prirodnom okruženju, jednostavan volumen, kompaktna forma, lokalni materijali. Veliku pažnju posvetili smo dobroj orijentaciji objekta, i promišljenom uvođenju dnevnog osvetljenja.
Kako je iskorišćen pogled na Dunav?
– Kuća je na terenu u nagibu sa pogledom koji se prostire prema zelenoj dolini i Dunavu koji je značajan motiv i prepoznatljivo prirodno obeležje čitavog vikend naselja.
Izdizanje stambenog prostora i veliki otvori na fasadi u cilju su potrage za atraktivnim vizurama. Na taj način  kadrirali smo glavne vizure – gročansku adu i ravnicu vojvodine u kojima je moguće uživati iz udobnog ambijenta.
Uroš Maksimović i Marina Vasić su za projekat vikendice u Grockoj ovenčani nagradom na VELUX regionalnom arhitektonskom konkursu.
Kako ste se odlučili za materijalizaciju objekta?
– Prilikom materijalizovanja objekta oslanjali smo se na lokalni kontekst i organski pristup u izboru materijala koristeći opeku i drvo. Fasada negrejanog suterena projektovana je kao zid od tamne opeke koji čini vezu sa terenom i predstavlja masivni postament za volumen gornje dve etaže. Drvena obloga gornjih etaža je na limenim fasadnim panelima, horizontalno i vertikalno orijentisana.
Prirodni materijal izložen direktnim atmosferskim uticajima uvodi vremensku dimenziju – ne krijemo prolaznost materijala, ali produžavamo njegov vek adekvatnim arhitektonskim detaljima.
Kako je rešen krov?
– Fasada i krovne ravni su materijalizovani na isti način čineći kompaktnu vizuelnu celinu i naglašavajući svedenost arhitektonskog izraza. Krov objekta je jednovodan "rainscreen" sistem na limenim panelima. Kombinovani krovni prozori obezbeđuju prodor sunčeve svetlosti na gornju etažu objekta, na taj način omogućujući da krovne ravni preuzmu deo funkcije osvetljenja.
Kako je organizovan unutrašnji prostor?
– Dnevna zona je organizovana kao prostran otvoreni plan. Ulazna zona, kuhinja i trpezarija su niže visine i imaju nešto intimniji karakter. Dnevni boravak je sa duplom visinom i staklenim zidom, orijentisan ka terasi sa koje se otvara panoramski pogled. Drveni brisoleji suptilno moduliraju sunčevu svetlost. Stepenice vode do galerije i noćne zone smeštene na potkrovlju. Mikro ambijent galerije predstavlja zonu za odmor i čini ekstenziju dnevne sobe, stepenujući osećaj privatnosti ka noćnoj zoni.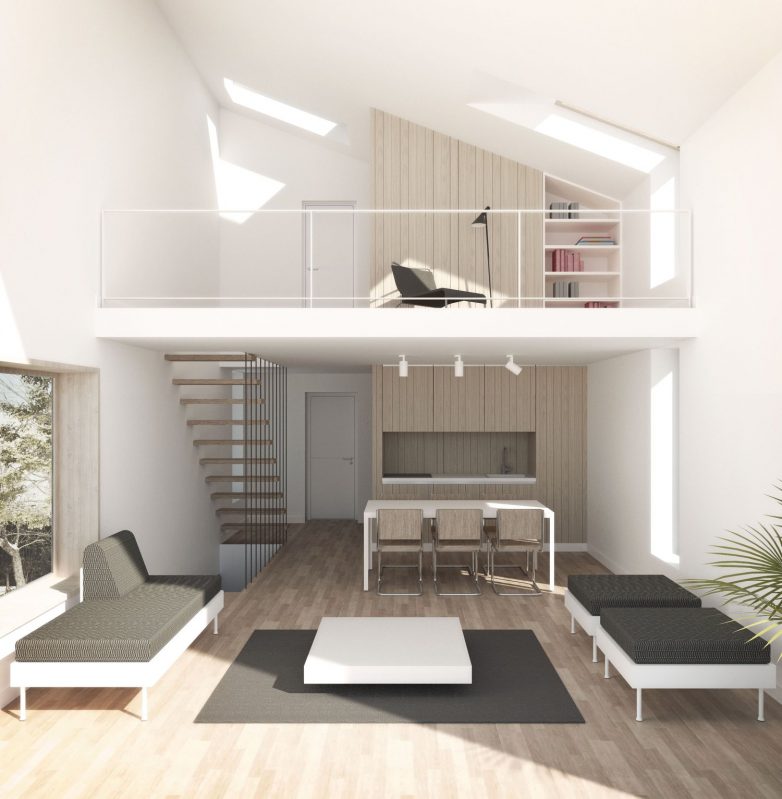 Koja enterijerska rešenja su primenjena u prostoru?
– U projektovanju enterijera težili smo da unutrašnji prostor bude fluidan, bez elemenata koji bi zatvarali prostor i predstavljali vizuelnu barijeru. Na taj način male dimenzije objekta daju subjektivan osećaj prostranosti. Noćna zona je jedini prostor odvojen od ostatka kuće. Velika pažnja posvećena traženju mere u uvođenju prirodne svetlosti u enterijer. Kadriranje pogleda ka prirodnom okruženju i atraktivnim vizurama stvara dijalog između okoline i enterijera, što je bio jedan od bitnih ciljeva projekta. Materijali pretežno korišćeni u enterijeru baziraju se na drvetu u prirodnoj i beloj boji.
Na koji način je osvetljenja galerija?
– Upotreba krovnog osveljenja bila je pogodna s obzirom na malu visinu potkrovlja iz urbanističkih uslova. Na taj način omogućen je prodor dovoljne količine dnevne svetlosti i u velikoj meri povećana funkcionalnost i prostorni kvalitet potkrovlja.
Galerijski prostor je osvetljen kombinovanim krovnim prozorima sa kosim i vertikalnim elementima koji uvode svetlost u objekat i predstavljaju vezu između pejzaža i enterijera. Krovni prozor pozicioniran iznad stepeništa naglašava i osvetljava zonu vertikalne komunikacije. Noćna zona u potkrovlju je takođe osvetljena putem krova. Materijal nameštaja spavaće sobe integrisan je sa ramom prozora u istoj obradi.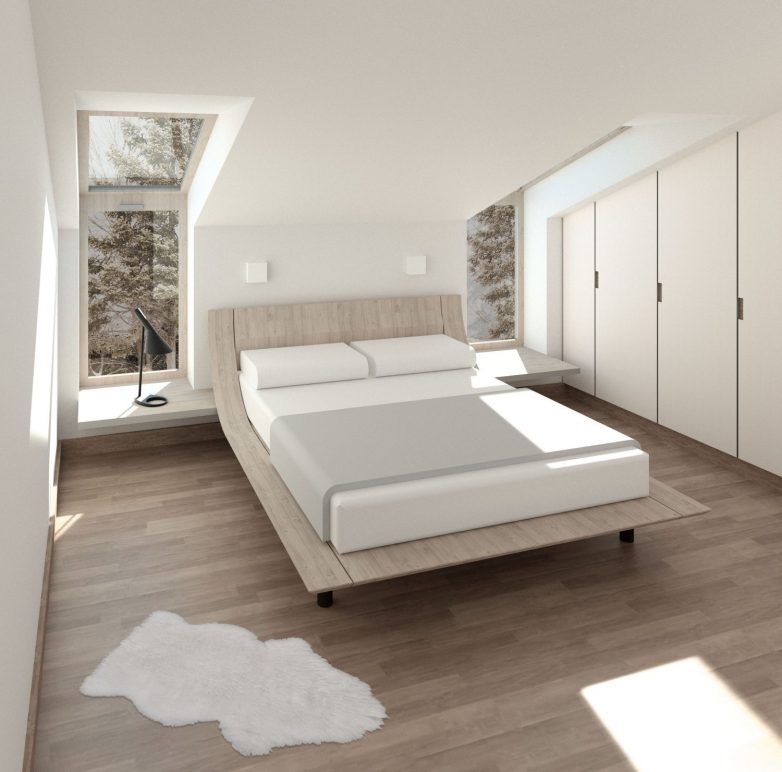 Koliko je svetlo bitno u projektovanju?
– Prirodno osvetljenje je nešto za čim ljudi imaju potrebu i na šta biološki reaguju. Ono je dobro za naše zdravlje, jer neadekvatno osvetljen prostoru može izazvati osećanje nelagode.
S obzirom na to da veliki procenat vremena provodimo unutar kuće, svetlost koja prodire u objekat predstavlja našu vezu sa prirodnim okruženjem čiji smo deo. Zbog svoje dinamike, igre svetlosti i senki koji se menjaju tokom dana i boja koje variraju u prostoru, prirodno svetlo obasjavajući prostor definiše njegov karakter i utiče naš doživljaj samog prostora. Stoga, pažljivo i promišljeno korišćenje dnevne svetlosti igra ključnu ulogu u projektovanju okruženja koje je toplo i prijemčivo za korisnike prostora.
Pažljivo i promišljeno korišćenje dnevne svetlosti igra ključnu ulogu u projektovanju okruženja koje je toplo i prijemčivo za korisnike prostora.
Definisanje pozicije i orijentacije objekta prilikom projektovanja od izuzetne je važnosti i predstavlja polaznu tačku. Različiti tipovi i namene prostora zahtevaju različita projektantska rešenja.
Korišćenje prirodnog osvetljenja takođe ima važan ekološki i ekonomski benefit za vlasnika objekta, ali posredno i sve nas. Korišćenjem adekvatnih prozora i njihovom dobrom orijentacijom možemo smanjiti troškove električne energije koristeći resurs sunčeve svetlosti u što većoj meri, bilo da se radi o toplotnim dobicima ili uštedom na veštačkom osvetljenju.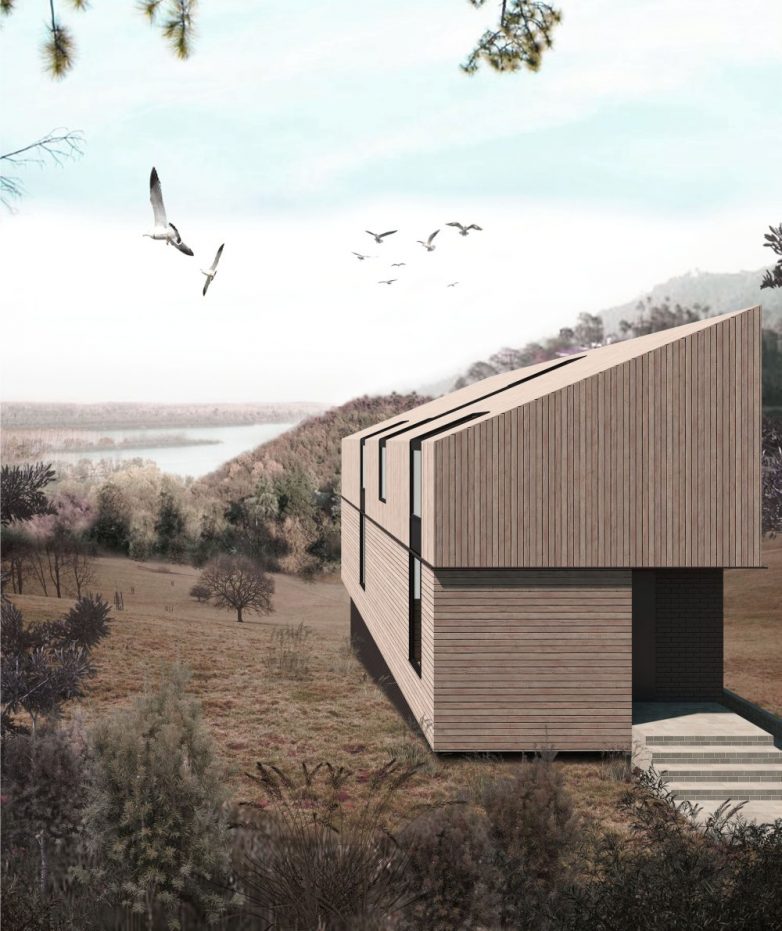 Zbog čega i dalje vladaju predrasude da su potkrovlja mračna a leti vruća?
– Ova predrasuda verovatno dolazi iz čestih i loših primera spontane adaptacije tavanskih prostora koji nisu izvorno projektovani za stanovanje. Sada imamo regulative koje nam donose nove zahteve, ali imamo pristupačne savremene materijale i iskustva koja nam otvaraju nove mogućnosti u pogledu korišćenja potkrovlja. Zbog toga mislimo da edukacija, dostupnost informacija i dobri primeri ove predrasude mogu da razbiju. Kompanije kao VELUX uspešno rade na nesebičnoj edukaciji klijenata i stručnjaka, obezbeđujući potrebne informacije i kvalitetne praktične primere. To je dobar način borbe protiv ovakvih predrasuda.
Kako možemo unaprediti kvalitet stanovanja u našoj zemlji?
– Kvalitet stanovanja je direktno vezan za kvalitet života u širem smislu, zato za krizu stanogradnje nema jednostavanog i sveobuhvatnog rešenja – verujemo u pojedinačne inicijative svih koji su uključeni u ovaj proces. U našem radu se oslanjamo na dobre projektantske prakse beogradske škole stanovanja i pratimo savremene globalne tendencije. Težimo kontinuiranom proširivanju naših znanja, ali i edukaciji klijenata.
Zalažemo se za sveobuhvatni pristup u kom se ciljevi u pogledu estetike i funkcionalnosti podrazumevaju dok se trudimo da otvorimo i neke druge teme kao što su inkluzija, održivost, participacija i energetska efikasnost koje su za nas podjednako važne.
Kad ste već ovde…