Arhitektura
Bela zgrada razigrana denivelisanim prostorima
Organizovanje objekta na platformama različitih visina, omogućilo je stvaranje razigranog i sadržajnog prostora na ograničenoj površini.
The Sky Clubhouse, smešten u predgrađu Bangkoka, naizgled podseća na standardnu stambenu zgrada ali je to zapravo ekskluzivni klub sa teretanom. Dok je unutrašnjost organizovana poput rezidencijalnog prostora, spoljašnji prostori oko kuće služe za organizovanje višenamenskih aktivnosti.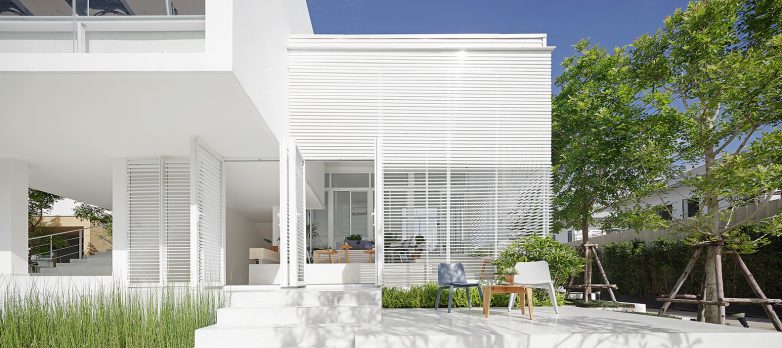 Glavna karakteristika objekta jeste bela aluminijumska fasada koja se u zavisnosti od potreba može otvarati i zatvarati.
Sa ograničenom površinom parcele, glavna ideja arhitekti firme Design in Motion je bila stvaranje otvorenog kontinualnog prostora, gde su funkcionalno povezani nivoi ali i otvoreni i zatvoreni prostori, piše ArchDaily.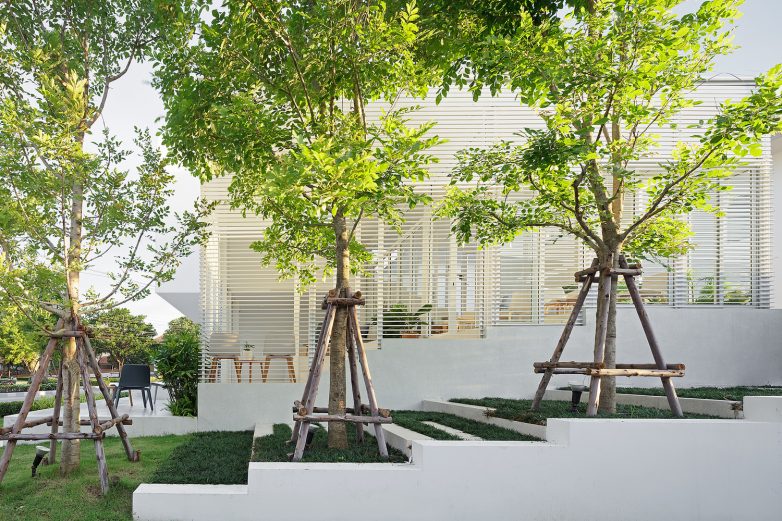 Stepenasto formiranje objekta služilo je kako bi se omogućilo neometano kretanje od spoljašnjih zona do teretane na poslednjoj etaži.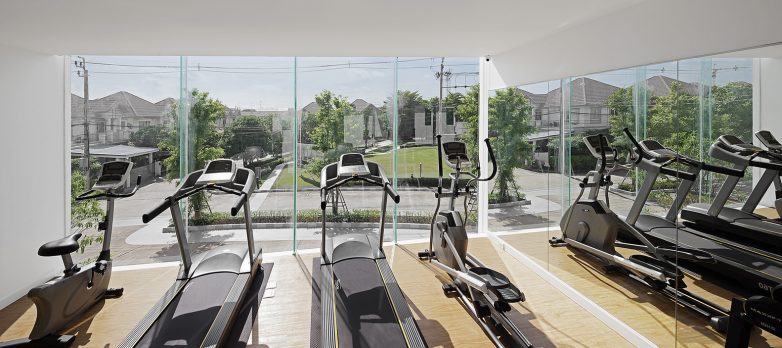 Prostor ispod stepena objekta poslužio je za skrivanje tehničkih prostorija.
Stepenasto razgraničavanje prostora omogućilo je razdvajanje funkcija, bez upotrebe vertiklanih barijera.
Na jednom nivou smeštena je zona za relaksaciju, na drugom radni prostor, dok je na sledećoj mali amfiteatar za okupljanje manje grupe ljudi.
Zelenilo integrisano kroz čitav prostor razgraničava zone i omogućava privatnost, a ujedno čini prostor zdravijim i prijatnijim za boravak.
Pri izgradnji objekta korišćeni su standardni materijali koji se nalaze u upotrebi na Tajlandu, poput betona, teraca i aluminijumskih prozora.
Dominacija fasade
Ipak, glavna karakteristika objekta u pogledu materijalizacije je bela aluminijumska fasada koja se u zavisnosti od potreba može otvarati i zatvarati, tako da kada je potrebno pruža privatnost u unutrašnjosti ili propušta dovoljnu količinu prirodnog svetla.
Grafičke podloge:
Fotografije: Design in Motion/Soopakorn Srisakul
Kad ste već ovde…