Nekadašnje drvene kuće bez prozora za život bračnih parova, poslužile su arhitekti Aleksandru Gušiću kao inspiracija za savremeni objekat na Fruškoj gori.
"Nekada kada se živelo u zadruzi u jednoj seoskoj kući, u kojoj su boravile i po četiri generacije, mladenci bi se noću izdvajali u vajat. Zato je ta omanja prostorija bila udaljena od kuće, za slučaj ako bi se mladenci u strasti zaneli i postali suviše glasni. Vajat nije imao prozore – da ne bi mlađarija zavirivala šta mladenci rade." Ovakav opis vajata kao tradicionalne građevine bez prozora poslužio je Aleksandru Gušiću, dobitniku prestižne nagrade na Salonu arhitekture u Beogradu, kao inspiracija za objekat savremene namene.
Želja klijenta bila je ljubavnicima i supružnicima ponudi mogućnost izolacije u prirodi.
Prodori arhitekture uvek se događaju u ekstremnim situacijama. Naime, Gušić je, na zahtev svog prijatelja iz Moskve, koji je želeo vreme da provede u izolaciji u prirodi usled novonastale situacije izazvane koronavirusom i vanrednim stanjem, došao na ideju da klijentima ponudi mogućnost izolacije u prirodi i to baš na način kako su to radili i naši preci.
Ugostiteljski model Neo Vajat podrazumeva izgradnju pojedinačnih kuća za izolaciju na obroncima Fruške gore, njihovo dnevno izdavanje i održavanje. "Projekat transformiše tipologiju vajata kao tradicionalne kuće bez prozora, razvijajući je u skladu sa savremenim oblikovnim kodom, materijalima i tehnikama građenja" – izdvaja autor. Za novonastalu potrebu, vikend turizam, klijent je od arhitekte zahtevao da pronađe održiv i odgovarajući prostorni oblik, a sve kroz direktno ugledanje na tradicionalnu arhitekturu u prirodi.
Jedinica od 40 kvadrata sadrži sve što je jednom paru potrebno. Tu su prostor za dnevne i noćne aktivnosti, servisni sadržaji, ali i zvučna izolacija zadovoljavajućeg kvaliteta (naročito zidova i plafona). Kako je reč o tipičnoj jedinici za serijsku izgradnju, optimizacija budžeta i izvođenja morali su biti razrađeni do najsitnijih detalja.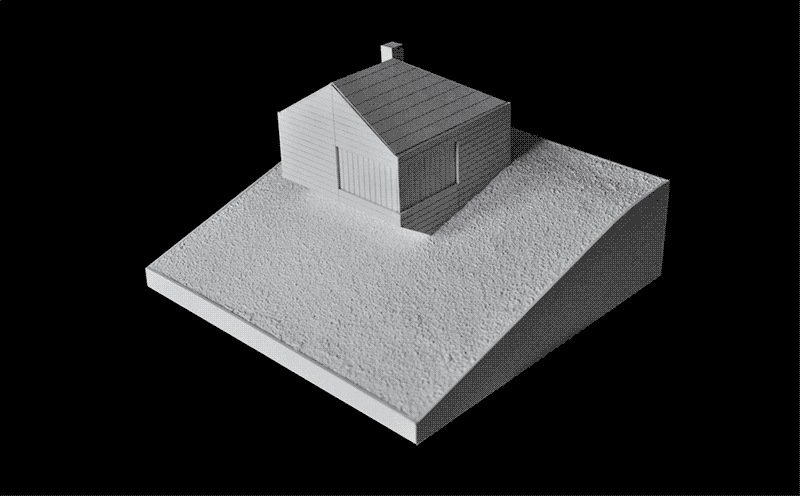 Univerzalni jezik tradicionalne arhitekture
Prostor je raščlanjen na više manjih celina koje su razrađene po mustri arhitektonskih obrazaca. Projektantski obrasci međusobno se nadovezuju. Tu su: spavanje na istoku, mesto pored prozora, otvoreno ognjište, kuhinjsko ostrvo, krevet u niši, varijacija visine plafona, unutrašnji prozor, vrata na uglu, klupa na ulazu i mnogi drugi obrasci koji prostoru daju poetiku i mističnost.
Ognjište čini centralni motiv organizacije Neo Vajata. Ognjište okuplja par oko vatre i upućuje ih jedne na druge. Ono istovremeno služi i kao centralna tačka kretanja, orijentacije i identifikacije. Konstruktivno, ognjište je statički element preko koga se težina kosih krovnih ravni prenosi na temelje. Pomoću "dimnjak efekata", ognjište takođe ima funkciju prirodnog kanala ventilacije i regulacije unutrašnje temperature i provetrenosti. Pored toga, ognjište ima posebno simboličko značenje. Ono je "pupak kuće".
Stepen osunčanosti, otvorenosti i privatnosti kontrolišu se preko kliznih zastora.
Kretanje se odvija oko servisnog jezgra kojeg čine kamin, kompaktno kupatilo i ugradni plakar na samom ulazu. Prostor se pogledom otvara po obe dijagonale, dok visina prostorija varira proporcionalno njihovoj površini i nameni. Dijagonala kuće prati pravac sever-jug.
Centralni oblikovni motiv čini džinovski ugaoni prozor, dimenzija 2x350x200cm. Realizacija ove arhitektonske egzibicije moguća je pomoću Alumil kliznih sistema, gde dva klizna prozora prave prav ugao (90°) i zaključana su na njihovoj spojnoj tački u uglu.
Stepen osunčanosti, otvorenosti i privatnosti kontrolišu se preko kliznih zastora. "Ugaoni klizni zastori, koji se nalaze na prepuštenom delu objekta, okrenuti ka jugo-istoku i jugo-zapadu, predstavljaju otvore preko kojih se kuća otvara ka prirodi, ali i od nje zatvara. Otvaranjem zastora velikih dimenzija enterijer brzo postaje deo eksterijera" – navodi Gušić.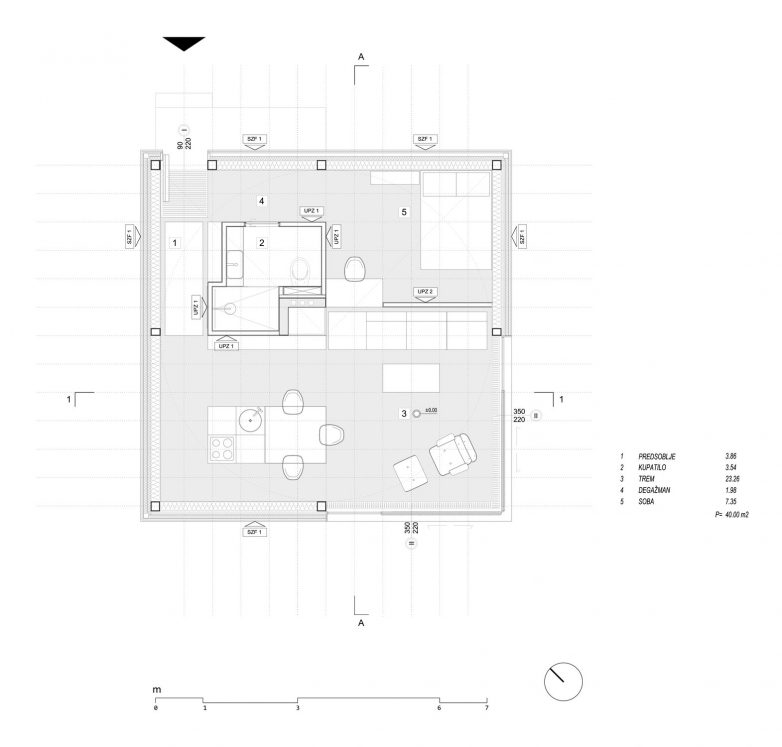 Drvo na fasadi, konstrukcija od metala
Sem temelja od betona koji se liju na licu mesta, svi drugi elementi konstrukcije su prefabrikovani i montažni po sistemu suve gradnje. Konstrukciju objekta čini čelični skelet od pravougaonih hladno oblikovanih profila u formi kuće sa viševodnim krovom, dok je termoizolacija od višeslojne kamene vune i istovremeno služi kao zvučna izolacija.
Fasadne obloga je od recikliranih dasaka, koje se na domaćem tržištu prodaju kao cenovno pristupačna drvena građa. "Upotreba recikliranog materijala daje kući jednu autentičnost koja ima vanvremensku estetiku" – naglašava autor. Na ovaj način se čuva memorija graditeljskog nasleđa, ali i lokalne kulture u tehničkom i izvođačkom smislu.
S druge strane, radi suve ugradnje, obloga unutrašnjih zidova je od cementnih gips-kartonskih ploča, koje su otporne na vlagu, ali i fizička oštećenja. Radi lakšeg održavanja i dugotrajnosti, finalna obrada poda je od industrijskog "ferobetona". Radi efekta i uštede, projektant se odlučio za Ecomaxx sistem podnog grejanja, koji radi na niskom naponu od 12-14V, potpuno je bezbedan, brz i jednostavan za ugradnju. U enterijeru, korišćene su ugradne svetiljke tehničke rasvete češkog proizvođača Modus.
Veliki povratak seoskog turizma
Nesumljivo, 2020. godinu pamtićemo kao godinu u kojoj smo zastali. To je godina u kojoj smo bili prisiljeni da ostanemo u svojim stanovima. Pritisnuti uza zid nemogućnosti izbora, povratak prirodi i seoskom turizmu nametnuli su se kao neophodna nužnost. Nesumnjivo, ljubav i romantične odnose treba prilagoditi trenutnoj situaciji, što može biti prilika za nova rešenja iskonskih potreba.
Neo Vajat priča je o inicijativi koja polazi od vrednosti tradicionalne arhitekture i lokalne kulture. "Treba imati u vidu da investicije u objekte ovog tipa i namene mogu biti isplative, s obzirom na činjenicu povećane potrebe za boravkom u prirodi. Ne treba zanemariti planinski turizam kao potencijalnu privrednu granu koja dodatno podiže svest o značaju uravnoteženog odnosa odmora i rada, prirode i grada, svakodnevnice i slobodnog vremena" – zaključuje arhitekta Gušić.
Prodori arhitekture uvek se dešavaju u ekstremnim situacijama – zadovoljenju uvrnutih potreba ekscentričnih korisnika. Idemo u planine!
Faktografija:
naziv projekta: Neo Vajat
autor: Aleksandar Gušić (Gusic Architecture)
mesto: Fruška gora (Vojvodina)
godina projektovanja: 2020.
površina: 40 m2
Kad ste već ovde…