Istraživači sa Visoke škole za dizajn i inovaciju u Indiji napravili su alternativne, biološke cigle na kojima uspevaju biljke, a čak se i insekti (na žalost nekih od nas) tu osećaju kao u drugoj kući.
Ove ekološke opeke napravljene su od zemlje, cementa, ćumura i organskih vlakana od biljke poznate po nazivu lufa (iliti sunđerasta tikva), koja se obično koristi za proizvodnju prirodnih sunđera za kupanje.
Još jedan ključni sastojak za izradu ovog građevinskog materijala jeste vazduh. Naime, ove "zeleni ćumur" sadrži više vazdušnih džepova nego standardni betonski blok, što ih čini i do 20 puta poroznijim. Upravo ove pore omogućavaju organizmima životinjskog i biljnog porekla da žive na njima.
Objekat građen "zelenim ćumurom" može da diše, a više ovakvih objekata na jednom mestu moglo bi da stvori daleko zdravije urbano okruženje za ljude.
Upotreba ovih cigli u građevinarstvu donosi brojne benefite korisnicima. Pomenute pore mogu se posmatrati i kao hiljadu sićušnih rezervoara za vodu, što doprinosi rashlađivanju prostora. Zanimljivo je da se ćumur, odnosno ugljen kao sastojak pojavljuje se samo u malim količinama, na površini cigle. Služi za pročišćavanje vazduha i to čini apsorpcijom nitrata kojeg indijski naučnici nazivaju superhranom za biljke.
Prednosti biofilnih prostora
Shreyas More, glavni naučnik u timu, opisuje ovaj projekat kao građevinski odgovor na temu biofilijskog dizajna koji je fokusiran na pružanje snažne veze između ljudi i prirode:  
"U biofilnim prostorima ljudi su srećniji, pacijenti se brže oporavljaju, studenti bolje uče, maloprodaja bolje funkcioniše, produktivnost na radnom mestu raste, a izostanci s posla se ređe beleže", rekao je More dodavši da zidovi i fasade pravljeni od ovog materijala ne treba da nose isključivo funkciju prečistača vazduha, nego i da inspirišu pozitivna društvena iskustva.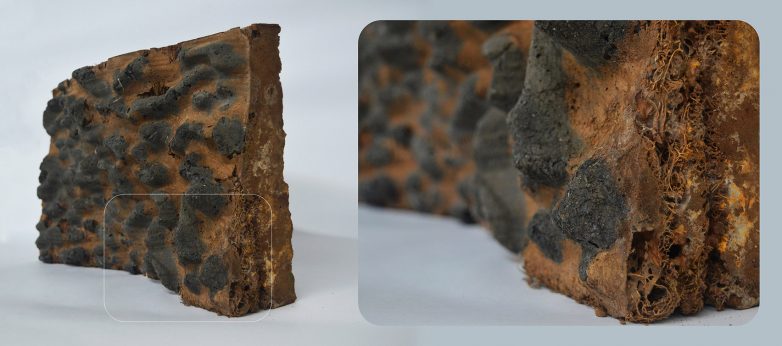 Ipak ništa bez cementa
Osim toga što su biorazgradive, ove cigle su i lagane. Međutim, imaju jednu manu – a to je da je za njihovu upotrebu ipak potreban cement (poznatiji kao jedan od najčešćih uzroka emisije ugljen-dioksida). Srećom, u manjim količinama.
S druge strane, naučnici tvrde da dodatna pojačanja nisu potrebna jer vlakna lufe pružaju svu potrebnu snagu i fleksibilnost. Trenutno rade na daljem prilagođavanju ovog materijala potrebama građevinara.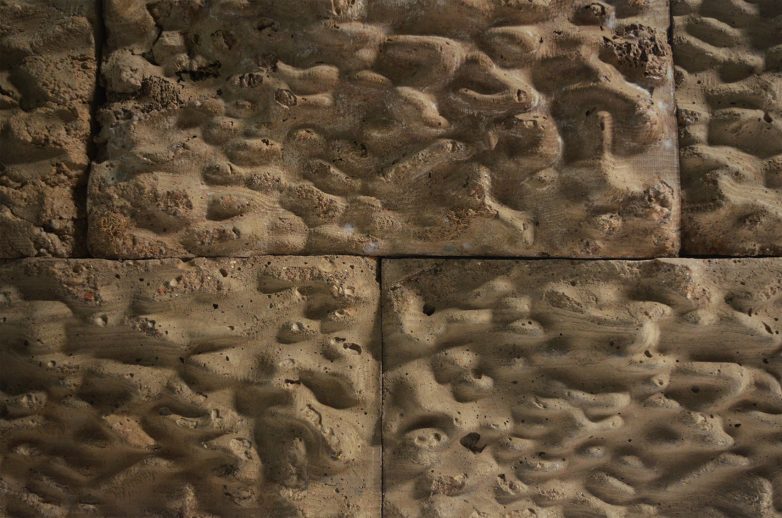 Negde između funkcije i dizajna
"Danas, zbog sve češće integracije dizajnerskih, naučnih i inženjerskih domena, arhitekte imaju mogućnost da definišu kompozicije materijala ili čak da stvore materijale za željene funkcije", zaključuje Moore za Dezeen.
"No, oni moraju da imaju vrlo visoke performanse i dodatne atribute poput kontrole zagađenja, reakcije na klimatske promene, apsorpciju zvuka i mogućnosti menjanja oblika i boje. U pitanju su materijali koji su mahom biorazgradivi, dobijeni reciklažom i koji se pospešuju zdrav životu čak i u zatvorenom prostoru."
Kad ste već ovde…