Kolumna
Fudbalski stadioni: Mesta susreta sporta, politike i arhitekture
Stadioni su postali savremene arene sporta i novca koji gradovima, državama, a posebno timovima i pojedincima, donose višemilionske prihode, piše u svom novom članku istoričar umetnosti Marko Stojanović.
Narednih mesec dana svet će tresti fudbalska groznica. Počinje Svetsko prvenstvo u Rusiji, koje je, naravno, više od igre. Setimo se samo prethodnog svetskog prvenstva u Brazilu, gde je nakon katastrofalnog poraza domaćina, polovina nacije pala u blagu depresiju, dok su ekstremni pojedinci izvršavali samoubistva. Dobro, fudbal nije baš toliko važna stvar, ali jedna od najvažnijih sporednih stvari (bar za muški deo populacije) možda i jeste.
Bez obzira koliko je jedna nacija vična fudbalu, ovo je i dalje sport u kojem kruži zavidna količina novca (možda je američka NFL liga jedina jača po tim parametrima), pa je sasvim prirodno da je fudbal mnogo više od sportskog nadmetanja. Pojedinci multimilijarderi, internacionalne korporacije, vojno-politički moćne države i mnogi drugi akteri, pored samih fudbalera, odmeravaju svoje snage na terenima. Fudbal je stvar prestiža, pa se novac ne žali kada su u pitanju transferi i honorari fudbalskih zvezda. Uveliko važi jedna izreka, da su na stadione nekada dolazili bogataši kako bi gledali sirotinju kako trči za loptom, a da sada sirotinja dolazi da gleda milionere kako trče za loptom. Istini za volju, novčana vrednost današnjih fudbalera daleko je od realne, ali to i dalje ne sprečava verne navijače da prate svoje timove i da ih bodre ka svakoj narednoj pobedi.
Tako su stadioni postali savremene arene sporta i novca, koji timovima, ali i gradovima/državama u kojima su izgrađeni, donose višemilionske prihode. A tamo gde je novac tu i politika menja svoj tok, pa navijači Barselone mogu biti spokojni – niti će Katalonija sa svojim glavnim gradom da se odvoji od Španije, niti će Barselona zaigrati u lokalnoj katalonskoj ligi.
Od Rimskog carstva do Republike Italije
Sve počinje od Antičkog Rima i izgradnjom Koloseuma, koji su u periodu od 70. do 80. godine izgradili rimski carevi Vespazijan i Tit. Skoro da nema osobe koja ne zna da su se tu odigravale gladijatorske i životinjske borbe, najznačajniji vid zabave za rimske građane, naročito za one najsiromašnije. Međutim, tek poneko će vam reći kako je izgrađen Koloseum, to jest, da je njegova izgradnja bila gotovo besplatna za Rim. Nakon sloma Judejskog ustanka, Rimljani u ropstvo odvode na hiljade jevrejskih građana. Za one iz bogatijih porodica zatražili su da se za njihovo oslobađanje plati veoma veliki otkup, dok su oni siromašniji ostali da kao robovi zidaju Koloseum. Tako su izgradnju ove krvave arene, platili Jevreji, dok su rimski carevi u narednih nekoliko vekova njome upravljali građanima. Seobom prestonice u Konstantinopolj, Koloseum biva zamenjen Hipodromom, ali je funkcija bila istovetna.
Izgradnju Koloseum platili su Jevreji, dok su rimski carevi u narednih nekoliko vekova pomoću ove krvave arene upravljali građanima.
Nakon pada Rima i dominacijom Hrišćanske crkve, kult sporta i telesnih vežbi biva prekinut na više vekova. Ne računajući zabavu za decu i amaterske klupske organizacije, sport kao vid fizičkog treninga i zabave ponovo postaje aktuelan krajem 18. veka. Zvanični fudbal počinje da se igra krajem 19. veka, a njegova savremena kolevka (fudbal je izvorno iz Kine) postaje Engleska, to jest, Britanski komonvelt. Nakon što su formirani prvi klubovi, počinje se s izgradnjom prvih stadiona.
Nakon organizacije prvog Svetskog prvenstva u Urugvaju 1930. godine (Kraljevina Jugoslavija osvojila 4. mesto), počinje prava ekspanzija ovog sporta, ali i projektovanja i izgradnje fudbalskih stadiona. Malo koji arhitekta ima informacije da je Le Korbizje u svom ateljeu posebno stavljao akcenat na projektovanje sportskih stadiona.
Kult sporta posebno su negovali sovjetski i nacistički režimi. Ruski konstruktivisti projektovali su na stotine stadiona, koji se po sadašnjim kriterijumima i dalje mogu svrstati kao savremeni, dok je Albert Šper svojim totalitarnim ostvarenjima stvorio poseban poligon za delovanje nacističke propagande. Posle rata, velikan u projektovanju sportskih hala i stadiona u prednapregnutom betonu postaje italijanski arhitekta Pjer Luiđi Nervi.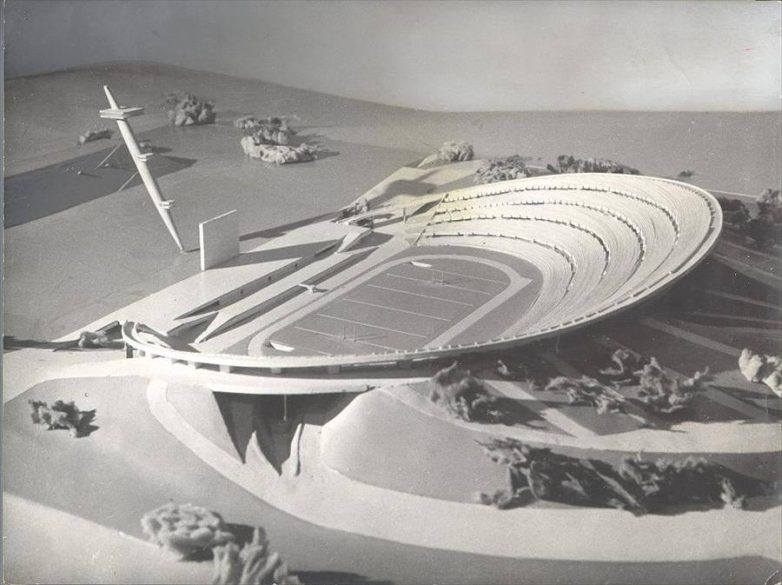 Od Lenjina, preko Staljina do Lužnikija
Čim FIFA nekoj državi dodeli organizaciju Svetskog prvenstva, ista započinje višegodišnje pripreme za njegovo održavanje. Naravno, najznačajnija investicija, pored globalnih urbanističkih i arhitektonskih preuređenja čitavih gradova, predstavlja izgradnja novih ili rekonstrukcija postojećih fudbalskih stadiona. Države koje su početnici u ovom sportu, a imaju dovoljno sredstava, sebi dozvoljavaju luksuz da izgrade po nekoliko stadiona (Katar kao domaćin Svetskog prvenstva 2022. godine), dok je državama koji su fudbalski veterani čast da svoje poznate stadione rekonstruišu i time se pohvale kontinuitetom u ovom sportu, koji negde dostiže i preko pola veka.
I na ovom prvenstvu, glavna zvezda je postojeći stadion – Lužniki, koji je za potrebe ovogodišnjeg nadmetanja temeljno rekonstruisan. Nakon velikog uspeha sovjetskih sportista na Letnjim Olimpijskim igrama u Helsinkiju 1952. godine, kada je osvojeno 71. medalja, Vlada SSSR-a izdaje direktivu za izgradnju novog nacionalnog stadiona. Izgradnja je trajala od 1954. do 1956. godine, a novoizgrađeni objekat poneo je ime Centralni Lenjinov stadion. Nakon raspada SSSR-a preimenovan je u Lužniki.
Stadion pomalo podseća na nacističke arene izgrađene tokom 30-ih godina prošlog veka.
Iako je u to vreme Nervi i njegove kolege sa Zapada, već uveliko projektovao sportske komplekse u savremenom, funkcionalističko-ekspresionističkom arhitektonskom izrazu, stadion je pod uticajem Staljinovog totalitarnog režima izgrađen u stilu soc-realizma i svojom arhitekturom pomalo podseća na nacističke stadione izgrađene tokom 30-ih godina. Ispred ulaza u stadion postavljena je statua Vladimira Iliča Lenjina.
Stadion je u nekoliko navrata doživeo obnovu, od 1996-1997. i 2001-2004. Sve do poslednje temeljne rekonstrukcije, kada su porušene sve tribine i praktično zadržana samo fasada stadiona, kao zaštitni znak vremena u kojem je nastao. Tribine su redukovane, pa je od postojećih 100.000 mesta dobijeno 80.000 mesta, ali sa većim terenom i drugim pratećim površinama. Na stadion je ugrađena i savremena krovna konstrukcija.  Sredinom 2017. godine, stadion je bio spreman da ugosti selekcije na predstojećem Svetskom prvenstvu. Prvenstvo otvara meč domaćina i Saudijske Arabije, a zatvara finalni meč.
Ovo će biti prilika i za političku propagandu, što je pored finansijske, najčešći motiv održavanja Olimpijskih igara i Svetskih prvenstava. Mada, u poslednjih par decenija, gradovi koji su bili domaćini ovih sportskih manifestacija zapali su u velike kreditne dugove iz kojih ne mogu da se izvuku ni više od jedne decenije, a prihodi od poseta su znatno manji od očekivanih. To znači da organizovanje jednog sportskog događaja može sebi da priušti isključivo država koja svesno ide u finansijski gubitak, samo da bi iskazala svoju političku dominaciju.
A gde se tu pronalazi Srbija/Beograd?
Beograd se od početka 2000-ih pojavljuje kao domaćin mnogih sportskih manifestacija. Kao da nikada nismo prežalili gubitak kandidature za letnje Olimpijske igre, koje su umesto Beograda, koji je tada bio glavni grad građanskim ratom pocepane države, 1992. godine održane u Barseloni. Od tada Beograd iznova priželjkuje neku spektakularnu sportsku manifestaciju.
Za Olimpijadu možda nikada nećemo imati novca, a i Svetsko prvenstvo je misaona imenica, ali ako bismo sredili nekoliko stadiona (Omladinski stadion, Vožd Karađorđe, Čair), možda bismo mogli da se pojavimo i kao domaćini neke manifestacije nešto nižeg ranga. Možda i Evropskog prvenstva, nikada se ne zna.
Ali, da bismo bili domaćini bilo kakve ozbiljnijeg fudbalskog događaja FIFA je donela odluku da moramo izgraditi nacionalni stadion. Do sada su se mečevi reprezentacije odigravali na stadionima Rajko Mitić (Crvene Zvezde) i Partizana (JNA), ali FIFA propisuje da se za potrebe većeg prvenstva mora igrati na nacionalnom stadionu, zbog celokupne atmosfere i bezbednosti.
U tu svrhu, u javnosti već pola decenije kruže informacije o lokaciji i izgledu novog nacionalnog stadiona. Kao lokacije se spominju Novi Beograd i Surčin, zbog svojih urbanističkih i infrastrukturnih prednosti, a u opticaju su i dva arhitektonska projekta. Jedan je više organske forme, zaobljenih linija u crveno-plavoj boji, dok je drugi više podužnog tipa, sa upečatljivom rešetkastom nosećom konstrukcijom, preko koje bi klizeo pomični krov, a delo je projektnog biroa Žugaj inženjering iz Zemuna. Još uvek se ne zna pouzdano koji bi bio kapacitet ovog stadiona, ali procene su da bi išao između 50 i 80.000 sedišta.
Pravo pitanje je da li bi Srbija imala dovoljno finansijske i infrastrukturne snage da rekonstruiše nekoliko i kompletno izgradi jedan novi stadion? Iz pouzdanog izvora FSS-a, rečeno je da će presudnu ulogu imati rezultat sa ovog Svetskog prvenstva u Rusiji. Ako se Orlići vrate sa nekim uspehom, možemo očekivati ponovno buđenje fudbalske euforije. U protivnom, Piksla (Stadion Partizana) i Rupa (Stadion Rajko Mitić) će nam biti sasvim dovoljni…
Kad ste već ovde…