Građevinarstvo
Kako proveriti plac pre kupovine – vlasništvo, teret, građevinsko ili poljoprivredno?
Većina podataka može se dobiti onlajn… ako znate gde da tražite!
Idila zvana vikendica sa bazenom na Avali, Kosmaju ili Fruškoj Gori obično počinje kupovinom zemljišta, odnosno placa za gradnju kuće. Ali da ta idila ne bi postala noćna mora, prvo morate proveriti šta tačno kupujete.
Na sajtu Nacionalne infrastrukture geoprostornih podataka (GeoSrbija) možete saznati broj parcele bilo kog zemljišta koje vas interesuje. Dakle, prvi korak je da saznate broj parcele, a evo i kako.
Ako znate gde se zemljište nalazi, zumirajte taj deo na karti GeoSrbija i pritisnite dugme "Katastar". Tada će vam se ocrtati sve linije parcela kao i ubeleženi objekti na njemu (ako ih ima). Ovde ćete lako pronaći broj parcele, adresu i broj objekata na parceli kao i podatak kojoj katastarskoj opštini plac pripada.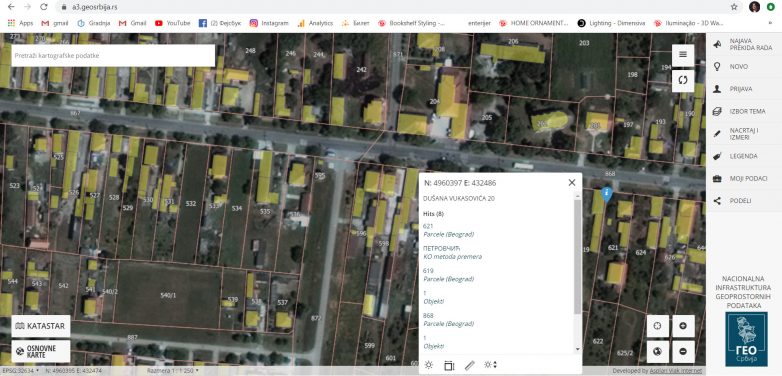 Na sajtu GeoSrbija možete saznati broj parcele bilo kog zemljišta koje vas interesuje.
Osim ovih osnovnih podataka, dobićete uvid u tačan oblik placa ali se mogu dobiti i informacije o veličini placa tako što ćete izabrati alatku Measure area (merenje) i obeležiti površinu uz pomoć tačaka. Površina obuhvaćene površine će se pojaviti u okviru obeležene zone.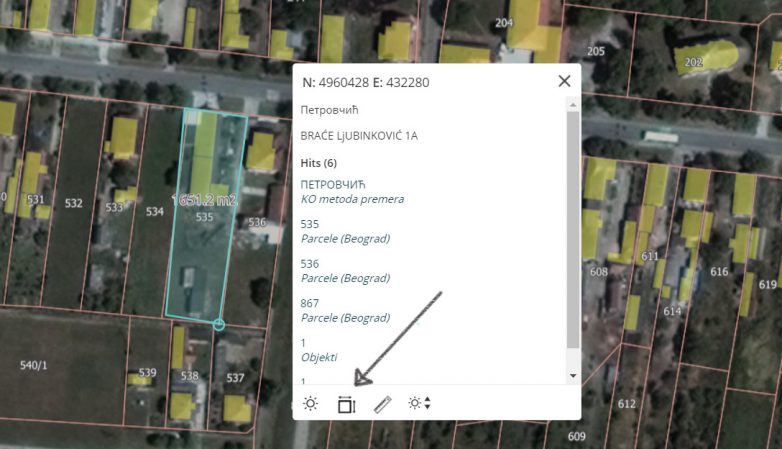 Pored ove korisne alatke postoji i alatka za merenje rastojanja između bilo kojih obeleženih tačaka, a tu su i alatke poput vremenske prognoze za koje nismo baš sigurni da im je ovde mesto.
Provera placa na katastru
Kada smo saznali broj parcele, njegove tačne dimenzije i opštinu kojoj plac pripada idemo dalje da saznamo nešto više o placu. Koristićemo još jedan onlajn servis – eKatastar.
Podaci baze podataka eKatastar nepokretnosti nisu dnevno ažurni i ne sadrži baš sve podatke koje bi sadržao Izvod iz lista nepokretnosti za predmetnu parcelu. Međutim, podaci koje nudi su dovoljni da znate kojim putem dalje, odnosno, u kom pravcu da usmerite dalju proveru ili pak da već u ovom koraku, zbog recimo nekog stvarnog ili ličnog tereta na nepokretnosti (npr, plodouživanja), bez daljeg trošenja vremena i novca odustanete od kupovine.
Za početak, izaberite opštinu gde se plac nalazi i unesite broj parcele koji ste saznali u prethodnom koraku. Katastar možete pretraživati i po ulici… ako postoji.
Zbog provere, morate upisati sigurnosni kod sa slike iznad. Nakon toga će dobićete sve podatke o traženoj parceli koji izgledaju ovako: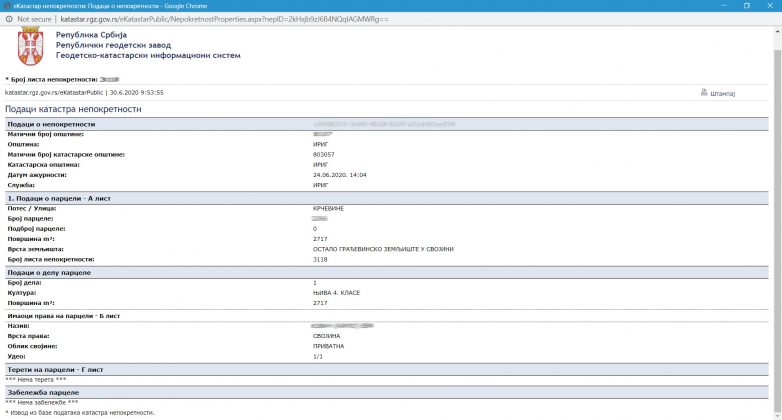 Iz Katastra možete videti ko je vlasnik parcele, koja je tačna površina zemljišta, kao i o kakvoj vrsti zemljišta se radi.
U podacima iz Katastra možete videti ko je vlasnik parcele, koja je tačna površina zemljišta, i što je možda najvažnije o kakvoj vrsti zemljišta se radi, odnosno da li je ono građevinsko, poljoprivredno ili nešto treće, od čega zavise ne samo uslovi prometovanja zemljišta, već i da ono odgovara vašoj željenoj nameni.
U ovom slučaju plac spada u "Ostalo građevinsko zemljište u svojini" što znači da je moguće dobiti dozvolu za gradnju, a kolikog i kakvog objekta zavisi od urbanističkih planova, što proveravate ili neposredno kod nadležnih organa ili pak onlajn proverom objavljenih detaljnih urbanističkih planova, a koje većina opština u Srbiji ima. Ukoliko je plac poljoprivredno zemljište, potrebno je pribaviti dokaze o nekorišćenju pravom preče kupovine vlasnika susednih parcela i uraditi prenamenu poljoprivrednog u građevinsko zemljište o čemu ćemo drugi put.
Provera podataka i uslova za kupovinu od strane profesionalca
Podaci koje ste pribavili govore o nepokretnosti i o njenom vlasniku kao i eventualno o trećim licima koja imaju ili pretenduju da imaju pravo na željenu nepokretnost. Da bi znali kako se te činjenice mogu odraziti na vas, potrebno je stručno pravno znanje za šta je najbolje angažovati profesionalca-advokata koji će vam ukazati na već postojeće i  potencijalne probleme u vezi sa kupovinom željenog zemljišta i predložiti načine rešavanja.
Kupoprodaja kod notara
Sada kada ste proverili plac i doneli odluku o kupovini, advokat će sastaviti ugovor o kupoprodaji zemljišta. Bitno je napomenuti da se iznosi do 15.000 evra mogu plaćati u gotovini dok se ostatak mora platiti preko računa. Najbolje da prodavac i kupac imaju račun u istoj banci kako bi se smanjili troškovi prenosa novca.
Ugovor se treba overiti kod notara i to u opštini gde je i plac. Na primer, ukoliko plac pripada opštini Ada, a kupac je iz Beograda a prodavac iz Novog Sada, ugovor se overava kod notara u Adi.
Treba imati na umu i da se na kupoprodaju-promet zemljišta plaća porez i to ili PDV ili porez na apsolutna prava, što zavisi od toga ko je prodavac.
Nakon što ste kupili plac, pogledajte sada šta je od dokumentacije potrebno za gradnju kuće.