Bežite iz grada? Ukoliko ste planirali da gradite kuću na idiličnoj lokaciji van gradske vreve, vredelo bi odmah znati koji će vas sve troškovi sačekati u ovom poduhvatu.
Kupovinom placa na željenoj lokaciji rešili ste samo jedan mali deo posla do kuće iz snova. Istraživali smo zakon iz 2018. godine kako bismo vam doneli detaljan plan procedure kako da na placu sagradite kuću kao i da je na kraju uknjižite. Šta su lokacijski uslovi, kako do građevinske dozvole, koliki su troškovi za komunalno opremanje? To su neka od pitanja na koje dajemo odgovore ali krenimo redom.
Informacija o lokaciji
Da bi se krenulo sa gradnjom kuće, prvi korak je dobijanje informacije o lokaciji. Informacija o lokaciji sadrži podatke o mogućnostima i ograničenjima gradnje na katastarskoj parceli, odnosno na više katastarskih parcela, na osnovu planskog dokumenta.
Informacije o lokaciji dobijaju se u većim gradovima u Sekretarijatu za urbanizam i građevinske poslove, dok u manjim mestima ovo izdaju opštine. Na primer, u Novom Sadu se dobija podnošenjem zahteva u Gradskoj upravi za urbanizam – ulica Školska 3. Uz zahtev se plaća taksa RAT u iznosu od 30 evra, GAT u iznosu od oko 25 evra. Visina taksi zavise od opštine i podložne su promenama, te smo dali orijentacione cene u evrima.
Nakon dobijanja Informacije o lokaciji odlazi se u Projektni biro.
Angažovanje projektnog biroa
Projektni biro rade Idejno rešenje na osnovu koga se dobijaju Lokacijski uslovi. Pre dobijanja Lokacijskih uslova, projektna dokumentacija se šalje po službenoj dužnosti, to jest, šalje je elektronski referent kome se dodeli predmet, Javnim komunalnim preduzećima koja izdaju svoje uslove za projektovanje i priključenje. Za ovo je potrebno platiti takse, a one su za svaki objekat drugačije i zavisi od kategorije objekta, kapaciteta, načina priključenja i slično.
Takse za lokacijske uslove koje se uplaćuju su RAT, GAT i CEOP i zavise od kategorije objekta. Za objekat A kategorije, u koje spadaju porodične stambene kuće do 400m2, takse su oko 35 evra za GAT, 20 evra za RAT i oko 10 evra za CEOP. I ove takse zavise od opštine.
Nakon dobijanja Lokacijskih uslova, Projektni biro izrađuje Projekat za građevinsku dozvolu (PGD).
Nakon što je projekat gotov, podnosi se zahtev za izdavanje građevinske dozvole.
Građevinska dozvola
Pošto se uplati iznos doprinosa za komunalno opremanje građevinskog zemljišta, prethodno izražen u Građevinskoj dozvoli, vrši se prijava radova. Trošak doprinosa za komunalno opremanje građevinskog zemljišta (Gradska uprava za građevinsko zemljište i investicije-ZIG)je najveća stavka prilikom gradnje kuće (ne računajući samu izgradnju objekta). Ovaj trošak takođe zavisi od opštine do opštine. U Novom Sadu, npr. ide i do 100€/neto m2 objekta. Upravo zbog toga što Investitori žele da izbegnu ovu stavku, nastaje veliki broj nelegalnih i neuknjiženih objekata.
Trošak doprinosa za komunalno opremanje građevinskog zemljišta može da košta i do 100€/neto m2 objekta.
 Obavezan korak u početnoj fazi izvođenja radova je Prijava završetka izrade temelja a zatim, kad objekat "stavite pod krov " Prijava završetka objekta u konstruktivnom smislu. U oba slučaja, na objekat izlazi inspektor i proverava usklađenost izvedenog stanja sa projektom za građevinsku dozvolu. Nakon ovoga, podnosi se zahtev za Priključenje objekta na komunalnu infrastrukturu.
Po završetku izgradnje i svih radova, naredni korak je podnošenje zahteva za dobijanje upotrebne dozvole.
Upotrebna dozvola
Za upotrebnu dozvolu zahtev sa uplaćenim taksama i pratećom tehničkom dokumentacijom predaje se organu koji je izdao građevinsku dozvolu. Ukoliko je došlo do izmene u toku gradnje, a koje ne odstupaju drastično od izdatih lokacijskih uslova ili planom određenih parametara, za upotrebnu dozvolu se predaje i Projekat izvedenog objekta.
Nakon dobijanja Upotrebne dozvole nadležni organ po službenoj dužnosti šalje Katastru dokumentaciju na osnovu koje se vrši uknjižba objekta. Sada ja vaš objekat legalan i uknjižen na vas.
Vredi znati
Uz svaki zahtev se plaćaju takse RAT, GAT i CEOP, koje su različite u zavisnosti od kategorije objekta. Pre svake uplate najbolje je kontaktirati Opštinu koja je nadležna i proveriti iznose za uplatu, kao i žiro račune.
Treba naravno napomenuti da se svi zahtevi podnose elektronski preko Centralne evidencije objedinjene procedure – CEOP-a.
Investitor koji je naveden u projektu mora biti vlasnik zemljišta na kome se gradi.
Objedinjena procedura
Da bi se lakše snašli sa koracima do vašeg uknjiženog doma, pratite ovaj algoritam koji sadrži tri faze: pripremu za izgradnju, izgradnju i dobijanje upotrebne dozvole.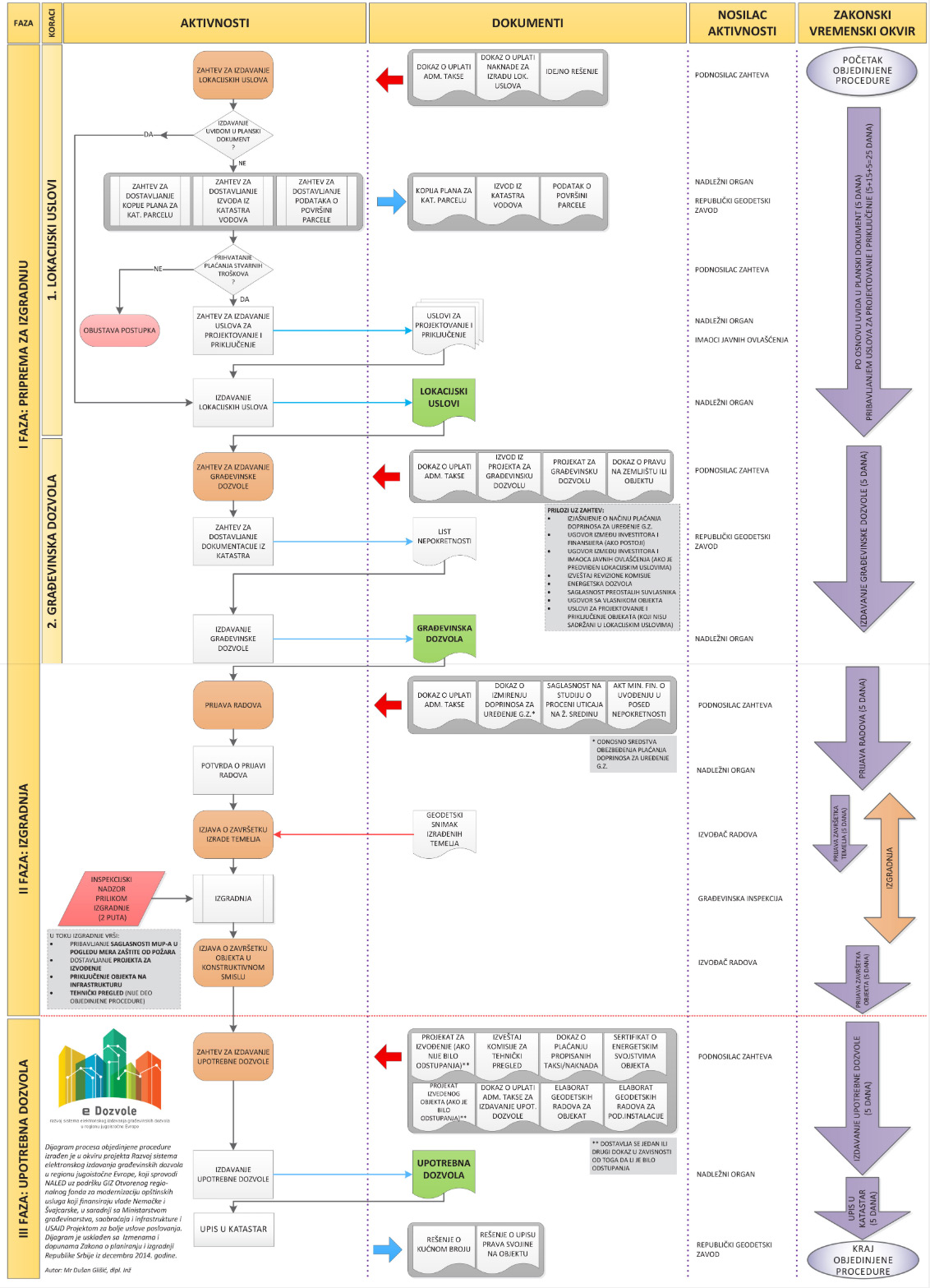 stručni konsultant: Dragana Županec