Arhitektura
Kako su infektivne bolesti uticale na razvoj kupatila
Izbijanja kolere i tuberkuloze preobrazila su dizajn i opremu kupatila. Da li će i pandemija virusa Covid-19 imati sličan higijenski uticaj?
Lojd Alter, arhitekta i istoričar dizajna, koji sada predaje održivi dizajn na Rajersonu, mišljenja je da bi postojanje lavaboa u ulaznoj zoni kuće sada bilo idealno. Na ovom mestu, koje je prelazna zona iz spoljašnjosti u unutrašnjost našeg doma, trenutno vršimo dezinfekciju i uklanjamo stvari da bi zatim otišli do kupatila da operemo ruke. Alter misli da bi bilo idealno da u ovoj zoni možemo da operemo i ruke, piše Citylab.
Naime, koliko god nam pomenuta konstatacija sada zvučala pomalo čudno, sadašnje moderno kupatilo se zaista razvijalo zajedno sa epidemijama tuberkuloze, kolere i gripa, a njegova standardna oprema, zidne i podne obloge, kao i sanitarije, realizovani su između ostalog i kako bi promovisali zdravlje i higijenu u kući u vreme pojačane brige o javnom zdravlju.
Bilo bi idealno da sada u predsoblju imamo lavabo jer upravo tamo vršimo dezinfekciju i skidamo stvari sa sebe.
Sada, u trenutku kada smo toliko usmereni da detaljno pranje ruku i dezinfekciju svakog dela našeg doma, nije teško zamisliti uspostavljanje novog fokusa na inovacije u kupatilu.
Dok razmišljamo kako će se kupatila oblikovati u budućnosti, možemo nešto naučiti i iz prošlosti. Doduše, nećemo otići toliko daleko, kada se prvi put u istoriji pojavio toalet s tekućom vodom, već ćemo zagrebati po maloj skorijoj istoriji.
Početak razvoja kupatila
Do kasnih 1800ih u SAD je postojalo 136 vodovoda, a u razvoju je bio sve veći broj mreža sanitarnih i kanalizacionih sistema u urbanim područjima širom zemlje.
Ovakav razvoj usledio je nakon što je teorija klica bila masovno prihvaćena, zahvaljujući javnim zdravstvenim kampanjama. Sve veća naseljenost gradova i loš kvalitet vode i sanitarne zaštite doprineli su da oni postanu plodno tlo za niz patogena. U to doba samo su bogati imali unutrašnje vodovodne instalacije, prvo u formi slavine u kupatilu a zatim i malog lavaboa u spavaćoj sobi. Čak ni kod bogatih nije postojalo namensko kupatilo, usled uverenja da "kanalizacioni gasovi" šire bolesti.
"Kada su bogati izgradili svoja prva kupatila, sve su upakovali u drvo. Ukrasno rezbareno tamno drvo maskiralo je toalet, umivaonik i kadu, tako da su se svi prvobitno pojavili kao komadi nameštaja, maskirajući svoju pravu svrhu.", objasnio je Alter.
Fokus na materijale
Početkom 20. veka medicinski stručnjaci shvatili su, a zatim i uverili javnost, da je čvrsta veza kupatila sa sistemom javne kanalizacije izuzetno bitna kako bi se zaustavilo širenje zaraznih bolesti. To je bilo vreme kada je španska groznica u Evropi odnela više života nego Prvi svetski rat.
I tako, dok su tuberkuloza i grip odnosili živote, ne birajući klasu stanovništva, dizajn kupatila je nastavio da se razvija kako bi pomogao u zaustavljanju epidemija. Tokom razvoja dizajna drvo je prva stavka koja je morala da se eliminiše, kako bi se stvorio prostor koji će se lako čistiti. Kade su prvobitno bile izgrađene od drveta i obložene cinkom ili bakrom, da bi zatim bile izlivene od gvožđa i obložene emajlom. Emajl, kao materijal koji se jednostavno čisti, našao je i primarnu upotrebu za izradu svih elemenata u kupatilima, kako u privatnim domovima tako i u bolnicama.
Dovođenje bolnica u domove
U vremenu pre nego što su izmišljeni antibiotici, odmor, sunčeva svetlost i svež vazduh bili su najbolji lek za respiratorna oboljenja poput tuberkuloze i gripa. Osim ovoga, sobe za pacijente su uglavnom bile potpuno bele, ne samo da bi se što bolje održavale, već i da bi njihova belina činila da one izgledaju besprekorno čiste, što je bilo okarakterisano kao snažan vizuelni simbol higijene i zdravlja, koji se i do danas održao.
Vlasnici kuća ubrzo su usvojili ova načela, posebno pri oblikovanju kupatila i kuhinja. Skučena i zagušljiva viktorijanska kupatila postala su prošlost, a pojačana higijena i sanitarna briga postali su budućnost. Ovo je značilo da se se ljudi oslobađali svega što nije bilo lako za obrisati i oprati i što potencijalno može da prikupi prljavštinu i klice. Drvene podove su zamenile pločice, a teške zastore lagani laneni materijali, koji ne samo da su se lakše prali već su i propuštali više sunčeve svetlosti.
Sledeće "na tapeti" su se našle upravo tapete. Prvobitno, javila se sve veća svest da arsen koji se nalazio u sastavu tapeta može biti otrovan za korisnike prostora. Pored toga, sve veći fokus se stavljao na često prljave i vlažne slojeve tapeta koje se nisu mogle čistiti. Gotovo svuda tapete se skidaju i zamenjene su čisto belim zidovima, koja između ostalog i reflektuje sunčevu svetlost, što je bila još jedna pozitivna stavka jer se svetlost smatrala najboljom dezinfekcijom.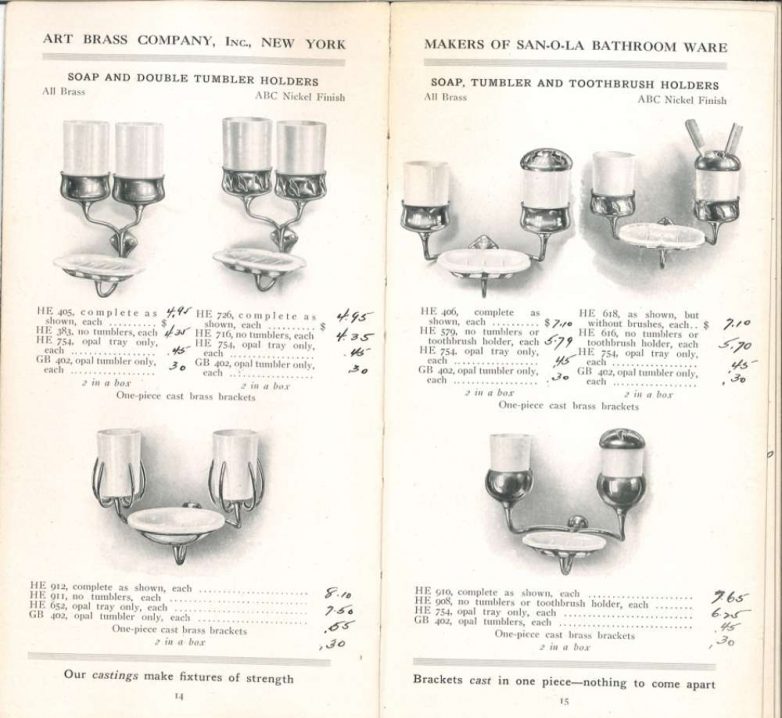 Ljudi su oslobađali svega što nije bilo lako za obrisati i oprati i što potencijalno može da prikupi prljavštinu i klice.
Oprema za kupatilo, poput držača za sapun, četkicu za zube ili peškir još je jedna odlika idealnog sterilnog izgleda kupatila u kući. Niklovani mesing bio je poželjan materijal, koji se uklapao u "laboratorijski" željeni izgled.
Zabrinutost zbog higijene i širenja zaraznih bolesti odvela je građane i još jedan korak dalje. Posebno u kućama koje su bile na više nivoa javila se potreba za dodatnim kupatilom koje je obično bilo formirano uz spavaće sobe. Početkom 20. veka neki vlasnici kuća dodali su  prizemlju kuće, blizu ulaza, i toalet, odnosno, čuveni powder room. U vremenu kada je bilo sve više svakodnevne isporuke uglja, leda ili namirnica, vlasnici kuća su mogli da ponude posetiocima mesto za pranje ruku na samom ulazu, kako se klice iz spoljašnjeg sveta ne bi unele u njihov dom.
Bolest i dizajn
Kada su arhitekte projektovale kuće nakon pandemije gripa 1918. godine i nakon Prvog svetskog rata, obično su se koristili jednim od dva pristupa nedavnim traumama. Prvi pristup bio je da se svaki aspekt pozove na preispitivanje, što su i činili modernisti i pripadnici Bauhausa 1920ih. Drugi pristup, daleko češće zastupljen, podrazumevao je pokušaj zaboravljanja traume i oblikovanje ugodnog i udobnog prostora.
U kupatilima je ovakav pristup doveo do stvaranja prostora namenjenog za relaksaciju i uživanje, iako su se u međuratnom periodu, još neko vreme održala kupatila minimalističkog dizajna koje je bilo lagano očistiti.
Udobnije i lakše za održavanje?
Velika promena došla je kada su antibiotici postali uobičajeni i tada dizajn više nije bio jedini odgovoran za suzbijanje zaraznih bolesti, što je dovelo do apsurdnih trendova. Tako su se na primer, u kupatilima iz 70ih mogle videti tapacirane WC šolje.
Kakav nas razvoj očekuje nakon koronavirusa ostaje nam da vidimo. Neki nagađaju da će se čak upotreba bidea povećati, obzirom na zanimljivi problem sa nestašicom toalet papira tokom pandemije. Svakako, kada se život vrati u normalu biće zanimljivo videti da li ćemo na ovu traumu delovati tako što ćemo prostor učiniti udobnijim ili efikasnijim za čišćenje, ili će doći do kombinacije. A možda ćemo i početi da ugrađujemo lavaboe usred ulaznog hodnika…
Kad ste već ovde…