Kolumna
Lepa Brena, Sivonja i Pet ludaka: Neobične zgrade u Srbiji i njihovi nadimci
Imena luda nalaze se svuda! Čim je arhitektura u našoj zemlji krenula da se značajno razvija, a zgrade da dobijaju kompleksniji likovni izraz, ljudi su počelu da im dodeljuju nadimke. I to kakve! 
Sigurno ste već čuli za nadimke koje su neke neobične zgrade dobile nakon izgradnje. Pre koju godinu, London je dobio poslovni neboder Krastavac, Prag je pre više od dve decenije dobio Plešuću zgradu, koja je dobila dodatni nadimak Fred i Džindžer, po poznatom plesnom paru na koje je mnoge ova zgrada asocirala. Već smo pisali o moskovskim Torticama, Njujork je imao Bliznakinje, Peking ima zgradu Velike gaće, Boston ima Sunđer, dok je u Nešvilu izgrađena Betmen-zgrada.
Sve ovo su nadimci koji su nastali spontano, od strane komšija ili prolaznika, a ponekad i od strane turista ili putopisaca, koji su u nekim zgradama dobili asocijacije prema određenim predmetima, likovima ili pojavama. Ponekad su nadimci nastajali iz pakosti konkurentnih arhitekata koji bi u medijima ostavljali stručne kritike u kojima bi zgradu svog kolege oslovljavali pogrdnim ili posprdnim nadimcima.
Ne zna se koja zgrada je prva dobila nadimak, ali je poznato koji se nadimak raširio u većini gradova – Lepa Brena!
Ni Jugoslavija, kasnije Srbija, nije zaostala u ovim uobičajenim trendovima. Čim je arhitektura Jugoslavije krenula da se značajno razvija početkom 60-ih godina, a zgrade da dobijaju znatno arhitektoničnu, to jest, kompleksniji likovni izraz, ljudi počinju da im dodeljuju nadimke. Ne zna se pouzdano koja zgrada je prva dobila nadimak, ali je poznato koj se nadimak raširio u većini gradova. U pitanju je zgrada Lepa Brena, koja postoji u nekoliko gradova Srbije. Među prvima, zgradu Lepe Brene dobija Vranje (arh. Tomislav Marković), a za njim slede Leskovac, Niš, Kragujevac, Užice, Zaječar, Novi Sad i mnogi drugi. Kada pogledate ove zgrade, one gotovo da nemaju ništa zajedničko, osim da su izgrađene 80-ih godina 20. veka i da su po svojoj postmodernoj arhitekturi u tom trenutku odskočile od svog okruženja.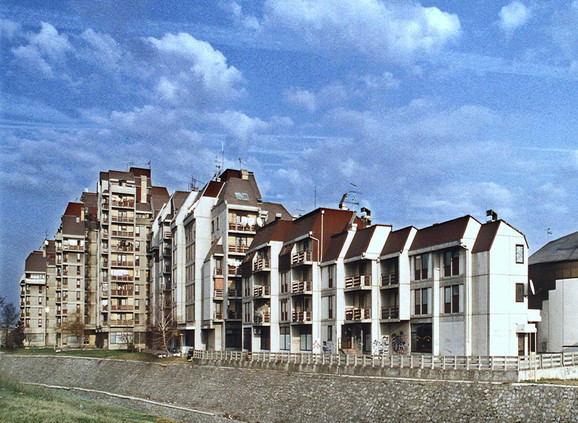 Neshvaćeni brutalizam
Užice dobija još jedan upečatljiv objekat, koji ne prolazi bez adekvatnog nadimka. Ubrzo nakon otvaranja, hotel Zlatibor, koji je izveden u brutalističkom natur beton maniru (arh. Svetlana Radević) dobija nadimak Sivonja. Vranjanci takođe imaju svoj hit – Barberi zgrada.
Kragujevac takođe 80-ih dobija još jednu upečatljivu zgradu, lociranu u najuzvišenijoj gradskoj zoni. Pored romantičarskih motiva denivelisanih kupolastih krovnih segmenata, koji postaju popularni 80-ih godina, soliter postaje poznat i po svom nadimku – Ipsilon (arh. bračni par Bakić). Ovaj nadimak dobija možda zbog svoje sumorne osobine – nikada nije uknjižen, a postaje i uklet (po verovanju stanovnika) jer su ljudi sa njega počeli da izvršavaju samoubistva.
Razbijanje sivila
Nakon popularnih Televizorki, Mercedeski, Potkovice, Kiflica, Generalica, Dva idiota, kao i famoznog Meandra sa 62 ulaza i preko 3.000 stanova, na Novom Beogradu nikle su Crvenkapice i benzinska pumpa Dejtonka (arh. Mario Jobst). Autor je neobičnom postmodernom, konstruktivističkom, jarko crvenom arhitekturom nastojao da razbije monotono sivilo postojećih sandučastih zgrada u okolnim blokovima. Da li je u tome uspeo, da li se ove zgrade dopadaju stanovnicima i okruženju, možemo samo da nagađamo. Nažalost, pumpu je Gasprom porušio, pa je njena slava ostala samo na slikama i u stručnim knjigama.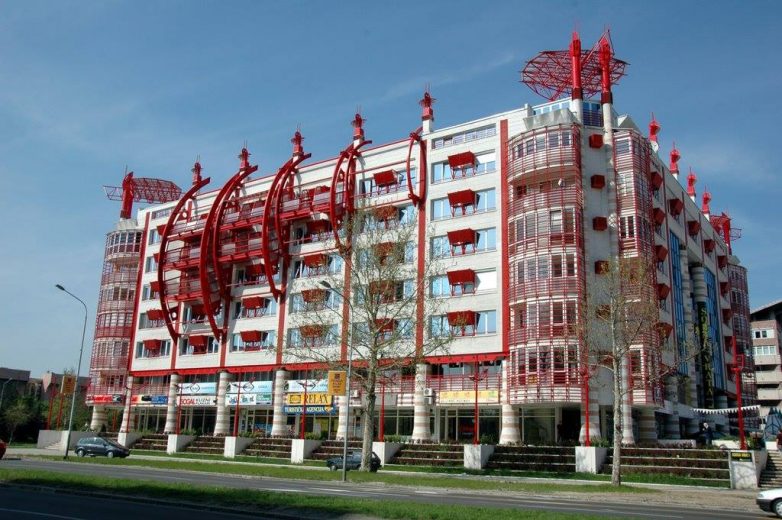 Van fokusa
U opštinama Voždovac i Čukarica se takođe dosta zidalo, pa su tako nikle zgrade Pet ludaka i Titanik, a tu je i zgrada Fotoaparat (arh. Aleksandar Đokić), kroz čiju "blendu" se pojavljuje vodoskok na Adi Ciganliji. U Ustaničkoj ulici izgrađen je čitav niz spojenih zgrada, koje su zakošene pod izvesnim uglom, pa su dobile nadimak Testera, dok je stambena zgrada kod Bogoslovije, zbog svojih isturenih segmenata dobila nadimak Toblerona.
Radijator i frižider
Neke zgrade su dobile nadimke i po kućnim aparatima. U Novom Sadu je pre koju godinu izgrađen hotel, koji zbog svoje rebraste brisolej fasade odmah dobija nadimak Radijator. Da li zbog toga što je markantni hotel izveden po projektima beogradskog arhitekte (arh. Branislav Mitrović) ili što se nije najsrećnije uklopio u svoje okruženje, tek Novosađani nisu najbolje prihvatili ovu zgradu. Slično je prošla i jedna beogradska vila, izgrađena u Krunskoj ulici (arh. Goran Vojvodić). Okružena većinom međuratnim zdanjima, a sama izvedena u beličasto-sivkastoj fasadi, kubične pročišćene forme, ubrzo dobija nadimak Frižider.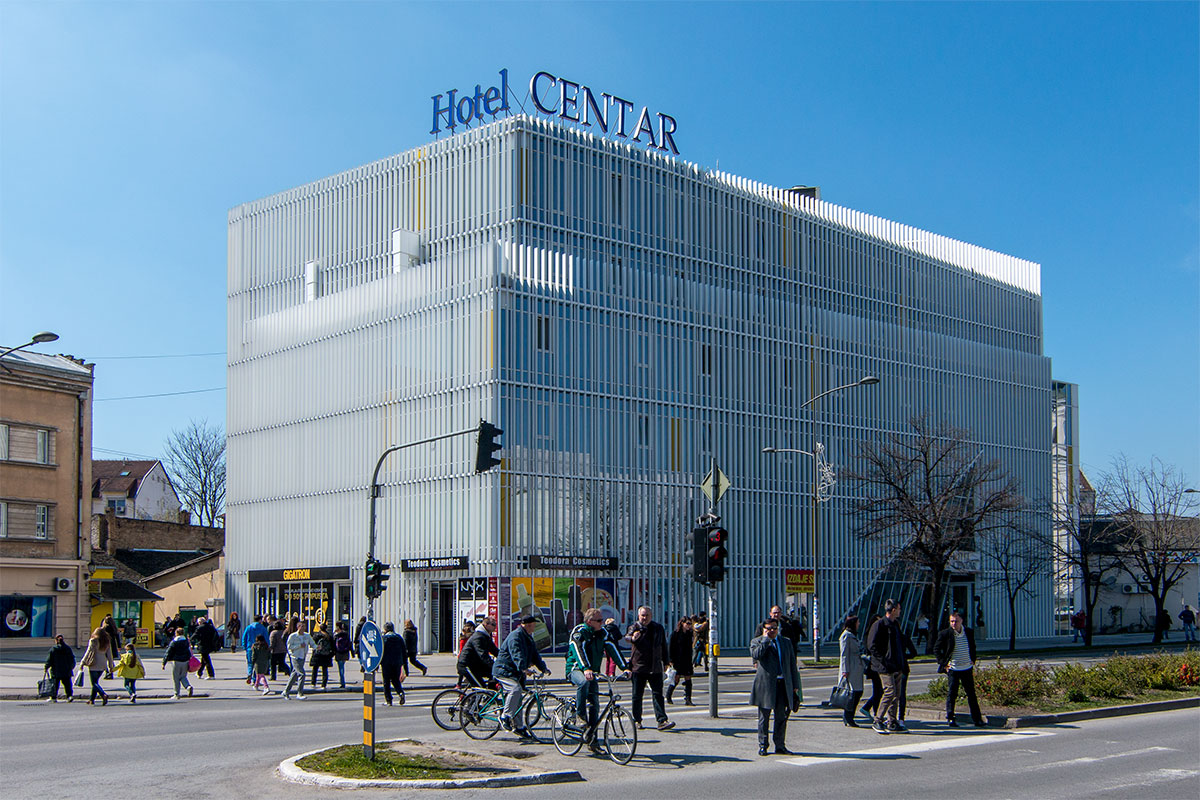 Sugrađani kumovi zgradama
Imena luda nalaze se svuda! Da li je ovo samo narodna pošalica ili su sugrađani najuspešniji i najoriginalniji kumovi, pa jedva čekaju da se podsmehnu nekoj novoj zgradi? Da li arhitekte nekada upečatljivo prave eksperimente koji nisu uvek svima po volji, pa nakon toga njihova dela zauvek ponesu (tragi)komične nadimke? Prošetajte svojim gradom, razgledajte okolne zgrade i sami zaključite na šta vas asociraju i da li vam se dopadaju, pa ćete delimično dobiti odgovore na prethodno postavljena pitanja.
Kad ste već ovde…