Pitali smo arhitekte Branislava Mitrovića i Dejana Miljković na koji način su rešili problem pristupnog prostora i zelenila kod Svetosavskog platoa u Beogradu.
Nedavno su osvanule prve slike (renderi) novog projekta rekonstrukcije Svetosavskog platoa, uz imena autora i malo ili nimalo detaljnijih informacija koje bi bliže opisale projekat i razlog njegovog usvajanja. Ako se uzme u obzir da je hram Svetog Save sa svojim pristupnim platoom, lokacija koja se kroz nekoliko predratnih i posleratnih konkursa i pojedinačnih inicijativa, planira, projektuje, preprojektuje i zida već više od jednog veka, prirodno je da ovakva, gotovo iznenadna inicijativa, uzburka javnost.
Pre nego što pređemo na objašnjenje najnovijeg rešenja, bilo bi lepo napraviti kraći osvrt na istorijat uređenja ovog prostora, kako bi čitaocima bilo jasnije zašto su neke stvari do današnjih dana uslovile veličinu, oblik i izgled ovog prostora, ali i probleme koji se konačno moraju rešiti.
Izbor lokacije i oblika
Inicijativa za podizanje crkve posvećene utemeljivaču nezavisne srpske crkve i pravoslavne duhovnosti u našem narodu pokreće se koju godinu pred 300-godišnjicu od spaljivanja moštiju Svetog Save na Vračaru. Kako se tada nije pouzdano znalo koje godine i na kom mestu su spaljene mošti, uzeta je 1594. godina, a konačno mesto spaljivanja lokacija današnjeg Hrama. Iako je kasnije utvrđeno da su mošti spaljene negde na prostoru današnjeg Tašmajdana, nije se odustalo od lokacije već su planovi podizanja crkve nastavili da se realizuju. Najpre je na mestu postojećeg Hrama i međuratne crkve, 1894. godine izgrađena privremena crkva-kapela, kao označitelj gde bi trebalo da nikne naredni, daleko veći hram.
Nakon nekoliko arhitektonskih konkursa i idejnih rešenja, međuratni period dočekao je rešenje koje je uz manje izmene pred nama. Prvobitno zamišljena u gabaritima 60×60 metara, na inicijativu kralja Aleksandra Karađorđevića, poznatog po megalomaniji, gabariti Hrama su porasli na 80×90 metara, što se već tada pokazalo kao nepodesno za namenjeni prostor. Prvobitna crkva je imala pristupnu stazu i plato iz današnje ulice Svetog Save (sa severne strane), dok je okolni prostor bio namenjen novoj zgradi parohijskog doma, novoj zgradi patrijaršije, muzeju Srpske pravoslavne crkve i drugih pratećih objekata. Uvećanjem gabarita, ceo ovaj projekat je odbačen, a pristupni plato je pozicioniran na zapadnu stranu, kako je i danas, sa nikada rešenom problematikom skučenosti crkvene porte na istočnom delu, koji i danas ide uz samu ulicu.
Za primer je uzeta crkva Sveta Sofije u Carigradu, pa je i naš Hram dobio prepoznatljivu masivnu kupolu.
Međutim, ako Hram uporedimo sa drugim značajnijim katedralnim hramovima, uvidećemo da je retko koji projektovan u potpunosti kao slobodnostojeći i da su skoro svi sa jednim do tri strane bukvalno ugrađeni u postojeći blok zgrada, a da se samo svojim pročeljem i pristupnim platoom otvaraju sa većim slobodnim prostorom.
Uvećanje Hrama je povuklo i izmenu arhitekture, jer ovo više nije bio glavni hram Kraljevine Srbije već Kraljevine SHS/Jugoslavije, pa i uzor više nije bila Gračanica već se potražio u nekom hramu koji je izgrađen pre raskola dveju crkava. Uzeta je crkva Sveta Sofije u Carigradu, pa je i naš Hram dobio prepoznatljivu masivnu kupolu. U vreme planiranja i početka zidanja temelja i zidova Hrama, okolni prostor nije posedovao toliko visokih objekata, niti je bilo ko očekivao da će bilo šta ikada prostorno-vizuelno ugroziti formu crkve.
Posleratni period – pokušaj ispravljanja grešaka
Tokom i nakon Drugog svetskog rata, izgradnja Hrama je zaustavljena. Započeta crkva i okolni prostor su zapostavljeni, sve do početka 60-ih godina, kada država i grad odlučuju da na prostoru u blizini crkvenih zidova izgrade novu zgradu Narodne biblioteke, čiji prvobitni objekat je uništen u bombardovanju 1941. godine.
Već 1966. godine počinje zidanje zgrade, po projektu arhitekte Ive Kurtovića, koje je samo po sebi jedan od bisera posleratne moderne, ali reklo bi se na pogrešnoj lokaciji, ignorišući postojeću crkvu. Očigledno se tada razmišljanje promenilo i gotovo niko nije očekivao da će Hram ikada biti završen, pa je bilo potpuno nevažno što se okolni objekti, kako javni tako i stambeni, nadvijaju nad platoom, koji tada počinje da se naziva Plato Narodne biblioteke.
Zanimljivo, ali jedan od autora Hrama, arh. prof. Aleksandar Deroko, želeo je po svaku cenu da se započeta zgrada dovrši, makar imala drugačiji oblik, gabarite i namenu. Predlagao je da tu bude zgrada Muzeja srednjeg veka, televizije, sportski centar, bilo šta što bi odgovaralo postojećim gabaritima i što bi urbanistički moglo da se uklopi uz postojeću zgradu biblioteke.
Gradski čelnici su uvideli problem i raspisali javni konkurs 1969. godine, sa očekivanjem da to bude "arhitektonsko-pejzažni prostor, ni trg ni park" (citirano). Već tada se videlo da je valjalo pomiriti neke elemente, ali da se ni u kom trenutku ne nasluti dalja izgradnja crkve i okolne porte, ali je na konkursu pobedilo rešenje arh. Mihajla Mitrovića, koje je na mestu već izgrađenih zidova imalo natpis – Hram Svetog Save.
Ovo rešenje jeste bilo u duhu tadašnjih zahteva, ali je autor ovim predvideo da će u nekom trenutku crkva biti završena, pa je prostor za njeno sagledavanje i pristupni plat otvorio dalje ka zapadu i spojio ga sa obližnjim parkom, smeštajući Bulevar JNA (danas Bulevar Oslobođenja) pod zemlju. Biblioteka biva završena 1973. godine, ali se gradskim čelnicima nije dopalo da prostor uređuju po ideji koja podrazumeva pravljenje ustupaka crkvi.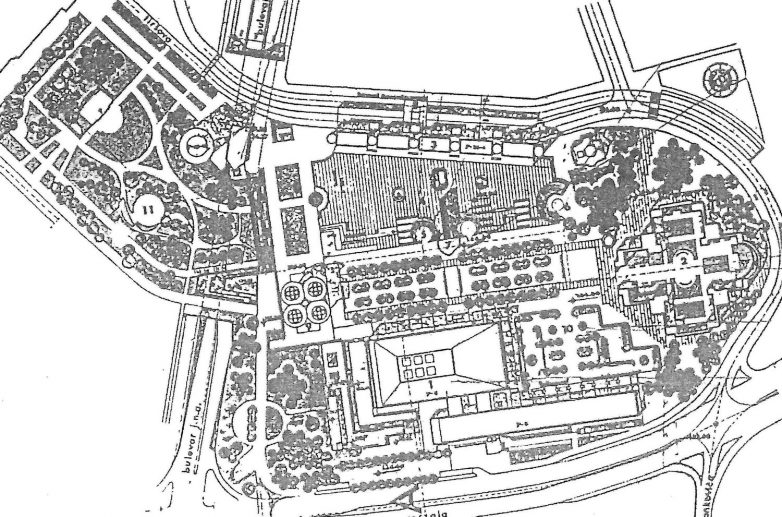 Urbanistički plan je usvojen 1990. godine, ali su krizne godine zaustavile i ovo rešenje.
Prostor je sačekao novi javni konkurs iz 1988. godine, na kojem pobeđuje rešenje arhitekata Đorđa Bobića i Vladimira Macure. Tada je politička situacija bila daleko povoljnija i prostor je razmatran sa idejom da će Hram svakako biti sagrađen. Ovo novo rešenje je takođe pošlo od Mitrovićeve ideje da se pristupna vizura i plato otvore od parka, da se bulevar smesti pod zemlju, ali da prostor ispred Hrama bude rešen kao gotovo u potpunosti popločan slobodan prostor, sa parkovskim elementima isključivo u užem okruženju zgrade bibilioteke. Nešto što je uobičajene za skoro sve manifestacione trgove i platoe katedralnih crkava širom sveta. Urbanistički plan je usvojen 1990. godine, ali su krizne godine zaustavile i ovo rešenje.
Postpetooktobarski period – kompromisi u korist izvodljivosti
Nakon 2000. godine ubrzano se nastavlja sa izgradnjom Hrama i preuređenjem njegovog okruženja. Vernicima, koji su već uveliko posećivali crkvu, bilo je potrebno urediti prilazni prostor, kako se ne bi gazilo po blatu jer su staze postojale isključivo oko Narodne bibilioteke i oko stare crkve Svetog Save.
Na poziv Crkve, rešenje platoa povereno je jednom od autora poslednjeg pobedničkog rešenje, arh. Đorđu Bobiću, koji je usled nemogućnosti realizovanja pobedničkog rešenja, pristupio kompromisnom rešavanju platoa, koji je podrazumevao izgradnju "zelenog trga", tj. ni trga ni parka, sa pristupnim stazama od jablaničkog granita, fontanom ispred biblioteke, i parkovskim površinama sa oko 400 sadnica drveća. Ovo rešenje je obradovalo građane, koji su konačno dobili uređen pristupni prostor crkvi, ali je na taj način suzilo prostor porte na popločani kružni prostor uz sam Hram, što se pokazalo kao veoma nepraktično rešenje za potrebe bilo kog većeg okupljanja.
Poslednje rešenje – arhitektonska sloboda… uz kritike
Nakon razgovora sa arh. prof. Branislavom Mitrovićem, koji je uz arh. prof. Dejanom Miljkovićem, autor rešenja koje se pre nekoliko dana pojavilo u javnosti, dobili smo zanimljive informacije po pitanju projekta i razloga za njegov nastanak.
Kako Mitrović naglašava, projekat je izrađen u saradnji sa Miljkovićem na direktan poziv od strane SPC, najverovatnije nakon njegovog angažovanja na projektu crkve u Jajincima. Autor ističe da je ovako važan prostor bilo bolje razmatrati kroz konkursnu utakmicu, gde bi se videla i rešenja drugih autora, ali da je iz nekih razloga Crkva želela da u kraćem roku dobije kvalitetno rešenje, pa se odlučila za oprobanog stručnjaka i neku od njegovih ideja u saradnji sa njegovim kolegom.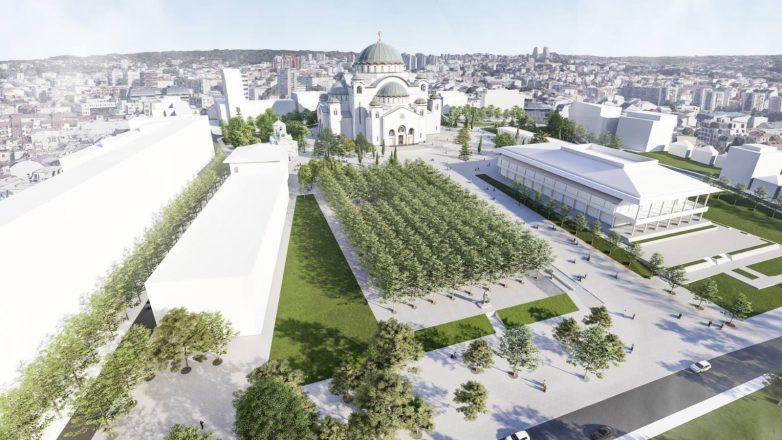 Glavni problem bio je rešavanje pristupnog prostora, jer sadašnja situacija ne odgovara potrebama Crkve i vernika.
Dobijeno rešenje je apsolutno nesvakidašnje i neočekivano, naročito ako se uzmu u obzir sva ona rešenja koja su mu prethodila. Glavni problem, koje je naveden u projektnom zadatku, bio je rešavanje pristupnog prostora, jer sadašnja situacija ne odgovara potrebama Crkve i vernika. Pristupne staze su isuviše uske i nefunkcionalne, pa prilikom okupljanja većeg broja vernika se brže habaju i ne pokrivaju dovoljnu površinu, pa su vernici prinuđeni da često gaze po travi/blatu. Prostor više liči na parkić ili sajamsku pijacu, naročito zbog upečatljivog prisustva dečijeg igrališta i prodajnih tezgi tokom cele godine. Autori su imali u vidu ove probleme, ali i potrebe građana za nekom vrstom "zelenila" i dečijeg prostora, pa su dali jedno rešenje koje će pokušati da pomiri sve ove zahteve.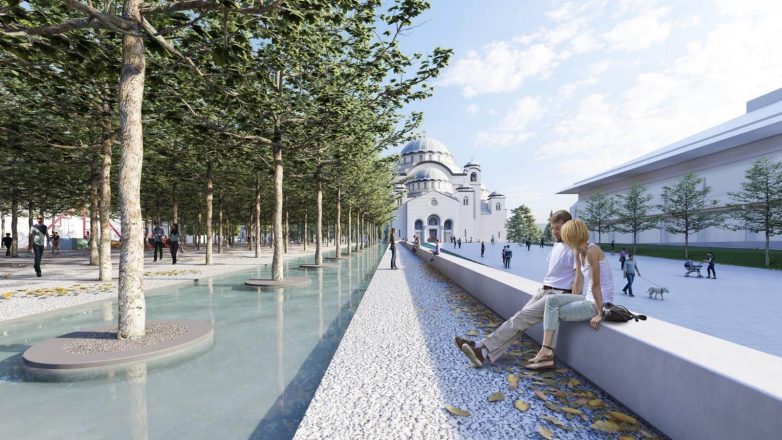 Za početak, proširen je centralni prilaz Hramu, koji prolazi pored Narodne biblioteke i koji se pre ukrštanja sa užom crkvenom portom, proširuje u pristupni, manifestcioni plato. Sa druge strane, bilo je potrebno razmotriti ostatak platoa, koji se prostire od biblioteke do parohijskog doma. Autori su došli do ideje da bi zgradi biblioteke valjalo suprotstaviti neku, po gabaritu sličnu formu, koja će zatvoriti i konačno uobličiti prostor, koji se neujednačeno rastače u svim pravcima.
Iako je na prostoru platoa predviđena izgradnja nove zgrade Patrijaršije (projektom grubo predviđena jednim podužnim kubusom uz parohijski dom), autori nisu želeli da jedan arhitektonski objekat postave u središte platoa, već su na to mesto pozicionirali pošumljeni prostor, sa gusto posađenim sadnicama i dečijem igralištem postavljenim u unutrašnji prostor ovako formiranog parkovskog segmenta. Time su pošumljenu formu tretirali kao jedan arhitektonski objekat koji će unutar svog prostora imati zaseban sadržaj, u potpunosti nenametljiv za okruženje.
Gustinu pošumljavanja uslovila je i upotreba prostora, to jest, svako ko bude želeo da učestvuje u nekom skupu ispred Hrama, neće moći da stoji usred pošumljenog prostora jer neće moći pravilno da sagleda dešavanja unutar, odnosno ispred crkve. Spomenik Karađorđu je postavljen na pročelju parkovske celine, na postamentu nešto višem od pešačkog nivoa. Jedno u svakom slučaju neuobičajeno rešenje i potpuno je bilo očekivano da izazove buru kritika, kako kolega, tako i šire javnosti.
Previše drveća? Zaklanjanje Hrama?
Najviše kritika je došlo na račun ideje samog pošumljavanja prostora, pa se postavlja pitanje šta zapravo široj javnosti odgovara, jer kada se pogledaju kritike na konto Trga Republike, koji ne poseduje dovoljno drveća i drugih sadnica, ovde je problem što su one prisutne.
Drugi navode problem zaklanjanja Hrama, mada će on i u ovom slučaju biti vidljiv, doduše ne do samog ulaznog portala iz svakog ugla platoa, ali to nije ni poenta, ako se vratimo na sam početak teksta, gde se koncept upoređuje sa drugim projektima u svetu.
Izgleda da našim građanima isključivo odgovaraju tradicionalne parkovske celine, sa stazama, klupicama i žardinjerama i da je isključivo ovakav vid uređenja nekog javnog prostora moguć jer je svaki drugi vid prostorno-urbanističkog uređenja apsolutno neprihvatljiv i nailaziće na kritiku i negodovanje. Ukus šire publike je ostao na senzibilitetu da se Beograd upoređuje sa Parizom ili Bečom, iako je grad odavno nastavio svoj razvoj u potpuno drugom pravcu.
Kolege negoduju ponajviše jer nije bilo javnog konkursa, ali izgleda da je on izostavljen jer se Crkvi žuri da uredi prostor prilaznog platoa koji će dočekati završetak uređenja enterijera i svečano otvaranje dovršenog Hrama Svetog Save.
Kako god doživeli ovaj projekat, možemo se složiti da je on apsolutno originalan. Kvalitet izvođenja uvek je pod znakom pitanja, na šta smo se uverili na nekim ranijim projektima (Trg Republike, Slavija), gde su neka dobra arhitektonsko-urbanistička rešenja degradirana samovoljom izvođača i drugih prisutnih aktera.
Kad ste već ovde…