Kraljevski institut britanskih arhitekata objavio je listu od 20 projekata iz šireg izbora za godišnju nagradu koja se dodeljuje nedavno kompletiranim stambenim objektima u ovoj zemlji. 
U RIBA izbor su ušli potpuno novi, originalni projekti, kao i aneksi na već postojeće strukture, a ove godine posebna pažnja je stavljena na inovativne održive rezidencije. Pobednički projekat biće objavljen u septembru 2019. godine u okviru TV specijala Grand Designs: House of the Year na britanskom kanalu 4.
U nastavku pogledajte kompletnu listu projekata.
1. Crna kuća (Dualchas Architects)
Ovo zdanje uređeno u minimalističkom stilu smešteno je na litici u Škotskoj, a zbog boje fasade deluje izuzetno dramatično.
2. Kuća od plute (Matthew Barnett Howland, Dido Milne, Oliver Wilton)
Dizajnirana sa ogromnom pažnjom na detalje, ova kuća neodoljivo podseća na set čepova za boce. Budući da je smeštena u neposrednoj blizini istorijskog mlina iz ranog devetnaestog veka, Cork House se svojim izgledom zapravo odlično uklapa u okruženje.
3. Erlova kuća (Sophie Hicks Architects)
Zanimljivost vezana za ovu kuću se odnosi na to da su pre nje na ovom istom placu bile smeštene garaže, tako da osnova kuće ne stoji u istoj ravni u odnosu na ulicu. Spolja kuća liči na mali komercijalni objekat, ali zato u enterijeru vlada ugodan ambijent okupan svetlom.
4. Kuća duhova (BPN Architects)
Moderna "Kuća duhova" sagrađena je na mestu nekadašnje seoske vile, sa veštačkim jezerom u prednjem delu dvorišta u odnosu na koje se kuća nalazi u nižem nivou. Osnova kuće je napravljena od betona dok fasadu krase ogromni prozori sa metalnim ramom.
5. Zelena kuća (David Sheppard Architects)
Smeštena na brdu pored malog jezera, unikatna kuća odlično rezonuje sa svojom okolinom. Po nacrtu iskusnog arhitekte napravili su je vlasnici sami, i to mahom od prirodnih materijala.
6. Kuća u Hempširu (Niall McLaughlin Architects)
Kuća je raspoređena u niz paviljona, koji bi trebalo da simbolišu različite generacije porodice u čijem se vlasništvu ova kuća nalazi. Sve njih spaja master paviljon u centralnom delu gde se nalazi kuhinja sa fantastičnim pogledom na vrt i okolinu.
7. Henington farma (James Gorst Architects)
U pitanju je savremen odgovor na klasičnu seosku kuću čija je glavna konstrukcija napravljena od ukrštenih lameliranih drvenih ploča, glulam greda i stubova koji su svi pređeni krečom kako bi im se omekšao izgled. Ova pažnja posvećena detaljima se vidi u svim aspektima dizajna.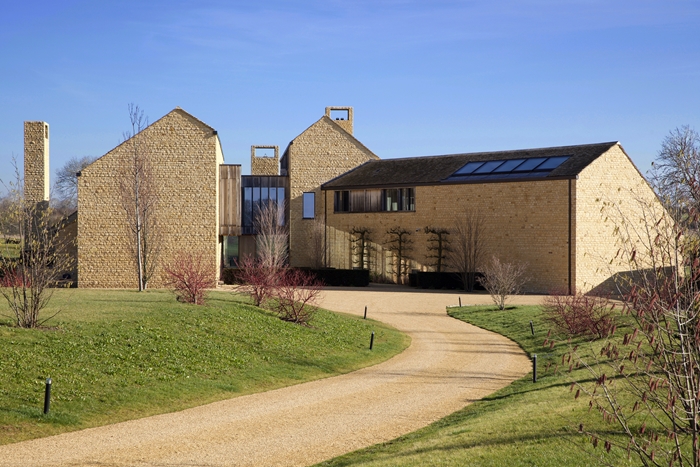 8. Kuća na brdu "Passivhaus" (Meloy Architects)
Jedan od najmanjih projekata sa liste napravili su takođe njegovi vlasnici. U pitanju je moderna kuća "na lakat" napravljena tako da podrži sve standarde ekološke efikasnosti.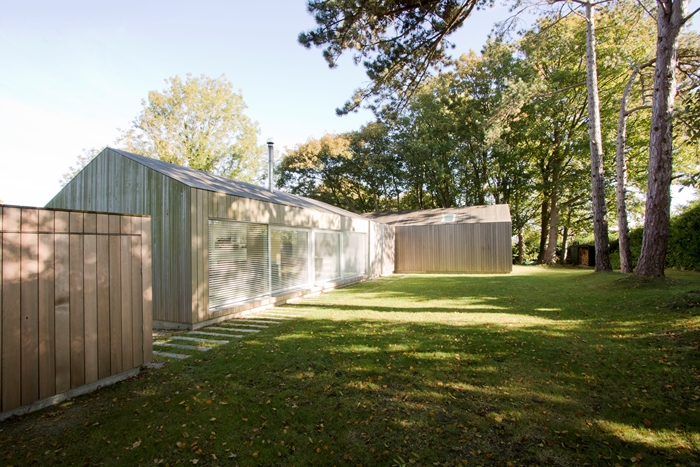 9. Kuća u dvorištu (Gianni Botsford Architects)
Smeštena u zadnjoj bašti gradske kuće iz devetnaestog veka, kuća ovde predstavlja zamenu za dotrajali bungalov iz 1960-ih i karakteriše je krov u obliku kupole kojim se manipuliše prirodnim svetlom u enterijeru.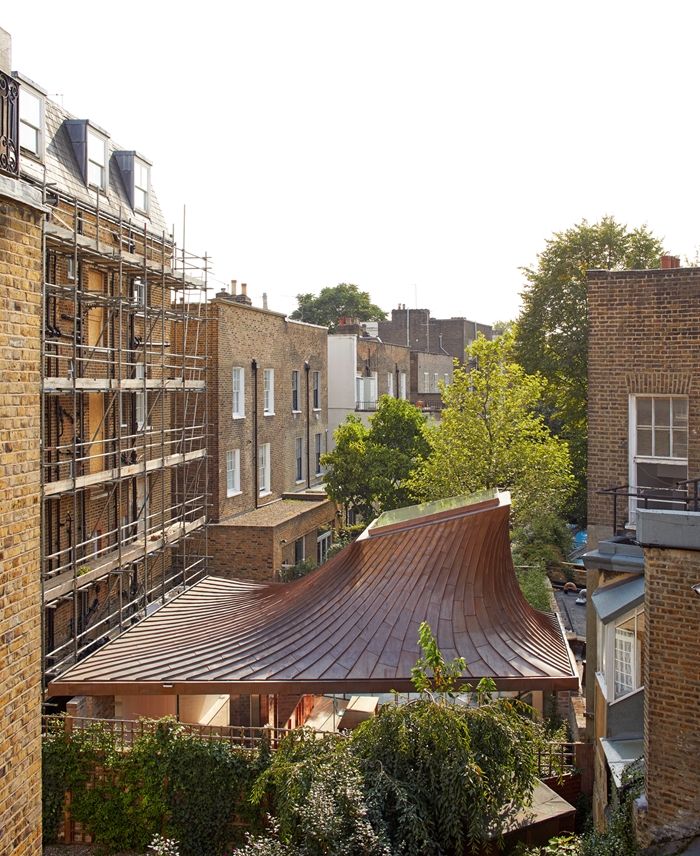 10. Kuća "Lessans" (McGonigle McGrath)
Ovo moderno imanje sastoji se od preuređene štale, novog predvorja, diskretnog bloka spavaćih soba sa privatnim dvorištem i prostranih stambenih prostora koji gledaju na lep zeleni pejzaž.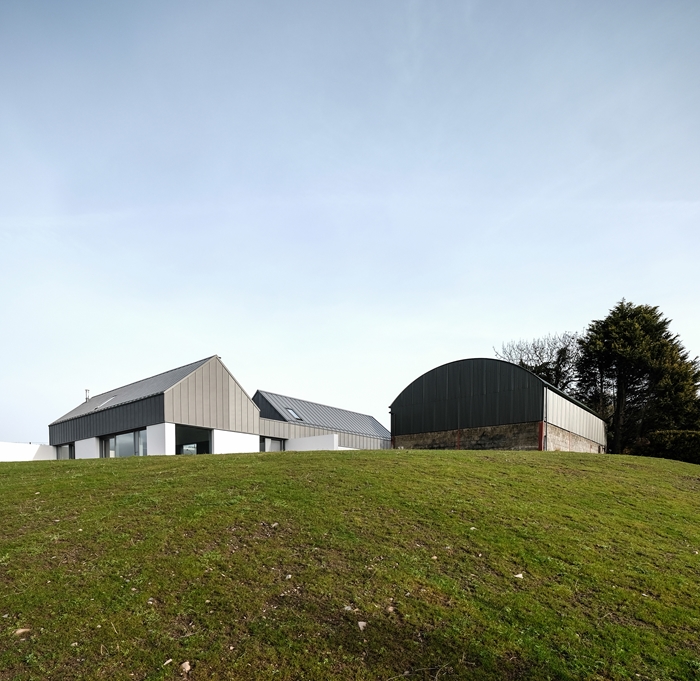 11. Kenvud Li (Cousins & Cousins)
Iako na prvi pogled deluje kao klasična kuća iz predgrađa, projekat Kenvud Li u enterijeru krije veliki broj modernističkih detalja, uključujući i neobične zone za opuštanje poput otvorenog atrijuma u zadnjem delu kuće.
12. Zdrava eko-kuća (bere:architects)
Ova "zdrava kuća" u jednoj godini proizvode duplo više energije nego što potroši, prerađuje sopstveni otpad i oslanja se isključivo na energiju od sunca, vetra i kiše. Projekat dokazuje da i objekti u kojima živimo mogu da budu energetski nezavisni i potpuno održivi.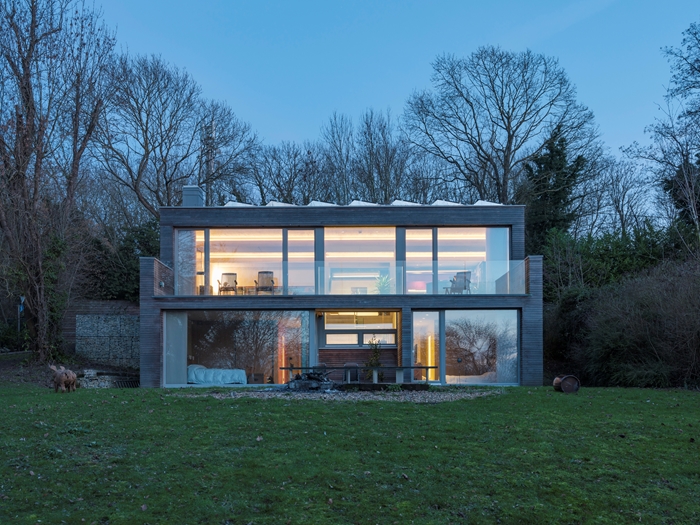 13. Maks Fordham (bere:architects)
Na listi se našao još jedan projekat mladog studija bere:architects. Ovaj put, u pitanju je kuća ušuškana u gusto naseljeni deo Londona koja takođe prati visoke standarde energetske efikasnosti. Do sada je ovaj projekat dobio već dve nagrade za održivu arhitekturu.
14. Farma Nithurst (Adam Richards Architects)
Projekat koji je, po javnom priznanju, najviše namučio žiri, koncipiran na osnovu starih farmerskih kuća u Italiji, i zapravo predstavlja nadgradnju na nekoliko već postojećih, sada spojenih projekata.
15. Džepna kuća (Tikari Works)
Arhitekte su se ovde uspešno pozabavile nizom izazova, uključujući visinsko ograničenje projekta i potrebu za osećajem privatnosti. Sve to je postignuto ukopavanjem kuće ispod zemlje i efikasnim korišćenjem prostora, a razni dizajnerski "trikovi" u enterijeru doprineli su stvaranju jedinstvenog karaktera kojim odiše ova kuća.
16. Rekonstruisana kamena kuća na brdu (Foster Lomas)
Uvučena na zapadnoj padini brežuljka na ostrvu Man, iz ove kuće se pruža predivan pogled na Irsko more, dok dugi horizontalni prozori i debeli betonski zidovi pružaju maksimalan osećaj bezbednosti. Kroz dramatičan odgovor na jedinstveni kontekst lokacije, snažna arhitektonska vizija stvorila je nešto zaista posebno.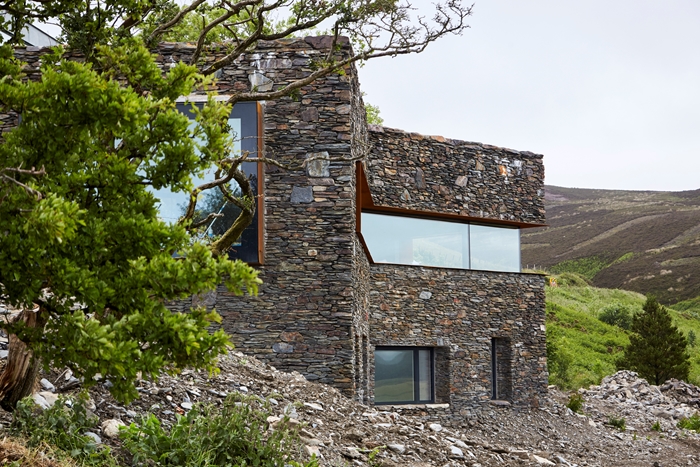 17. Odmorište (Atelier Peter Zumthor & Mole Architects)
Ovaj projekat je zadobio veliku pažnju ne samo zbog svoje neprikosnovene skulpturalnosti i vizije, već i zbog inovativne upotrebe betona u rezidencijalnoj gradnji.
18. Seosko gazdinstvo "Silver How" (Hall + Bednarczyk Architects)
Rekonstrukcija starog seoskog zdanja predstavlja savršeni (i doslovni) balans između rustičnog i novog. Pritom, za izgradnju ove kuće korišćeni su lokalni materijali, poput kamena i šljunka iz obližnjeg rudnika.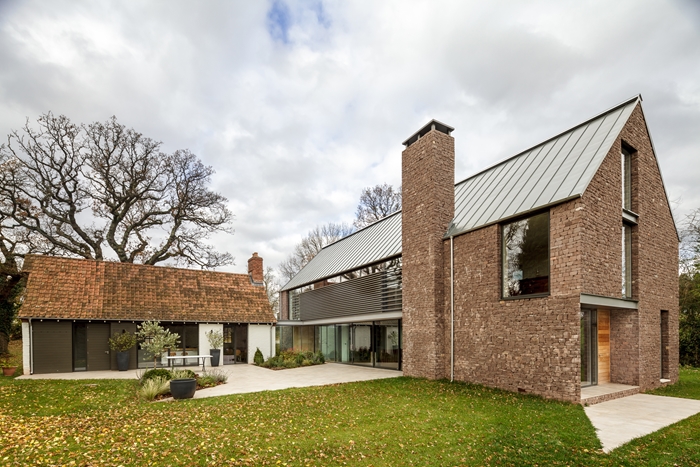 19. Kuća u Južnom Londonu (Jonathan Pile Architect)
Ova dvorišna kuća ponudila je novu tipologiju za ponovnu upotrebu kompleksnih i nedovoljno iskorišćenih gradskih lokacija. Odlično se uklopila u okolinu, a drvo crne boje koje krasi njenu fasadu preovlađivalo je u Depfordu vekovima unazad.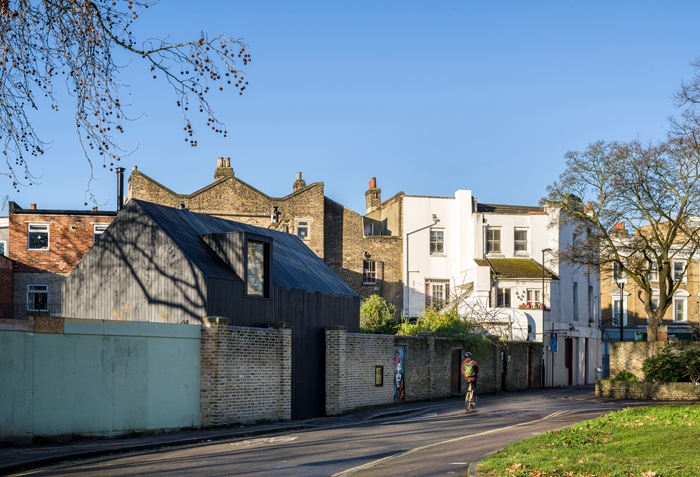 20. Projekat "Stackyard" (James Boon Architects)
Ovim projektom arhitekte su želele da pokažu da inovacija u dizajnu može da se implementira i u najosetljivije okruženje. Na prvi pogled, nikada ne biste pomislili da se u ovom starom kvartu nalazi kuća modernog enterijera, što je upravo bio cilj britanskog studija.
Više detalja o pojedinačnim projektima pogledajte na sajtu Kraljevskog instituta britanskih arhitekata.
Kad ste već ovde…