Izdvojeno, Sajmovi
Sajam građevinarstva 2019: Od gradskih bagera, preko klima koje ne duvaju, do kuća za 100 evra po kvadratu
Na beogradskom sajmu građevinarstva videli smo i drvene blokove kojima se drastično brže zida, potpuno novu generaciju hidroizolacije ali i radijatore koji štede struju.
Stigao je sajam! Prvi dan beogradske smotre građevinske industrije odmah je pokazao da ova privredna grana polako staje na noge. Sve sajamske hale su dupke pune, i iako je primetno odsustvo nekoliko ključnih igrača iz industrije, velik broj posetilaca dokazao je da je interesovanje veliko. Redakcija portala Gradnja.rs, kao medijski sponzor 45. Međunarodnog Sajma građevinarstva SEEBBE, obišla je sve sajamske hale, a ovo su naši prvi utisci.
Bager za gradske uslove
Na ulazu nas je dočekao skandinavski brend Volvo koji je predstavio bager točkaš od 17 tona. Ova mašina EWR 150 je specifična po tome jer kada se okreće ne prelazi gabarit gusenice, to jest, točkova tako da je pogodan za manevrisanje u gradskim uslovima. Takođe je pogodan za radove pored auto-puteva jer ima veliku snagu, a pritom je i mobilan. Posetioci mogu isprobati i simulator Volvo utovarivača tako što sednu u pravu kabinu sa sedištem koje se pomera i drma u skladu s vašim virtuelnim radovima, a gomila prekidača i komandi potvrđuje da bageristima nije nimalo lak posao.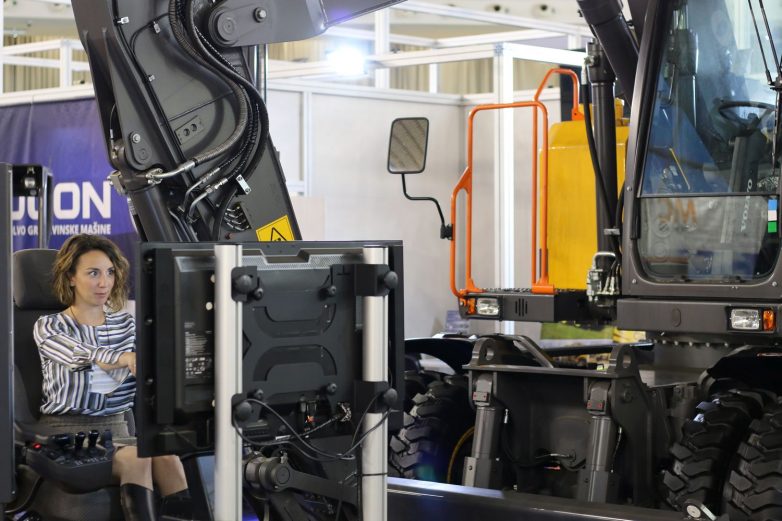 Najjači udarni pištolj na svetu koji ne možete izgubiti
Alatka Milwaukee MI ONE F HIWF 12 je dokazano najjači udarni pištolj od pola cola na svetu. Moguće je kontrolisati snagu i obrtni moment putem telefonske aplikacije zahvaljujući ugrađenom WiFi modulu. Bežične kontrole omogućavaju korisniku da zaključa alat preko telefona. Ovu alatku je nemoguće izgubiti na gradilištu jer u sebi ima alarm i može se locirati njegova pozicija preko mobilne aplikacije. Cena mu je 84.000 dinara i može se kupiti u kompaniji Eltec.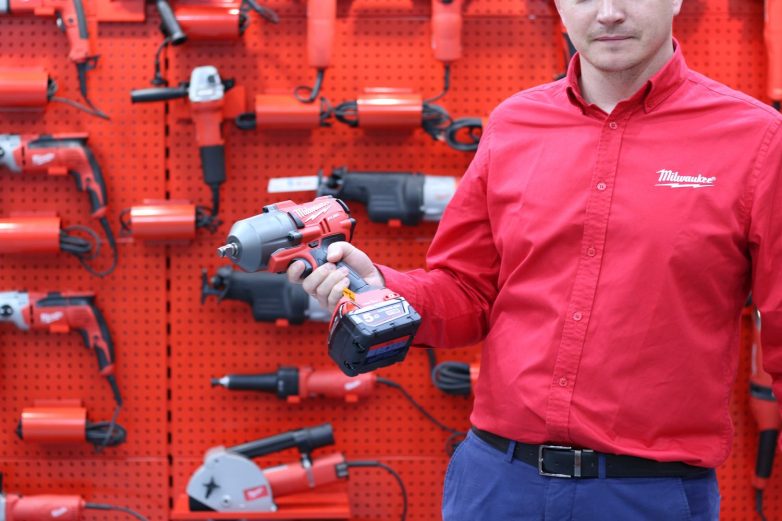 Boja za apsolutnu hidroizolaciju ravnog krova
Neoproof Polyurea je sistem za hidroizolaciju ravnih izloženih krovova koji se jednostavno nanosi četkom ili valjkom. Ovaj grčki proizvod se nanosi u debljini od 1 do 2 mm, a servisni period je čak 30 godina. Pored ravne betonske podloge može da se nanosi i na bitumensku podlogu. Cena po kilogramu ove hidroizolacije je oko 8-9 evra, a potrošnja je od 1,2 kg/m2 za cementnu podlogu do 1,8 kg po metru kvadratnom za bitumensku podlogu. Pogodan je i za sanacije krovova, a recept za sanaciju možete pronaći direktno od predstavnika Neotexa, kompanije Tristrel.
Radijator na struju koji zagreva 40 kvadrata
Kompanija Gorenje predstavila je električne konvektore, to jest, radijatore na struju. Ovi uređaji se povezuju na klasičnu utičnicu i imaju potrošnju oko 620W. Optiheat 2000 GP ima priključnu snagu 2.000 W što je dovoljno da zagreje oko 40m2 dobro izolovanog objekta ili 20m2 objekta sa lošijom termoizolacijom. Estetski su veoma primamljivi, a cena radijatora je oko 11.000 dinara.
Klima koja ne duva
Gorenje greje, a Samsung hladi! Ova južnokorejska kompanija predstavila je model plafonskih i zidnih klima Samsung Wind Free kod kojih nema direktnog duvanja. Sa ovim klimama nema zona koje su neprijatne za sedenje jer se vazduh rotira za 360 stepeni i izbacuje ravnomerno po prostoriji. Nama se lično dopalo i kako izgledaju završne maske…
Blokovi od drveta za brzo i lako zidanje
Materijal nas je veoma prijatno iznenadio na sajmu jeste Isotex: prefabrikovani blokovi i međuspratne tavanice napravljene od drvene sečke i cementnih vlakana. Ovaj ekološki materijal koji u sebi već poseduje punjenje od Neopor termoizolacije, koju potpisuje BASF, ubrzava zidanje čak tri puta.
Nakon postavke blokova (debljine od 30 do 44 centimetra) postavlja se horizontalna armatura i blokovi se zapunjuju betonom. Nakon toga se umeću šipke za vertikalno ojačanje. Na ovaj način se dobija AB zid koji je već termoizolovan sa garantovanom paropropusnošću i trajnom garancijom da se neće pojaviti vlaga.
Ovaj ekološki materijal koji u sebi već poseduje Neopor termoizolaciju, koju potpisuje BASF, ubrzava zidanje čak tri puta.
S unutrašnje strane ovi zidovi se mogu gletovati, a sa spoljne postavljati završni fasadni sloj. Zanimljivo je da međuspratna konstrukcija ima zvučnu izolaciju od 60dB tako da nećete čuti komšije sve i da želite.
Iako napravljeni od drveta, ovi blokovi imaju protivpožani sertifikat. Saznali smo da cena metra kvadratnog Isotex zida sa termoizolacijom je oko 70 evra (za poređenje, cena u klasičnom giter bloku i termoizolacijom je oko 80 evra/m2) .
Šper ploče za enterijer i eksterijer
Darex je na sajmu predstavio šper ploče napravljene od ruske breze (ostali šper materijali se prave uglavnom od topole). Razlika između špera za enterijer i eksterijer je uglavnom u lepku i u tome da su ploče za eksterijer veće otpornosti. Za enterijere se uglavnom koriste šper s oznakom BB/BB koji nema puno čvorova i ima najfinije nijanse. Zanimljivo je podatak da je predstavljen i šper presvučen filmom koji se može koristiti više puta. Često se ovaj materijal koristi kako za oplatu tako i za pravljenje nameštaja, na primer, ormana ili zidnih obloga.
Drvena prenosiva kućica za koju nije potrebna dozvola za gradnju
Želite vikendicu ili hoćete da se bavite iznajmljivanjem apartmana na jezeru ili planini? Možda su ove šarmantne kućice iz Kragujevca prava stvar za vas?! Kubus sistem su drveni mobilni objekti koji se jednostavno prenose na zadatu lokaciju kamionom. Postoje u dimenzijama od 3,5×3,5 metara (12,25m2) do 3,5×7 metara (24,5m2) i dolaze sa kompletnom opremom i nameštajem. Za ove simpatične kućice ne treba dozvola, ali ni temelji.
Za ove simpatične kućice, koje se transportuju na prikolici, ne treba dozvola, ali ni temelji.
Konstrukcija je od drveta, ispuna od kamene vune, prozori od aluminijuma, a sa njom dolazi i kvalitetan drveni parket, dok je završna fasadna obrada puno drvo. Cena kućica se kreće od 12.000 do 20.000 evra u zavisnosti od velićine i opreme. Model izložen na sajmu sa kvalitetnim parketom, kuhinjom u dimenziji 3,5×5,25 metara košta 18.000 evra. Ako želite kućicu po vašoj meri i želji, rokovi isporuke su od 15 do 30 dana.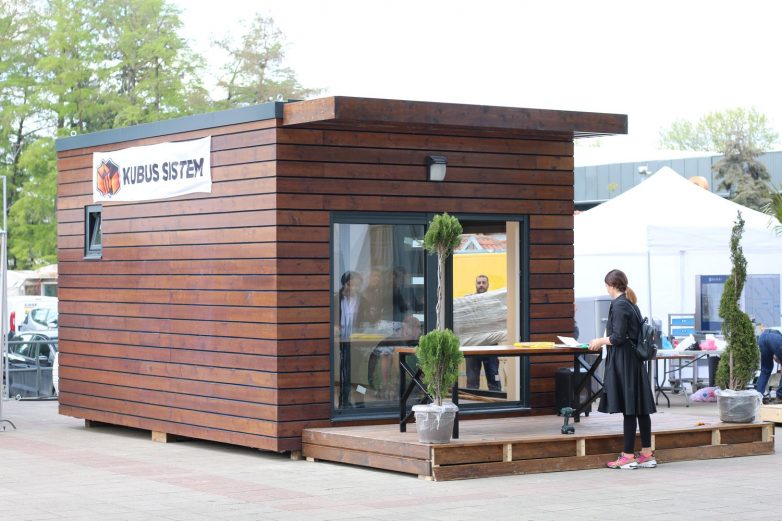 Kuća za 100 evra po kvadratu
Ako vam je gorepomenuta kuća skupa, razmislite o turskom proizvođaču EuroVilla koji se premijerno predstavio u Srbiji na ovogodišnjem Sajmu građevinarstva. U pitanju su montažne kuće od čelične konstrukcije koje se isporučuju sa razvučenim elektroinstalacijama, rasvetom, razvodom vodovoda i kanalazicije i unutrašnjom i spoljašnjom stolarijom. Cena se kreće 6.000 evra za 49 kvadarata do 11.000 evra do 106 kvadrata, a u ovu cenu ne idu temelji, oprema za kupatilo, podovi niti nameštaj.
Drvo za eksterijer koje ne morate održavati
Kompanija Lamex predstavila je nove Fundermax dekore kompakt ploča za fasade koje izgledaju veoma ubedljivo. Najviše su nam se svideli drveni dekori koji izgledaju verodostojno, kao prava tekstura drveta. Cena ove fasadne obloge sa potkonstrukcijom i montažom iznosi između 130-140 evra po kvadratu.
Za otpornije kuvanje
TechniStone je kompozitni materijal za podove, stepenice i ponajviše kuhinjske radne ploče. Čak 90% ovog češkog materijala je prirodnog porekla, odnosno, pravi se drobljenog kvarca, stakla ili granita, dok je 5-7% poliester. Ima tvrdoću kao prirodni granit, a isporučuje se u pločama 3,5×1,45 metara deblijne 12 ili 23 mm. Ono što je dobro za ovaj materijal je što manje apsorbuje tečnost od prirodnog kamena, a mana mu je što se vide spojevi dve ploče – ovaj razmak je potreban za dilataciju. TechniStone proizvode zastupa kompanija Milstone.
Sajam građevinarstva traje do 20. aprila 2019. godine.
Foto: Gradnja.rs
Kad ste već ovde…