Aktuelno
U 2018. godini sagrađen rekordan broj nebodera u istoriji
Čak 18 zgrada žestoko je pocepalo oblake u prethodnoj godini i time se našlo na listi najviših objekata na svetu. Pogledajte ovu impresivnu listu!
U veoma visoke oblakodere spadaju građevine visoke preko 300 metara, a trenutno ih na svetu ima 95, od čega je pozamašan procenat smešten u Kini. Štaviše, podaci govore da su Kinezi potpuno opsednuti visokim zgradama. To izgleda otprilike ovako:
Protekle godine, u svetu je sagrađeno ukupno 143 oblakodera (uključujući i pomenute veoma visoke) od kojih se 88 nalazi u Kini. Time su Kinezi prevazišli sopstveni rekord od 86 sagrađena solitera u 2016. Naredne godine, u ovoj zemlji ih je niklo "samo" 80, prenosi Dezeen.
Druga zemlja po broju završenih solitera u 2018. je SAD sa 13 objekata što, ruku na srce, ne zvuči toliko impresivno budući da se za to vreme u kineskom Šendženu izdiglo njih 14.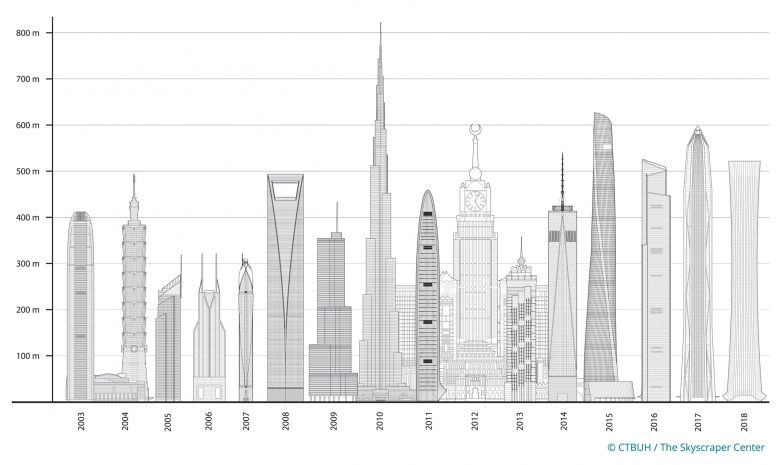 I lepe i vrtoglavo visoke
Što se konkretnih zgrada tiče, najviša prošlogodišnja građevina nalazi se ipak u Pekingu. U pitanju je CITIC kula čiji projekat potpisuje studio Kohn Pederson Fox (KPF) i koja se sada nalazi na mestu broj 9 na listi najviših građevina na svetu. Prošle godine, oživela je potpuno nova kula Svetskog trgovinskog centra u Njujorku, koja takođe spada u veoma visoke zgrade.
Detaljnu statistiku o najvišim zgradama iz 2018. godine možete pročitati u godišnjem izveštaju Saveta o visokim zgradama i urbanom staništu (CTBUH). Stručnjaci iz ove organizacije predviđaju da će naredne godine biti dovršeno čak 150 visokih zgrada i da će taj trend nastaviti da raste.
Sve u svemu, 2019. nam donosi još mnogo uzbudljivih projekata, a na neke od njih smo se osvrnuli nedavno u posebnom tekstu.
Kad ste već ovde…