Arhitektura
10 građevina za koje jedva čekamo da se završe u 2019. godini
Da parafraziramo arhitektu Roberta Venturija: uz ove objekte doživećete nešto dobro poznato, na jedan potpuno nepoznat način. 
Godinu 2018. ispratili smo uz tekstove o događajima koji su je obeležili i projektima koji su vam se najviše dopali. No, sada konačno sledi nešto drugačije. Gledamo unapred, i to uz listu projekata koji bi u tekućoj godini trebalo da budu izgrađeni, a od kojih očekujemo zaista mnogo.
Originalnu listu objavio je pre koji dan magazin Architectural Digest, a naš izbor pročitajte u nastavku.
1. Sedište lista Le Monde, Pariz
Osnovan sada već davne 1944. godine, list Le Monde danas je jedna od najčitanijih dnevnih publikacija u svetu, a buduće sedište redakcije definitivno će postati nova atrakcija u Parizu. Iza ovog multimilionskog projekta u obliku mosta stoji dobro poznati biro Snøhetta iz Norveške. Jedno starije delo ovog studija pojavilo i na listi najočekivanijih zgrada u minuloj 2018. godini.
2. The Shed (odnosno Bloomberg Center), Njujork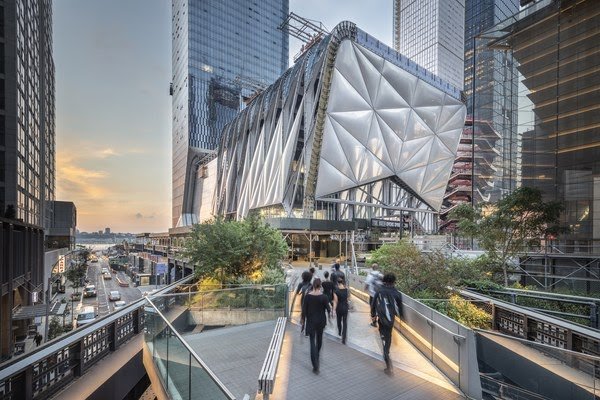 Inovativna građevina u Njujorku deo je četvrti Hudson Yards, najvećeg privatnog investitorskog projekta u istoriji SAD. Prethodno je zgrada nosila naziv The Shed , ali je ove nedelje objavljeno da će ipak poneti ime bivšeg gradonačelnika Michaela Bloomberga. Objekat koji se prostire na preko 18.000 kvadrata, projektovao je čuveni studio Diller Scofidio + Renfro u saradnji sa biroom Rockwell Group. Predviđeno je da se u ovoj zgradi održavaju brojni muzičko-umetnički događaji, a islanđanka Björk prva je umetnica koja je ovde potvrdila svoj nastup (koncert je zakazan za proleće). Otvaranje zgrade zakazano je za 5. april. No, i pored toga, The Shed neće ostati klasičan koncertni prostor. Naime, spoljni omotač ove amorfne zgrade stoji na točkovima koji po potrebi mogu da se aktiviraju i otvore svojevrsnu ljušturu ispod koje se nalazi još jedan, unutrašnji objekat. Zvuči komplikovano?! E pa verujemo da je ništa lakše nije bilo napraviti.
3. One Thousand Museum, Majami 
Ova zgrada, poput mnogih drugih projekata koje je dizajnirala nezaboravna Zaha Hadid, oponaša dinamičnu energiju grada u kojem se nalazi. One Thousand Museum jedan je od poslednjih projekata na kojem je slavna arhitektica radila neposredno pred smrt 2016. godine. Broji 69 spratova i 83 jedinice, a diže se sve do 213 metara u visinu. Projekat je bio toliko komplikovan za projektovanje i konstrukciju da je završio i u dokumentarcu Impossible Buildings, a smatraju ga i jednim od najkompleksnijih u istoriji američke arhitekture. Nedavno je u Majamiju prodat i privatan stan Zahe Hadid iz kojeg puca direktan pogled na ovu građevinu.
4. Muzej na Ostrvu slobode, Njujork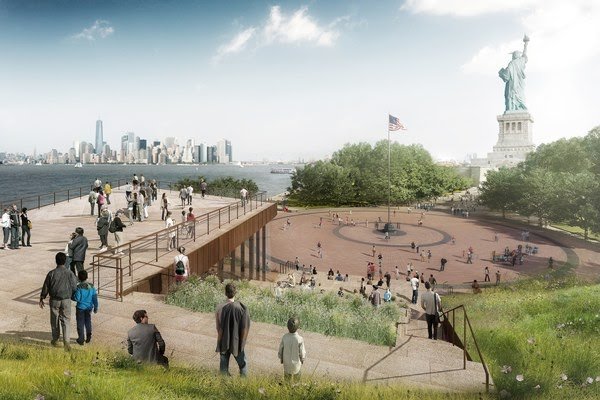 Čuveni Kip slobode uskoro će dobiti prvog komšiju i to u obliku istoimenog muzeja. U objektu koji zauzima oko 2.500 kvadrata i čija je izgradnja koštala vrtoglavih 70 miliona dolara, naći će, između ostalog, i originalna baklja koju je francuski projektant Frederik Bartoldi dizajnirao krajem 19. veka. Zanimljivo je da je fasada objekta urađena u bakru kako bi, nakon izvesnog vremena na otvorenom, poprimila boju što sličnijoj onoj statuinoj. Arhitekte iz studija FXCollaborative projektovale su i zelenu terasu koja će se naći na vrhu zgrade, umesto krova.
5. Daxing, internacionalni aerodrom u Pekingu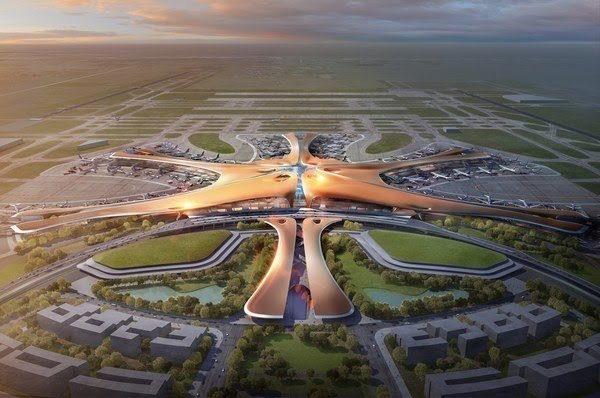 Po završetku radova koji se očekuju na jesen, aerodrom Daxing u Pekingu preuzeće titulu najvećeg (ali i najlepšeg) aerodroma na svetu koju je dugi niz godina nosio Istanbul. Osim toga što izgleda glamurozno, njegov dizajn uključuje brojna inovativna tehnička rešenja koja će umnogome olakšati snalaženje na terminalima. Na primer, avioni koji lete na domaćim linijama sletaće na različit nivo od onih koji lete u međunarodnom saobraćaju). Početkom prošle godine objavili smo eksluzivne fotografije gradilišta ovog aerodroma.
6. Umetnički muzej Norton na Floridi
Jedan od najvažnijih muzeja u Americi oduvek se dičio veličanstvenim enterijerom i bogatim umetničkim kolekcijama prikupljanim na tri različita kontinenta. Međutim, njegov eksterijer nije baš bio vredan hvale, što je prethodni upravnik rešio da zauvek promeni. Tako je 2013. godine pala odluka da se čak 100 miliona dolara investira u revitalizaciju ove zgrade, a kompleksan projekat poveren je birou Normana Fostera. Osim nove fasade, zgrada je ovim projektom dobila potpuno novi auditorijum, restoran i još nekolicinu kvadrata "viška" za izlaganje radova. Konačan izgled zgrade trebalo bi da podseća na originalno zdanje Muzeja Norton koje je 1940. godine projektovao Marion Sims Wyeth. Inače, u bašti muzeja naći će se prva javna skulptura koju potpisuje gospodin Foster lično.
7. Muzejski prostor Američke akademije fimskih umetnosti i nauke, Los Anđeles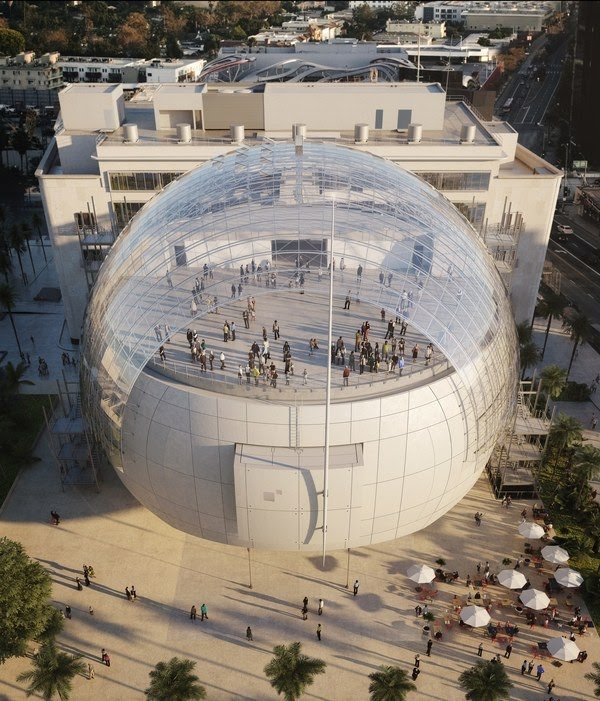 Verovali ili ne, fabulozan Grad Anđela u kojem se godišnje snima više stotina filmova nikada do sada nije imao zvanični muzej Filmske akademije, što će se ove godine konačno promeniti. Ovu zgradu najlakše je opisati kao svemirski brod koji je sleteo u Holivud, sve sa ogromnom bioskopskom salom i terasom s koje puca fantastičan pogled na okolinu. Projekat potpisuje slavni italijanski arhitekta Renzo Piano u saradnji sa studiom Gensler.
8. Ruby City, San Antonio
Ser David Adjaye uvek je išao, ako ne korak ispred svih, onda barem nekoliko koraka dalje od ostalih, radeći na projektima od kojih bi brojne njegove kolege prosto zabolela glava. U ovoj jarko crvenoj zgradi naći će se novi umetnički centar iza kojeg stoji kolekcionarka i filantropkinja Linda Pace. Preko 800 umetničkih radova biće postavljeno u oko 14.000 kvadrata, a nadamo se da će sve to biti dovoljno da podstakne razvoj neke nove umetničke scene u Teksasu.
9. Tapei centar za popularnu muziku na Tajvanu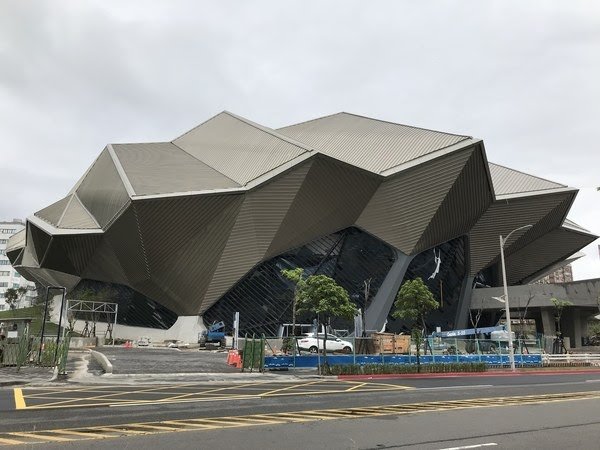 Razvojem azijske pop scene stiglo se i do ideje o velikom projektu koji bi pod jednim krovom okupio različite muzičare, a čiji bi dizajn bio dovoljno upečatljiv i inovativan da skrene pažnju budućih turista. Arhitekte iz RUR studija projektovale su ovu izazovnu građevinu kao kompleksan geometrijski objekat u kojem se, između ostalog, nalazi sala sa 5.000 sedišta, a koji prati čitav kompleks pomoćnih komercijalnih objekata. Ovi kafići, marketi i restorani radiće po čitavu noć, a u glavnom prostoru, u ovoj izgužvanoj kupoli priređivaće se nastupi različitog tipa.
10. Nacionalni muzej Katra, Doha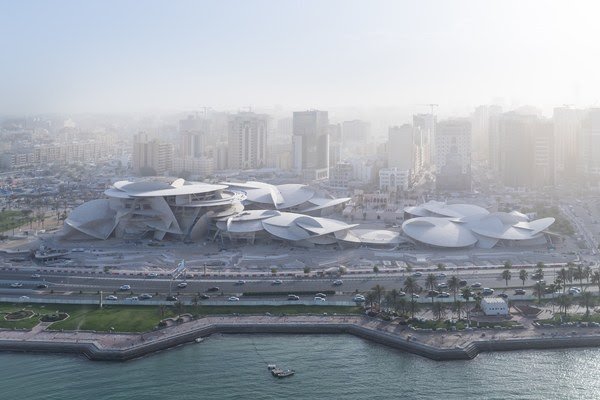 Još jedan neidentifikovani leteći objekat maskiran u zemljanu zgradu sleteće ove godine u Dohu i dobiti titulu jednog od najkompleksnijih arhitektonskih poduhvata u svetu. Arhitekta Jean Nouvel koji potpisuje ovu izvanrednu građevinu, zamislio ju je kao grandioznu ružu s laticama rasutim usred pustinje. Pomenuti arhitekta se već odomaćio na Bliskom Istoku, a među njegovim najistaknutijim radovima pomenuli bismo i projekat muzeja Luvr u Abu Dabiju.
Kad ste već ovde…