Arhitektura
UNStudio osvojio najveći privatni arhitektonski konkurs u Francuskoj
Pariz će dobiti novi kulturni centar posvećen sedmoj umetnosti.
UNStudio je pobedio na najvećem privatnom arhitektonskom konkursu ikada održanom u Francuskoj, a cilj je bio da se dobije najbolje rešenje za Centre Culturel koji će se graditi u okviru urbanističkog plana zvanog EuropaCity koji će se realizovati u severnom delu Pariza do 2024. godine.
Urbanistički plan za EuropaCity napravio je slavni BIG, a njime je predviđena izgradnja osam ključnih zgrada kao što su koncertna dvorana, hoteli, sajamski prostor ali i kulturni centar u okviru kojeg će biti kompleks bioskopa i nešto što se u projektu naziva "kulturnom laboratorijom", piše ArchDaily.
Na krovu kulturnog centra organizovani su bioskopi na otvorenom.
Projekat UNStudia za Centre Culturel previđa mešoviti sadržaj unutrašnjih i spoljašnjih prostora na 10.045 kvadrata sa bioskopima u kojima se može uživati na tradicionalni ali i na potpuno nekonvencionalni način. Arhitekte nisu želele da naprave samo "jednu ljušturu za bioskop" već je njihova ideja bila da to bude javni prostor koji će ljudi posećivati i kad ne idu da gledaju filmove. Zbog toga ovaj kulturni centar, pored restorana i kafića, ima i prostore za produciranje multimedijalnih sadržaja ali i vidikovce u kojima se može uživati u panorami Pariza.
Bioskop na travi
Projekat kulturnog centra crpi ideju iz BIG-ovog urbanistički plan, pa tako zgradu karakterišu hrabre krivine kao i prohodni krovovi čime se objekat bolje integrišu u okolinu. Na krovovima su organizovani letnji bioskopi, a zanimljivo je da nema klupa niti sedišta već je sedenje predviđeno na travi.
Objekat je orijentisan tako da ne zaklanja hotel koji se naslanja na kulturni centar, a sve u cilju da on ima što više prirodne svetlosti. Međutim, to nije žrtvovalo arhitekturu Centre Culturela. Naprotiv, zgrada izbija u prvi plan zahvaljujući izboru materijala i to pre svega češljanom čeliku. Perforacija na čeličnim panelima služe da obezbede prirodnu ventilaciju objekta.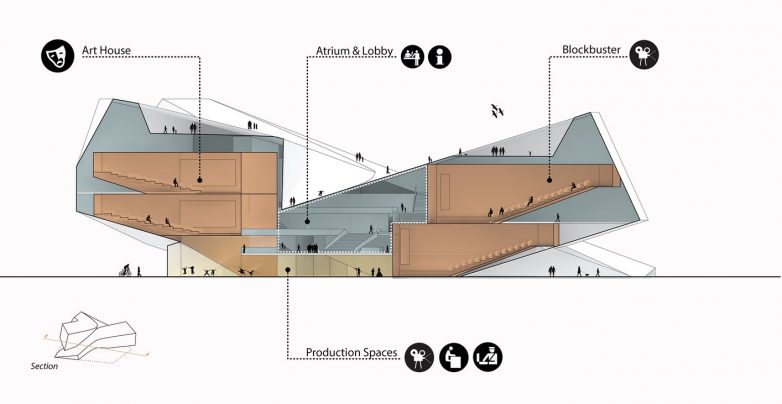 Tri bloka zgrade, organizovana po filmskim žanrovima, sustiču se u lobiju, centru objekta koji omogućava posetiocima da zavire u filmski studio koji se nalazi na etaži ispod.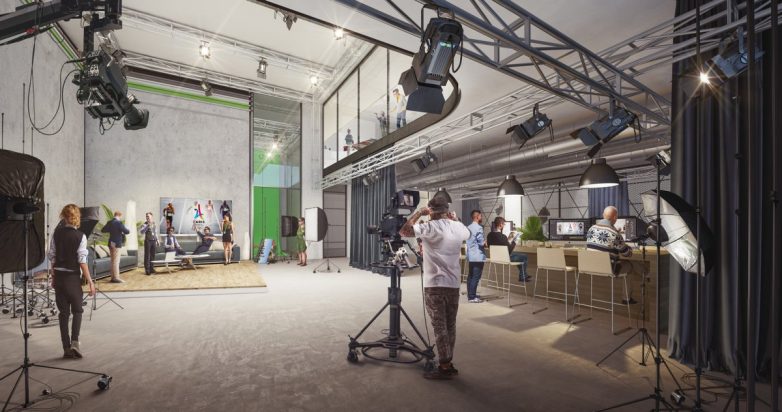 Foto: UNStudio, rendering Flying Architecture
Kad ste već ovde…