Arhitekte širom sveta daju svoje predloge obnove drvenog krova i centralnog tornja čuvene crkve u Parizu, a mi predstavljamo neke od najzanimljivijih i svakako nekonvencionalnih.
Polemika oko budućeg izgleda Notr Dama izgorelog u požaru i dalje traje. Jedni smatraju da je Francuska u obavezi da verodostojno obnovi katedralu u skladu sa njenim postojećim izgledom, dok drugi, poput mnogih arhitekti širom sveta, imaju mišljenje da će budućnost Notr Dama biti bolja uz alternativniji dizajn obnove.
Neki pak misle da arhitekte treba držati dalje od ove vredne istorijske zgrade kako se ne bi dobila rešenja koja "ne dolikuju Notr Damu". Da li su ova rešenje neka od tih ili rešenja koja mogu da uđu u obzir? Presudite sami!
Nova rešenja Notr Dama podrazumevaju toranj u obliku zamrznutog požara, kristala, snopa svetlosti, a pojavilo se i rešenje krova s pčelinjakom.
Studio NAB iz Pariza predložio je modernizaciju katedrale kroz formiranje staklene bašte i pčelinjaka. Kroz projekat nazvan In Green For All of Us, studio nadovezuje dizajn na izrečene nade francuskog premijera da će rehabilitacija katedrale biti "prilagođenja pitanjima našeg vremena".
Kako je u projektu predstavljeno novi krov bi bio izgrađen od čelika u završnoj zlatnoj boji u kombinaciji sa velikim staklenim panelima. Staklena bašta bi se koristila za pružanje stručne obuke siromašnima i sprovođenje edukacije za širu javnosti iz oblasti poljoprivrede, hortikulture i permakulture.
Nadahnuti preživljavanjem gotovo 200.000 pčela u razornom požaru, Studio NAB je dizajn tornja osmislio kao stakleni pčelinjak u kom bi se smestio što veći broj košnica u kojima bi se proizvodio med za prodaju.
Osvetljeni kristal
Italijanski arhitektonski Studio Fuksas je predložio formiranje savremenog krova i tornja koji bi bili napravljeni od kristala i koji bi bili osvetljeni tokom noći.
"Kristal bi simbolizovao krhkost istorije i duhovnosti. Svetlost bi bila prisutna kao simbol nematerijalnosti.", istakli su Masimiliano i Doriana i Studia Fuksas.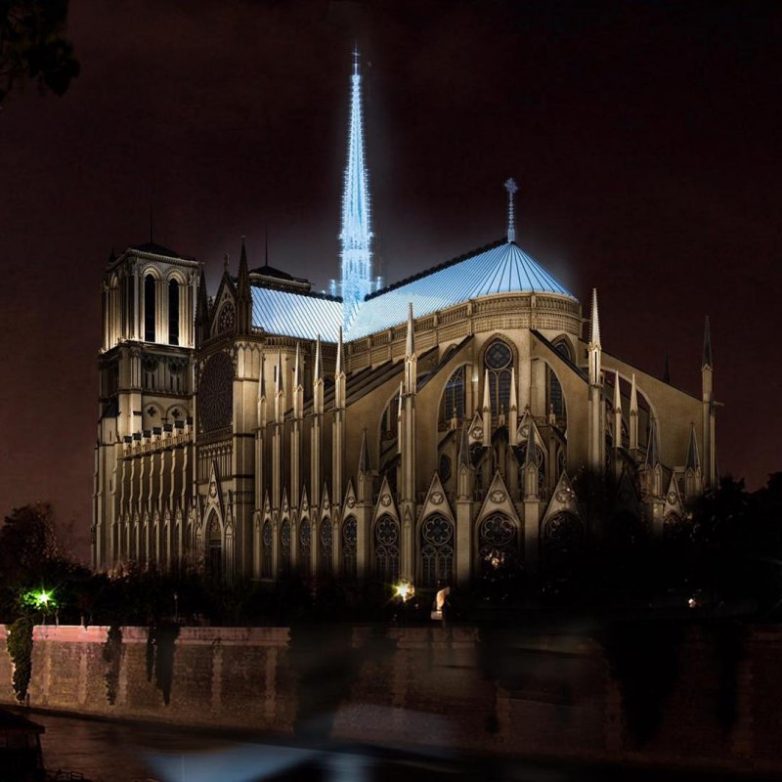 Zamrznuti požar
Francuski dizajner Mathieu Lehanneur je predložio dizajn koji bi neki mogli okarakterisati kao apsurdan. On predlaže da se trenutak požara pretvori u novu formu tornja.
"Sviđa mi se ideja o zamrznutom trenutku u istoriji koji može da ostane na tom mestu vekovima. Projekat bi podrazumevao stvaranje monumentalnog trajnog plamena prekrivenog zlatnim lišćem. Za mene to predstavlja način hvatanja katastrofe i njeno pretvaranje u lepotu koja bi postala trajna.", rekao je Mathieu Lehanneur.
Kula od snopa svetlosti
Predlog kompanije Vizumatelier iz Bratislave podrazumeva izgradnju lagane kule čije će izdizanje biti naglašeno snopom svetlosti.
"U vreme gotskog stila graditelji su pokušavali da dođu što bliže nebu. Sada je moguće da se to i desi.", objasnile su arhitekte iz Vizumateliera.
Lukovi i lopte
Kolaborativni arhitektonski studio sa Kipra, Kiss The Architect, osmislio je svoj dizajn kao eklektičnu mešavinu lukova i lopti koji bi bili formirani oko centralnog stepeništa.
Krov od vitraža
AJ6 Studio iz Sao Paola osmislio je obnovu krova i tornja isključivo kroz vitraž.
"U gotici postoji veza zemlje sa nebom, a unutar katedrale bi se na ovaj način prirodno osvetljenje naglasilo filtriranjem kroz raznobojni vitraž.", objasnio je Alexandre Fantozzi.
Stakleni krov
Ruski arhitekta Alexander Nerovnya predložio je kombinovanje potpuno staklenog krova sa tradicionalnom strukturom tornja.
"Kada ljudi dođu da vide katedralu, osetiće snažnu povezanost sa istorijom zahvaljujući kombinaciji drevnih i modernih elemenata.", rekao je Alexander Nerovnya.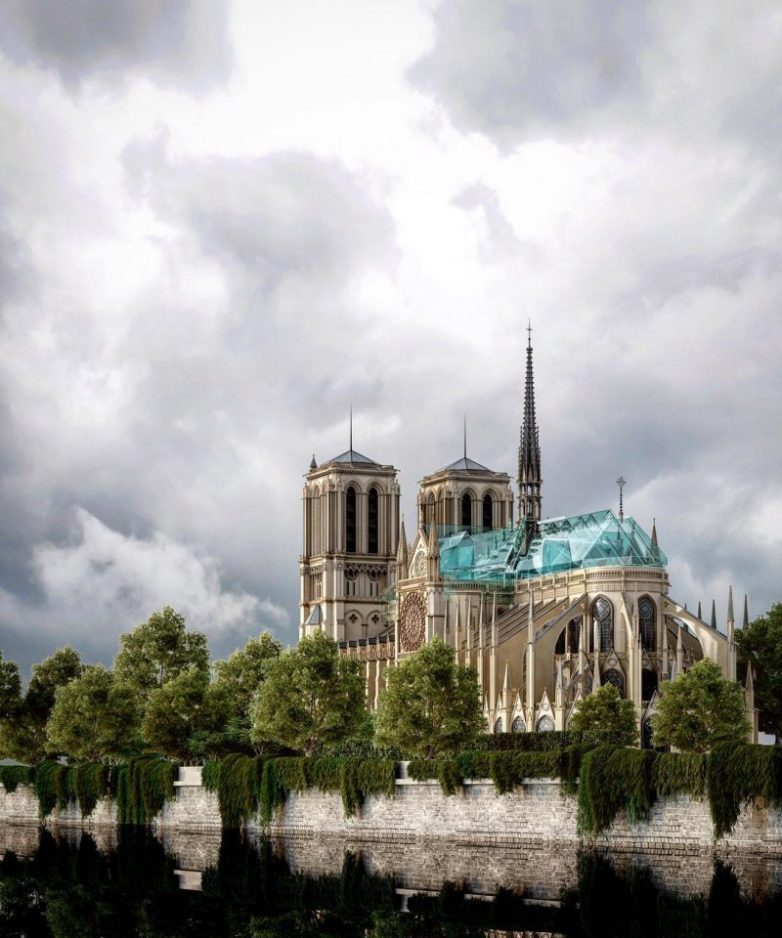 Prošlost i inovacije u jednom
Francuski dizajner i arhitekta David Deroo je kreirao dizajn koji bi trebalo da predstavlja "idealističku predstavu obnovljenog Nort Dama". Novi krov i toranj bili bi modernizovana verzija prvobitnih formi uz zadržavanje značajnih originalnih elemenata.
"Trebalo bi postići sredinu između priznavanja prošlosti i prisustva inovacija koje prate naše vreme.", objasnio je David Deroo.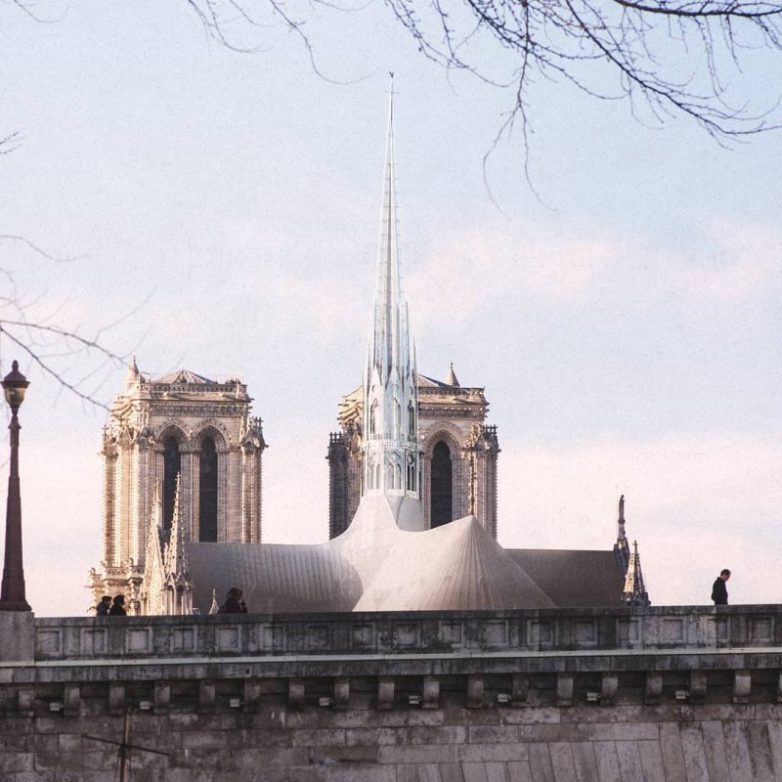 Sviđa li vam se neko rešenje?
Kad ste već ovde…