Fasade popularnih trgovačkih centara u gradovima bivše države bile su toliko prepoznatljive da su se često nalazile na razglednicama.
Kako je zemlja počela da se decentralizuje krajem pedesetih godina prošlog veka, i da se sve više razvijala u pravcu tržišnog socijalizma, robne kuće zapadnog stila počele su da se grade u velikom broju širom Jugoslavije. I to ne samo u glavnim gradovima republika već i u manjim mestima.
Ovi trgovački centri nisu bile skromne prodavnice, već su to bili živopisni objekti velikih razmera izvedeni u atraktivnim arhitektonskim stilovima. Gradovi su se utrkivali ko će imati lepšu robnu kuću, koja se uglavnom nalazila usred centra grada.
Kao merilo njihove popularnosti može se reći da su ovi objekti neretko postajali prostorni orijentiri u zajednicama, a robne kuće su bile toliko prepoznatljive da su se često nalazile na poštanskim razglednicama gradova, piše Spomenik Database.
Robna kuća Unima (Sarajka)
Lokacija: Sarajevo, BiH
Arhitekta: Vladimir Zarahović
Godina izgradnje: 1975 (srušena 2007)
Ovaj masivni petospratni kompleks od 17.000 kvadratnih metara zapošljavao je preko 5.000 ljudi. Objekat projektovan od strane arhitekte Vladimira Zarahovića, koji je koncept osmislio u formi snežne pahulje, predstavljao je najmodernističkiji objekat BiH. Međutim, Sarajka je bila žrtva rata u Bosni tokom kog je znatno oštećena, da bi potpuno bila srušena 2007. godine i na ovom mestu je 2009. godine izgrađen BBI centar.
Robna kuća Beograd
Lokacija: Bor, Srbija
Arhitekta: nepoznat
Godina izgradnje: 1970(?)
Lanac robnih kuća Beograd, osnovan 1965. godine, bio je jedan od najvećih robnih lanaca u Evropi u to vreme. Jedan od objekata ovog robnog lanca izveden je i na Trgu slobode u Boru, čija je glavna karakteristika bila ritmična žuta fasada. Iako je objekat bio centar aktivnosti u zajednici, tokom ekonomske krize devedesetih je znatno oslabio njegov rad te je narednih godina i sve više bivao zapušten.
Međutim, 2010. godine investiciona grupa koja je nameravala da ponovo ojača ovaj lanac uložila je 1,5 miliona evra u obnovu objekta u Boru. Nakon renoviranja žuta fasada postala je crvena, ali usled neadekvatno rešenog odvodnjavanja sa krova, crvena boja se mestimično guli i otkriva staru žutu boju.
Robna kuća Patrija
Lokacija: Prijedor, BiH
Arhitekta: nepoznat
Godina izgradnje: 1979 (srušena 2019/2020)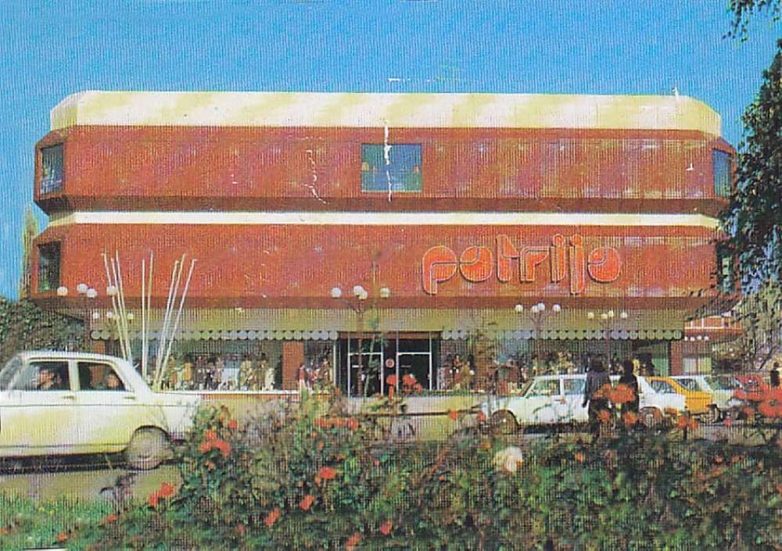 Na Trgu majora Zorana Karlice nalazio se prepoznatljivi crveni modernistički kompleks, kao hrabar dokaz jugoslovenske komercijalne arhitekture 70ih. Nakon raspada Jugoslavije, posao je propao i objekat je u potpunosti oronuo, te je počeo da predstavlja sramotu grada, umesto ponos. Objekat je bio prazan gotovo 20 godina, da bi projekat sanacije iz 2018. godine, vredan 3,5 miliona evra, podrazumevao potpuno rušenje objekta i novu recikliranu izgradnju.
Robna kuća Vesna
Lokacija: Slavonski Brod, Hrvatska
Arhitekta: Milivoj Peterčić
Godina izgradnje: 1971
Betonski objekat, izveden prema projektu uglednog zagrebačkog arhitekte, deluje kao da lebdi obzirom da je fasada prizemlja u potpunosti izvedeno u staklu. Nakon jugoslovenske ere i Vesna je bankrotirala, a 2013. godine objekat je u potpunosti napušten. Slavonski Brod se i dalje bori da nađe kupca za zgradu.
Robna kuća HIT
Lokacija: Mostar, BiH
Arhitekta: Safet Galešić
Godina izgradnje: 1973 (srušena početkom 90ih)
Impozantna robna kuća HIT nalazila se na Španskom trgu u Mostaru, nedaleko od reke Neretve. Prodajni objekat površine 5.300 kvadratnih metara, bio je u oštroj arhitektonskoj suprotnosti sa okolnim mostarskim istorijskim građevinama.
Koliko je značajan simbol grada bio ovaj objekat pokazuje i činjenica da se ispred njega održala i velika memorijalna ceremonija u čast radnika poginulih u autobuskoj nesreći 1985. godine, na kojoj je prisustvovalo 30.000 ljudi. Međutim, za vreme rata Španski trg je bio mesto sukoba, te je i objekat znatno oštećen, da bi kasnije bio i potpuno srušen. Od 1994. godine na ovom mestu traje izgradnja Hrvatskog narodnog pozorišta.
Robna kuća Razvitak
Lokacija: Mostar, BiH
Arhitekta: Ante Paljaga
Godina izgradnje: 1970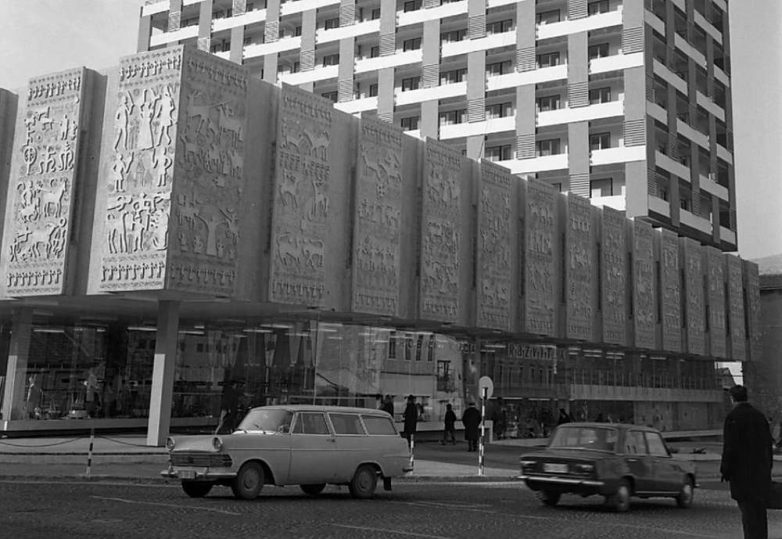 Betonske fasade objekta nosile su dinamične reljefe, koji su urađeni prema uzoru na drevne isklesane figure na pronađenim na stećcima – srednjovekovnim nadgrobnim spomenicima. Ovo je primer spajanja modernizma i vernakularne arhitekture, čime je stvoren poseban lokalni arhitektonski stil. Međutim, tokom bombardovanja objekat je znatno oštećen, a ona i dan danas postoji u svojim ruševinama o čijoj sudbini se vodi polemika. Trenutne ruševine su ograđene i zabranjen je pristup lokaciji.
Robna kuća NAMA
Lokacija: Ljubljana, Slovenija
Arhitekta: Franjo Lušičić (originalni objekat), Miloš Lapajne i Bogdan Fink (projekat objekta NAMA)
Godina izgradnje: 1938, dogradnja 1965
U cilju zadovoljenja sve većeg tržišta, objekat je znatno proširen na južnom kraju originalne zgrade, te je nakon dogradnje ovaj objekat postao najveća robna kuća u Sloveniji, sa preko 10.000 kvadratnih metara maloprodajnog prostora. Objekat i dalje funkcioniše, a u arhitektonskom pogledu doživeo je izmene u vidu zastakljenih elemenata, što je naišlo na negodovanje mnogih.
Robna kuća Izbor
Lokacija: Bar, Crna Gora
Arhitekta: Batrić Mijović
Godina izgradnje: 1980-1984
Ova fascinantna konstrukcija od tri paviljona je primer ambiciozne i inovativne vizuelne estetike jugoslovenskog doba. Objekat i dalje postoji, a prema izvorima trenutni vlasnici planiraju rušenje i izgradnju modernog tržnog centra.
Gradska robna kuća
Lokacija: Skoplje, Makedonija
Arhitekta: Živko Popovski
Godina izgradnje: 1969-1973
Objekat je nastao kao deo urbanističkog plana obnove Skoplja nakon razornog zemljotresa. Rešenje arhitekte Popovskog izabrano je na međunarodnom konkursu i prema njegovom projektu nastao je prvi moderni tržni centar u Makedoniji. Objekat je izveden na više nivoa i sa mnoštvom ulaza, što ga je činilo pravom pešačkom tranzitnom rutom. Iako objekat i dalje postoji, poslednjih godina se nalazi u jako nezavidnom stanju, što je posledica nedostatka održavanja.
Robna kuća Prima
Lokacija: Split, Hrvatska
Arhitekta: Antun Šatara i Bernardo Bernardi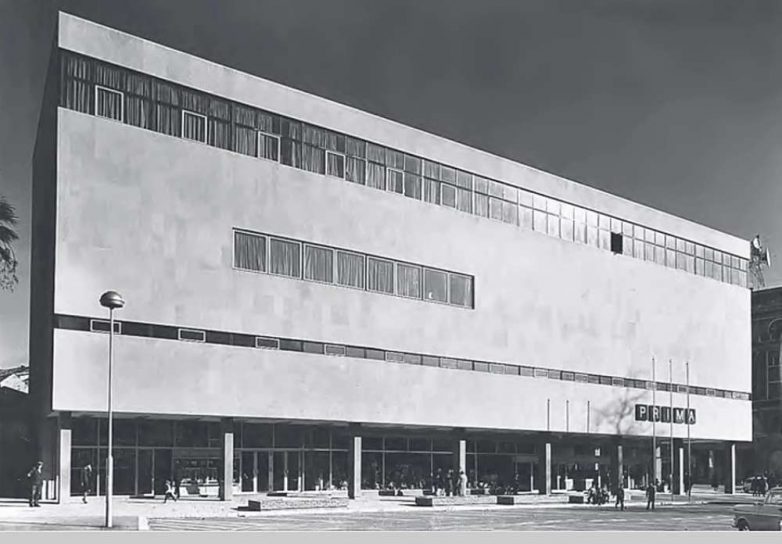 Fasadu kompleksa karakterišu gornji nivoi ukrašeni glatkim poliranim kamenim pločama, koji se nalaze iznad transparentne osnove. Ovaj stil "plutajuće" arhitekture bio je popularan tokom 60ih u Jugoslaviji. Robna kuća Prima je do danas zadržala dobar deo svog prvobitnog izgleda, što je retkost za zgrade iz ovog perioda.
Robna kuća Boska
Mnogi objekti podignuti u Bosni služili su ne samo kao glavna trgovačka sedišta, već i kao simboli industrijske i tehnološke inovacije gradova. Od svih pomenutih objekata, jedini koji je nastavio da posluje i do danas je robna kuća Boska. Objekat je izgrađen na ruševinama epicentra razornog zemljotresa koji je zadesio ovaj grad 27. oktobra 1969. godine i kada je otvoren devet godina kasnije, sa površinom preko 11.000 kvadratnih metara, bio je jedna od najvećih robnih kuća u Jugoslaviji. Tokom rata objekat je pošteđen, za razliku od većine robnih kuća, te je još i nakon obnove 2010. godine stanje objekta znatno popravljeno i on i dan danas radi.
Robna kuća 17 Nëntori
Lokacija: Peć
Arhitekta: nepoznat
Godina izgradnje: nepoznata
Dizajn nižeg nivoa robne kuće je konvencionalnog modernističkog stila, dok je gornji kancelarijski nivo kompleksa karakterisala jedinstvena teksturalna fasada, koja je davala strukturi dinamičan izgled. Međutim, nakon što je robna kuća privatizovana 2004. godine pretrpela je nekoliko drastičnih renoviranja, te je danas ovaj objekat gotovo neprepoznatljiv u odnosu na svoj originalni izgled.
Robna kuća Agrokomerc
Lokacija: Velika Kladuša, BiH
Arhitekta: nepoznat
Godina izgradnje: 1970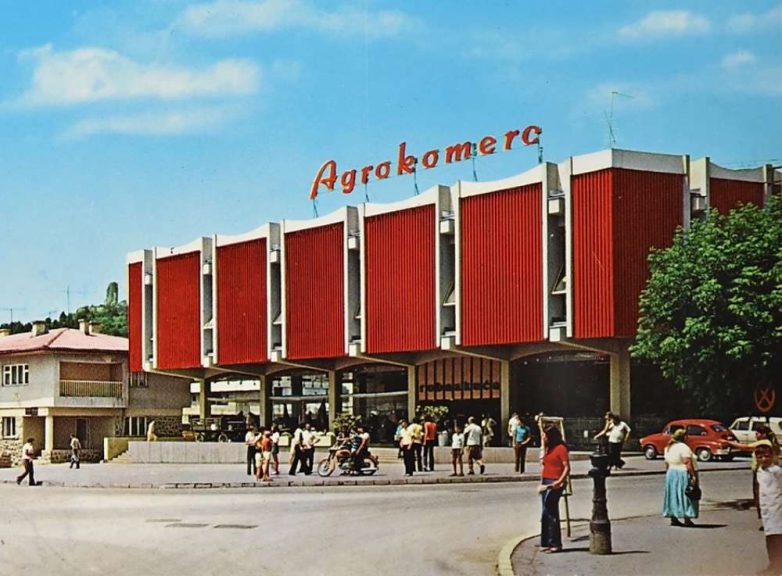 U centru bosanskog gradića Velika Kladuša izgrađen je razigrani kompleks robne kuće Agrokomerc. Objekat izgrađen od strane poljoprivrednog giganta postao je simbol napretka ne samo kompanije, već i regiona. Dominantna crvena boja bila je i zaštitna boja Agrokomerca, koji je međutim kasnije i sam objekat oštetio jer se ova firma našla u centru skandala, uzrokovanog proneverom. Nakon svih nemilih događaja koji su usledili, robna kuća Agrokomerc ipak radi i dan danas, a objekat se nalazi u stanju koje je približno originalnom.
Robna kuća Panonija bazar
Lokacija: Novi Sad, Srbija
Arhitekta: Milan Mihelič
Godina izgradnje: 1968-1972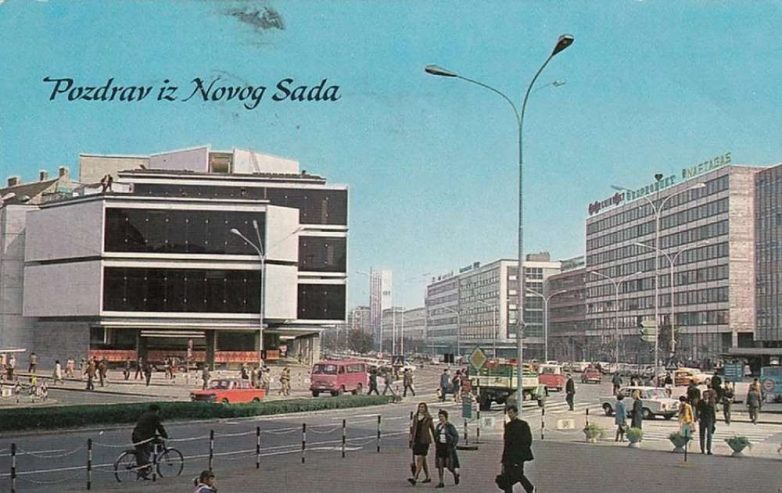 Smešten u samom centru Novog Sada, gigantski trgovački kompleks izgrađen je za trgovačku kompanije Stoteks. Sa površinom od 11.000 kvadratnih metara bio je najveći kompleks ove namene u Vojvodini. Formu ove ekspanzivne modernističke strukture karakteriše podela na tri horizontalna elementa, čije su fasade mestimično transparentne. Objekat i danas postoji u gotovo nepromenjenom dizajnu, dok je enterijer prošao kroz promene i objekat i dalje funkcioniše kao tržni centar.
Robna kuća NAMA
Lokacija: Zagreb, Hrvatska
Arhitekta: Josip Hitil i Slobodan Jovičić
Godina izgradnje: 1963-1968
Fasada objekta izvedena je kroz dinamične geometrijske oblike, a umetnik Vladimir Bonačić na fasadi je instalirao niz svetlosnih izvora, što je pretvorilo objekat u mesto jedne od najranijih digitalnih izložbi u Hrvatskoj. Tokom 90ih NAMA je došla do bankrota, ali je objekat i dalje u funkciji, sa fasadom koja je pretrpela minimalne izmene.
Robna kuća Sanjanka
Lokacija: Sanski Most, BiH
Arhitekta: Gug Marinković
Godina izgradnje: početak 1970ih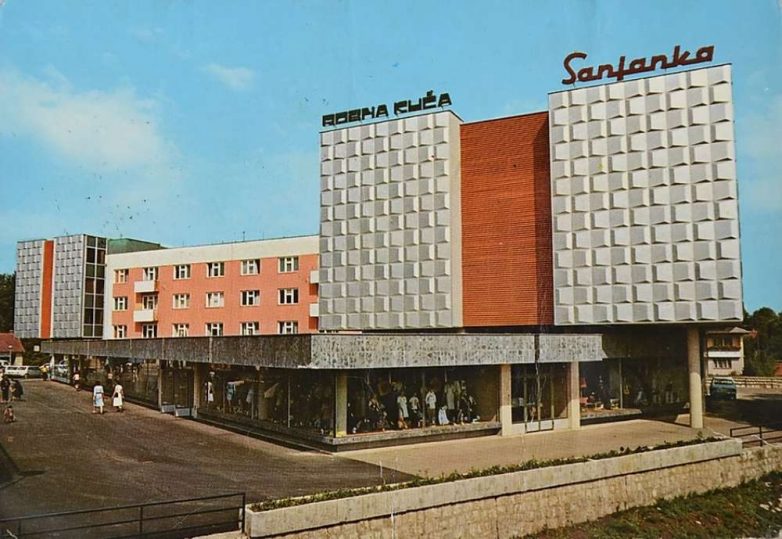 Ovo je prvi moderni kompleks robne kuće u ovom gradu, koji je zahvaljujući svom upadljivom izgledu postao simbol mesta. Iako je čitavo mesto prošlo netaknuto kroz rat, objekat je obnovljen 2000. godine i postao novi prodajni centar franšize Konzum, te je danas neprepoznatljiv u odnosu na svoj prvobitni izgled.
Još slika robnih kuća u bivšoj Jugoslaviji pogledajte na sajtu Spomenik Database.
Kad ste već ovde…