Obale širom sveta se betoniraju, a cenu plaća morski svet. Međutim, nove tehnologije mogu ponuditi metode za pravljenje ekoloških obala u korist biodiverziteta.
Most Hong Kong-Džuhaj-Makao dužine 55 kilometara, koji je otvoren u oktobru 2018. godine, jedan je od najupečatljivijih podviga modernog inženjerstva i najduži most preko mora na svetu. Ovaj impresivni građevinski projekat gigantskih razmera ne samo da je koštao 20 milijardi dolara već je cena plaćena i na drugim mestima.
U osam godina izgradnje mosta utrošeno je više od milion tona betona. Upravo ova betonska intervencija ugrozila je i staništu kritično ugroženog ružičastog delfina i smatra se da bi mogao biti razlog što su se mrtvi delfini nasukali na obližnje obale dok je populacija u blizini mosta naglo pala za 60%. Naravno, delfini nisu bili jedine žrtve – staništa se uništavaju i za brojne druge morske vrste, piše BBC.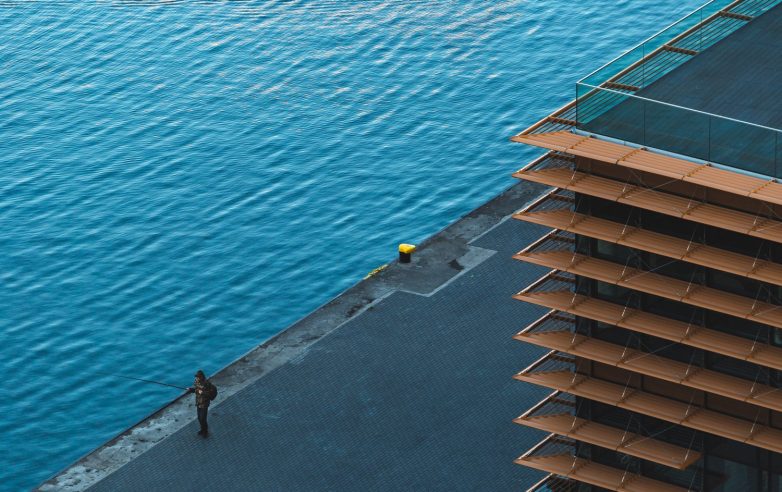 Glatke betonske površine betonskih zidova nisu naseljive za morske organizme.
Beton je glavni građevinski materijal koji se primenjuje u morskoj infrastrukturi, kao što su luke, obalne odbrambene strukture i rive. Na primer, u Kini je oko 60% obale od betona, dok je u SAD izbetonirano 22.500 kilometara obala.
"Beton šteti okeanu i uništava prirodni ekosistem", kaže Alex Rogers, direktor u REV Ocean, neprofitnoj kompaniji koja izučava stanje okeana. "Beton je konvencionalni materijal, svi znaju da rade s njima, a i jeftin je. Ali zaista, u današnje vreme, kada se stremi održivijom razvoju, trebalo bi da koristimo alternativne materijale koji imaju manji uticaj na životnu sredinu."
Te alternative možda već postoje… Među njima je i materijal nazvan ECOncrete, razvijen kao ekološki prihvatljiv beton. On se pravi upotrebom smeše koja je gotovo u potpunosti napravljena od nusproizvoda i recikliranih materijala, što znači da se za proizvodnju ovog materijala ne oslobađa ugljenik. Ova smeša se kombinuje sa šljakom (oko 70%) što ovom materijalu daje visoku otpornost na hlorid što je pogodno kada se koristi u slanim okruženjima.
Beton s niskim pH
Za razliku od tradicionalnog betona, koji je visoko alkalan, beton za izradu bio-blokova ima pH vrednost blizu one u morskoj vodi, što pomaže pospešivanju rasta morskih vrsta kao što su rakovi, mekušci, školjke, školjke i ostrige. Relativno neutralna pH vrednost bio-blokova postiže se ako se portland cementa zameni šljakom.
"Nivo pH morske vode je oko 8, što je pogodno za razvoj morskih organizama", kaže Leung. "Međutim, klasični beton ima pH 12-13 što nije povoljno za kolonizaciju morskog života. Stoga, ekološki prihvatljivi materijali za ugradnju u mora i okeana moraju imati vrednost pH od 9 do 10."
Međutim, i priroda kontakta betona i vode je ta koja čini razliku u prirodnom okruženju. Glatke betonske površine veštačkih morskih zidova nisu naseljive za morske organizme. Međutim, njihovom naknadnom obradom ekološkim pločama sa razuđenom površinskom teksturom omogućava morskoj flori i fauni da se kolonizuje, što na kraju dovodi do poboljšanja biodiverzitet morskih zidova.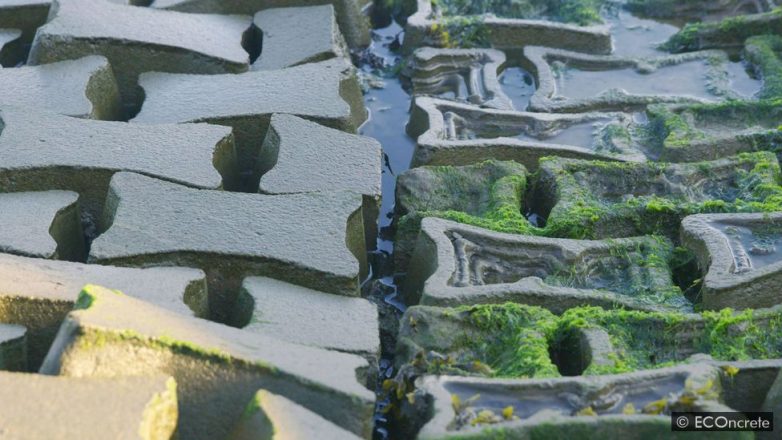 Eko-ploče su udvostručile su broj morskih vrsta u preliminarnom testu u Hong Kongu.
Dobar primer iz prakse stiže nam iz Hong Konga, gde se zbog nedostatka građevinskog zemljišta more pretvara u zemljište. U toku su radovi na popločanju betonskih zidova s ekološkim pločama. Preliminarnim testom, utvrđeno je da se primenom eko-ploča broj morskih vrsta udvostručio u poređenju s brojem vrsta pronađenih na betonskim zidovima koji nisu tretirani. "Rezultati su bili veoma pozitivni, pokazujući da bi eko-ploče mogle znatno povećati morsku biodiverzitet", kaže Kenneth Mei-Iee Leung, profesor na hongkonškom univerzitetu.
Sada se radi i na pravljenju prve ekološke obale u Hong Kongu. Kao deo projekta melioracije od 130 hektara na gradskom području, čime će se obezbediti dodatno građevinsko zemljište, nova eko-obala koristiće betonske bio-blokove dizajnirane da služe kao sklonište morskim životinjama. "Kao morski ekolog, nadam se da će projekat postići veliki uspeh u promociji morske biološke raznolikosti", kaže Leung, "istovremeno pružajući lepu i multifunkcionalnu obalu ljudima."
Upitna efikasnost
Međutim, nisu svi uvereni da su ekološki betonski bio-blokovi prihvatljivo rešenje.
Beth Strain, iz australijskog Nacionalnog centra za obale i klimu, kaže da su dokazi o ekološki prihvatljivom betonu kao boljoj površini za morske organizme vrlo različiti. "U nekim slučajevima autori su izvestili da ovi materijali koriste koralima ili biofilmovima, dok u drugim studijama nije bilo koristi za morske organizme."
Strain kaže da trenutno nema dovoljno dokaza da bi se zaista videlo gde ovi ekološki prihvatljivi betoni funkcionišu, a gde ne. "To može biti specifično za lokaciju. Napravili smo eksperiment u 15 luka širom sveta sa istom vrstom složenosti betonske površine." Rezultati su uglavnom bili pozitivni, ali na nekim lokacijama to nije uspelo. Na primer, u Penangu u Maleziji, upotreba betona sa složenom, ispupčenom površinom koja bi teoretski zadržala vlagu i koja bi bila bolja za organizme da se prikače, nije napravila nikakvu razliku. Strain misli da je to zbog tajfuna na tom području. "Svaka lokacija ima svoje ekološke izazove", kaže Strain.
Rešenje u biocementu?
Louise Firth sa Univerziteta u Plimouth, slaže se da su rezultati mešoviti. "Oni koji proizvode eko-beton predlažu niži pH betona za bolji morski život", kaže ona. Ali u njenom nedavnom istraživanju, njen tim otkrio je da u Singapuru i Velikoj Britaniji niži pH nije uticao na kolonizaciju morskih organizama.
Ali dok ekološki prihvatljivi beton traži dodatna ispitivanja, postoje i druga potencijalna rešenja, kao što je bio-cement koji može biti posebno pogodan za morske infrastrukture. Bio-cement nastaje mešavinom peska ili drugih oblika agregata, a zatim dodavanjem bakterija i uree, komponente urina. Urea pokreće bakterije da luče kalcit – oblik kalcijum-karbonata – vezujući smešu u čvrsti materijal sličan krečnjaku.
"Bio-cement je sigurno zanimljivija tehnologija u smislu poboljšanja održivosti obala", kaže Alex Rogers iz REV Ocean. "Proizvodi otprilike jednu trećinu CO2 od klasičnog betona, i naravno možete ga oblikovati kako bi bio biološki prihvatljiviji."
Kad ste već ovde…