Zbog čega su makete najiskreniji način prezentacije projekta, od čega se one prave i kako savremene tehnologije oblikuju ovaj proces koji ima i dozu umetničkog? Odgovore smo potražili na pravom mestu!
Miris lakova i lepkova kao i odzvanjanje CNC glodalice koja seče parče drveta, dočekali su na ulazu u maketarsku radionicu studija Modelart Arhitekti. Naš domaćin bio je Bojan Mitov koji vodi radionicu za izradu maketa, digitalni dizajn i produkciju u arhitekturi. Iako smo mislili da ćemo ga zateći sa skalpelom u ruci, on je zapravo sedeo za računarom gde je pripremao novi fajl za 3D štampu. Profesionalno bavljenje maketarstvom se očito dosta razlikuje od hobija, pa nam je zato bilo zanimljivo da sa njim popričamo o savremenim trendovima u maketarstvu i šta je to što nas čeka u budućnosti.
Ustaljeno mišljenje je da je maketarstvo pre svega hobi, a vi dokazujete da arhitektonsko maketarstvo može biti i profesionalno zanimanje.
Maketarstvo je zanimljiv i dosta zastupljen hobi, bez obzira da li se radi o maketama aviona, automobila, vozova ili su u pitanju makete poznatih objekata. Definitivno sam naziv "maketarstvo" najčešće asocira na hobi, a ređe na profesionalnu delatnost. Za bavljenje maketarstvom u slobodno vreme potrebno je pre svega dosta entuzijazma, zatim nešto materijala i alata, malo kreativnosti i mnogo strpljenja. Međutim, bavljenje arhitektonskim maketarstvom na profesionalnom nivou zahteva ozbiljan radni prostor, dosta opreme i tehnike, poznavanje materijala i savremenih tehnologija izrade, poznavanje trendova u arhitekturi i još mnogo toga.
Kroz maketu mogu da se istražuju različiti aspekti arhitekture – volumen, kompozicija, odnos puno/prazno, svetlost…
Kad je počelo interesovanje za maketarstvo i gde ste naučili to da radite?
Interesovanje za maketarstvom postojalo je i pre početka studija arhitekture na FTN-u u Novom Sadu, a na njima sam se usavršio u ovoj oblasti.
S obzirom da je vaša radionica deo arhitektonskog studija Modelart Arhitekti, da li se u okviru nje realizuju makete projekata nastalih u studiju ili se uslužno izrađuju makete drugih projekata nastalih van studija?
Radionica je razvijana zajedno s arhitektonskim studijom i predstavlja važan deo naše arhitektonske prakse. Prilikom rada na projektu, često je potrebno izrađivati istraživačke, odnosno radne makete, koje su deo kreativnog procesa. Istraživačke makete prikazuju koncept projekta tako ne postoje ograničenja i pravila za njihovu izradu. Kroz maketu mogu da se istražuju različiti aspekti arhitekture – volumen, kompozicija, konstrukcija, materijali, boje, odnos puno/prazno, svetlost itd. U tom smislu makete su važan deo arhitektonskog projektovanja kroz sve faze rada, od ispitivanja početnih ideja do prezentacije investitoru.
Pored istraživačkih, makete mogu biti i prezentacione, bez obzira da li se arhitektonsko delo predstavlja investitoru, konkursnom žiriju, gradskoj upravi ili široj javnosti, makete su veoma efektan način za prikazivanje budućih objekata. Primer toga je serija maketa za projekat "Beograd na vodi", koje privlače puno pažnje proteklih godina i pored drugih savremenih vidova prezentacije datog projekta, što svedoči o njihovom uticaju i značaju.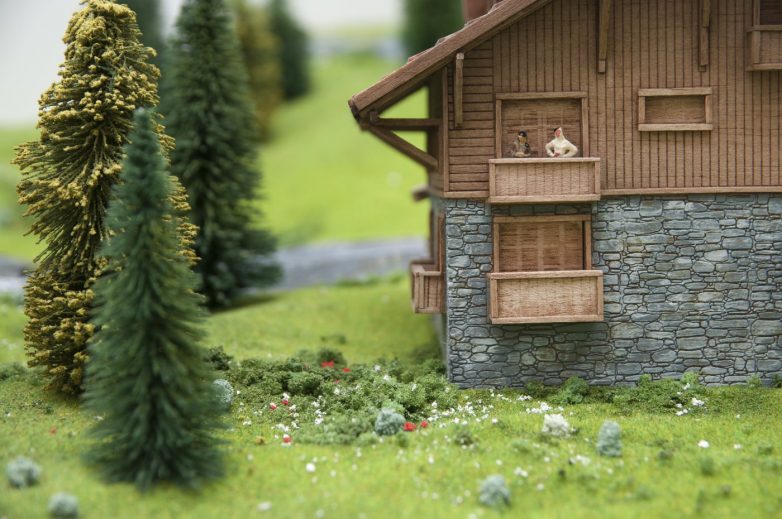 Ko su najčešće vaši klijenti, odnosno ko sve ima potrebe za prezentacionim maketama?
Do sada smo izradili veliki broj maketa za raznovrsne klijente: arhitektonske biroe, javne ustanove, kulturne institucije, agencije za prodaju i razvoj projekata, investitore itd. Od potreba klijenta zavisi i pristup izradi modela. Na primer, arhitektonski biroi najčešće zahtevaju svedene monohromatske makete, jer njima pre svega prikazuju odnos masa i kompoziciju, bez obzira da li su to konkursne makete ili su namenjene investitoru. S druge strane, makete koje služe kao podrška prodaji nekretnina gotovo uvek su realistične, sa imitacijom pravih materijala i kolorita i sa mnogo ilustrativnih detalja, kao što su saobraćaj, mobilijar, natpisi… Ovakvi modeli izazivaju pozitivne reakcije kod posmatrača, koji je ujedno i potencijalni kupac nekretnine, jer mu na slikovit način prenose atmosferu budućeg objekta.
S obzirom da zahtevaju dosta vremena za izradu, cena pojedinačne makete može biti visoka, zbog čega se uvek postavlja pitanje kada je opravdano raditi maketu, odnosno ko može da je priušti. Otuda se stiče utisak da su kvalitetne i velike makete sa puno detalja opravdane samo kod kapitalnih investicija. Zato je stvar prestiža sa svaku veliku kompaniju, fabriku ili agenciju da ima maketu projekta na kom se radi, jer time podižu nivo prezentacije.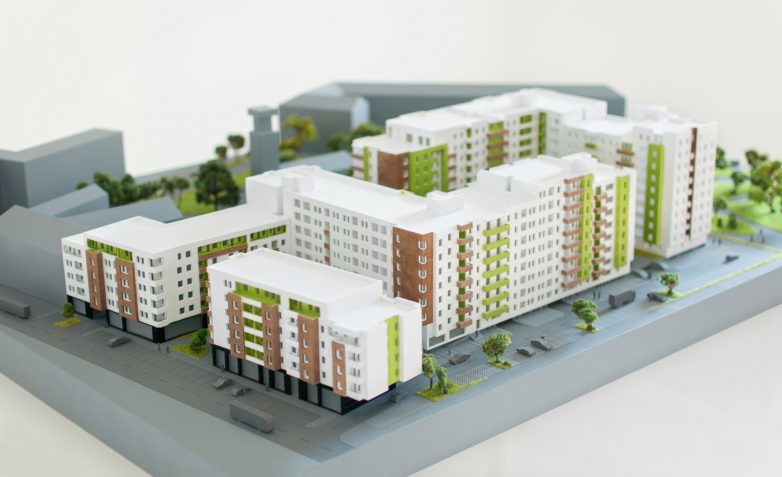 Maketarstvo i računarska grafika međusobno ne isključuju, već naprotiv, oni se nadopunjuju.
Šta to imaju makete što nemaju 3D vizuelizacije, odnosno, koje su njihove prednosti u odnosu na druge vidove računarske prezentacije?
Tačno je da je računarska grafika doživela neslućen razvoj u poslednjoj deceniji, ali mislim da to nije nimalo ugrozilo arhitektonsko modelarstvo, čak naprotiv, razvoj računarskih tehnologija je samo podigao kvalitet izrade. Pre svega, treba shvatiti da se maketarstvo i računarska grafika međusobno ne isključuju, već naprotiv, oni se nadopunjuju. Dok 3D vizuelizacija bolje prikazuju materijale i atmosferu, makete tačnije prikazuju prostorne odnose, na njima nema prenaglašene perspektive, a posmatrač sam bira ugao gledanja čime percepciju prostora prilagođava ličnim afinitetima. Takođe, na fizičkim modelima je teže sakriti greške ili neke segmente ostaviti nezavršene, jer su sve strane vidljive, za razliku od 3D vizuelizacije putem koje su uglovi posmatranja unapred predodređeni. Kao zaključak se nameće da su makete iskreniji način prezentacije projekta.
S obzirom da savremene digitalne tehnologije nisu isključile potrebu za maketama, kako su onda uticale na njen razvoj?
Digitalne tehnologije su znatno unapredile tehnologiju izrade, omogućivši vezu između arhitektonskog crteža na računaru (CAD) i navođene obrade materijala (CAM). U tu svrhu se koriste različiti alati i tehnologije, kao što su CNC glodalice, laserski sistemi za graviranje, 3D štampači, razni kateri, waterjet mašine, industrijski roboti itd. Primenom navedenih alata, znatno su unapređeni preciznost, nivo detaljnosti, olakšane su repetitivne radnje, pa je samim tim pojednostavljeno i sklapanje, kao poslednji korak.
Ipak, samo 50% procesa izrade makete se radi mašinski, sklapanje i završna obrada i dalje se rade ručno. Zbog toga izrada maketa ima i dozu umetničkog, gde je posebno važan osećaj za detalje i kreiranje atmosfere. To se posebno odnosi na realistične makete, koje završnom obradom dobijaju na unikatnosti. Na kraju, cilj svake makete je da ispriča posebnu priču i da bude unikatna, a ne serijski proizvod.
Od razmere i tipa makete zavisi stepen detaljnosti, pa samim tim i dužina izrade, koja može varirati od nekoliko dana do nekoliko meseci.
Kako ste u vašem studiju prihvatili savremene tehnologije i na koji način ih primenjujete u praksi?
Prednost našeg tima je u tome što je sastavljen od arhitekata, koji razumeju potrebe drugih arhitekata i mogu da njihove ideje predstave na najbolji način. Stoga se trudimo da razumemo svaki projekat i da shvatimo šta je najbitnije da se prikaže kroz maketu. S obzirom da ne postoji "maketarska mašina" pogodna za sve vrste maketa, materijale i tehnologiju izrade biramo u zavisnosti od tipa makete, razmere, geometrije itd. Tako ćemo kod 3D reljefa najčešće koristiti CNC glodalicu, za površinsku gravuru na drvetu ili akrilnom staklu će to biti laserski sistemi, a kontinualne slobodne površi bismo realizovali uz pomoć 3D štampe.
Primenu CNC tehnologija ne ograničavamo samo na makete, nego ih aktivno koristimo i u arhitektonskom projektovanju, posebno u dizajnu enterijera. Na ovaj način možemo da realizujemo raznovrsne prostorne strukture, koje je teško izvesti konvencionalnim načinima građenja. Primer za to je prostorna instalacija u okviru lanca prodavnica sportske opreme The Spot, koju smo dizajnirali i realizovali u saradnju sa Centrom za digitalni dizajn sa FTN-a u Novom Sadu.
Kako teče proces izrade jedne makete?
Za početak, potrebno je da klijent dostavi dokumentaciju u nekom CAD formatu, kao i da definiše koja je namena makete, odnosno njena veličina (razmera). Na osnovu ulaznih informacija i crteža, pripremamo materijal za CNC obradu i sklapanje. Od razmere i tipa makete zavisi stepen detaljnosti, pa samim tim i dužina izrade, koja može varirati od nekoliko dana do nekoliko meseci. Do sada smo radili različite vrste maketa, od malih objekata do velikih industrijskih kompleksa i infrastrukturnih projekata. Bez obzira na veličinu makete i obim radova, svakoj maketi pristupamo podjednako pažljivo, sa ciljem da ona na najbolji mogući način prezentuje projekat.
Šta nam donosi budućnost na polju maketarstva?
Klasična arhitektonska maketa je statičan model za predstavljanje arhitekture, gde je akcenat na izgledu. Međutim, maketa može da sadrži i druge "slojeve", koji prikazuju dodatne informacije u obliku crteža, grafike ili teksta. U budućnosti možemo očekivati veću dinamičnost i mogućnosti interakcije, gde će dodatni "slojevi" biti prikazani primenom 3D mapinga, virtuelne ili proširene stvarnosti (virtual/augmented reality), različitih senzora, smart sistema i slično. Dakle, može se očekivati približavanje makete i kompjuterske vizualizacije i stvaranje neke vrste "hibridnih" maketa, čiji je cilj da pruže više informacija, da se postigne veći nivo detaljnosti ili određena atmosfera. Biće svakako zanimljivo pratiti dalji razvoj fizičkih modela u digitalnom svetu, ali ono što je sigurno, to je da će makete i dalje ostati jedan od najboljih načina da se ispriča dobra arhitektonska priča.
Fotogalerija izvedenih maketa:
Kad ste već ovde…