Klupe, česme, javna rasveta – sve su to komadi urbanog mobilijara koje svi zapažamo u javnom prostoru, a često i ne znamo da su neki od tih predmeta autorski dizajnirani.
Tradicija total-dizajna koju su arhitekti od davnina primenjivali, kako u enterijeru tako i u eksterijeru, prisutna je i u dizajniranju urbanog mobilijara. Možda će neko reći da su to nebitni predmeti u našoj svakodnevnici, ali kada se malo bolje pogleda, njihov oblik i funkcionalnost, strogo su determinisani čovekovim dimenzijama, navikama i fizičkim mogućnostima (čovek je mera svih stvari), pa u njihovom projektovanju nema prostora za greške. Pogotovo ako znamo da će njih koristiti milioni ljudi u narednih minimum 15 i više godina. Verovatno ste primetili i neke od ovih komada urbanog mobilijara, ali većina ne zna koji autor stoji iza njihovog dizajna.
Branislav Jovin je pored urbanističkih intervencija razmatrao i mikrodizajn žardinjera, klupa i fontana.
Ne računajući Kiosk K67, projektovan od strane dizajnera Saše Mächtiga, gotovo sav urbani mobilijar koji smo poslednjih decenija viđali na ulicama i trgovima Beograda, nije bio autorski dizajniran od strane nekog poznatog arhitekte ili dizajnera. Mali iskorak je 1985/86. godine napravio arhitekta Branislav Jovin, radeći projekat popločavanja centralne zone Beograda, kada je pored urbanističkih intervencija razmatrao i mikrodizajn žardinjera, klupa i fontana. Nažalost, pešačka zona je tada trasirana isključivo kroz ulicu Kneza Mihaila, pa je mnoge fontane, koje su bile predviđene za centar Beograda, arhitekta Jovin izvodio na drugim lokacijama u regionu. Na naše pitanje zašto je uz manje korekcije ponavljao njihov oblik, odgovorio je da su one i bile zamišljene tipski, a da im se oblik i dekoracija minimalno razlikuju od lokacije do lokacije.
Što se tiče mlađe generacije arhitekata, posebno plodonosan je bio period od 2010. do 2012. godine, kada nastaje niz zanimljivih primera urbanog mobilijara. 2010. godine izvodi se Skver Soje Jovanović na Vračaru, na kojem arhitekta Jovana Miletić posebno projektuje zanimljive trakaste komponente klupa, žardinjera i zastakljene fontane, kao prepoznatljivi centralni motiv ove lokacije.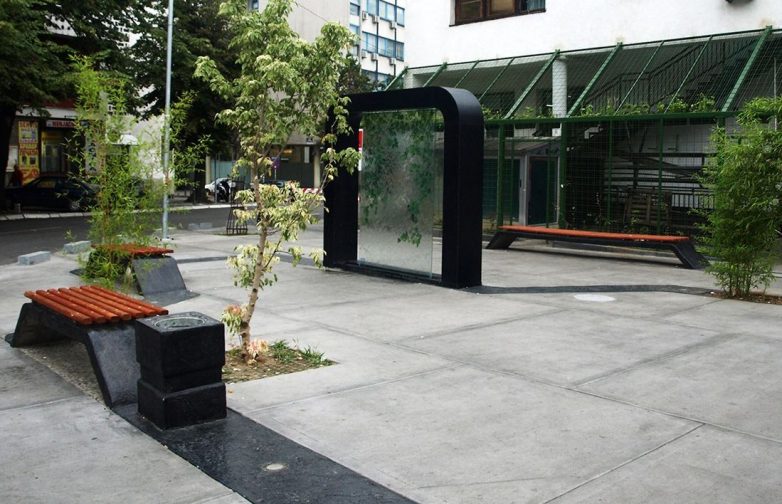 Godinu dana kasnije, grupa ModelArt iz Novog Sada dizajnira svoju klupu "1000 cm", od drveta, sa modularnim elementima, koja se u zavisnosti od potrebe, odnosno, inspiracije može lako transformisati.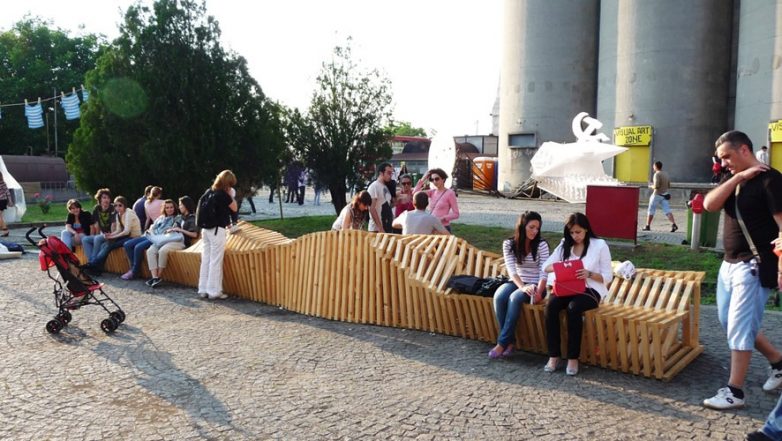 Solarno drvo koje puni telefone
Ali prvu seriju inovativno dizajniranog mobilijara 2012. godine pokreće arhitekta Miloš Milivojević i to sa solarnim punjačem u obliku drveta, koji razrađuje sa domaćom firmom Strawberry. Prvo solarno drvo biva postavljeno te godine Obrenovcu, potom u Tašmajdanskom parku, a već 2015. godine i na savskom šetalištu Beograd na vodi. Ceo projekat solarnih punjača biva dalje razvijan sa Strawberryem, pa su varijante ovog veoma praktičnog mobilijara te iste 2015. godine došle i do Londona.
Pored ove klupe sa geometrijski uvijenim solarnim kolektorom, projektovana je i mini varijanta, koja ne zauzima fizički i vizuelni prostor (pogodna za zaštićene ambijentalne celine), a kod koje je solarni kolektor integrisan u samo sedište klupe.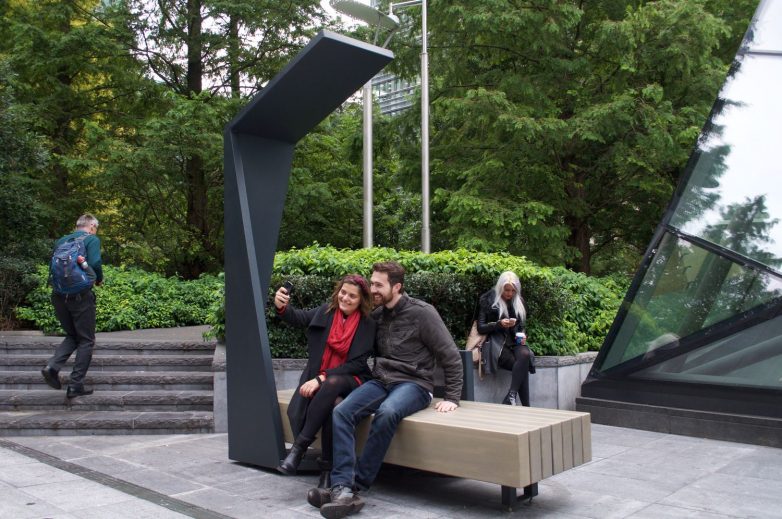 Javne česme osvajaju prostore
Međutim, u ovim letnjim danima sigurno ste svi primetili nešto što nam je znatno potrebnije, a to su javne česme. Iako su na javnom konkursu iz 2012. godine pobedila tri projekta, jedan model u obliku ćiriličnog slova G je grad Beograd poručio u više primeraka, koje možemo primetiti na šetalištima, parkovima i trgovima. Upravo taj model je takođe dizajnirao arhitekta Milivojević.
Njegov model javne česme postigao je najviši stepen praktičnosti i dostupnosti za sve građane, a njegov konzolni oblik omogućuje i osobama sa posebnim potrebama da pristupe pijaćem delu. Da bi što više vode bilo pametno iskorišćeno, česma je prilagođena da u prostoru odvodnog korita ona bude dostupna i za kućne ljubimce, kojima je okrepljene u vrelim danima takođe preko potrebno. Dizajn je izuzetno funkcionalan, a po dizajnu krajnje nenametljiv da se instalira u bilo kom prirodnom ili urbanom okruženju.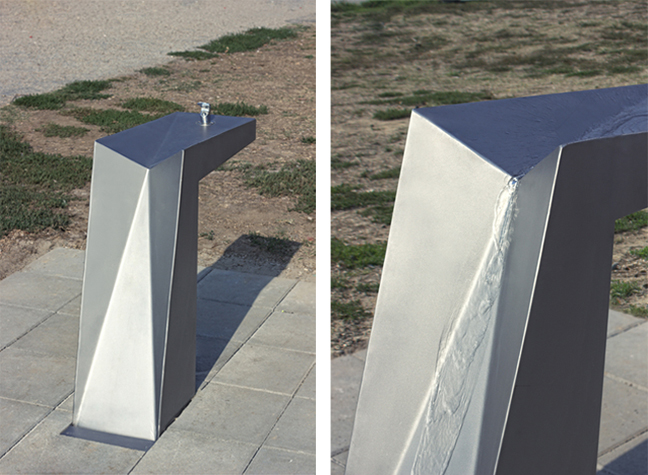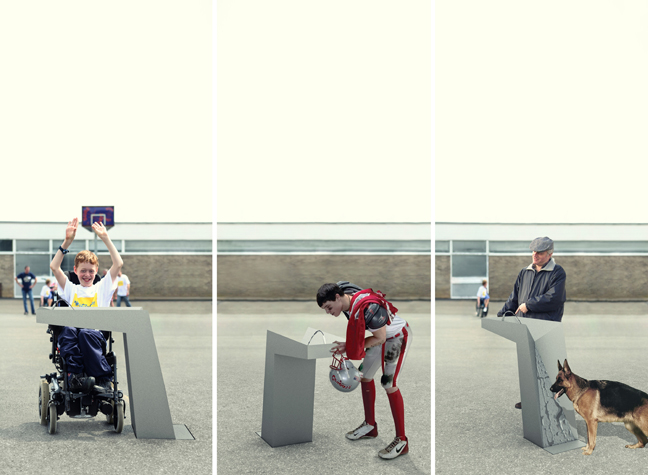 Male stvari koje ulepšavaju prostor
Kada sledeći put u javnom prostoru opazite neki komad javnog mobilijara, obratite pažnju i na njegov dizajn. Bez obzira da li je u pitanju obična klupa, česma, kanta za otpatke ili javna rasveta. Oni su primeri da naše arhitekte i dizajneri vode računa i o "malim" stvarima, koje ulepšavaju naše životno okruženje.
Kad ste već ovde…