Izdvojeno, Izvođenje
Koliko košta ugradnja grejanja na gas – analiza troškova na kući od 100 kvadrata
Ako želite sledeće grejne sezone da se grejete na gas, onda pogledajte na koje sve troškove treba da računate.
Zimski period je stigao, a sa njim i želja za toplim i komotnim prostorom. Zastareli sistemi poput peći na grejanje na čvrsta goriva ne pružaju dovoljan komoditet, a loženje je prilično skupo i nepraktično. Svako ko razmišlja da pređe na neke modernije vrste grejanja sigurno se zapitao koliko košta ugradnja radijatora i priključivanje na plin. Osim što je daleko komotniji, ovaj vid grejanja ujedno i manje zagađuje vazduh u odnosu na drva, a pogotovo na ugalj.
Uradili smo analizu za uvođenje grejanja u kuću od oko 100 metara kvadratnih, i analizirali smo sve troškove koji vas mogu zateći.
Troškovi uvođenja grejanja na gas za kuću od 100 m2:
Panelni radijatori, cevi, ventili i fiting: 1.000 do 1.250 evra 
Gasni kotao Viessmann 24kw kombinovani konvencionalni + dimnjački komplet: 810 evra
Ugradnja 8 radijatora x 30 evra: 240 evra
Ugradnja gasnog kotla na grejanje I san.vodu-90e: 330 evra
Ugradnja unutrašnje gasne instalacije 20 metara x 16 evra (materijal i ruke): 320 evra
UKUPNO: 2.660 evra
Na ovu cenu treba dodati troškove gasnog priključka koji nije isti u svim gradovima i opštinama. Konkretnu cenu treba proveriti kod lokalnog distributera gasa.
Ukoliko bi se odlučili na aluminijumske radijatore cena će biti nešto veća za oko 500 evra, a ukoliko se običan gasni kotao zameni za kondenzacion (npr.Viessmann 26kw) cena bi porasla za još 550 evra.
*Napomena: paritet za cene usluga su uzeti proseci u Pomoravskom i Rasinskom okrugu.
Za objekte do 350 m2 i dva gasna šporeta se uzima osnovni gasni prikljucak G4 do 50kw. Projektovanje za idejni i glavni projekat košta od 180 do 250 evra.
Pojasnićemo detaljnije šta vam je potrebno za uvođenje grejanja u kuću.
1. Grejna tela i instalacione cevi
Cena materijala sa panelnim radijatorima bez kotlarnice je u proseku oko 10 evra/m2 kuće gde polovinu cene zahvataju grejna tela, a polovinu cevi, fiting, ventili i ostalo. Ukoliko se odlučite za aluminijumske radijatore tada to će vas koštati 50% više. Najčešće prisutni panelni radijatori su od turskih proizvođača, a aluminijumski od italijanskih proizvođača. Garancije na našem tržištu su uglavnom na 10 godina.
Radijatori se dimenzionišu prema gubicima objekta tj njegovoj izolovanosti kao i prema očekivanoj temperaturi polaznog voda grejanja. Gubitci u novogradnjama su 60 do 100w/m2 u zavisnosti od toga da li je stan ili kuća ali i od kvaliteta stolarije i izolacije dok stara gradnja ima gubitke i 200w/m2. Ukoliko se planira ugradnja kondenzacionog gasnog kotla koji pri radu na 40 stepeni ima uštedu do 17% onda je bolje predimenzionisati radijatore ili staviti podno grejanje.
Uglavnom na prostoriju do 14 m2 ide jedan radijator, a ako je prostorija veća od toga onda se deli na dva ili više. Najbolje je da se radijatori postavljaju ispod prozora, pored ulaznih i terasnih vrata i to na spoljnim zidovima jer drugačije ne bi bio dobar efekat grejanja.
Kada se uvodi grejanje u novogradnju, skoro uvek se radi sa skrivenim cevima, uglavnom Al-Pex cevi koje koštaju oko 80 dinara/m' u proseku, razdelni ormarić itd.
Međutim ukoliko je u pitanju stariji objekat bez rešenog centralnog grejanja, bakarne cevi se uglavnom postavljaju vidno tj po zidu. Ipak, bolje je rešenje da se, kada se radi veće renoviranje, cevi uštemuju u podove ili zidove sa izolacijom preko cevi.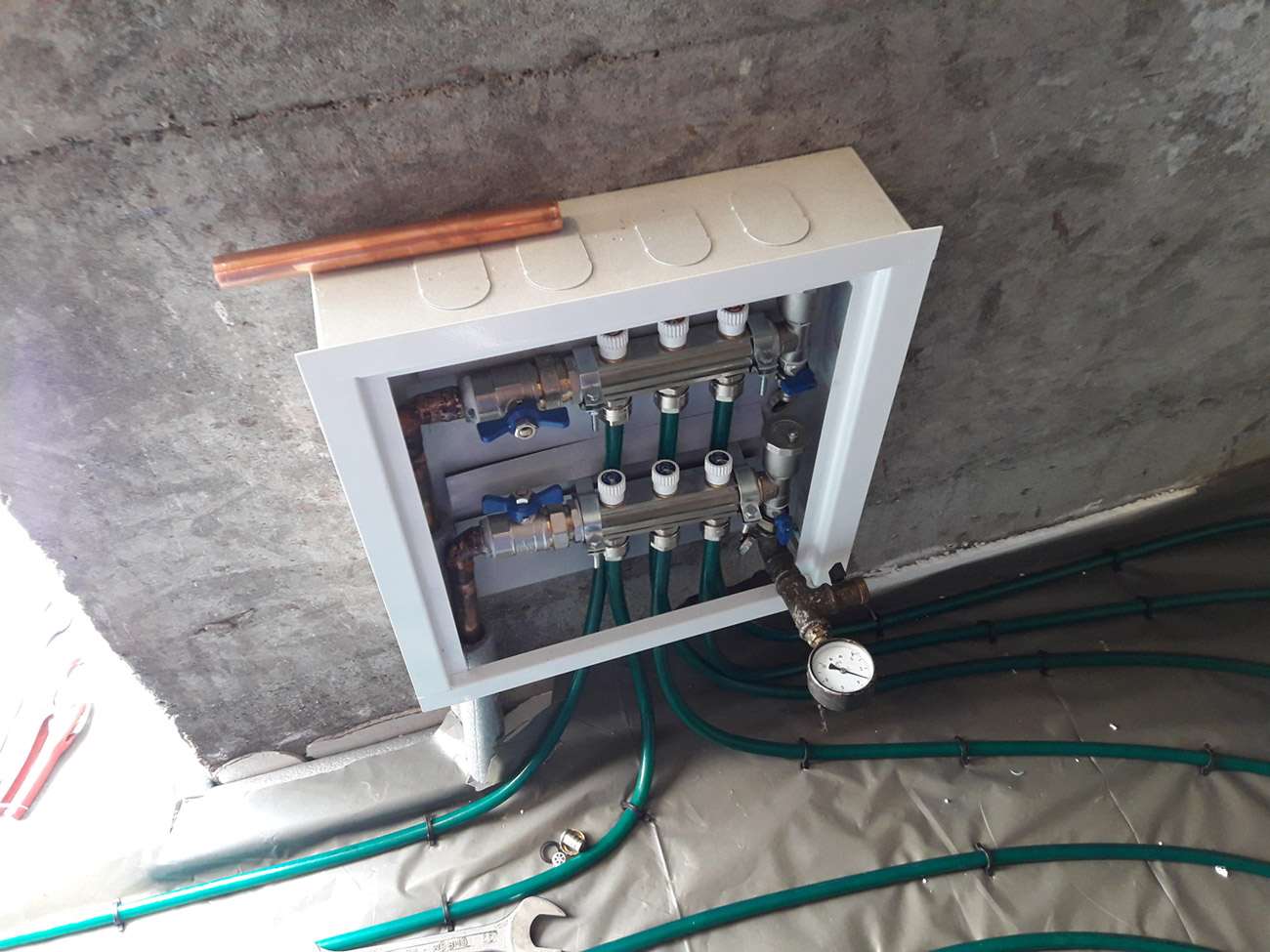 2. Kotao i prateća oprema
Gasni kotlovi su najčešće fasadni gde kotao izduvava dimne gasove direktno napolje i od spolja uvlači vazduh za sagorevanje. Ako je moguće, izbegavaju se dimnjačke varijante zbog često lošeg kvaliteta starih dimnjaka i obaveznog dovođenja spoljnjeg vazduha u prostoriju gde je kotao što dodatno nju hladi.
Najkvalitetnijim gasnim kotlovima se smatraju nemački brendovi Viessmann i Vaillant, a oni ujedno imaju i najbolje organizovanu servisnu podršku u Srbiji. Sledeći su italijanski proizvođači koji su srednje klase i na kraju brendovi koji su proizvodnju preselili u Tursku i imaju nižu cenu i kvalitet.
Kuća od 100 m2 sa kamin kotlom na pelet Alfaplam Commo 15 i ostalim elementima, ugradnjom i slično moguće je izvesti za 2.000 evra, dok ako bi varijanta na gas zbog cene priključka i taksi to iznosilo od 2.500 do 3.000 evra sa konvencionalnim kotlom, a sa kondenzacionim od 3.500 do 4.000 evra.
3. Termostati
Kod gasa, peleta ili struje, to jest, kod bilo kog automatizovanog grejanja potrebna je i dobra regulacija temperature prostora. Regulacija je moguća sobnim termostatom koji se prave u žičnim i bežičnim varijantama, i ventilima sa termostatskim glavama ukoliko se želi za svaku prostoriju posebno regulacija temperature. Kada birate radijatorske ventile, najpouzdaniji i najprisutniji su proizvodi austrijskog Herza i italijanskog Caleffia.
Kod postavljanja sobnih termostata bitno je da nisu blizu grejnih tela ili prozora. Noviji modeli čak imaju mogućnost da ne detektuju trenutno prostrujavanje hladnog vazduha kod, na primer, otvaranja vrata, odnosno imaju mogućnost zadrške reagovanja. Poljski Salus je u poslednje vreme izdvojio kao proizvođač sobnih termostata koji ima dobar odnos kvaliteta i cene.
Na kraju, naš savet da prvo nadjete majstora pa tek onda da kupujete materijal.
Foto i tekst: Dejan Stamatović; naslovna fotografija: Gradnja.rs