Urbanizam
Linijski park: Šta da očekujemo i od čega da strepimo
Na nedavno održanom Ranom javnom uvidu u Plan detaljne regulacije Linijskog parka, objavljen je Elaborat Plana detaljne regulacije, čime su Beograđani mogli da steknu sliku o ovoj velikoj predstojećoj intervenciji.
Izradi Plana detaljne regulacije Linijskog parka prethodile su brojne studije i radionice različitih institucija – Sekretarijata za urbanizam, Centra za eksperimente i urbane studije – CEUS, Sekretarijata za zaštitu životne sredine, Arhitektonskog fakulteta, Šumarskog fakulteta i drugih relevantnih organizacija i udruženja. Međunarodni značaj ovog procesa planiranja ogleda se u činjenici da se projekat razvija kao deo "Clever cities" projekta u okviru programa "Horizon 2020", u kome učestvuju i drugi veliki gradovi, poput Londona, Malmea, Madrida i Hamburga.
Sa ambicijom da se kreira ozelenjeni linijski potez koji će oživeti područje železničke pruge na Dorćolu, koja je isključena iz funkcije, struka i gradska vlast bili su saglasni u nalaženju uzora u njujorškom zelenom koridoru – High Line. Ova intervencija u Njujorku obuhvata potez nekadašnjeg industrijskog dela grada, gde je ozelenjavanjem bivše železničke pruge i uvođenjem različitih javnih prostora prilagođenih potrebama stanovništva, ponovo aktivirana ova gradska celina.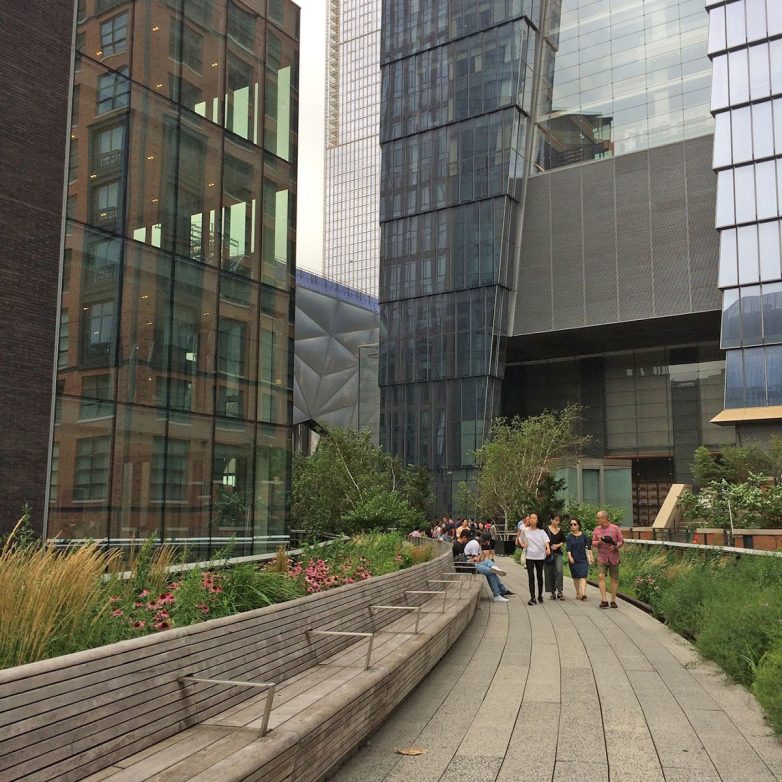 Participativni pristup planiranju potvrđuje i angažovanje 10 biroa, sa pretežno mladim arhitektama i dizajnerima.
U toku izrade različitih studija za beogradski Linijski park, primenjen je participativni, integralni pristup planiranju, što je omogućilo uključivanje svih zainteresovanih strana, među kojima se, u ovakvim procesima, uglavnom ističu stanari iz neposrednog okruženja predmetne lokacije, u čijem je najvišem interesu da plan bude prilagođen njihovim potrebama. Pored stanara, u okviru radionica i studija učešće su uzele i različite nevladine organizacije.
Participativni pristup planiranju potvrđuje i angažovanje 10 biroa, sa pretežno mladim arhitektama i dizajnerima, čija su konkursna rešenja fazno raspoređena u 10 celina duž Linijskog parka, za dalju razradu.
Na osnovu studija i radionica, prepoznate su smernice za razradu plana koje uključuju veliki broj sportsko-rekreativnih prostora, skverova, biciklističkih staza, različitih parkovskih celina namenjenih razonodi, kao i edukaciji – od dečijih igrališta i sportskih terena, preko naučnog parka do umetničkih paviljona.
U prvim fazama izrade plana velika pažnja posvećena je Beograđanima i njihovim potrebama, a u sagledavanju i valorizovanju tih faza vidno je nastojanje da se uvaži princip da je moguće prostornom planiranju u Srbiji pristupiti na jedan globalno prihvaćen i afirmativan način.
Posmatrajući teritoriju koju Plan obuhvata, moguće je prepoznati nekoliko zaštićenih gradskih celina i kulturnih dobara Beograda. Potez Linijskog parka počinje neposredno uz celinu Kosančićevog venca, prati obod Beogradske tvrđave i nastavlja se preko Marine Dorćol ka značajnim tragovima beogradskog industrijskog nasleđa.
Osim samog pravca pružanja, posmatrajući i sistem prostornog uticaja i kompatibilnosti funkcija, uz gotovo svaki segment Linijskog parka nalaze se manje celine od kulturno-istorijskog značaja za razvoj Beograda.
Planiranje iz bajke, džentrifikacija iz zasede
Dok smo sa radošću pratili proces planiranja i novosti vezane za participativni karakter studija, očekivali smo da i Elaborat na Ranom javnom uvidu formalno artikuliše rezultate studija i radionica uz uvođenje različitih parametara kojima će se uže definisati funkcije na teritoriji Linijskog parka.
Čitajući Elaborat Plana detaljne regulacije za Rani javni uvid, lako je prepoznati elemente zaštite kulturnih dobara i afirmacije mesta dokolice. Na prvo čitanje i traženje parametara za očekivane funkcije, Plan detaljne regulacije deluje kao da ispunjava očekivanja, i da je u potpunosti izveden na osnovu radionica i studija.
Predviđa se obnova svih devastiranih objekata od kulturnog značaja, oživljavanje javnih prostora i aktivacija saobraćajnih poteza koji povezuju lokaciju sa centrom grada, a predviđa se, takođe, kreiranje različitih tipova javnog prostora namenjenih najrazličitijim aktivnostima i manifestacijama, i postavljanje edukativnih punktova duž celog poteza Linijskog parka.
Međutim, detaljnim čitanjem Elaborata, počinju da "bodu oči" pojmovi koje je veoma teško povezati sa nečim što je karakteristika parka sa najširom namenom.
Iako se kao sadržaji uz Linijski park u Elaboratu navode "mešavina sadržaja kulture, kreativnih industrija i komercijalnih sadržaja u sklopu javnih, otvorenih gradskih prostora, koji se spontano razvijaju u skladu sa trendovima i zahtevima građana", kao i ograđivanje od pojedinih započetih i planiranih projekata izgradnje stambenih i poslovnih objekata, u Elaboratu se plasiraju elementi, poput tretiranja Hotela Mona kao visinske odrednice za dalje projektovanje, ili potpunog uklanjanja "neplanskog naselja".
Neplansko naselje koje se navodi u elaboratu odnosi se na pretežno romsko naselje koje na ovoj lokaciji postoji gotovo koliko i sam Dorćol, kada je bilo poznato pod nazivom "Pištolj-mala".
Na mestu romskog naselja planira se izgradnja 46.360 kvadratnih metara stambenog prostora.
Umesto da ponudi adekvatno rešenje za manjinsku grupu, Plan s pravom prepoznaje "Česmu i ploču udruženja svih etničkih grupa Roma" kao kulturno dobro i zadržava je na lokaciji kao simbol diverziteta, a istovremeno, kroz parametre daljeg razvoja lokacije u potpunosti briše naselje i romsku populaciju sa teritorije obuhvata Plana.
Ovakvim kontradiktornostima u Planu detaljne regulacije, može se kroz čitanje izvući zaključak da je diverzitet stanovništva tretiran kao element "brendiranja" lokacije, dok se u stvarnosti raznovrsnost negira, a na mestu romskog naselja planira se izgradnja 46.360 kvadratnih metara stambenog prostora, za koje možemo pretpostaviti da nisu namenjeni socijalnom stanovanju i manjinskim grupama.
Isticanje diverziteta kroz česmu i spomen ploču etničkih grupa Roma, kao i spomenik "Menora u plamenu", znak sećanja na jevrejske žrtve genocida, deklarativno kreira sliku grada različitosti i društvene kohezije, dok je realnost u potpunosti drugačija.
Još jednom se u planiranju u Beogradu džentrifikacija provlači kao vrednost "urbanog života", i u potpunosti se homogenizuje društvo, uvođenjem sadržaja koji nisu namenjeni svima, kao i ukidanjem društvenih različitosti.
Posmatrajući rezultate radionica i studija sprovođenih tokom 2019. godine, nikako se ne bi moglo naslutiti da će Dorćol kao simbol diverziteta u Beogradu, u zoni Linijskog parka postati još jedno "igralište" za investitore, čime će se društvena struktura u potpunosti izmeniti.
Da li to znači da socijalno ugrožene grupe ne treba da učestvuju u javnom životu, i da viševekovni stanovnici "Pištolj-male", ipak, uprkos studijama i radionicama nisu merodavni za urbanističko planiranje?
Da li to znači da Linijski park nije za svakoga?
Kad ste već ovde…