Drvene E-kuće iz Čačka su energetski efikasni i ekološki objekti, otporni na zemljotrese i požare, a pritom omogućavaju da veoma brzo rešite pitanje krova nad glavom.
Ukoliko ste i vi ovih postpandemijskih dana rešili da živite u prirodi daleko od gradske vreve ali i ljudi, sigurano ste ste zapitali kakav objekat praviti na vašem placu iz snova. Zidana ili montažna kuća? To je večito pitanje na koje ne postoji jednoznačan odgovor jer on zavisi od toga kakvi se materijale koriste za pravljenje objekta.
Ovom prilikom predstavićemo vam rešenje montažnog objekta firme E-kuća iz Mrčajevaca kod Čačka koje se može pohvaliti ne samo visokom otpornošću strukture, ekološkim aspektima i energetskom efikasnošću već i brzinom gradnje. Zbog toga smo smo razgovarali s Bogdanom Pejićem, vlasnikom firme, koga smo za početak pitali koje su prednosti montažne kuće u odnosu na zidanu.
– Prednosti montažne kuće u odnosu na zidanu su velike. Prave se od ekoloških materijala, zvučna i toplotna izolacija je neuporedivo bolja nego kod zidanih objekata. Prosečan zid kod e-Kuće je debeo oko 350 mm, u kome ima oko 300 mm izolacije. Koeficijent zida koje mi preporučujemo za naše tržište je 0,12 W/m2K. Pritom, montažne kuće su otpornije na zemljotrese kao i na požare.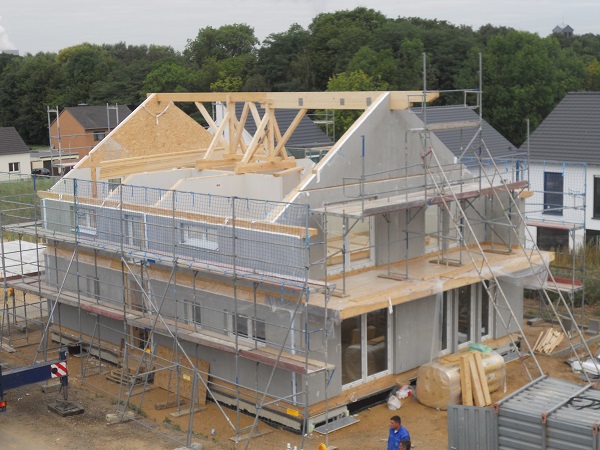 E-kuća pravi se od ekoloških materijala, a zvučna i toplotna izolacija je neuporedivo bolja nego kod zidanih objekata.
Uvreženo je mišljenje da montažne drvene kuće nisu otporne na požar?
Drvo obezbeđuje duže vreme za evakuaciju od drugih konstrukcija, na primer od čelika, koji se pri visokoj temperaturi odmah vitoperi i konstrukcija se momentalno ruši. Drvo suprotno tome ima dugo trajanje gorenja, pa obezbeđuje vreme da se svi bezbedno evakuišu ali i da se požar blagovremeno ugasi dok šteta nije prevelika ili potpuna. Dodatno, kod drvenih kuća upotrebom određenih pločastih materijala u sendvič zidovima postiže se vatrootpornost 60 pa i 90 minuta, između prostora kod dvojnih kuća ili kuća u nizu, odvojenih jedinica u stambenim zgradama i tako dalje.
Šta je potrebno da budući vlasnik kuće obezbedi kako bi se započeo projekat montažne kuće?
Za početak izgradnje montažne kuće, investitor je obavezan da obezbedi plac i priključke. Sve druge obaveze preuzima naša firma. Od pribavljanja dozvole, koja je ista kao i za zidanu gradnju, do pravljenja temelja i potom cele kuće.
Naša firma ima svoj arhitektonski biro u Beogradu, koja radi kompletan projekat. Kada mi ne radimo temelje, svom kupcu obeležimo kote, izradimo crteže temelja i uradimo statiku.
Da li postoje tipski projekti montažnih kuća ili se projekat izrađuje na osnovu želja klijenta i buduće lokacije?
Mi nemamo tipske kuće. Crtamo ih po želji kupca. Svaki plac ima neko svoje ograničenje, strane sveta… Smatramo da tipske kuće i nisu neko pametno rešenje.
Za kuću površine 150+-30 kvadrata potrebno je oko 5 dana da se sagradi.
Koji je sastav zidova u vašim montažnim kućama i kakve termokarakteristike spoljnih zidova se preporučuju?
Zidove koje mi preporučujemo su niskoenergetski ili pasivni. Njihova U vrednost iznosi između 0,08-0,12 W/m2K. Debljine ovih zidova su između 350mm do 400 mm. Jedan ovakav zid u energetskom smislu je ekvivalent oko 1200mm prosečnog zida zidane gradnje.
Šta je najbolje izabrati za krovni pokrivač?
Krovni pokrivač može da bude šta god klijent poželi. Radili smo od zelenih krovova po Norveškoj, preko šindri i crepa pa sve do lima. Nije toliko bitno koji je krovni pokrivač. Više nam je važno da taj krov bude dobro izolovan i na tome insistiramo.
Koje su cene montažnih kuća i šta ulazi u cenu?
Cene variraju i one zavise od mnogo faktora kao što su količina stolarije, odabir stolarije, keramike, parketa… Neka naša prodajna cena se kreće od 420 evra/m2 pa naviše po sistemu ključ u ruke. U ovoj ceni su uključeni Schuco PVC prozori, troslojna stakla, Bramac crep, oluci u boji, S klasa bukovog parketa i pločice i iznosu od 12 evra/m2, sanitarije, vodovod, kanalizacija, molerski radovi, sobna vrata… Temelji su takođe u ovoj ceni. Spoljna gotovost se kreće od 270 evra/m2 sa unutra završenim molerskim radovima.
Prodajna cena se kreće od 420 evra/m2 pa naviše po sistemu ključ u ruke.
Koliko traje proces projektovanja i izgradnje jedne montažne kuće?
Rok isporuke je od 60 do 90 dana od momenta ugovaranja. Ovaj rok podrazumeva razradu projekta, nabavku sirovina, proizvodnju… Sama montaža – dizanje objekta pod krov – traja vrlo kratko, par dana. Na primer, za kuću površine 150+-30 m2 potrebno je oko 5 dana da se sagradi. Posle toga slede ostale faze izgradnje: ugradnja crepa, instalaterski i unutrašnji završni zanatski radovi.
Koja je cena montažne kuće Mini Home, po projektu Tim8 izložene na Sajmu građevinarstva pre dve godine?
Mini Home ima 16 metara kvadratnih, radi se A energetskom razredu sa drvo aluminijum stolarijom. Dolazi na svojoj ploči i njegova cena iznosi 12.000 evra, montiran i kompletno završen.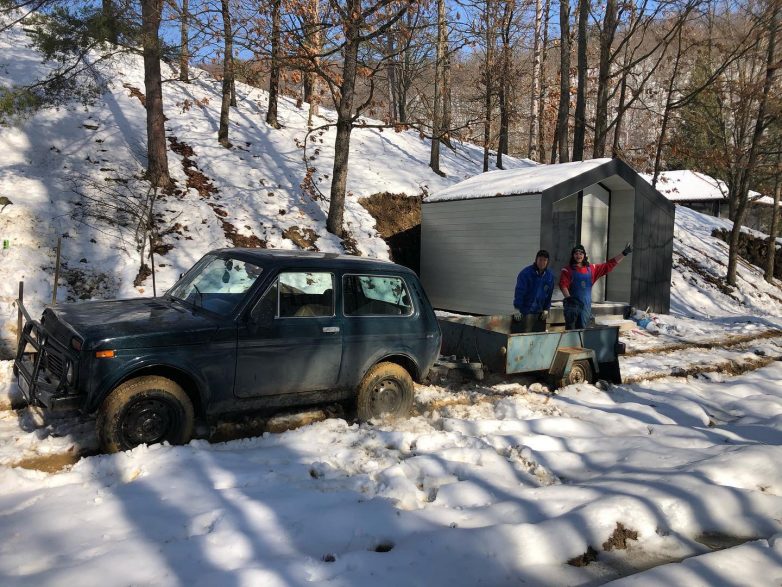 Minimalni vek trajanja naših kuća je 100 godina, ali traju i značajno duže, naravno uz adekvatno održavanje.
Kakva je budućnost montažnih kuća u Srbiji?
U poređenju pre 15 godina i danas, tržište se malo promenilo na bolje. Polako ljudi shvataju šta znači živeti zdravo i štedeti, ali smatramo da bez pomoći države i edukacije, jako teško se može promeni svest građana. E-kuća je 90% izvozna firma i naše kuće prodajemo i montiramo po celoj Evropi. Tamo je zakon skroz drugačiji. Država daje subvencije za niskoenergetske kuce i ljudima je onda takva kuća mnogo dostupnija. Kod nas je standard za montažne kuće iz 1978. godine, i to se nista od tada nije promenilo.
Šta ne valja u ovom standardu?
Standard za montažne kuće iz 1978. godine je zastareo… prezastareo!  On predviđa sitan panel dužine 1,2m, samim tim i puno hladnih mostova, zbog čega kuća ne može biti energetski napredna, efikasna. Ovim standardom predviđaju se tanki zidovi, loši izolacioni materijali ali i loš kvalitet sirovina uopšte. U standardu postoji nedostatak propisa za svaku sirovinu pojedinačno. Na primer, propisi za suvoću drveta i kontrolu kvaliteta.
Ako se poveća broj montažnih drvenih kuća, odakle dobijati građu? Da li je potrebno imati obnovljive izvore?
Mi građu kupujemo u Austriji i Nemačkoj jer njihova građa poseduje sve potrebne sertifikate za izvoz robe u EU i Skandinaviju. I ta oblast je tamo mnogo uređenija nego kod nas. Zna se šta se seče, kako se obnavlja, pošumljava… Oni to tamo rade planski.
Koliki je rok trajanja vaših montažnih kuća?
Minimalni vek trajanja je 100 godina, ali traju i značajno duže, naravno uz adekvatno održavanje. Mi smo konkretno u Norveškoj imali priliku da budemo u kući – sali za venčanja – iz 1692. godine. Odličan primer dugovečnosti montažnih objekata su stare drvene crkve.
Kad ste već ovde…