Buka u neposrednom okruženju može izazvati trenutne poremećaje pažnje ali i uticati na zdravlje, te je bitno i kako se prostor formira i izoluje kako bismo se zaštitili od eventualnih posledica.
Glavobolja je jedan od trenutnih simptoma koji su posledica buke, ali boravak na veoma bučnim mestima u određenom vremenskom periodu može doneti veće zdravstvene probleme poput oštećenja ili gubitka sluha i porast krvnog pritiska. Poremećaj u probavi? I to se može pripisati buci. I tu nije kraj zdravstvenim problemima prouzrokovanih bukom. Tu su i poremećaji koncentracije i spavanja, promene raspoloženja, veći broj otkucaja srca, zujanje u ušima i svakako povišen nivo stresa.
U gradovima smo, nažalost, često suočeni sa raznoraznim izvorima buke koju uzrokuje saobraćaj, gradnja, kao i rušenje, ali i bučna oprema poput generatora i klima uređaja. Međutim, postoje efikasne mere koje se mogu preduzeti da se izbegne sva ova nepotrebna buka, piše Eduardo Souza za ArchDaily.
Kako bismo razumeli akustiku, potrebno je prvo savladati nekoliko važnih koncepata i termina. Jedinica za merenje zvuka je decibel, a za razliku od dužine i težine, njih je mnogo teže izmeriti ukoliko nemate merač zvuka.
SZO je označila je jačinu zvuka od 55 decibela kao maksimum kom bi se mogli izlagati većinu svog vremena.
Škot Aleksandar Grejam Bel prvi je otkrio da je skala zvuka koju uho registruje logaritamska, poput Rihterove skale, koja se odnosi na jačinu zemljotresa. S obzirom na to da ljudsko uho može da čuje veoma širok raspon intenziteta zvuka, granica čujnosti od 10-12 watt/m2 je konvencionalizovana kao nula decibela. Dakle, svaki zvuk koji se nalazi ispod ove granice ljudsko uho ne može da registruje. Sa druge strane ljudsko uho neometano može čudi zvuk od 120 decibela, a svaki zvuk iznad ove granice može biti štetan po zdravlje čoveka i može nepovratno uništiti strukturu unutrašnjeg uha. Takođe, izloženost nivou zvuka iznad 90 decibela, više od četiri sata u kontinuitetu, može biti veoma štetna.
Razgovor od 60 decibela
Svetska zdravstvena organizacija označila je jačinu zvuka od 55 decibela kao maksimum kom bi se mogli izlagati većinu svog vremena. Takođe SZO ističe da je problem što je oko 20% stanovništva u zemljama Evropske Unije tokom dana izloženo buci iznad 65dB, a čak više od 30% i jačini od 55dB tokom noći. Naročito je opasno izlaganje buci tokom noći, jer ona utiče na poremećaje u spavanju, što dovodi do nesanice i povišenog krvnog pritiska.
Kako biste imali jasniju sliku koliki je to zapravo intenzitet zvuka, imajte u vidu da jedan normalan i civilizovan razgovor proizvodi jačinu zvuka od oko 60dB, što je zapravo na pola puta do gornje granice koja izaziva fizički bol.
Normalno disanje emituje zvuk od 10dB, a opuštajući zvuk kiše 50dB. Imajući u vidu da bi na konstantnom izlaganju od 60dB već trebalo da budemo na oprezu, zabrinjavajuća je činjenica da saobraćajna buka tokom špica proizvodi buku od 85dB. Beba koja glasno plače u vašoj neposrednoj blizini emitovaće zvuk od 120dB, što je ekvivalentno intenzitetu zvuka grmljavine. U sledećoj tabeli možete videti i ostale situacije: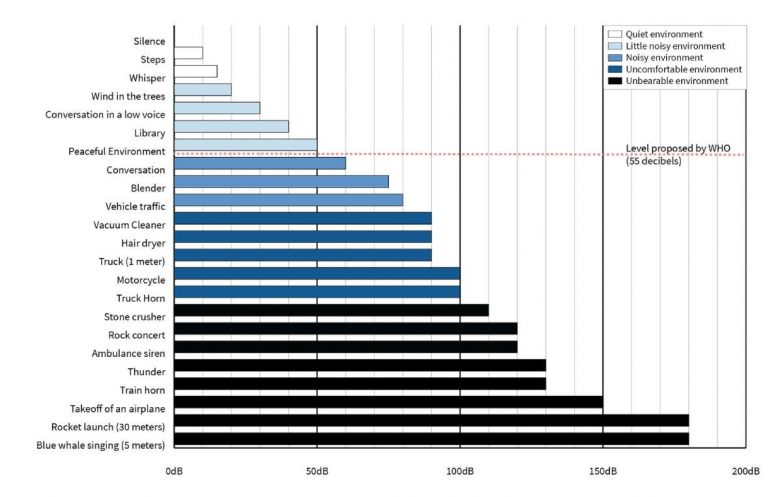 Zvučna izolacija
Šta arhitekte i građevinski inženjeri mogu da učine da nas zaštite od buke? Pre svega stambenog prostore je potrebno izolovati i sa spoljašnje i sa unutrašnje strane. Korišćenje akustičnih blokova za zidanje je imperativ, a i sami možemo da utišamo komšije tako što ćemo koristiti dekorativne obloge, akustične panele ili čak mahovinu koja apsorbuje zvuk. Na tržištu čak postoji i lusteri koji smanjuju buku u prostoru. Ipak, možda je najvažnije da imate komšije koji poštuju pravila kolektivnog stanovanja.