Arhitektura
Naslednici pank pokreta u arhitekturi pitaju se da li ćemo ikada postati održiva civilizacija
Trenutno se u muzeju Cranbrook u Detroitu održava velika izložba posvećenu panku i tome kako je ovaj pokret uticao na kulturno nasleđe Ujedinjenog Kraljevstva i SAD.
Izložba se fokusira na vizuelni aspekt pokreta u periodu od 1976. i 1986. godine i zove se, prikladno, Too Fast to Live, Too Young to Die.
Andrew Blauvelt, kustos ove izložbe je za Dezeen rekao da je pank "još od samog buntovničkog začetka početkom sedamdesetih, ispitivao nove forme vizuelnog izraza. Energija pokreta kreirala je moćne supkulturne fenomene koji su efekat muzike proširili i na stale oblasti poput vizuelne umetnosti i dizajna".
Ideje panka poput prkosa režimu, jednakih primanja za sve i sloboda govora odrazile su se i na arhitekturu
Kada se radi o panku, izuzetno je važna DIY (do it yourself) priroda pokreta, u šta spada kreiranje postera, flajera, fanzina i ostalih materijala koji su se distribuirali u pank krugovima. To je pružilo platformu nekim novim generacijama dizajnera koji inače možda ne bi našli prostor na kome bi mogli tako otvoreno da se iskažu. Među njima su, naravno, bile i arhitekte.
Dalje pričamo o tome kako su se ključne slobodarske ideje ovog pokreta – prkos režimu, jednaka primanja za sve, sloboda govora – u narednim decenijama odrazile i na arhitekturu.
Solarpunk: Naslednik panka u arhitekturi
Uprkos svoj toj mladalačkoj energiji i navali kreativnosti koju je omogućio, pank suštinski nije bio mnogo optimističan. Ako vam treba dokaz, samo se setite kada  Johnny Rotten u God Save The Queen glasno kaže "No future for you". Nešto potpuno drugačije nalazimo u samoj definiciji solarpunka, trenutno jedinog pravog naslednika pank pokreta u arhitekturi.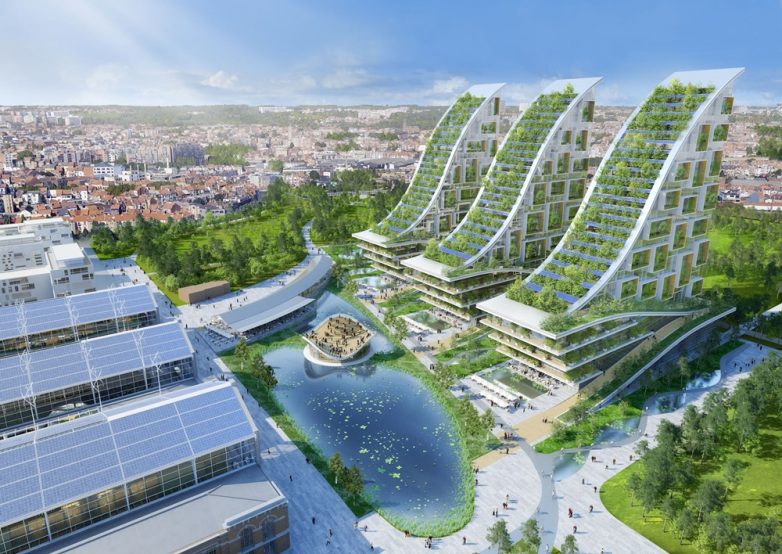 Kako izgleda održiva civilizacija i kako možemo da je pretvorimo u realnost?
Definicija zapravo počiva na jednom jednostavnom pitanju koje glasi: "Kako izgleda održiva civilizacija i kako možemo da je pretvorimo u realnost?" (pitanje je prvobitno postavio čuveni muzičar i fotograf Jay Springett). Pa kako je onda solarpunk, pita se Jennifer Hamilton u tekstu za The Conversation, zaslužio taj sufiks uprkos svom neupitnom optimizmu?
Kao prvo, vizija budućnosti koju promoviše solarpunk ne stoji u skladu ni sa jednim trenutnim političkim režimom i ekonomskim sistemom. On se zasniva na potpuno drugačijem, održivom i ekološkom protoku energije, potrepština i saobraćaja za šire narodne mase. Ovakav sistem društvenog uređenja prosto ne podržava ideju raslojavanja društva po ekonomskoj liniji i poziva na potpuno radikalnu, ali ne i nemoguću promenu društva.
Šansa kroz organsku arhitekturu
Istina je da se pojedine tehnologije na kojima se zasniva solarpunk već koriste. To su pre svega, obnovljiva i solarna energija, urbani agrikulturni sistemi, kao i organska arhitektura i dizajn. Da li ćemo kao društvo ikada postati održiva civilizacija ipak je pitanje na koje odgovor trenutno može samo da se nađe u fikciji.
Dok ne pređe u stvarnost, ostaje nam samo da podržavamo održive arhitektonske ideje, razvoj zelenog dizajna i, naravano, da počnemo ozbiljnije da recikliramo.
Naslovna: Održivi grad Amaravati u Indiji trenutno u izgradnji
Kad ste već ovde…