Arhitektura
Ova mobilna vikendica napaja se energijom dobijenom od ostataka kafe
Zanimljiva činjenica je i da enterijer ove kućice potpisuje poznata holivudska glumica Olivija Vajld.
Američki lanac brze hrane Dunkin' Donuts, koji raspolaže sa oko 12.000 restorana u 36 zemalja sveta, proširio je svoje poslovanje i na kreiranje kućica za iznajmljivanje. U saradnji s kompanijom Blue Marble, specijalizovanom za alternativna energetska rešenja, razvila je ekološko gorivo za svoju kuću. I to od kafe!
Kuća zvana The Home That Runs on Dunkin' napaja se biogorivom napravljenog od 80 posto ostataka kafe i 20 posto alkohola koji mu pomaže da efikasno gori.
Kuća se napaja biogorivom napravljenog od 80 posto ostataka kafe i 20 posto alkohola koji mu pomaže da efikasno gori.
"Želeli smo da svi obožavaoci naše kompanije imaju priliku da uživaju u lepotama koje minijaturna kuća može da ponudi.", rekla je Tina Meyer-Hawkes iz kompanije Dunkin' Donuts.
Kuća ima otvoren i jednostavan koncept uređenja, kako bi se što bolje iskoristio ograničen prostor i što veća količina prirodnog osvetljenja. Svetao i veseo enterijer dizajniran je od strane glumice Olivije Vajld, a kao takav je u potpunom kontrastu s tamnim drvenim eksterijerom.
"Ova mala kuća je zaista unikatna, počev od arhitektonskog plana, preko dizajna enterijera, pa do generisanja energije od utrošene kafe.", rekla je glumica Olivija Vajld, koja se poput Kejt Mos, Kanje Vesta i Bred Pita okrenula arhitekturi i dizajnu enterijera.
Metalna konstrukcija
U centralnom delu kućice smeštena je kuhinja sa dnevnim boravkom iz kog se izlazi na terasu, oslonjenu na metalnu konstrukciju koja se jednostavno podiže prilikom sklapanja i daljeg transporta.
Dizajnerske bravure poznate glumice
U neposrednoj blizini kuhinje, na izdignutom nivou je i trpezarijski sto, čiji su zidovi u narandžastoj boji. Ovu boju u kombinaciji s ružičastom, Olivija je koristila pri odabiru posuđa i dekoracije, kako bi uspostavila vezu sa bojama brenda Dunkin Donuts.
Na drugom kraju kućice smešteno je kupatilo, a iznad njega i krevet do kog se stiže pomoću merdevina.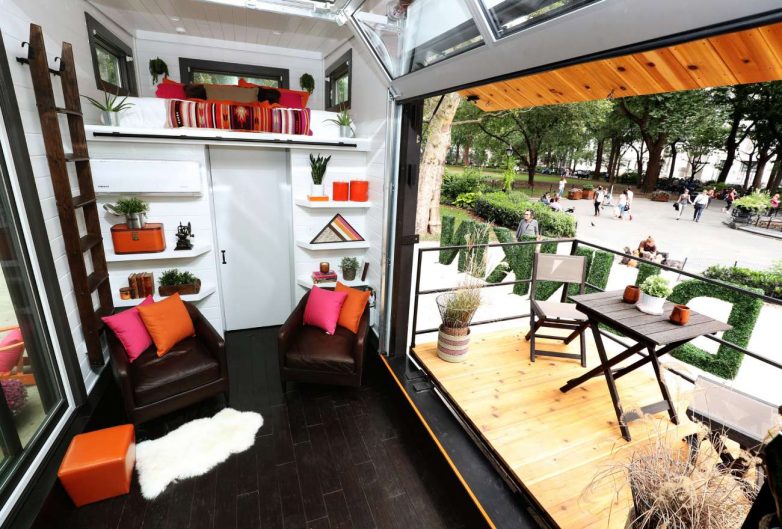 Kafa i krofne
Pilot kućica predstavljena početkom meseca u njujorškom Madison Square parku, a potom je premeštena u Masačusets, gde je bila dostupna za bukiranje putem servisa AirBnb, piše Dezeen. Noćenje u ovom simpatičnom objektu može se rezervisati po ceni od samo 13 dolara za noć.
Foto: Dunkin' Donuts
Kad ste već ovde…