Posle više godina od stopiranja radova, ove zgrade i dalje stoje nedovršene i neuseljene, pa se time u mnogome ponavlja priča promašenih investicija na beogradskom tržištu građevine i nekretnina.
Sigurno ste širom Beograda videli mnoge nedovršene zgrade koje svojim pojavama ruže ili nefunkcionalno zauzimaju markantne lokacije u starom ili novom delu grada. Tik preko mostova, u blizini stare železničke stanice, načičkalo se nekoliko zgrada u ulicama Karađorđevoj i Gavrila Principa, koje već više od dve decenije stoje nedovršene. Svojim zapuštenim izgledom deluju kao scenografija za postapokaliptične filmove, ali i vreme u kojem su nastale se u dobroj meri može porediti s apokalipsom.
Period 90-ih godina obeležio je građevinsko-preduzimački haos, u kojem su nicali objekti upitnih arhitektonskih vrednosti, finansirani najčešće sredstvima sumnjivog porekla. Da li odsustvom održivih poslovnih planova ili jednostavno nesnalaženjem u periodu promene političke vlasti, tek neke zgrade su ostale nedovršene, to jest, neprodate novim kupcima. Mislili smo da će to ostati relikti nekog prošlog vremena i da se takve greške neće ponavljati novim investitorima. Međutim, bar dve zgrade su opovrgle ova očekivanja.
Tri lista (ispušenog) duvana
Krajem 80-ih i početkom 90-godina, donešena je odluka da se za potrebe izgradnje novog hotela Hilton ruši kafana Tri lista duvana, koja se nalazila na uglu Bulevara kralja Aleksandra (Revolucije) i ulice Kneza Miloša. Tom prilikom je raspisan javni konkurs, koji je privukao pažnju mnogih arhitekata, ne samo iz Beograda, već širom Jugoslavije. Na konkursu je pobedilo rešenje arh. prof. Svetislava Ličine, ali kako se sve dešavalo u sumrak raspada SFR Jugoslavije (1990), ceo projekat je otkazan, a parcela, na kojoj je prethodno srušena kafana, ostala je upražnjena.
Za potrebe izgradnje novog hotela Hilton, ruši se kafana Tri lista duvana, pravi se projekat ali se od njega odustaje.
Priča ponovo biva pokrenuta početkom 2000-ih godina, kada tu parcelu od grada Beograda otkupljuje Hipo Alpe Adria banka i ubrzo preprodaje kompaniji MPC. Novi investitor angažuje pobednika nekadašnjeg konkursa, profesora Ličinu, koji nakon 15 godina u projekat uključuje i svog sina Aleksandra. U tom trenutku, investitor zahteva korekciju idejnog rešenja i prenamenu objekta, po kojem tokom 2007. i 2008. godine izvodi poslovnu zgradu. Zgrada je bila gotovo završena, a MPC objavljuje da usled rešavanja tehničkih problema ili nedostatka zainteresovanog (za)kupca, obustavlja dalju izgradnju i opremanje enterijera zgrade.
Inače, finalni izgled zgrade je projektovan da podseća na prvonagrađeno rešenje, s formom koja je veoma simplifikovala (da ne kažemo banalizovala) provobitnu ideju profesora Ličine. Posle više od jedne decenije od stopiranja radova, zgrada i dalje stoji, nedovršena i neuseljena, pa se time u mnogome ponavlja priča promašenih investicija na beogradskom tržištu građevine i nekretnina.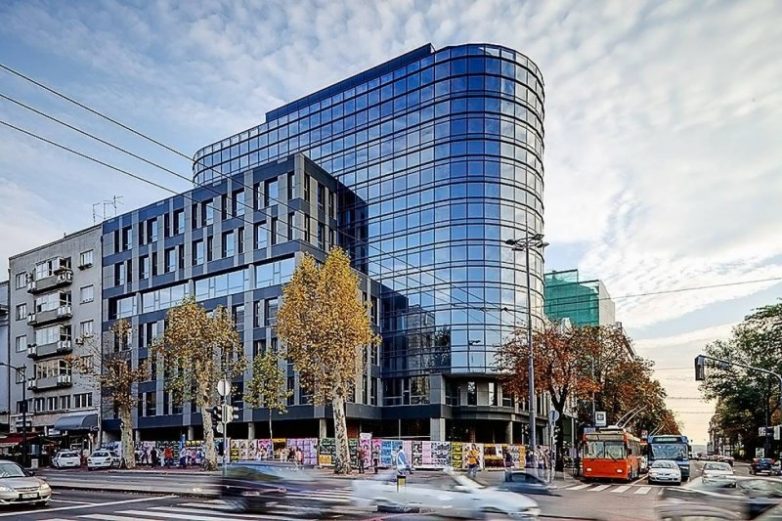 Atlasov skelet
Jedva stotinak metara dalje od ove zgrade, na uglu Takovske i Kosovske ulice, u gotovo isto vreme, nikla je još jedna poslovna zgrada, koja je po svemu sudeći doživela istu sudbinu. U pitanju je lokacija u koju je investirala Atlas grupa, kompanija iz Crne Gore, koja je za potrebe izgradnje svoje poslovnice, angažovala poznati ženski tandem arhitekata Kseniju Bulatović i Vesnu Cagić Milošević. Ovaj objekat je takođe krenuo sa zidanjem 2007. godine, ali je gotovo pred završetak fasade takođe stopiran.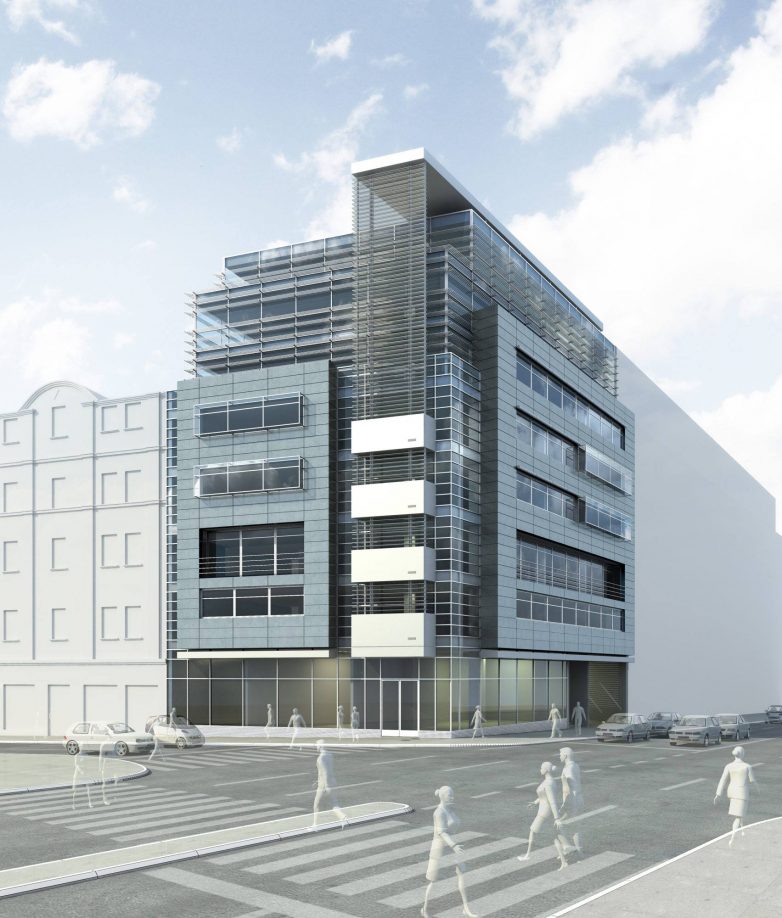 Javnost nije upoznata za finalnim izgledom ove zgrade, pa su svih ovih godina sa velikim čuđenjem gledali na vertikalne metalne nosače, za koje niko nije imao ideju čemu služe, a koji su jedini ostali bez svoje završne obrade. Dovršetak zgrade je stopiran oko 2010. godine, a tek nakon gotovo jedne decenije javnost saznaje da je razlog obustave radova u stvari poslovno-politička u koju je tih godina upao crnogorski investitor Duško Knežević, predsednik UO Atlas grupe, koji je u poslednjih mesec dana u žiži javnosti zbog iznošenja niza optužbi na račun predsednika Crne Gore Mila Ðukanovića. Kako stvari trenutno stoje, još jedan arhitektonski gordijev čvor koji neće skoro biti razrešen…
Ni zakoni ne pomažu
Postavlja se pitanje, kako rešavati ove akutne probleme u urbanom jezgru grada Beograda? Još 2009. godine se najavljivalo usvajanje zakona, po kojem se onim investitorima, koji u određenom roku nisu izgradili objekat, oduzimaju građevinske parcele. Sudeći po stanju koje vidimo na terenu, ovaj zakon nije uopšte zaživeo. Realno, koji političari bi izglasali ili poštovali zakon koji finansijski kažnjava investitore od kojih i oni sami imaju korist?
Kad ste već ovde…