Promo
Xella Triumph: Ovo su najbolji objekti u Srbiji za 2019. godinu
Celo takmičenje je organizovano pod simboličnim sloganom Ideje koje menjaju svet jer su našem svetu, regionu, ali i našoj zemlji, neophodne upravo takve ideje.
Prvo Xella Triumph takmičenje za najbolje arhitektonsko rešenje i najbolje izvedeni objekat Xella materijalima okupilo je prava arhitektonska remek dela iz svih delova Srbije, a mi vam predstavljamo najbolju porodičnu kuću, stambenu zgradu i poslovno-stambeni objekat po oceni stručnog žirija.
Xella Triumph takmičenje namenjeno je projektantima i arhitektima koji su u svojim projektima primenili inovativna arhitektonska rešenja i vrednosti koje Xella tradicionalno neguje, a to su zaštita životne sredine kroz ekološku, energetski efikasnu i održivu gradnju.
Takmičenje je organizovano pod sloganom Ideje koje menjaju svet jer su našem svetu, regionu, ali i našoj zemlji, neophodne upravo takve ideje.
"Celo takmičenje je organizovano pod simboličnim sloganom Ideje koje menjaju svet jer su našem svetu, regionu, ali i našoj zemlji, neophodne upravo takve ideje. Stoga smo ovim takmičenjem želeli da odamo priznanje profesionalcima koji su svojim objektima ulepšali nečiji kraj u Srbiji i učinili ga boljim, humanijim i lepšim mestom za život", objašnjava rukovodilac sektora prodaje kompanije Xella Srbija, Ljubiša Vukadinović.
Među brojnim projektima, stručni žiri je izabrao najbolje objekte u tri različite kategorije, kao i dobitnika glavne nagrade u konkurenciji svih projekata, tj. osvajača Xella Triumph Grand Prix-a za 2019. godinu. Stručni žiri ovogodišnjeg takmičenja činili su redovni profesor na Arhitektonskom fakultetu u Beogradu Brana Mitrović, direktor sektora za internacionalni marketing i inovacije Xella Baustoffe GmbH Valentina Ikstadt i grafički dizajner Slavimir Stojanović.
Grand Prix za arhitektonsko remek delo u Ubu
Titulu Grand Prix pobednika za 2019. godinu zaslužio je višestambeni porodični objekat za izbegličke porodice i raseljena lica u Ubu. U pitanju je projektantsko delo arhitekata Jelene Bogosavljević i Zorana Abadića iz projektnog biroa "1X2STUDIO" koje je postalo deo Regionalnog stambenog programa koji se sprovodi uz podršku OEBS-a, UNHCR-a i Banke za razvoj Saveta Evrope, a finansiran je sredstvima EU.
"Na objektu u Ubu Ytong blokovi su primenjeni na fasadnim i svim unutrašnjim pregradnim zidovima. Solidnost blokova u pogledu termičke i zvučne izolacije, ekološke i protivpožarne karakteristike materijala, jednostavna obrada površina bez potrebe unutrašnjeg klasičnog malterisanja su svakako prednosti koje ovaj materijal izdvaja od ostalih na tržištu. Ytong je jedan vrlo savremen materijal koji u velikoj meri olakšava rad ne samo graditelja, već i samih projektanata", objašnjava Abadić.
Najbolja porodična kuća: Porodični biser u Novom Sadu
Porodične kuće su tradicionalno jedna od najatraktivnijih kategorija na svim takmičenjima širom sveta, a projekat arhitekte Milana Miloševa iz projektog biroa "VIA INŽENJERING" za porodičnu kuću u Novom Sadu već je izazvao veliko interesovanje javnosti i s pravom zaslužio titulu najboljeg u ovoj kategoriji.
"Ako arhitektura ne natera prolaznika da zastane, onda ništa nismo uradili" kaže Milošev i dodaje da je upravo ovaj projekat označio i veliku prekretnicu u njegovoj karijeri jer je počeo da razmišlja na nov način.
Poseban izazov na ovom objektu predstavljala je zahtevna konstrukcija i malo dvorište, a rešenje je pronađeno u Ytong materijalima. "Ytong je bio savršeno rešenje za termičku izolaciju jer uz taj materijal nisam morao da stavljam skupu dodatnu fasadu. Osim toga, kuća ima zaobljeni ulični deo koji je bilo mnogo jednostavnije uraditi Ytong-om nego bilo kojim drugim materijalom, tako da je on istovremeno rešavao sve naše ključne probleme i pokazao se kao najbolje rešenje i za oblikovanje objekta koje je bilo veoma zahtevno, ali i za statiku kuće i njenu termoizolaciju", objašnjava Milošev.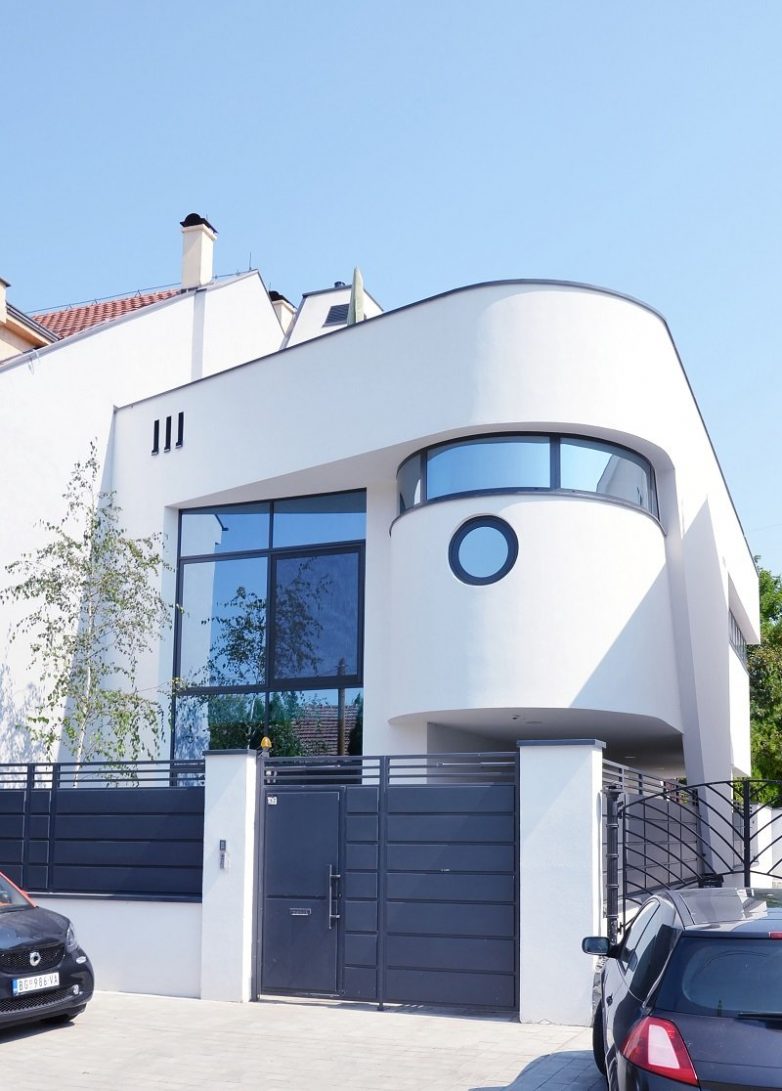 Najbolja stambena zgrada: Moderna lepotica svedenog dizajna
Ekskluzivni stambeni objekat u Bore Prodanovića 12 u Novom Sadu proglašen je za najbolju stambenu zgradu za 2019. godinu. U pitanju je objekat koji je projektovala arhitekta Tatjana Vujinović iz projektnog biroa "Andzor engineering", a sadrži pet nadzemnih etaža sa komfornim četvorosobnim i petosobnim stanovima.
"Prvo moram da kažem da sam prijatno iznenađena nagradom, jer to znači da je prepoznat projektantski koncept kojim sam se vodila i u funkcionalnom i u estetskom smislu, a to je da je lepota u jednostavnosti. Mislim da je rezultat tog pročišćenog koncepta vizuelni sklad, pogotovo kada se gradi najkvalitetnijim savremenim materijalima, u koje spadaju i Xella proizvodi. Budući da se bavim i energetskom efikasnošću zgrada, upoznata sam sa prednostima Xella proizvoda, pre svega sa odličnim termičkim karakteristikama i činjenicom da se radi o ekološkom materijalu koji je deo dobro osmišljenog sistema u procesu izgradnje" navodi Vujinović i naglašava da je sav prostor svake od nadzemnih etaža rezervisan je za po jednu stambenu jedinicu, sa ugrađenim sistemom "pametnih zgrada", direktnim pristupom iz lifta u stan, kanalima za evakuaciju veša do pomoćnih prostorija u suterenu i slično.
Najbolji stambeno-poslovni objekat: Most II u Rumi
Za novi arhitektonski biser Rume zaslužan je arhitekta Đorđe Jelača koji je neprikosnoveno zaslužio priznanje za najbolji objekat u kategoriji stambeno-poslovnih na ovogodišnjem takmičenju. Njegov projekat za jedinstveni stambeno-poslovni kompleks od 8.000 m² oduševio je stanovnike ovog grada, a najprepoznatljivi je po atraktivnom rotirajućem restoranu koji se nalazi na samom vrhu zgrade i koji pruža impresivan pogled na Frušku Goru i čitav Srem.
Kompletan objekat izgrađen je od oko 2.000 m3 Ytong materijala. Za spoljašnje zidove korišćen je Ytong Termoblok Plus 30 koji ispunjava sve standarde energetske efikasnosti, a Jelača navodi da su  "brzina gradnje i smanjeni troškovi izolacije" ključne prednosti zbog kojih se odlučio za Ytong. "Mnogo se lakše i brže gradi, a dobra termoizolaciona svojstva direktno smanjuju potrebu za dodatnom izolacijom što samim tim smanjuje i troškove", objašnjava Jelača.
Bilo je to prvo takmičenje Xella Triumph, a već sledeće godine kompanija Xella Srbija nastaviće da traga za idejama i objektima koji menjaju svet i da promoviše najbolja arhitektonska rešenja u našoj zemlji u okviru novog izdanja nagradnog takmičenja.